There are numerous opportunities these days for individuals to explore additional income streams.
Regrettably, many scams exist, but with careful research, one can steer clear of them.
Now, let's discuss Impact Theory University.
Have you watched Tom Bilyeu's videos on Youtube and wondered if his courses are worthwhile?
In the following Impact Theory University review, we will delve into the details of what the courses entail, and their cost, and explore potential alternatives.
Jump to:
Disclaimer
Please note, I am not a member or an affiliate of Impact Theory University. This review is based on research and information available online in the public domain.
Any recommendations and conclusions are only opinions and may not apply to all persons or situations.
My goal is to help you feel empowered as a reader to determine if Impact Theory University is a good fit for your personal and professional growth.
After reading this review, you'll have a clear understanding of what it offers, which will enable you to make an informed decision about whether to invest in this educational platform.
Impact Theory University Overview
Name: Impact Theory University
Website: impacttheoryuniversity.com
Price to Join: $119 a month
Recommended: Actually, why not – It depends on what you are looking for. Read the full review
Impact Theory University (ITU) is a platform founded by Tom Bilyeu, designed to teach you how to cultivate the right mindset and develop confidence.
It offers two courses:
That covers understanding the concept of mindset and its importance for personal growth and resilience in business. It provides strategies for fostering a positive, growth-oriented mindset and building confidence.
The other is on business:
It focuses on teaching how to start and grow a business. It includes insights from Tom Bilyeu's experience in building a successful company and covers strategies for acting as a CEO and building a sustainable business.
The pricing is reasonable, and if you're willing to invest in personal development, Impact University is a worthwhile choice.
However, if your goal is to learn how to create an online business from scratch, this program may not be the best fit for you.
What is Impact Theory University?
Making money through traditional offline businesses or online ventures can indeed be challenging.
It is not always easy to generate a steady income in today's competitive landscape.
However, with perseverance and the right strategies, it is possible to overcome these difficulties and achieve financial success.
Regarding building and maintaining a business, Impact Theory University offers a course specifically designed to teach the importance of cultivating the right mindset.
This course provides valuable insights on how to develop and nurture the mindset necessary for successful business endeavors.
And it doesn't matter whether you run an online business or an offline business.
It has actually 2 packages:
The first one concern business
The second is about the mindset
We will break it down in a bit, including the price.
Right off the bat, I can tell you that this is a legit course and people do find value in it.
Although nothing is perfect and I have seen that some people don't like the fact he puts focus on mindset training and not enough on the business part of the course.
Meaning, that if you are looking for a course that teaches you how to build a website, and how to get traffic to that website, the Impact Theory University (ITU) might not be the perfect solution for you.
But don't worry, the founder of Impact Theory University has a lot of stuff on Youtube, of course for free.
So who runs the ITU?
Impact Theory University Website Information
It took me a lot of time until I found a platform that offers value for the price. In that process, I learned that one can't be careful enough when exploring online opportunities. So, please consider this section as a side note where I share one of several techniques to avoid scams.
Right off the bat, let me clarify that Impact Theory University
is not a scam. However, taking the time to check some information about a website can help eliminate the chance of being scammed.
Here are a couple of steps I take to verify the legitimacy of a website:
Check the Website Registration Date
I always verify the website's registration date and compare it with the information presented on the site.
To find the real domain registration date, you can visit Whois.com.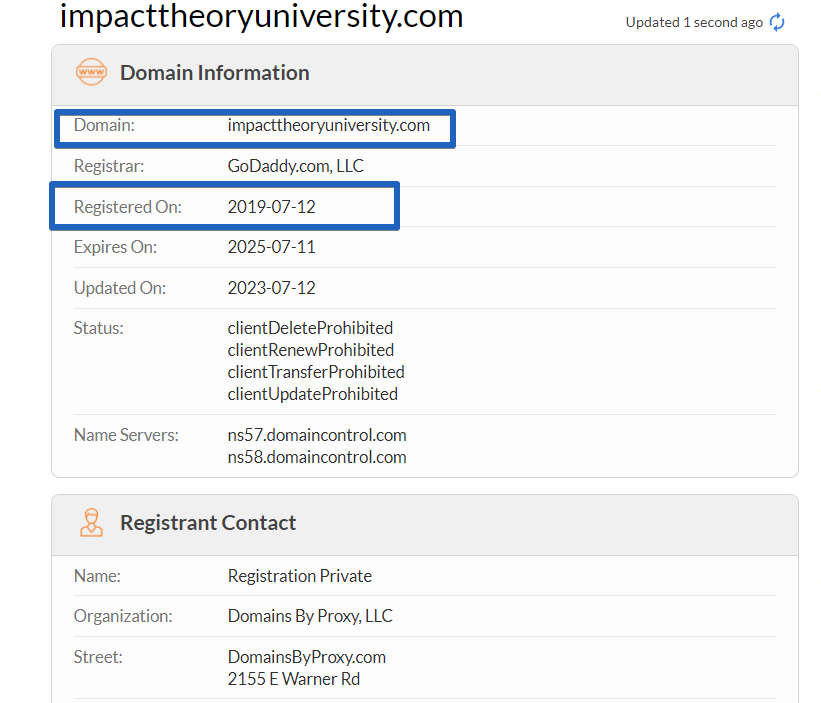 Check Organic Traffic
It's also a good idea to check the organic traffic the domain receives.
Using tools like SEMrush, I confirmed that the domain of Impact Theory University gets stable organic traffic, which is a positive sign.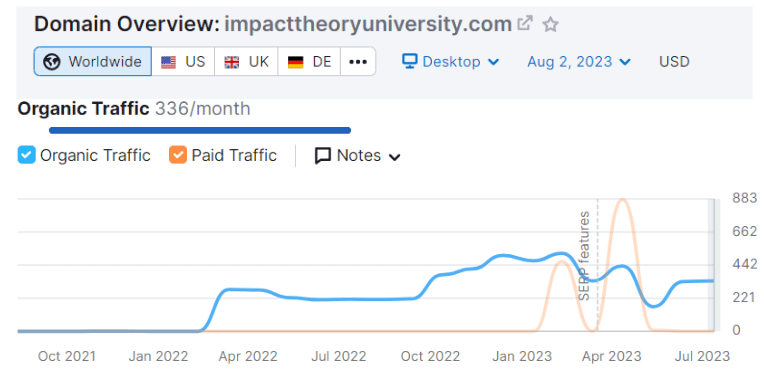 Additionally, I sometimes double-check this information using the free version of Ahrefs, which further confirms the data from SEMrush.
Please note that all this information is available for free. So, when you want to learn about a domain you are unsure about, feel free to follow the same steps.
In case you think that the domain doesn't receive enough traffic, Tom has another website, registered back in 2004 that gets 10K+ visitors per month.
It is called impacttheory.com.
Founder of Impact Theory University
The founder of Impact Theory University is Tom Bilyeu, born in 1976.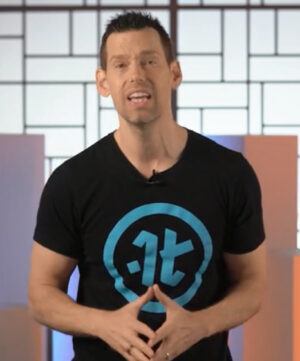 An accomplished entrepreneur, Tom co-founded Quest Nutrition in 2010, a highly successful company specializing in healthy snacks.
By 2013, the company had a revenue of over $80 million and expanded its products to more than 70 countries by 2015.
Knowing the background of the company's founder is essential to avoid potential scams.
Tom's influential presence extends to his YouTube channel, which is nearing 3.7 million subscribers at the time of writing.
On his channel, he conducts interviews with entrepreneurs, CEOs, and successful individuals, sharing valuable insights and habits to improve one's life and business ventures.
According to the Social Blade site, Tom's YouTube channel generates approximately €20,000 (The estimation ranges from €2.3K to €36K) per month, making it a noteworthy additional income stream.
With numerous YouTube channels in the personal development niche, there's a high likelihood that you have your favorite ones too.
Who is the Impact Theory University for?
Tom's courses cater to individuals running small companies, business owners, or people seeking ways to enhance their quality of life.
While ITU is not free and requires a budget, investing in it won't disappoint, especially for fans of Tom.
As with all legitimate courses, ITU is not a get-rich-quick scheme; don't expect immediate results.
Confidence is crucial, but without tangible outcomes, it may not mean much.
Taking action and seeing real results is essential to boost your confidence and achieve success.
So, while you can learn how to develop confidence, it's vital to pair it with action.
How does Impact Theory University work?
We have already mentioned at the beginning that the platform has 2 training series focusing on:
Mindset Education (Or Track)
Business Education (Or Track)
Here is what you get when you purchase the course(s):
Mindset Track
This is a blueprint on how to harness the power of your thoughts.
You will learn how to eliminate negative thought patterns and how to replace them with positive ones.
More than 40 hours of "hyper-tactical classes"
1 hour of Live classes every month
1 hour of Live classes Q&A every month (here you virtually sit down with the group where Tom answers the questions)
Access to a private network of people
Business Track
Tom shares with you how he started his Quest nutrition company, how it grew, and eventually how he sold it for one billion dollars.
Here are a few key points:
More than 40 hours of "hyper-tactical classes" – it seems pretty much the same, but here you can learn how to act as the CEO to grow your business
1 Hour of new Live Classes every Month – here are explained strategies to build a business
Monthly Q&A – Tom goes live with the group and he answers the questions
As a bonus, every member gets access to the private Facebook community that has thousands of like-minded people from different fields.
How much does Impact Theory University cost?
The Impact Theory University price has been updated, and it's now much simpler.
To begin, you'll enjoy a 7-day free trial, but do keep in mind that providing your credit card details is required.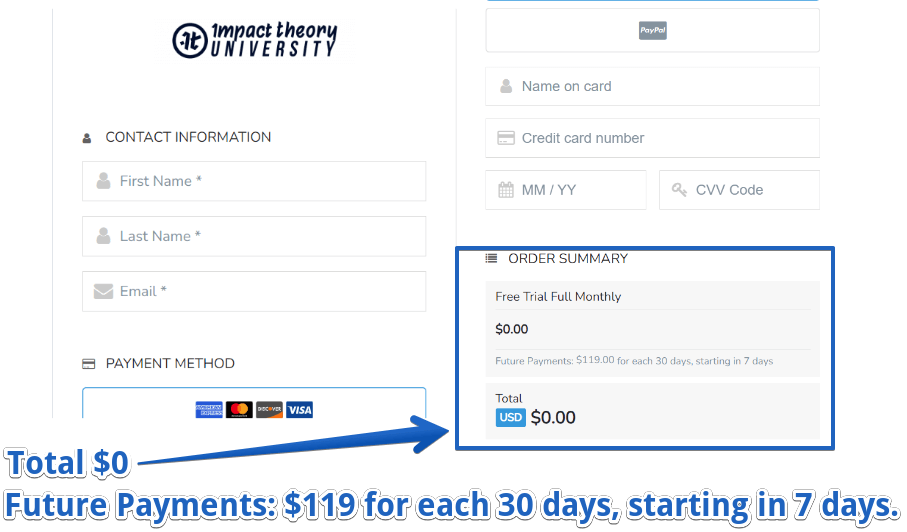 On one hand, this setup ensures a seamless transition into the course, so you can fully explore it without interruptions. However, it's essential to be cautious, as someone dissatisfied may be charged unknowingly (we all get busy and might forget about providing credit card details).
Nevertheless, the good news is that there's a 30-day refund policy in place.
Thankfully, the terms and conditions are pretty straightforward, and the majority shouldn't encounter issues with the payment process.
Just to give you a brief overview of the Impact Theory University refund policy:
The Impact Theory Money-Back Guarantee applies only to the purchase price, and customers can request a refund within 30 days by contacting support@impacttheory.com.
Refunds will be processed within 30 days of a valid request, but any requests made after the 30-day period will not be considered.
Before we wrap up
It's beneficial to have everything in one package, and many people find value in such a membership.
However, some of the content may be available online without Tom's unique style, so it depends on personal preference. For me, I struggled to start an online business in the past, possibly due to my mindset.
I believe courses like these are crucial.
Personally, I found Tony Robbins' "Personal Power 2" course valuable, available for free online.
Additionally, Jordan Peterson's YouTube videos are also worth exploring.
Also, I bought his book "12 Rules For Life."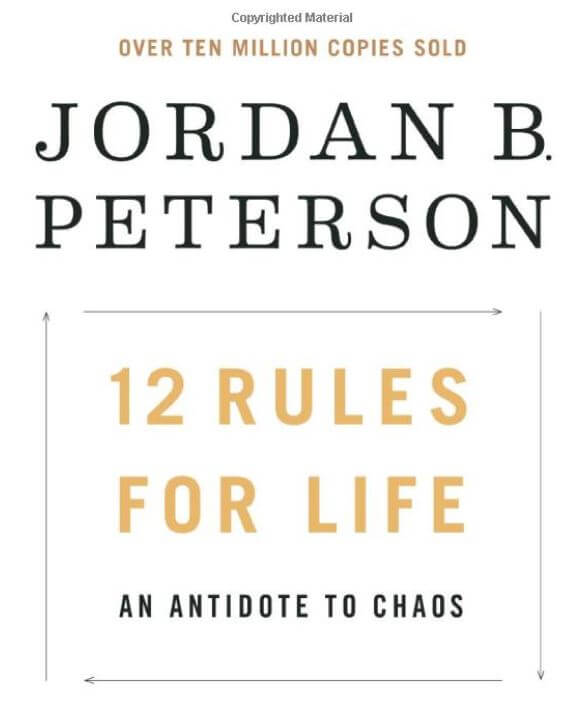 While not downplaying Tom's course, I wanted to show free or more affordable alternatives.
Ultimately, the choice is yours. If you need more information or have questions, feel free to leave a comment below the article.
What I like about Impact Theory University

Valuable program teaching how to work on self-improvement
Tom is a successful entrepreneur and knows what he teaches
Reasonable price
30 Days full refund
What I don't like about Impact Theory University
The business training does not teach the specifics of business (lack of step-by-step training)
Not for people who just starting out (for those I recommend the free stuff on Tom's Youtube channel)
Is Impact Theory University a Scam?
In conclusion, Impact Theory University is not a scam.
It is a legitimate platform that offers valuable courses for personal and professional growth. While it may not provide a specific path for starting an online business, its content and insights can still be beneficial for learners.
In my own experience, I discovered that affiliate marketing offers a straightforward way to make money online without the need to sell products or recruit others. As an affiliate marketer, the focus is on connecting people with niche products or services.
If you prefer an independent business model and want comprehensive step-by-step training, I recommend exploring the platform through the link provided below. This platform offers valuable guidance for aspiring online entrepreneurs.
The founders of the platform wanted to make this available for everyone, so there is a free training program that you can access for free. Everyone can test it out and then decide whether to become a premium member or not.
Let me know if you have further questions or if you have any experience with courses like Impact Theory University; please share your experience in the comment section below.
Thank you for reading,
Mike.