Since 2017, I have been deeply involved with Affiliate Marketing.
My journey began with the desire to earn money online, and after careful consideration, affiliate marketing emerged as the best business model.
What makes it exceptional is that you can earn without selling your own products or dealing with customers. Even today, I firmly believe it's one of the simplest and most effective business models out there.
Let me be clear; while it's simple, it's not necessarily easy, which is why numerous courses on affiliate marketing exist.
However, with so many options available, it's easy to get overwhelmed.
To help others navigate through this maze, I have created a post that serves as both a guide and a list of the best affiliate marketing courses one can start with at no cost.
Now, before we proceed, I must mention that while all the courses listed here offer immense value, some of them are paid.
My focus, though, is to reveal those that provide free trial periods or offer refunds, so you can explore and experience their offerings before making any financial commitments.
In this article, you will discover the 15 best affiliate marketing courses, empowering both beginners and experienced marketers to embark on a successful online journey without any upfront financial burdens.
Disclaimer
This review is based on research and information available online in the public domain.
Any recommendations and conclusions are only opinions and may not apply to all persons or situations.
Affiliate Marketing Explained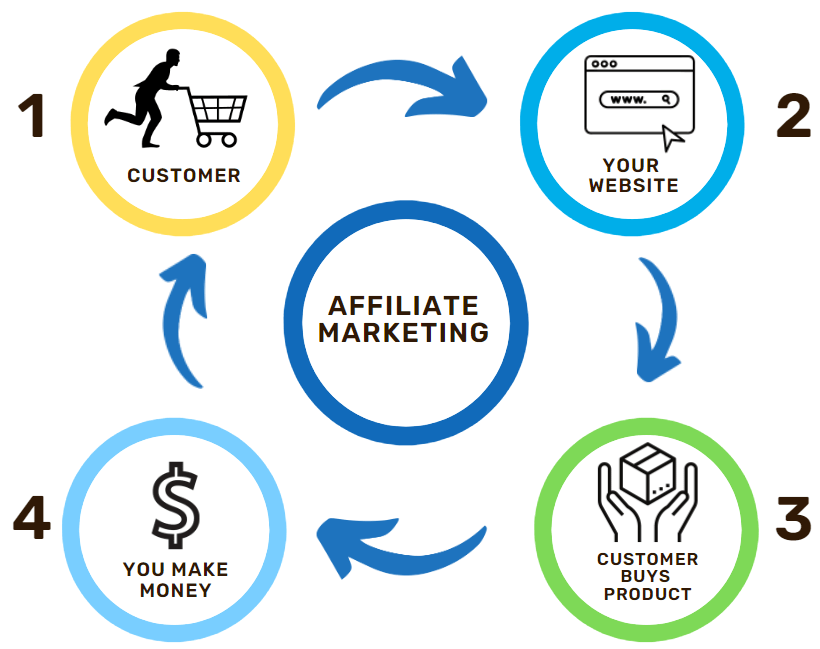 I assume you're already familiar with affiliate marketing, but let me explain it concisely and practically.
As an online affiliate marketer, you earn by selling other people's products or services, often passively.
What does passive mean here? Ideally, you'll have niche-specific content that attracts potential customers. Imagine having a website with content people find when searching for something.
Once they find your site, they navigate your content, where a special link (called an affiliate link) directs them to the merchant. When a purchase happens due to that affiliate link, the process is tracked, resulting in a commission transferred to your account.
This is affiliate marketing broken down practically.
The process might seem simple, attracting newcomers aspiring to be business owners. However, it's not easy; understanding the nuances increases your chances of success as an affiliate marketer.
Hence, numerous courses teach affiliate marketing—some focus on ads, others on organic traffic, social media, etc. Each method requires effort, especially for newbies.
Yet, remember valuable knowledge isn't free. To truly grasp affiliate marketing, you often need to invest in courses.
Many courses attract potential students with free trials, free memberships, or introductory videos about affiliate marketing.
However, it's unlikely you'll achieve consistent online income solely from free courses or short videos. They offer a perspective and allow testing, but true success requires commitment.
Before diving into the list, let's briefly revisit how you earn as an affiliate marketer.
How to Make Money with Affiliate Marketing?
Generally it is explained above how to earn with affilaite marketing.
Let's be a more specific and let's break it down to 4 simple steps:
Choose a Niche: Pick a focused topic that interests you and appeals to a target audience.
Promote Products: Create quality content promoting relevant products with unique affiliate links.
Build Trust: Earn audience trust by offering genuine value and unbiased recommendations.
Earn Commissions: When people buy through your links, you earn a commission, making money online.
I remember when I first discovered affiliate marketing, I had a revelation at 4 am – realizing that I could sell anything to anyone at any time. It felt like a gold mine.
However, as I delved deeper, I realized that these broad strokes weren't enough for success in the process. I went through numerous ClickBank and JvZoo products, bought some, and encountered many misleading ones. Long story short, I needed detailed step-by-step training.
For instance, I needed guidance on
creating a website,
choosing a niche (which requires thorough research),
selecting the right traffic source (mine was organic),
attracting visitors through methods like SEO,
and picking keywords – a significant task.
Being a complete newbie, I understood the necessity of a course.
Given my lack of experience, I was hesitant to invest in digital products.
Hence, I sought courses with free trials or memberships.
So, here they are – some of the courses offering free affiliate marketing education.
The Best Free Affiliate Marketing Courses
An affiliate marketing course that's free can provide an initial glimpse into the world of making money online.
The thing is though, that none of these complimentary resources offer comprehensive step-by-step training crucial for beginners.
I'm not criticizing the concept;
it's similar to test-driving a car.
Just like dealers offer a free trial ride or even a day-long test drive, the goal is to experience the product.
Yet, to truly benefit from it in the long term, a purchase is essential.
The same principle holds true for affiliate marketing courses.
So, let's go over the list of affiliate marketing courses that provide this 'free ride.' Many have regular updates, allowing you to explore for free, identify the best fit, and later opt to become a paid customer.
The list of the best free affiliate marketing courses
This list is current as of summer 2023, reflecting the latest updates. I actively monitor digital platforms that provide affiliate marketing education, ensuring any new additions are promptly included here.
I've categorized them based on their offerings.
The first section includes platforms that provide a free experience, followed by those offering valuable resources like videos or YouTube channels.
If you're interested in a platform not listed below, kindly share in the comment section.
Please be aware that this list is generated from SERP results using Semrush, specifically by searching for "Free Affiliate Marketing Courses."
Do keep in mind that depending on your region, your results might differ and the course you're interested in might not be listed. Don't hesitate to mention that course in the comments below. I'd gladly review and provide feedback.
Miles Beckler
Credit card needed: No
Founded by: Miles Beckler
Course Duration: video lasts
Course Format: Video
Course Community: TBD
Support and Help: TBD
Course Difficulty Level: For Beginners
Trial Restrictions: No
You'll confidently construct your online business step by step, leaving no room for confusion.
With more than 30 in-depth video sessions, you'll master the art of building and managing an engaging website. The course unveils strategies to drive substantial traffic from eager audiences, maximizing clicks on your affiliate links.
Learn from common affiliate marketer mistakes and discover clear steps to sidestep them, ensuring your journey to success is error-free.
Furthermore, the course offers mindset hacks that reshape your perspective, instilling the mindset of a successful entrepreneur for lasting triumph.
Lastly, the course is divided into three parts:
The Affiliate Marketing Crash Course
Email List Growth Mastery
WordPress 101
Udemy – FREE Affiliate Marketing Course for Beginners
Credit card needed: No
Founded by: Tyler Stokes
Course Duration: 2hrs 18min
Course Format: Video
Course Community: N/A
Support and Help: tbd
Course Difficulty Level: For beginners
Trial Restrictions: No
Start by understanding how affiliate marketing benefits you.
Then, embark on your journey with guidance on setup and attracting the right audience.
Selecting a niche and decoding commissions follow. Elevate skills to become an expert.
Explore affiliate networks and programs. Reviews highlight its beginner-friendly value.
It covers essentials but lacks depth in keyword research and common pitfalls.
Ahrefs – Complete Affiliate Marketing Course for Beginners
Credit card needed: No
Founded by: Dmitry Gerasimenko (Author of the idea and founder of Ahrefs)
Course Duration: video lasts 1hr 48min
Course Format: video
Course Community: N/A
Support and Help:
Course Difficulty Level: for beginners
Trial Restrictions: No

If you don't have time to watch it, let me give you a quick rundown of the course. It's a thorough YouTube video all about affiliate marketing basics. It covers a deep dive into how affiliate marketing operates and the essential tools you need to start.
The video carefully walks you through building a polished website and carefully choosing a niche that suits you best.
Furthermore, it explores creating a solid content strategy to boost interaction and make your site more visible. You'll also find useful tips for crafting affiliate links and tactics perfect for beginners.
Income School
Credit card needed: No
Founded by: Ricky Kesler
Course Duration: 27 min
Course Format: Video
Course Community: N/A
Support and Help: TBD
Course Difficulty Level: For beginners
Trial Restrictions: No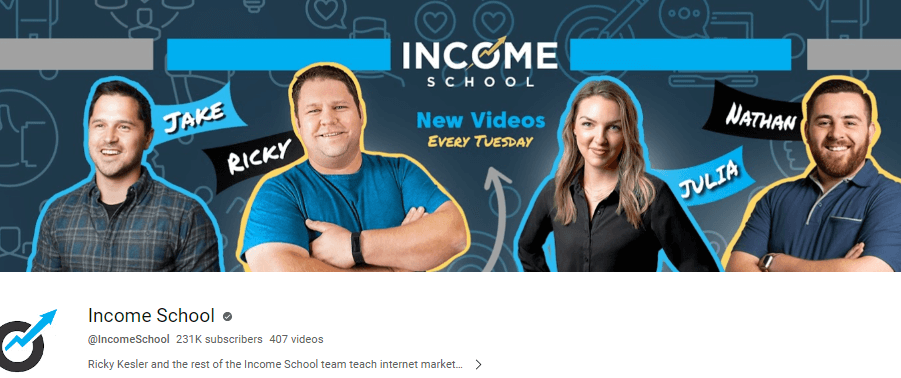 The featured video offers a comprehensive look into Affiliate Marketing strategies that can significantly enhance your outcomes. Delving into the intricacies of their remarkable $500,000 passive income accomplishment is genuinely inspiring.
Starting with insights derived from a YouTube survey on Affiliate Marketing, the video gradually introduces the audience to Anna, a highly proficient blogger.
The video unveils tried-and-tested methods preferred by Project 24 members, coupled with clarifications on common misconceptions and errors in the Affiliate Marketing sphere.
Furthermore, the video tackles the nuances of Affiliate Marketing for different article types:
informational,
tutorial,
and decision-oriented.
The climax of the video centers around the Content-First Strategy.
They provide a roadmap for an Affiliate Marketing journey that's both informed and strategic.
Voluum free affilaite marketing course
Credit card needed: No
Founded by: Aleksander Fronczek (CEO of Voluum)
Course Duration: 106 lessons
Course Format: Videos & Reading Material
Course Community: N/A
Support and Help: N/A
Course Difficulty Level: For beginners
Trial Restrictions: No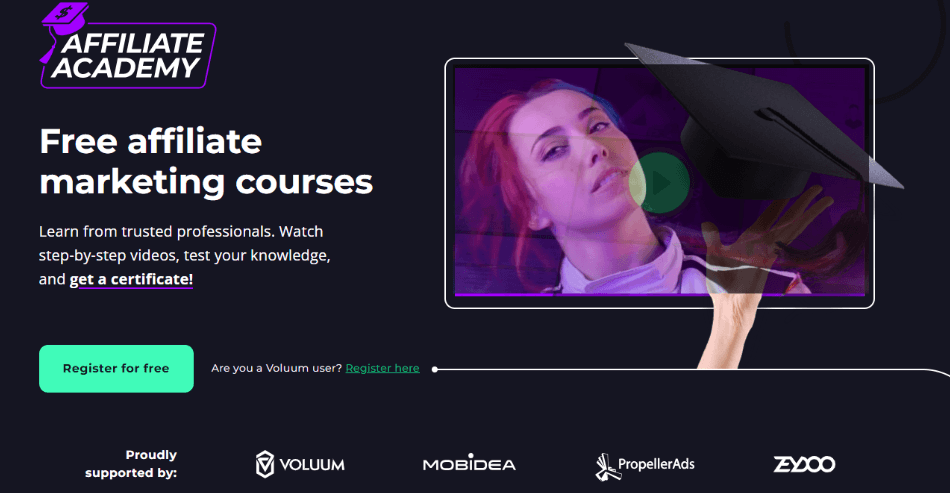 There are 3 sets, each consisting of:
Total Videos: 38
Total Reading Materials: 42
Total Knowledge Tests: 25
And here is the overview;
How to Start Affiliate Marketing
Perfect for beginners, this course offers simple and comprehensive video lessons and reading materials to guide you through the world of affiliate marketing.
Covering everything you need to know, from understanding the basics to launching your first campaign, it ensures a solid foundation for success.
Set Up Your First Campaign
Designed to streamline your campaign setup process, this course walks you through each step of creating, testing, and tracking campaigns.
From registering on vital affiliate platforms to integrating and optimizing your campaigns, this practical guide ensures you're set up for successful campaigns.
Optimize Your Campaigns with Voluum
Unlock the secrets to campaign optimization with this course. Learn how to fine-tune campaigns for maximum conversions and profit.
Dive into A/B testing, bid setting, automation, and crafting effective ads and landing pages. Discover techniques to enhance performance and save time, resulting in more successful campaigns.
Savage Affiliates
Credit card needed: No
Founded by: Franklin Hatchett (Link to his Youtube channel)
Course Duration: 1+ hour
Course Format: Video and reading materials
Course Community: N/A
Support and Help: N/A
Course Difficulty Level: For beginners
Trial Restrictions: No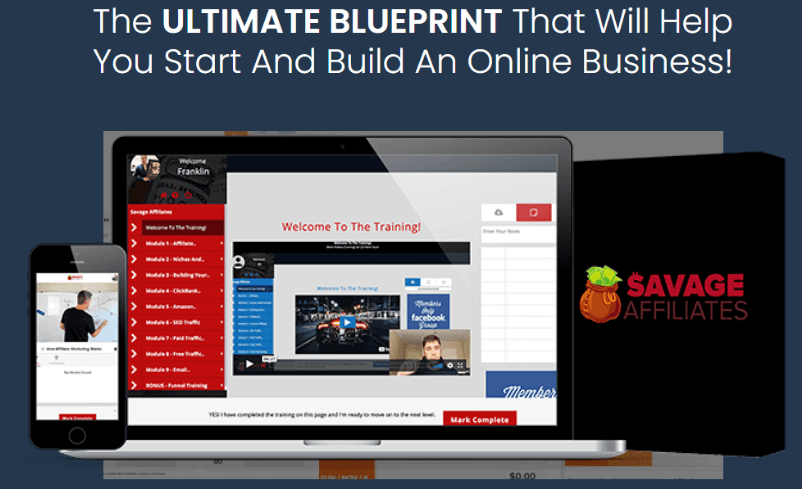 This is another comprehensive offering among the various free online affiliate marketing training courses.
The creators' name is as distinctive as the content they offer.
It begins by assisting beginners in selecting an ideal niche and then progresses to constructing an effective affiliate website.
The course extends guidance on obtaining affiliate links and valuable insights into choosing an appropriate affiliate program, which is frequently a hurdle for those new to affiliate marketing.
Additionally, the content emphasizes practical approaches, making it beneficial for learners seeking hands-on knowledge.
Commission Academy
Credit card needed: No
Founded by: Dale & Simon
Course Duration: approximately 1hr 50min
Course Format: Videos
Course Community: N/A
Support and Help: N/A
Course Difficulty Level: for beginners
Trial Restrictions: No
Ideal for beginners seeking quick revenue, the Commission Academy's free affiliate marketing course opens doors to commissions from over 598,500,000 products without the hassle of inventory or customer support.
It unveils the vast potential of affiliate marketing, guiding newcomers to a share of the $12+ billion industry.
With limitless earning possibilities, this course empowers learners to create a business that works for them.
Great Learning Academy
Credit card needed: No
Founded by/Coach: Edwin Thomas
Course Duration: 1hr 30min
Course Format: videos and PDf
Course Community: N/A
Support and Help: N/A
Course Difficulty Level: for Beginners
Trial Restrictions: Quiz and Certificate are locked until you finish the learning videos
This course is like your guide to Affiliate Marketing, even though it's mainly about Digital Marketing. You'll dive into how Affiliate Marketing works through real examples and see its benefits for both companies and individuals.
They'll walk you through these cool things called Affiliate Marketing Networks – they're like the heart of this whole thing. You'll get how they work and even learn about the top ones used worldwide.
Then, they spill the beans on techniques! You'll discover different tricks that Affiliate Marketers use to sell stuff and make money. Plus, they'll help you pick the perfect niche and show you ways to get people to visit your site.
By the end, you'll know how to avoid rookie mistakes and follow best practices for Affiliate Marketing success. It's like a crash course for understanding the ins and outs of this game!
What is the value of exploring free affiliate marketing courses?
Free courses provide access to educational content without any financial commitment.
This is particularly advantageous for those who are cautious about investing money before gaining a solid understanding of affiliate marketing.
You can grasp essential concepts, terminology, and strategies that are needed on the path to becoming affiliate marketer that can do this for a living.
range of affiliate marketing strategies:
Content Creation and Blogging
Blogging
Creating blog posts that provide valuable information related to the products or services being promoted.
Content Marketing
Developing informative and engaging articles, guides, and resources to attract and educate the target audience.
SEO (Search Engine Optimization)
Optimizing content for search engines to rank higher in search results, driving organic traffic.
Social Media Promotion
Social Media Marketing
Utilizing platforms like Facebook, Instagram, Twitter, and LinkedIn to share promotional content, engage with the audience, and build a following.
Influencer Collaboration
Collaborating with social media influencers to promote products to their followers.
Email Marketing
Email Campaigns
Sending targeted email campaigns to subscribers, showcasing products, offering discounts, and providing value.
Newsletter Marketing
Regularly sending newsletters containing affiliate product recommendations and updates.
Video Marketing
YouTube
Creating video content that reviews, demonstrates, or explains products, then linking to affiliate products in video descriptions.
Live Streaming
Hosting live sessions to interact with viewers, answer questions, and showcase products.
Paid Advertising
PPC (Pay-Per-Click)
Running paid ads on platforms like Google Ads to drive traffic to affiliate offers.
Social Media Ads
Creating and promoting ads on platforms like Facebook, Instagram, and Twitter to target specific demographics.
Podcasting
Podcast Sponsorships
Collaborating with podcast hosts to promote products to their listeners.
Affiliate Product Spotlight
Devoting episodes to discussing and endorsing affiliate products.
Webinars and Online Events
Webinars
Hosting online seminars or workshops where products are introduced, explained, and recommended.
Virtual Events
Participating in online trade shows, expos, or webinars to showcase products to a larger audience.
Comparison and Review Websites
Product Reviews
Creating in-depth reviews of affiliate products, highlighting their features, benefits, and potential drawbacks.
Comparison Guides
Offering side-by-side comparisons of different products, aiding customers in making informed choices.
Forums and Online Communities
Community Engagement
Participating in relevant forums and online communities to offer value, answer questions, and subtly promote affiliate products when relevant.
Niche-specific Strategies
Employing strategies unique to specific niches, such as recipe sharing for food-related affiliates, workout plans for fitness products, or travel guides for travel-related products.
By sampling various free courses, individuals can make informed decisions about whether affiliate marketing aligns with their interests, skills, and long-term goals.
Free courses often incorporate practical exercises, case studies, and real-world examples,
with preliminary skills, enabling them to start applying basic affiliate marketing strategies even before enrolling in more advanced or premium courses.
As participants gain knowledge and skills through free courses, they build confidence in their ability to navigate the affiliate marketing landscape successfully
Benefits of Free affiliate marketing courses
Risk-Free Exploration
Test the waters without fear of wasting money. Explore different courses and learning platforms to find the best fit.
Foundational Learning
Free courses often cover the basics, providing newcomers with the essential knowledge to understand affiliate marketing concepts and strategies.
Informed Decision-Making
You can better evaluate whether affiliate marketing aligns with your interests, strengths, and goals.
Introduction to Affiliate Marketing Tools
Some free courses might introduce you to tools and platforms commonly used in affiliate marketing.
Keyword Research Tools
Content Management System (CMS)
Email Marketing Platforms
Graphic Design Tools (Canva)
Affiliate Networks (ClickBank …)
Networking and Community
Access to communities, forums, or discussion groups where you can interact with fellow learners.
Pathway to Premium Courses
Successful completion of free courses can help you gauge your readiness for more advanced, premium courses.
Drawbacks of Free Affiliate marketing courses
Limited Content
Free courses may provide only a fraction of the content available in paid versions, restricting your exposure to advanced strategies.
Lack of Personalization
Free courses often lack personalized guidance and support, which can hinder your ability to address specific queries or challenges.
No Certification
Some free courses might not offer certificates, which could be valuable for showcasing your expertise to potential clients or employers.
Quality Concerns
The quality of free courses can vary significantly, and not all free options provide accurate or up-to-date information
Trial Period Constraints
While some courses offer free trials, these might come with time limitations, pressuring you to learn quickly within that window.
Fewer Resources
Free courses might not offer supplementary resources like templates, tools, or downloadable materials available in paid courses.
Conclusion
The realm of affiliate marketing offers a multitude of opportunities, and embarking on this journey through free courses can be an insightful starting point.
These courses, readily available and risk-free, provide beginners with a solid foundation, empowering them to understand the core concepts, strategies, and tools essential for success.
Moreover, by exploring diverse courses, aspiring marketers can make informed decisions about their direction in affiliate marketing, aligning their interests and goals.
As you delve into these educational resources, remember that these free courses not only open doors to affiliate marketing knowledge but also serve as stepping stones towards more advanced ventures, setting the stage for your future success in the dynamic world of affiliate marketing.
FAQs
How to get free affiliate marketing courses?
You can access free affiliate marketing courses through various online platforms and educational websites.
Is it free to become an affiliate marketer?
Yes, becoming an affiliate marketer is generally free; you earn commissions from promoting products or services.
How to make money with affiliate marketing for beginners free?
Beginners can learn how to make money with affiliate marketing for free by enrolling in free online courses and applying the strategies learned.
Can I learn affiliate marketing on my own?
Yes, you can learn affiliate marketing on your own by taking advantage of free resources, courses, and tutorials available online.
What is the best course on affiliate marketing?
The best course on affiliate marketing can vary based on individual preferences, but exploring free courses and reputable platforms can help you find valuable learning resources.