This is a good question, and I am glad you do your research on the Commission Hero.
I stumbled upon this product on the ClickBank back in 2019 and decided to do a thorough review of the Commission Hero.
Since then I keep an eye on it and as of today's writing, I want to do an update of this ClickBank product.
If you already reviewed some of the ClickBank products, you know that most of them are really misleading and offer little to zero value.
Does Commission Hero belong to the same category?
Or, Is Commission Hero a scam?
Let's go over this system, to find out whether the claims about making $1,000 a day are to be trusted.
In this Commission Hero Review, we are going to explain what is this system all about, how can you make money, what are its Pros and Cons, what is the price for it, and if it is worth the investment.
Disclaimer:
Please note, that I am not a member or an affiliate of Commission Hero.
This review is based on research and information available online in the public domain.
Any recommendations and conclusions are only opinions and may not apply to all persons or situations.
Commission Hero Review
Name: Robby Blanchard
Website: www.joincommissionhero.com
Price: Advertised Price $997
Owners: Robby Blanchard
What is Commission Hero?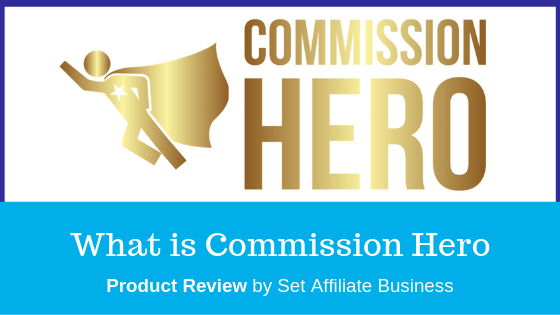 Commission Hero is a digital product teaching, how to make thousands of dollars a day with a simple 3-step system.
You are going to learn how to promote other ClickBank products and offer them to people by running targeted Facebook Ads.
But can you make $1,000 a day as per the Commission Hero sales page?
Well, in theory, it is possible.
There are lots of products on ClickBank and many of them pay 50% commission, some of them even 70% commission.
So you only need to:
Find these products
Find people who are interested in them
If they make a purchase, you get the commission.
The more people you find, the higher your earnings.
And this is exactly what this course offers.
But can anyone make $1,000 per day using the methods taught by the Commission Hero course?
Apparently yes.
This is at least what you are told by the owner.
Let's start with the owner of the product.
Who Is Behind the Commission Hero?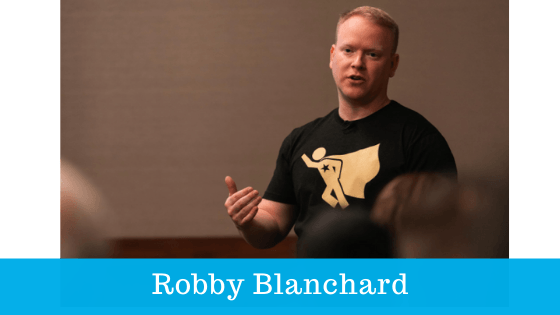 His name is Robby Blanchard and he is a real person, unlike many other ClickBank products I have reviewed (for example Digital Income System).
This is always a good sign when there is a real person behind the digital product. You have no idea how many digital systems or "courses" are out there that don't even have proper contact information.
But I digress.
So who is Robby?
He is a certified personal trainer with a B.S. in Exercise and Sports Science and he also holds an MBA from Fitchburg State University, in Massachusetts. Robby owns a CrossFit Reach in Acton, MA.
How did he get into digital marketing?
Robby started by running Facebook ads and promoting his Gym.
He also found out about ClickBank and decided to create his own fitness course.
This course has been doing pretty well and as you can see it is still available (as of this writing, July 28th, 2020).
That brought him to affiliate marketing and decided to try that as well.
Based on his experience in 2019 he creates the Commission Hero.
Inside this course, Robby wants to show you what is the fastest way to make money online with ClickBank and Facebook and how you can start earning 6 figures in the next months.
He shows you the screenshots from his ClickBank account.
To give you an idea, these screenshots are from mid of April 2019 where his balance says something over $1,7M.
He also claims to be the #1 affiliate in ClickBank.
There was actually a way how to find out who is the #1 affiliate.
ClickBank's website has undergone some changes and currently, the leaderboard is not available.
In the past though, it was possible to find a leaderboard that looked like this: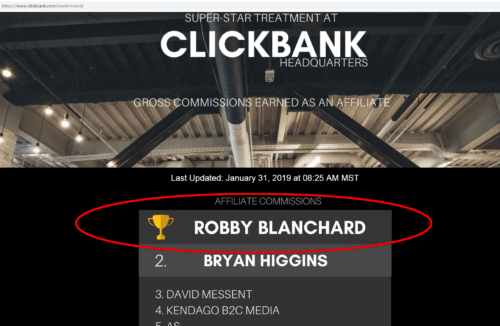 What he teaches, is how to do www.joincommissionhero.com, especially with Facebook. He explains that there are billions of people on Facebook so it is a great marketplace, which is true.
Another good thing about running ads on Facebook is that you can literally create laser-targeted ads.
Yes, but making a profit from Facebook ads might be difficult for beginners.
I used to run Facebook ads as well. I did not make a dime.
Then I took some courses (there were for free though) to learn how to do it properly. I have spent more than $2,000 on Ads with very few results.
Running successful Facebook ads requires experience and of course some extra budget.
But regardless of your budget, you want to start with a small amount, let's say $10 a day.
So you are starting to see some traffic on your website. But you have no conversion.
This means nobody buys the product you promote.
What you need to do is to tweak your campaign a bit and run it again with an additional budget.
You may repeat this process over and over again until you start to generate income. That means, that you need an extra budget, probably a few hundred or maybe even $1,000 for a few months.
Or Learn from the Professional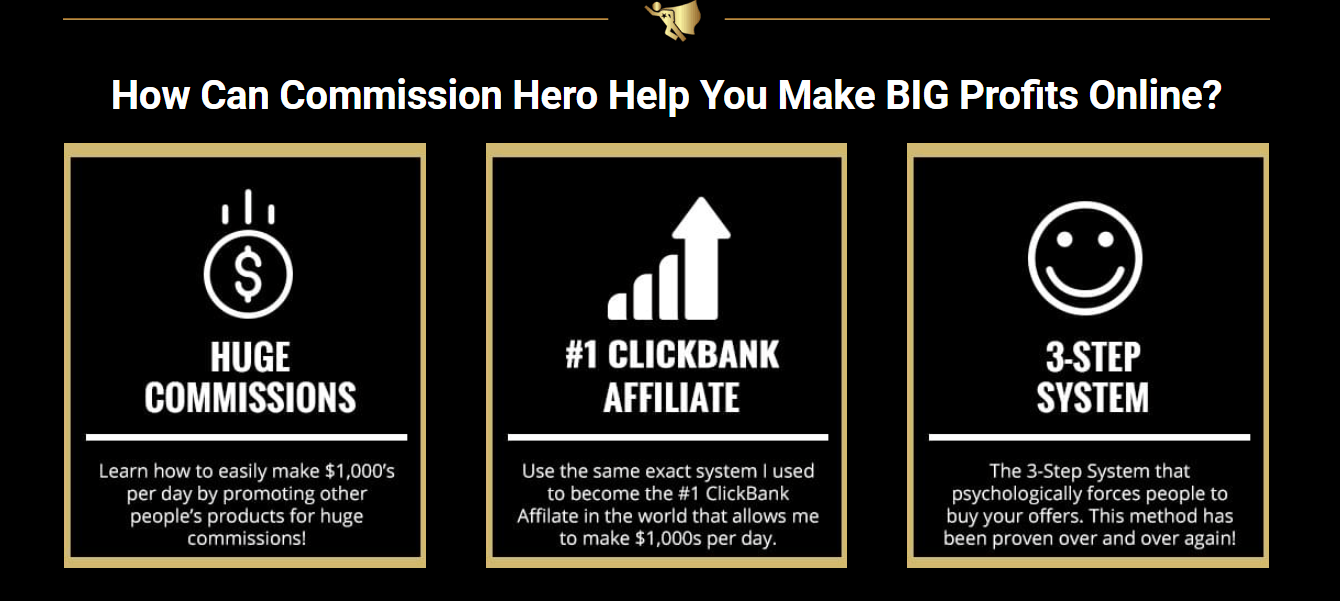 According to Robby though, with Commission Hero, you learn 3 following secrets:
How to find the best and highest-paying offers to make the most money possible
How to use your Facebook account to run ads for other people's products on ClickBank for a big commission
How to use a 3-step method that psychologically forces people to buy your offers.
Running ads on Facebook without proper knowledge can be tricky
I remember I did spend well over $2,000 on Facebook Ads back in 2015.
In fact, the "investment" of $1,000 for such a course might have saved me some money.
Is Commission Hero Legit?
Yes, Commission Hero is a legit course.
What bothers me a bit though is the price that can go over thousands of bucks (if you add the costs for the ads). But we will get to that shortly.
He also has a lot of testimonials on this site, that seem to be legit.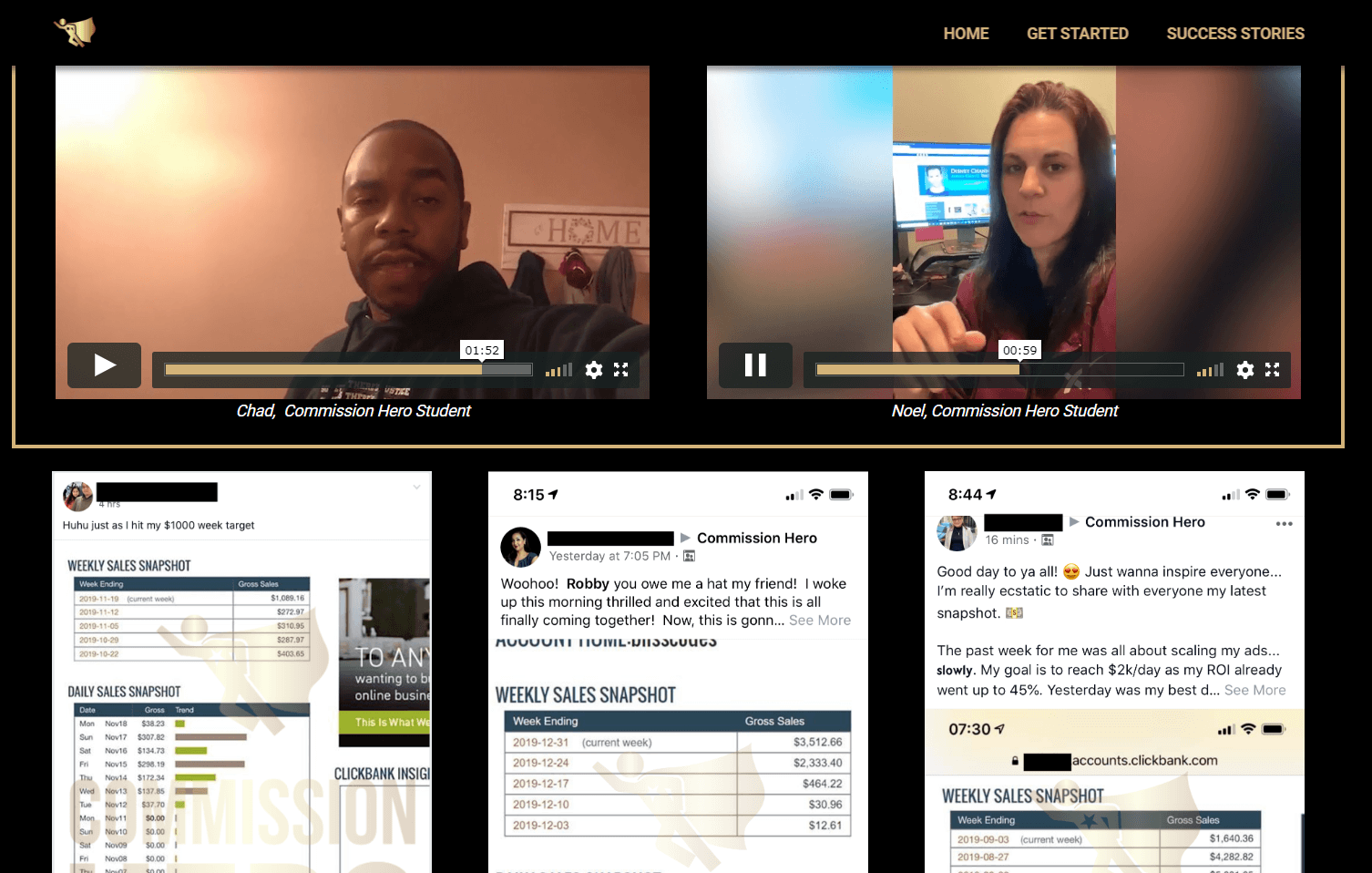 According to the screenshots, one can say that there are people earning from a couple of bucks per week to several thousand.
Here is another screenshot showing gross sales per week:
(still very impressive)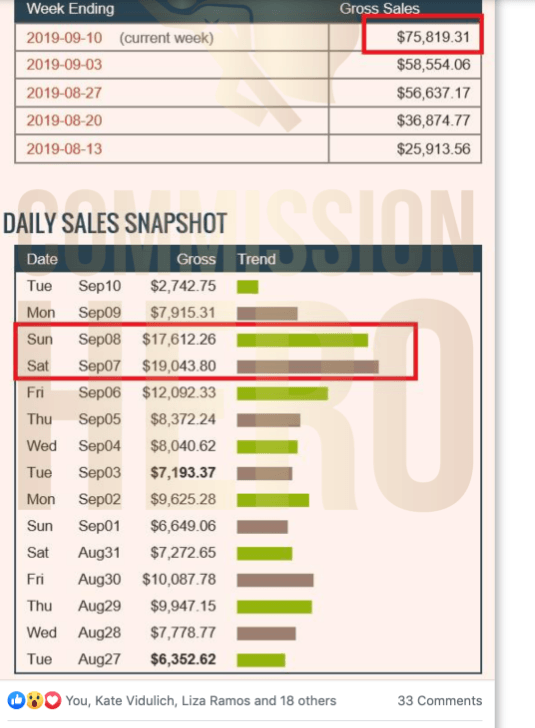 And one more here:
One thing needs to be clarified though.
These figures show the revenue. It is not the actual net income.
With that being said, it is hard to estimate how much these people pay for the ads. My guess is that at least half of the figures you see on these screenshots are for the ads.
But still, wouldn't you pay $1,000 for ads and get $2,000 in return?
That would be a good return on investment.
Who Is Commission Hero For?
Commission Hero is for entrepreneurs who want to scale their business, or even for people who are interested in online marketing, and do have some experience but don't know how to run ads.
According to the free webinar, this is also for aspiring marketers who:
don't have an email list
don't have their own product
don't have a website
In my opinion, you do need a website, and 90% of successful internet marketers say so. (I have heard also Frank Kern saying that website is the first thing you need to have.
Whether you like him or not, the website is your business headquarters; especially if you plan to create a sustainable business online).
The thing is, that with Commission Hero (CH) you are taught how to do it without a website. As Robby says, you only need a Facebook and ClickBank account.
BTW, If you are interested in how to set sign up for a ClickBank account you can watch the video below.
So apparently, this Commission Hero works for anyone, whether you are tired of working the 9-5 or you already have an online business.
For people who want to have freedom and are willing to work from anywhere and anytime, this course might be exactly the right product.
I like that Robby also points out some restrictions, saying that it is actually not for everybody.
And he is also very specific saying that it is not for people who:
Want to get rich quick
Don't want to work hard or put in the effort
Give up at the slightest sign of resistance
Fair enough.
Everyone who wants to build a sustainable business has to realize that "get rich quick" simply does not work.
Let's check what you get once you purchase the course.
Modules You Get + List of Bonuses
You are offered at least 5 official modules and on top of it, you get also bonuses.
Here is a brief description of what are these all about:
Module 1 – Choosing Your Offers
The Entire Commission Hero System – You will learn how to pick the right ClickBank offers to make a profit right away.
The clickBank product gives a commission of about 75%.
You will learn, how to get the commission 90-100% without any learning curve.
Module 2 – Creating Your Images
The Image is the most important part of this system – you will be shown how Robby uses to design all of his million-dollar images that cost $5.
On top of it, he will show you how to know which images will be working and which ones won't, so you save a ton of time and frustration
Module 3 – Setting up your Landing Pages
Here, he'll show you what you need to have on your landing page so it is both Facebook compliant and yet it apparently converts like crazy really well (Robby uses the word "crazy". I personally do not like such exaggerations).
Also, you will learn how to create article landing pages and quiz landing pages that force the viewer to purchase (I personally don't like to force anybody either).
On top of it, he will teach you how to get split test variations that will get you higher conversions and sales.
Module 4 – Running your Facebook Ads
Inside there will be easy-to-follow Facebook ad tutorials, so you wouldn't feel blind while creating them. You will learn the right way to set your ads, so you get the profit fast and how to scale it up to super-profits.
Module 5 – How to Scale-up
Once you find a winning ad, you want to scale it up – how to go from spending zero to thousands a day "in less than 30 days". You will learn how to get more Ad Accounts to scale it up even faster.
Bonus #1 – Commission Heros Facebook Group
You get access to the private Facebook Group where you get support from the other members.
Bonus #2 – Million Dollar Image Swipe File
Robby shares with you 20 images that made him millions of dollars. The magic is that they are proven to work and they are an inspiration for you to create more similar images.
Bonus #3 – Million Dollard Ninja Tactics
He shares with you strategies that he used to become the top affiliate on ClickBank:
scaling tactics
credit card tricks
how to have more ad accounts
how to increase sales by 25%
To sum it up, let's take a look at the screenshot from the webinar: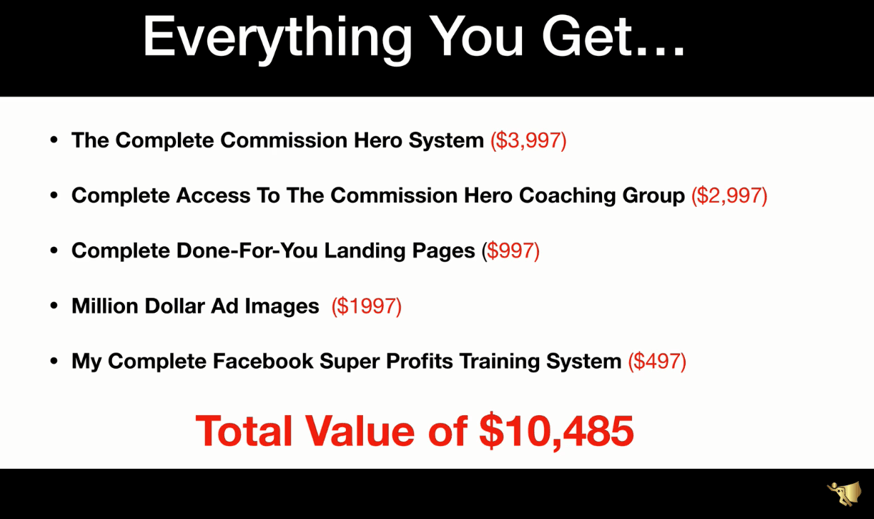 He offers other bonuses as well, you can find out about them in the webinar.
Actually, let me share them with you:
Live training – you can look over Robby's shoulder and see how  he does things
"Rolodex" – get access to products that you would never think that you can promote, and apparently you make great money
Ad Account Training – he shows you how to have plenty of ad accounts, ready to go
Lifetime Updates – you won't miss any updates (Facebook is constantly changing, so you are up to date)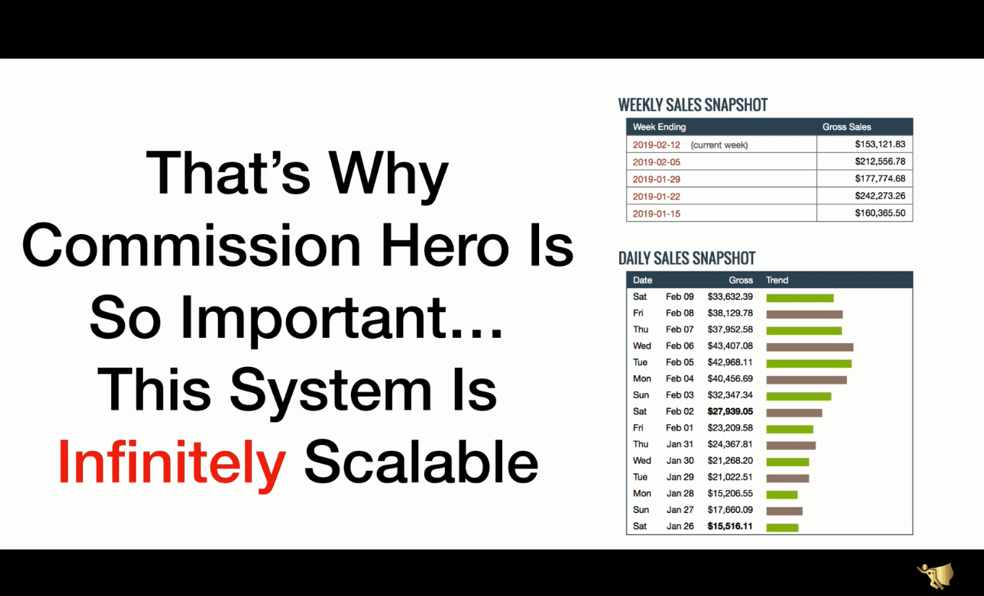 Support
You are getting full support from anyone who is in the Commission Hero Group. Besides newbies, you will find many advanced marketers inside this group. Everyone in this group supports each other.
They do have also a Facebook page where you are literally asked to be active and ask questions.
Just type Commission Hero in Facebook Search Bar and you will easily find the group, as per the screenshot below:
Commission Hero Price Structure
This is a high ticket training, meaning that you have to be prepared to pay something about $1,000 for the course.
Besides the price of the course, you have to be prepared to pay for the ads as well.
This is not a hidden fee.
It is actually mentioned in the FAQ section of the Commission Hero site, and you should be prepared to pay about $15 per day for the ads.

When it comes to the price of the course, you can pay either a one-time payment, which is $997.00 or you can choose a two-payment option.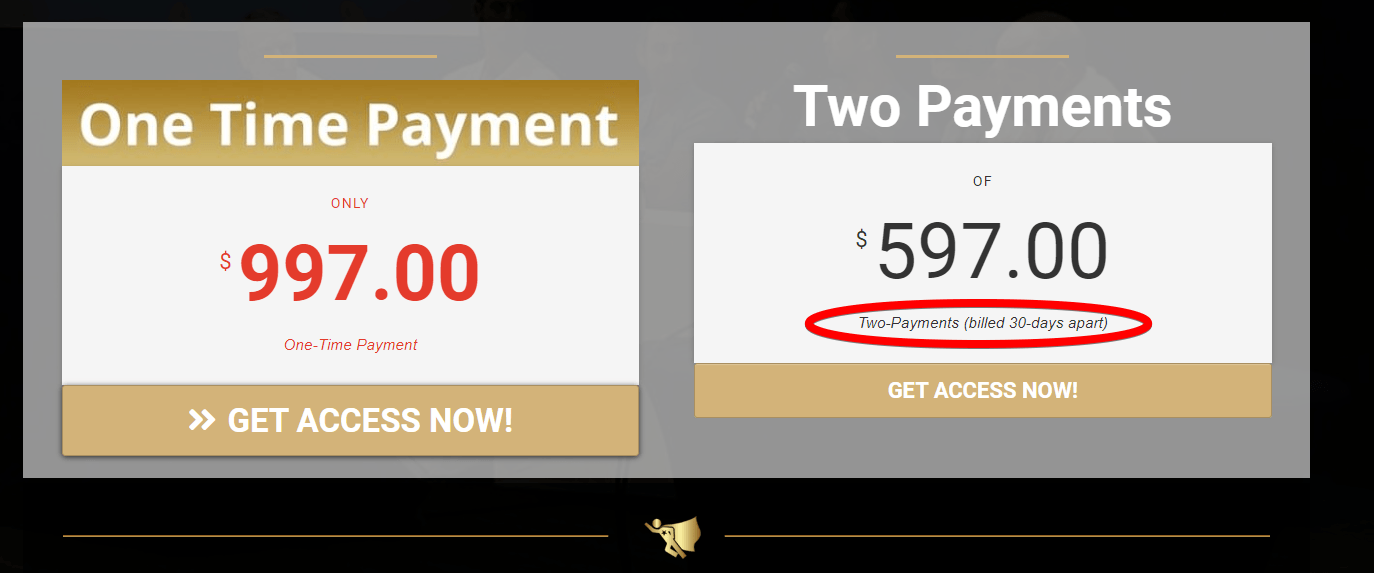 As you probably noticed, the 2nd payment should be done within 30 days.
(In case you decide on the 2nd option, you end up paying $197 more for the same course).
Also with Commission Hero, you get many bonuses worth several thousand of dollars.
That should make you think, that you actually saving money, I guess.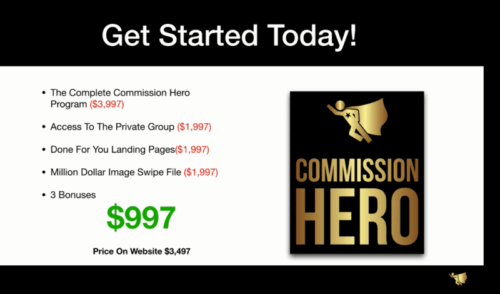 Possible Issues with Facebook Ads
Facebook is a huge market. Whenever you run ads on Facebook you have also the option to run the same ad on Instagram as well.
The thing is, it is easy to create an ad on Facebook. You can even set your ad to be pretty laser-targeted. Most people will give you some likes, they may share your post… But you want them to buy the product. You want to make a profit in order to create a new ad.
My point is that creating a profitable Facebook ad is pretty difficult and it requires experience and budget. I would say it was still easier to run efficient ads on Facebook back in 2017.
In 2018 the costs per ad increased since more and more people do such ads, let alone in 2023.
But Robby seems like a guy who knows what to do and he is ready to help every person who is serious about building the business online.
His goal is to create a long-term income business by using affiliate marketing.
Every student is provided with support, help, and coaching so everyone should achieve his/her goal as soon as there is enough effort.
But that will require some time.
I would say if you really want this to make you some extra bucks you most likely will need to hustle, especially in the first months or maybe even more.
How About a Free Traffic to Your Website
Paying for traffic is a fast way how to get visitors to your website. That means you pay (either FB, Google Bing, etc.) for clicks to your offer.
Now how do you know that these people will end up buying the product?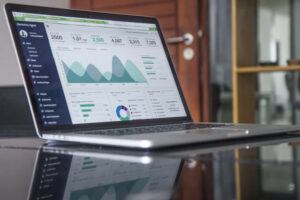 You can't predict that, so it is all about testing. And it costs money.
Do you prefer free/organic traffic?
There is a method, of how you can get free traffic to your website.
That means that people go to Google, looking for an answer and they land on your website.
Isn't that cool?
Yes – but, this method has its drawbacks as well. It requires both, effort and time.
Depending on your niche, your website can get solid traffic within 5 or 6 months. In about another 5 to 7 months, you can get about 1,000 visitors per day. At this point, you are certainly ready to monetize that traffic.
This is a great method if you have time, but no budget.
Sometimes it takes about a year of consistent effort until you get enough traffic:

If you have a budget and want to try to get results, then you can go ahead and pay for the traffic.
That is what Commission Hero teaches you.
If you want to learn what exactly it takes to get free traffic, there is a great educational platform that teaches that.
Feel free to review that and then decide which platform you prefer.
Commission Hero at a Glance
Name: Robby Blanchard
Website: www.joincommissionhero.com
Price: Advertised Price $997
Owners: Robby Blanchard
The Good & the Bad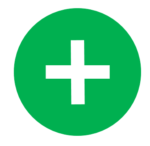 Robby is a real person (Considering other CB products this is a Pro)
Educational material on how to run FB Ads + Bonuses
Money-Back Guarantee*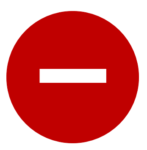 Additional costs required for FB Ads
Learning curve
* There is a drawback to the refund – You can request a full refund after 12 months, not before
My Final Opinion of Commission Hero
Commission Hero is a High Ticket Product, maybe not everyone can afford it. But in my opinion, you also get valuable information, and if you follow the training you can earn the money back in a reasonable time.
You must also consider the additional cost for Facebook Ads, which are at least a couple of hundred (in case you have not run them yet)
Actually, you can decide for yourself. Go check his Free webinar and make your own decision.
Let me know if you have any questions.
I'd be more than happy to answer them.
Cheers, Mike 🙂