You're right to be curious about Commission Hero's legitimacy. Back in 2019, I came across this ClickBank product and decided to thoroughly review it. Now, it's time for an update on this program.
With so many misleading ClickBank products out there, it's essential to know if Commission Hero falls into the same category. Is it a scam?
Let's dive into this system and see if the claims of earning $1,000 a day are reliable. In this Commission Hero Review, we'll explore what the system offers, how you can make money, its pros and cons, pricing details, and whether it's worth investing in.
Jump to:
Disclaimer:
Please note, that I am not a member or an affiliate of Commission Hero.
This review is based on research and information available online in the public domain.
Any recommendations and conclusions are only opinions and may not apply to all persons or situations.
Commission Hero Overview
Name: Robby Blanchard
Website: www.joincommissionhero.com
Price: Advertised Price $997 (or 2x $597)
Owners: Robby Blanchard
Commission Hero Review (Quick Summary)
Commission Hero is a comprehensive course that teaches individuals to effectively promote ClickBank products using targeted Facebook Ads for their affiliate marketing business.
It claims to be a simple 3-step system that uses Facebook to advertise digital products, allowing you to earn big affiliate commissions.
To achieve substantial earnings, you need to choose products with lucrative affiliate programs that offer commissions in the 50% or higher range.
The program caters to those seeking success in affiliate marketing through strategic paid advertising methods, offering the potential to earn up to $1,000
What is Commission Hero?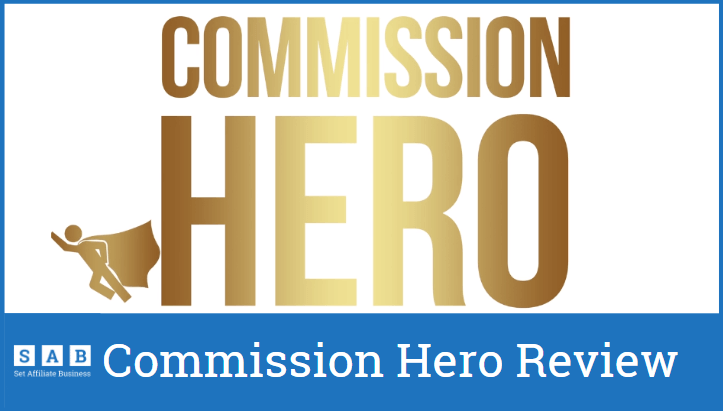 Commission Hero is a comprehensive affiliate marketing course, that teaches individuals how to effectively promote ClickBank products through targeted Facebook Ads and earn commissions from the sales they generate.
The program focuses on providing step-by-step guidance and strategies to help aspiring affiliate marketers succeed in the industry.
The sales page suggests earning $1,000 a day is possible. With ClickBank products offering high commissions (up to 70%), finding interested buyers can lead to substantial earnings.
However, success depends on finding the right products and audience. The course claims anyone can achieve $1,000 per day, but results may vary.
Who Is Behind the Commission Hero?
Meet Robby Blanchard, successful affiliate marketer and the driving force behind Commission Hero.
Unlike many other ClickBank products, Robby is a real person, which is always a positive sign when assessing the legitimacy of a digital product.
It's reassuring to have a genuine individual behind the program, especially considering the prevalence of products lacking proper contact information.
So, who is Robby Blanchard?
He's a certified personal trainer with a B.S. in Exercise and Sports Science a gym owner, and he holds an MBA from Fitchburg State University in Massachusetts.
Additionally, Robby owns CrossFit Reach, a gym located in Acton, MA.
Robby's journey into digital marketing began by leveraging Facebook ads to promote his gym. Upon discovering ClickBank, he decided to venture further and created his own fitness course.
Having a background in fitness and firsthand experience with Facebook ads, Robby brings practical knowledge to the Commission Hero program.
His expertise and insights contribute to the program's approach to affiliate marketing success.
This course had been highly successful and was still available in 2020.
Robby Blanchard, based on his own experiences, delved into affiliate marketing and eventually created Commission Hero.
Inside the course, Robby reveals the fastest way to make money online with ClickBank and Facebook, guiding you towards earning 4 figures or even 6, in the coming months.
He backs his claims with screenshots from his ClickBank account, showcasing his impressive earnings, with a balance exceeding $1.7 million in mid-April 2019.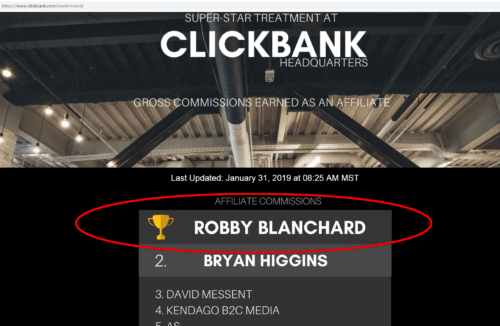 While Robby claims to be the #1 affiliate on ClickBank, the current leaderboard is not accessible due to changes on ClickBank's website.
However, the past leaderboard provided valuable insights into his exceptional performance as an affiliate marketer.
Robby Blanchard highlights the vast potential of Facebook as a lucrative marketplace with billions of users.
we will get into it in a bit.
In his Commission Hero program, he skillfully guides you to harness the power of Facebook to earn thousands of dollars daily, all without the need for a product, email list, or even a website.
Robby Blanchard approach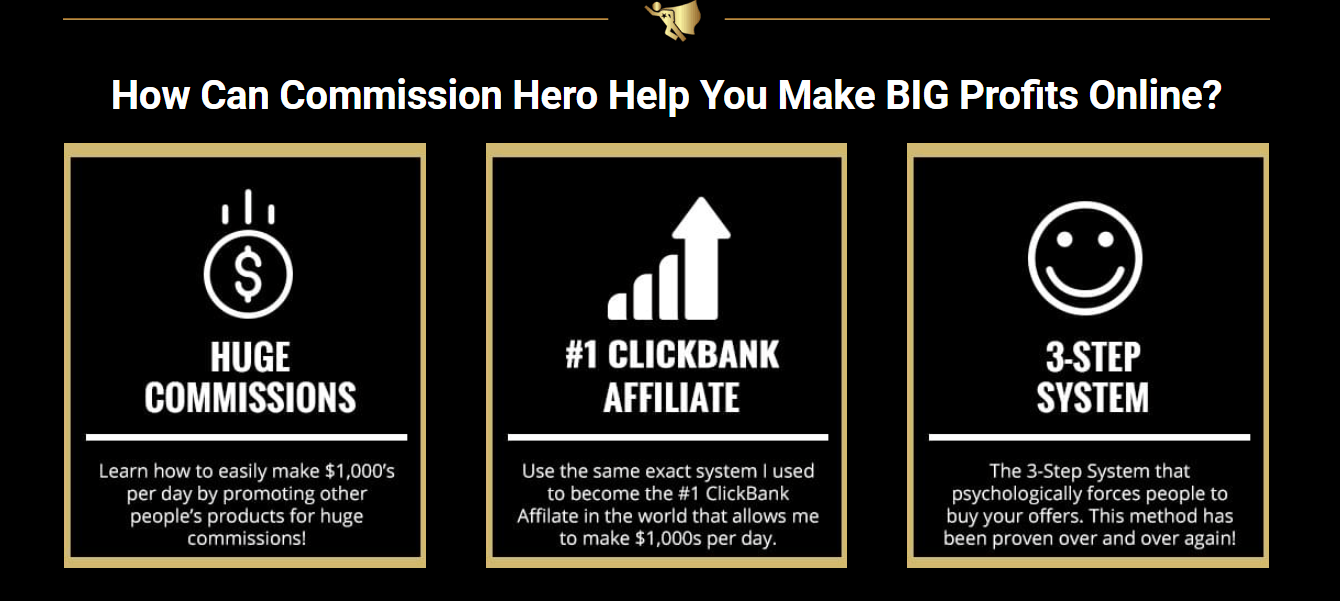 With Commission Hero, Robby teaches you three secrets:
How to find the best and highest-paying offers to maximize your earnings.
How to use your Facebook account to run ads for other people's products on ClickBank and earn significant commissions.
How to use a 3-step method that persuades people to buy your affiliate offers.
Before taking this course, I spent over $2,000 on Facebook Ads in 2015.
Looking back, investing $1,000 in this course might have saved me money and helped me run successful campaigns.
Robby covers setting up ads, creating custom audiences, and shares tips for a successful campaign.
Running Facebook ads without proper knowledge can be challenging, so this course provides valuable insights to succeed in affiliate marketing.
Commission Hero Website Information
Considering the importance of making informed decisions, checking the website traffic information of Commission Hero is a wise move.
Understanding the website's popularity and engagement can provide valuable insights into the program's credibility and effectiveness.
I have discovered that Robby actually uses two different domains, which may confuse some potential customers. However, the Commission Hero Support team assured me that both domains are valid, and orders can be placed on either side.
All transactions will route to the official checkout page.
My curiosity was piqued by the significant traffic one of his domains receives:
According to Semrush, the peak was in the second half of 2020:
Since then, the traffic has declined for the initial domain.
However, the second domain, commissionhero.com, experiences significantly higher traffic: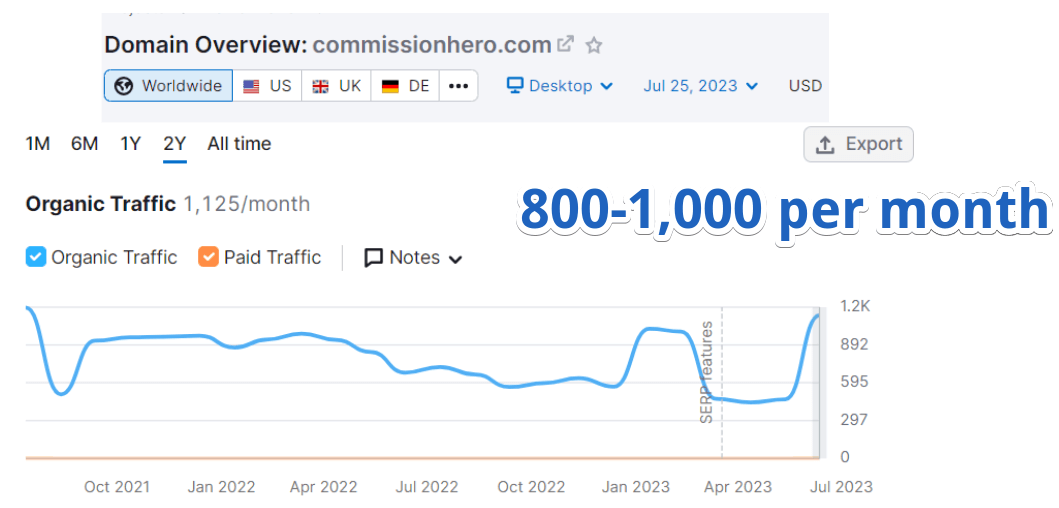 This is, in fact, the original domain that Robbin registered back in 2007.
According to Semrush, it receives approximately 900 organic visitors per month, and the traffic shows remarkable consistency over time.
Commission Hero Social Media
Commission Hero Facebook Group
With ads and leads primarily found on Facebook, it's the go-to channel for support and engagement.
Commission Hero offers a private Facebook group as a valuable resource for all students.
Here, you can ask questions, seek guidance, and receive feedback from Robby and experienced members.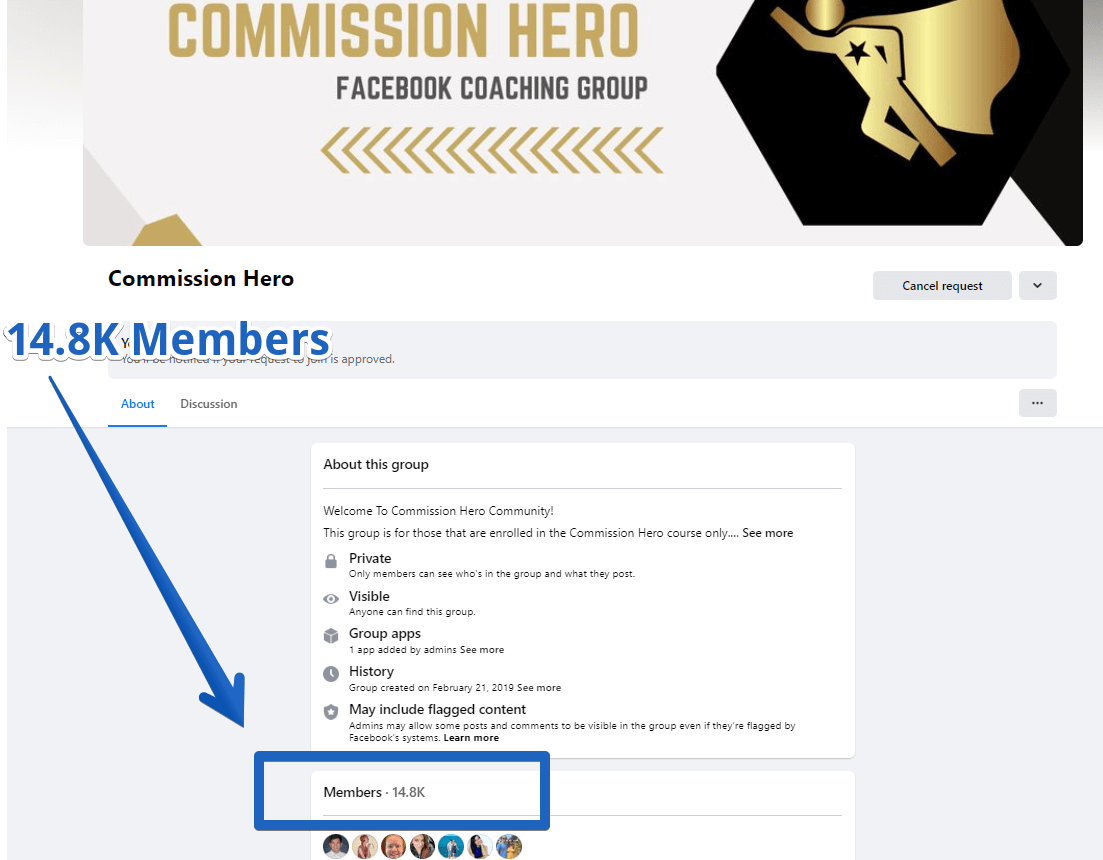 Robby heavily relies on Facebook, and his Commission Hero group boasts almost 15K members, creating an active and engaged community.
Inside the group, you gain access to exclusive secrets and insights not widely shared elsewhere, giving you a competitive edge when you enroll in the Commission Hero course.
Robby Blanchard's Instagram Profile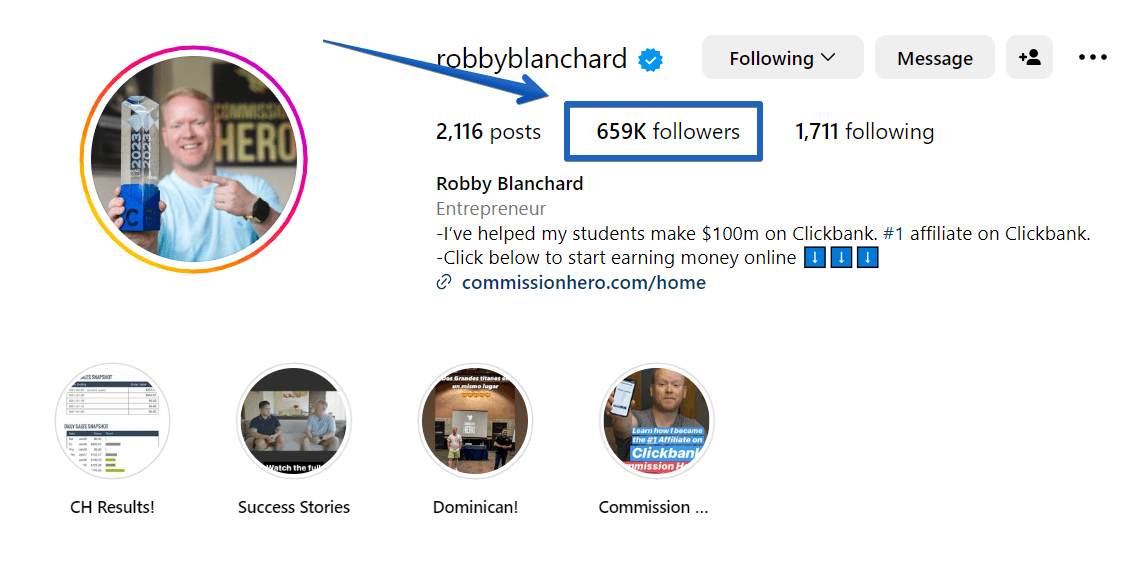 Robby's Instagram account, which boasts 660K followers, is a remarkable achievement for an online marketer.
It's worth noting that he joined Instagram in December 2013, making his impressive follower count a result of years of dedicated efforts and engagement.
This extensive reach further solidifies his position as a significant influencer within the affiliate marketing community.
What is Inside of Commission Hero?
You are offered at least 5 official modules and on top of it, you get also bonuses.
Here is a brief description of what are these all about:
Choosing Your Offers
The Entire Commission Hero System – You will learn how to pick the right ClickBank offers to make a profit right away.
The clickBank product gives a commission of about 75%.
You will learn, how to get the commission 90-100% without any learning curve.
Creating Your Images
The Image is the most important part of this system – you will be shown how Robby uses to design all of his million-dollar images that cost $5.
On top of it, he will show you how to know which images will be working and which ones won't, so you save a ton of time and frustration
Setting up your Landing Pages
In this section, Robby will guide you on creating a landing page that is both Facebook compliant and highly converting. While he might use the word "crazy" to describe its success, the focus is on effective results.
You will also learn how to craft article landing pages and quiz landing pages designed to encourage viewers to make a purchase. Additionally, he will teach you how to perform split tests to improve conversions and sales, without resorting to forceful tactics.
Once you've mastered the landing page strategies, the course covers essential technical aspects, such as:
registering for ClickFunnels,
setting up your affiliate links,
configuring your domain,
and creating your PHP landing page
These steps are vital for building a robust and functional affiliate marketing system.
Running your Facebook Ads
Inside, there will be easy-to-follow Facebook ad tutorials, so you wouldn't feel blind while creating them. You will learn the right way to set your ads, so you get the profit fast and how to scale it up to super-profits.
Robby equips you with the necessary tools to build a successful campaign, but there's no one-size-fits-all approach.
Success comes from experimentation and finding what resonates best with your audience, product, landing page, and email follow-up strategy.
How to Scale-up
Once you find a winning ad, you want to scale it up – how to go from spending zero to thousands a day "in less than 30 days". You will learn how to get more Ad Accounts to scale it up even faster.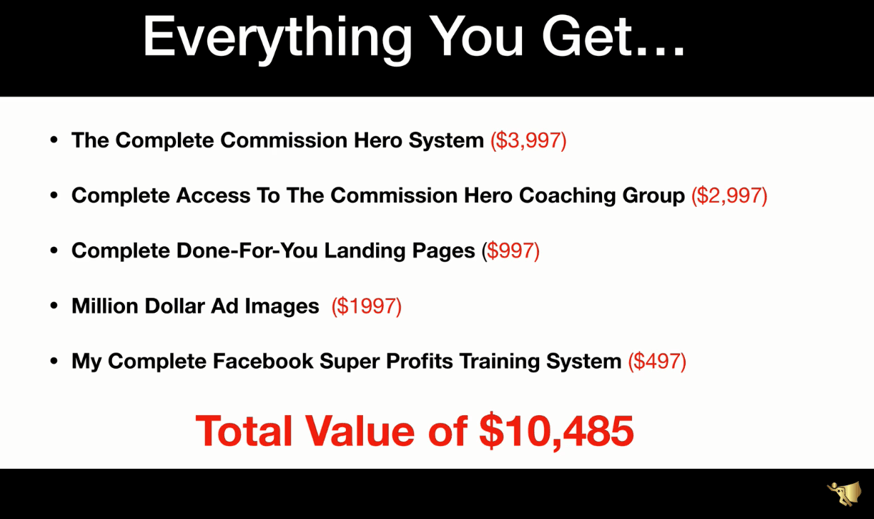 Bonus #1 – Commission Heros Facebook Group
You get access to the private Facebook Group where you get support from the other members.
Bonus #2 – Million Dollar Image Swipe File
Robby shares with you 20 images that made him millions of dollars. The magic is that they are proven to work and they are an inspiration for you to create more similar images.
Bonus #3 – Million Dollard Ninja Tactics
He shares with you strategies that he used to become the top affiliate on ClickBank:
scaling tactics
credit card tricks
how to have more ad accounts
how to increase sales by 25%
To sum it up, let's take a look at the screenshot from the webinar:
He offers other bonuses as well, you can find out about them in the webinar.
Actually, let me share them with you:
Live training – you can look over Robby's shoulder and see how  he does things
"Rolodex" – get access to products that you would never think that you can promote, and apparently you make great money
Ad Account Training – he shows you how to have plenty of ad accounts, ready to go
Lifetime Updates – you won't miss any updates (Facebook is constantly changing, so you are up to date)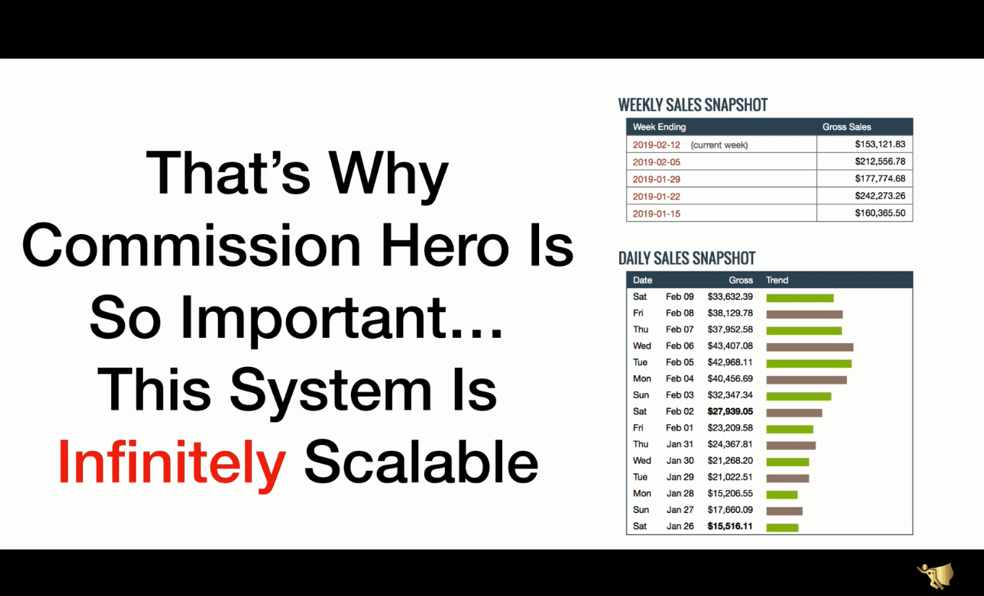 Drawbacks of Running Facebook Ads
While there are undeniable advantages to running Facebook ads, it's crucial to be aware of potential downsides.
Creating a profitable Facebook ad can be challenging, and it requires experience and budget.
While Robby provides support and coaching for long-term income through affiliate marketing, building a profitable venture will take time and dedication.
Affiliate marketing is an online business model that requires effort.
Expect to hustle, especially in the initial months, to make significant earnings.
Is There a Commission Hero Support?
When you join Commission Hero, you gain access to full support from the members of the Commission Hero Facebook Group.
This group includes both newbies and experienced marketers, all of whom are willing to support and help each other.
Additionally, there is a dedicated Facebook page where you are encouraged to be active and ask questions.
Simply search for "Commission Hero" in the Facebook Search Bar to find the group easily.
How Much Does Commission Hero Cost?
Commission Hero's training is considered high-ticket, with a price tag of around $1,000 for the course.
Additionally, be prepared for ad costs, which are not hidden fees.
The FAQ section on the Commission Hero site mentions an estimated $15 per day for ads.

Regarding the course price, you have two options:
a one-time payment of $997.00
or a two-payment option, 2x $597.00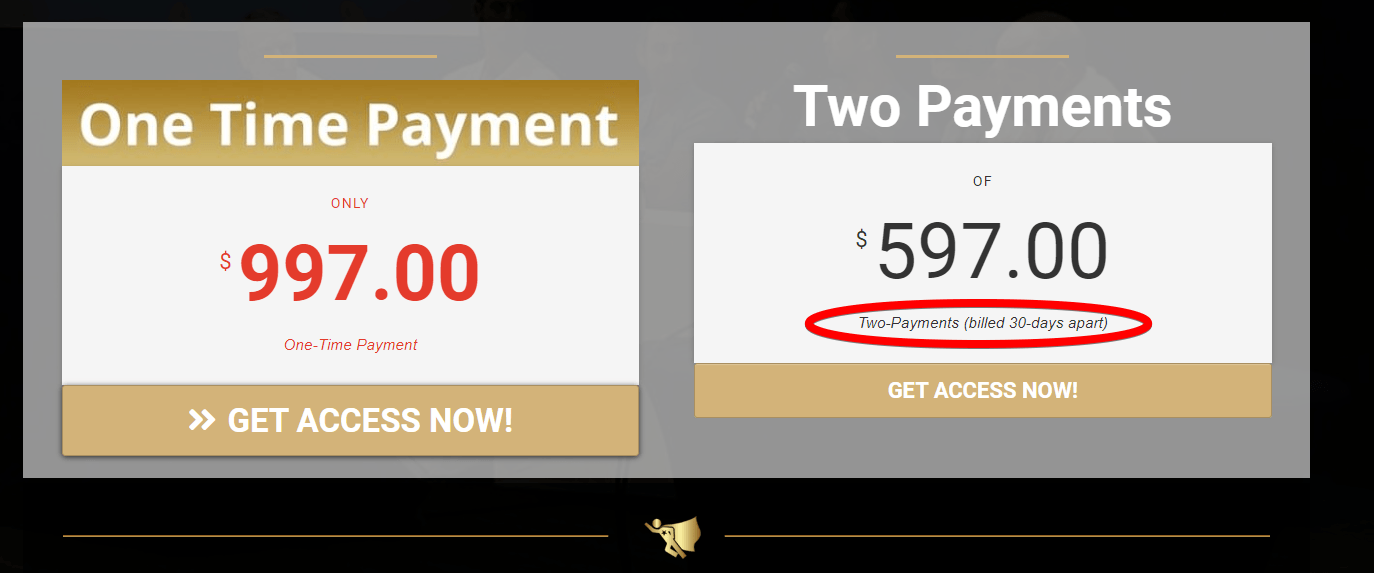 If you choose the latter, the second payment should be made within 30 days, resulting in an additional $197 for the same course.
Moreover, Commission Hero offers several valuable bonuses worth thousands of dollars, making it seem like a money-saving opportunity.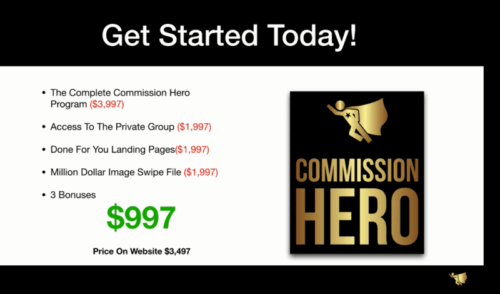 Unfortunately, there is currently no refund policy for Commission Hero.
In the past, they used to offer refunds only under specific conditions, and even then, they would revert to a 12-month refund policy.
Additional Costs
Robby recommends these paid tools:
Clickfunnels
The Basic plan starts at $147 per month.
Robby Blanchard uses Clickfunnels, and the landing pages provided in the course are built using this platform.
However, as a landing page builder, you can use Aweber, which has a free plan for up to 500 email subscribers.
Aweber
An autoresponder is essential for email marketing to keep in touch with your subscribers.
ClickMagick
The price for new marketers on a budget who want the best basic tracking is $49 per month.
ClickMagick helps track your campaigns, optimizing them for better sales.
Inside the Commission Hero training, there are some tools that cost extra money. But if you choose Aweber and don't need ClickMagick right away, there won't be any additional expense.
Who Is Commission Hero For?
Commission Hero caters to entrepreneurs seeking business expansion and individuals interested in online marketing, even if they have some experience but lack knowledge in running ads.
The program is also tailored for aspiring marketers who don't possess:
an email list
their own product
a website
While having a website is often recommended by successful internet marketers, Commission Hero teaches you how to operate without one.
According to Robby, all you need is a Facebook and ClickBank account to get started.
BTW, If you are interested in how to set sign up for a ClickBank account you can watch the video below.
Commission Hero seems to be suitable for a wide range of individuals, whether they are tired of the 9-5 grind or already have an online business.
It offers the potential for freedom and the flexibility to work from anywhere at any time.
However, Robby also acknowledges that the program is not for everyone.
It's not for those who seek quick riches without putting in the effort, or those who give up easily when faced with challenges.
Building a sustainable business requires dedication and hard work.
Who is it Not for?
Commission Hero is not suitable for those seeking quick money within a few days.
It's designed for individuals willing to invest patience and effort in building a long-term digital asset that can generate passive income for years to come.
If you are looking for a short-term program for quick profits, Commission Hero may not be the right fit for you.
Commission Hero Reviews
I want to make sure you get a well-rounded picture of Commission Hero.
We're all about being fair and unbiased, so it's a good idea to check out what others have to say too.
That's where platforms like Trustpilot come in handy, with real people sharing their experiences and opinions.
Commission Hero has received a mix of positive and negative reviews on Trustpilot.
Positive reviews highlight the step-by-step process, supportive coaches, and life-changing opportunities.
Negative reviews criticize the course's organization, outdated content, and advertising practices.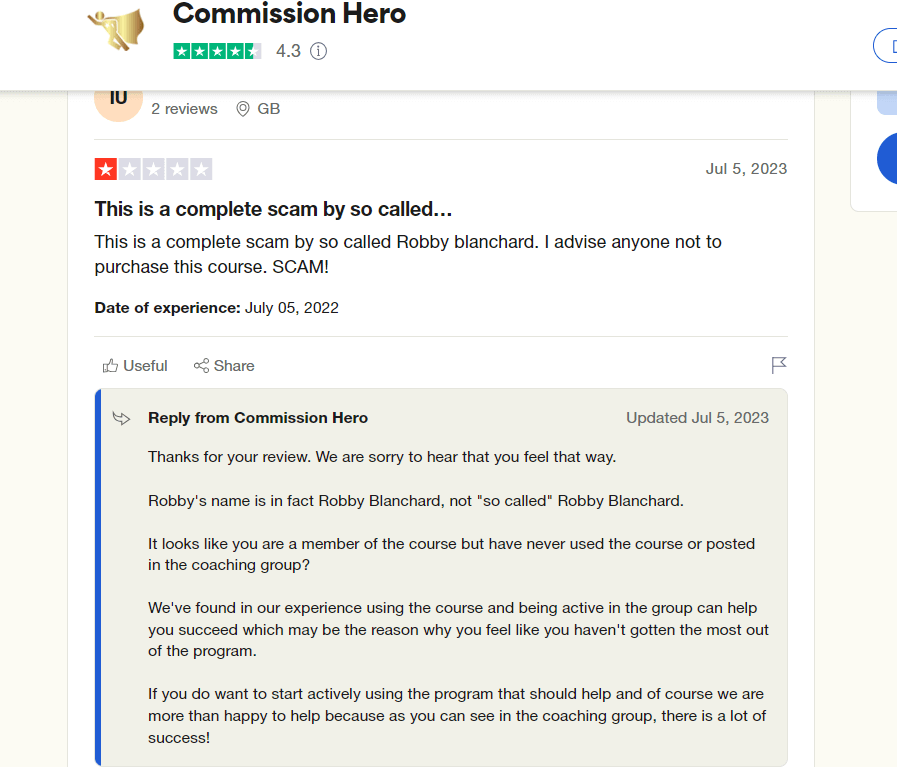 There are probably some fake positive reviews, and I assume this because there are only 5-star and 1-star ratings, nothing in between.
Well, the good thing is though, that the negative reviews have always received feedback from the Commission Hero representative.
Can You Monetize Free Traffic?
Paying for traffic is a quick way to get visitors to your website, where you pay for clicks through platforms like Facebook, Google, Bing, etc.
But, predicting whether these visitors will make a purchase is uncertain, so testing becomes crucial, and it does cost money.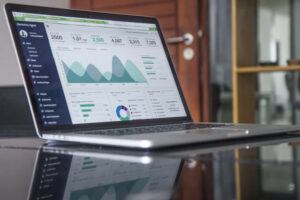 There are other sources of traffic, though.
For example, you can go for free/organic traffic sources, where people find your website on search engine like Google.
This method is cool, but it needs time and effort.
It may take 5 to 6 months to get steady traffic from these sources and about another 5 to 7 months to reach 1,000 visitors per day.
It's a good option if you have time but a limited budget.
Alternatively, if you have a budget and want quicker results, paying for traffic is what Commission Hero teaches.
If you wish to learn more about obtaining free traffic, there are educational resources available.
Commission Hero Pros & Cons

Comprehensive Training
Commission Hero offers a comprehensive course that teaches effective affiliate marketing strategies, particularly using targeted Facebook Ads.
(Affiliate marketing is a legitimate and profitable business model, with numerous individuals earning money by promoting products from others and receiving commissions.)
High Earning Potential
The program claims potential earnings of $1,000 per day, making it an enticing opportunity for aspiring affiliate marketers.
Real Person Behind the Program
 Robby Blanchard, the creator of Commission Hero, is a real person with a proven track record as a successful ClickBank affiliate.
Supportive Community
The Commission Hero Facebook Group provides a supportive community of members who share knowledge and help each other.
Student Success Stories
The platform boasts numerous genuine testimonials from successful students, providing solid evidence of its effectiveness.
High Cost
The program's price can be considered high for some individuals, especially when factoring in the additional costs of running Facebook Ads.
Learning Curve
Effective affiliate marketing using Facebook Ads can be complex and may require time and effort to master.
Ads Budget Required
To see significant results, participants need a budget for Facebook Ads, which might not be affordable for everyone.
Not a Get-Rich-Quick Scheme
Commission Hero requires consistent effort and hard work, and success is not guaranteed overnight.
(But this is actually a good sign if you think about it).
Affiliate Network Limitation
A Limited focus on promoting affiliate products exclusively from ClickBank.
The course does not provide guidance on promoting products from other affiliate networks, which may limit the options for affiliate marketers who prefer to work with different platforms.
Lacks email marketing training
Email marketing is vital for building customer relationships and repeat sales in affiliate marketing. Unfortunately, this course doesn't provide guidance in this crucial area.
Is Commission Hero Legit?
Yes, Commission Hero is a legitimate course that teaches how to make money with affiliate marketing.
However, the price does concern me a bit, as it can amount to thousands of dollars when you include the costs for ads – we'll discuss this further soon.
The site boasts numerous testimonials that appear genuine, showcasing people earning from a few bucks per week to several thousand.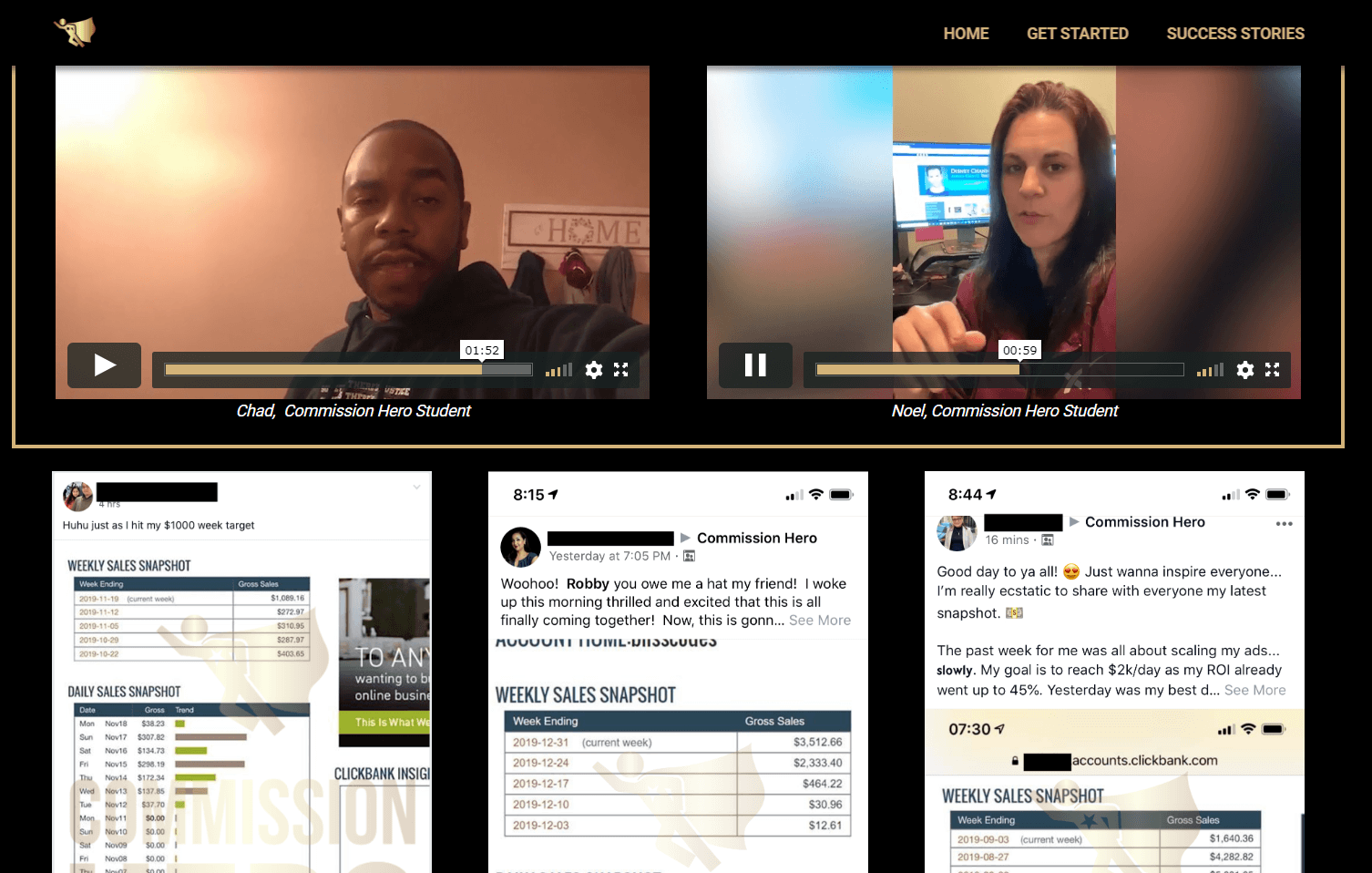 Another screenshot displays impressive gross sales per week.
It's important to note that these figures represent revenue, not actual net income.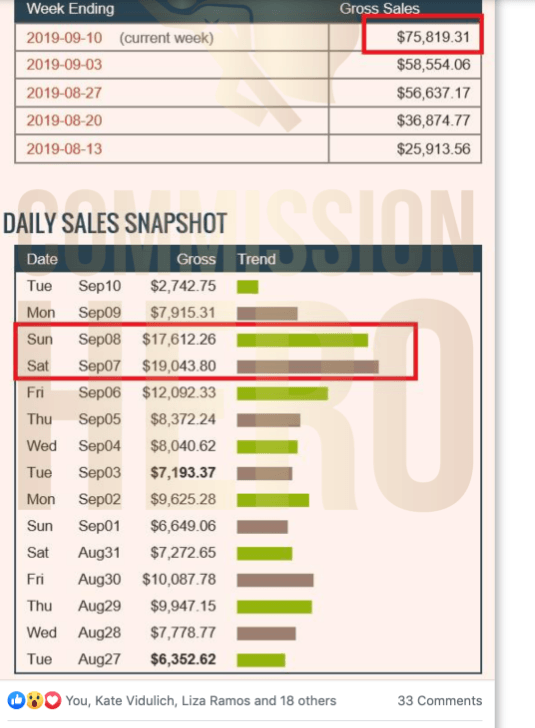 And one more here:
Estimating the ad expenses for these results is a bit tricky, but it's safe to assume that at least half of the amounts seen in the screenshots are from ads.
Still, when you think about the potential return on investment – spending $1,000 on ads and getting $2,000 in return – it sounds promising.
Conclusion
Commission Hero is a High Ticket Product, maybe not everyone can afford it. But in my opinion, you also get valuable information, and if you follow the training you can earn the money back in a reasonable time.
You must also consider the additional cost for Facebook Ads, which are at least a couple of hundred (in case you have not run them yet)
Actually, you can decide for yourself. Go check his Free webinar and make your own decision.
Let me know if you have any questions.
I'd be more than happy to answer them.
Cheers,
Mike.
FAQs
Does Commission Hero actually work?
Commission Hero is a legitimate program that can work if you follow the procedures diligently.
There are no quick fixes for making money, online or offline.
Success requires consistent action and an understanding of the costs involved in running a profitable business.
For those committed to the process and willing to invest, Commission Hero can yield positive results in affiliate marketing.
Can you make money with Commission Hero?
Yes, you can make money with Commission Hero, but you must follow its rules and recommendations precisely.
Affiliate marketing takes time and effort, and having some capital for Facebook ads is necessary.
Robby's proven track record can guide you to success
What is the difference between a commission hero and a super affiliate system?
The main difference between Commission Hero and Super Affiliate System is their approach.
Commission Hero focuses on using targeted Facebook Ads to promote ClickBank products.
While the Super Affiliate System covers various affiliate marketing methods, including paid advertising, native ads, and YouTube marketing.
The choice between the two depends on individual preferences and objectives.
What does Robby Blanchard do?
Robby Blanchard is an entrepreneur and the world's most profitable Clickbank affiliate.
He highlights the immense potential of Facebook as a lucrative marketplace and aims to help students achieve similar success by sharing his strategies.
How much does the Robby Blanchard course cost?
Robby Blanchard's course costs $997.00 for a one-time payment or $597 for the two-payment option.