Are you wondering if is possible to get paid for clicking on the ads?
ClickyPay is a WarriorPlur product launched in the middle of November 2021 promising you to make a few bucks every 30 seconds.
Is it possible?
In the following ClickyPay review we are going to find out how ClickyPay really works, and how much it is possible to make (if anything).
Note:
This is going to be a review of a product called ClickyPay (with y) and Not ClickPay.
If you are familiar with these kinds of products, I am sure you are a bit skeptical about ClickyPay.
Especially the claims on their sales page.
Well, let's take a closer look and in a few minutes, you will know what is this ClickyPay all about.

Disclaimer:
Please note, I am not a member or an affiliate of the ClickyPay.
This review is based on research and information available online in the public domain. Any recommendations and conclusions are only opinions and may not apply to all persons or situations.
Name: ClickyPay
Website: www.clickypayme.com/discount-special
Price to Join: $19 + Upsells (or $17 after discount)
Recommended: No
ClickyPay Summary
ClickyPay is a WarriorPlus product that promises you to make hundreds of dollars per day, just by clicking on the ads.
There is no experience needed and for just $19 you get access to this "revolutionary" app.
After purchasing the ClickyPay you will find out that there is no such thing as clicking the ads and getting paid.
In fact, you are supposed to download videos from youtube and add them to an unspecific website along with the ads.
Then people should go to this website and when they click on the ads they get paid.
So it is completely different from what we were told on the sales page.
Besides, there are many red flags with ClickyPay and the bottom line is that it is just not possible to make any money with this system.
In other words, this is another get-rich-quick scheme that doesn't work.
Making money online requires certain skills and it takes a bit of time.
Click on the link below to get the right information about making money online.
What Is ClickyPay?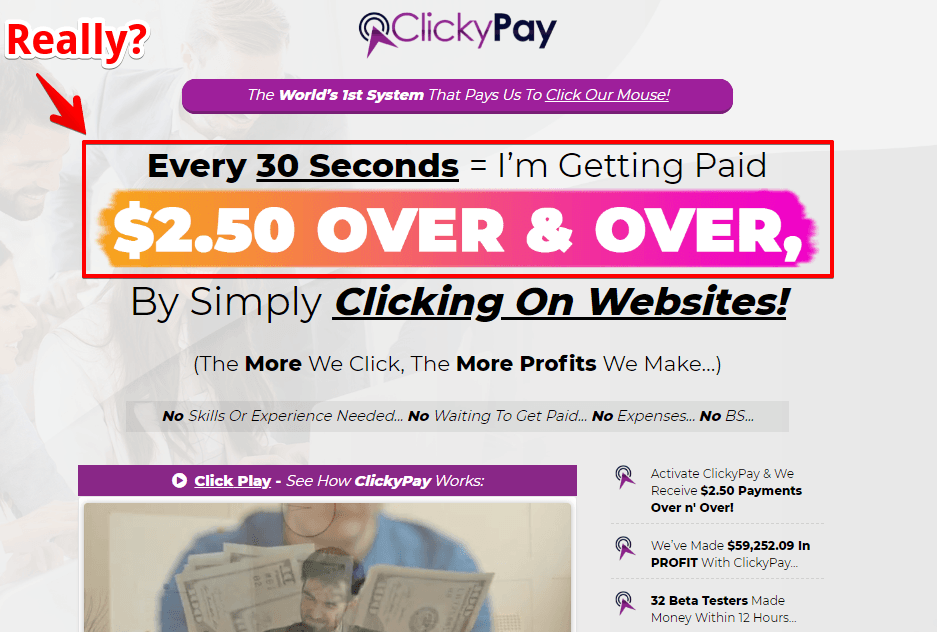 ClickyPay is apparently the easiest system they have developed for making money online.
You get paid for clicking on the ads, and according to the sales videos, you can make a few hundred dollars per day!
You might be asking, "who are they?" – and we are getting to it in a second.
Let me just quickly show you how to start making money with ClickyPay (again, according to the ClickyPay sales page):
Click on the Buy button, to get a copy of ClickyPay
Activate the monetization inside the ClickyPay dashboard
Click on the advertisement and websites shown to you
For each click, you are supposed to get paid $2.5.
There is some truth to the claims they say.
Companies do pay for displaying their ads. And this can be on a website (just like this one) or YouTube.
If a person clicks on the ads, he gets directed to the specific company website and the owner of the 1st website gets a few cents.
On Youtube, the earning potential is about $4 per 1,000 views.
So the claim that you get paid $2.50 for 1 click on the ad is pretty exaggerated.
Who Is Behind ClickyPay?
The creator of ClickyPay is a person named Branson Tay. He comes from Malaysia.
He has been working on digital products for some time.
Apparently, he was sick and tired of many programs that overpromise and underdeliver. That's why he has developed the ClickyPay.
Right, I agree.
There are many scams and fake gurus out there.
But isn't Branson one of them?
I mean, what would be the reason for him to come up with a "new" digital product every month?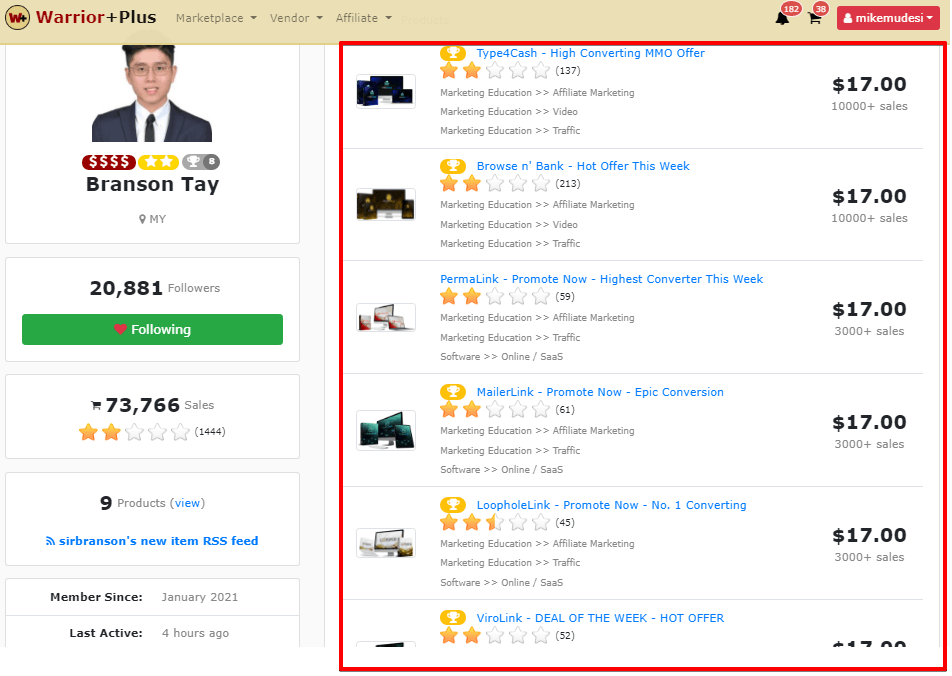 Only in 2021, he did create 9 products – that are pretty much the same.
You can take loo kat to the reviews I did, for example:
Just going through these reviews you are going to learn that ClickyPay is not a new product.
It basically is just a re-hashed old product… Like all of them.
Why would anyone keep creating the same product over and over again?
The answer is simple:
None of them works, and by the time people find out Branson moves on and creates a "new" one.
He changes the name, and some colors, and sells it as a brand new revolutionary system.
How Does ClickyPay Work? (Does It Even Work?)
From the sales page, we know that it should be easy and we have already explained that in 3 clicks you should be getting paid.
Well, it doesn't work that way.
Quite opposite and let me briefly explain what you actually get.
After purchasing the products and skipping all the upsells (they are mentioned in the next section) you get access to the Dashboard;
Here at the dashboard, you can create a simple page.
On this page, you add videos, and some text and share them what your friends, on social media.
With the ads, you have the potential to make money. So the more people click on the ads, the more money you make.
In theory, this should work but here are 2 crucial questions:
Where do I find the videos?
How do I get people to click on the Ads?
These videos are taken from Youtube.
Simply, type a keyword, and you will see a bunch of videos you can choose from.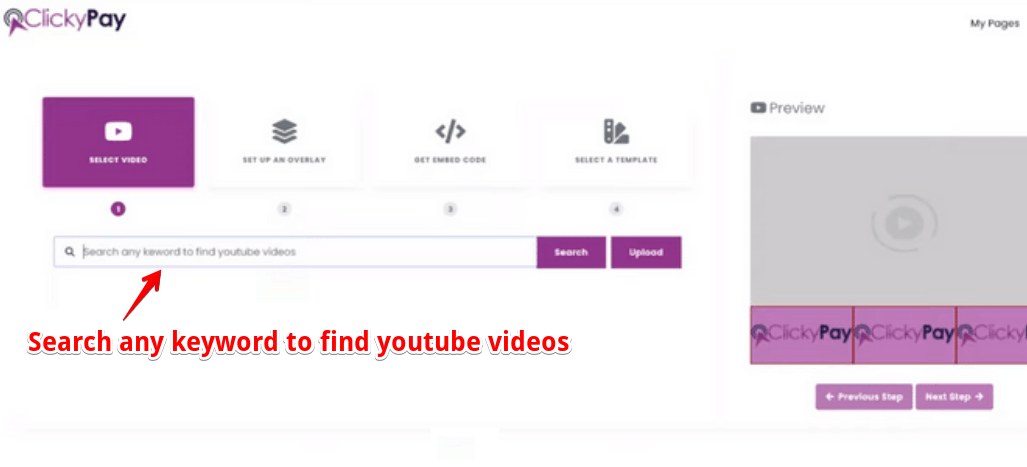 These are not your videos.
They belong to other people and you have no right to post them as your own.
Even if the video is monetized the Advertising Revenue goes to the original owner of the video.
Not to mention that your account can be banned.

Sure you can share the pages on Social Media.
But how many followers do you have?
If it is 100,000 followers on Instagram you might earn some money … but believe me, no one with such a following is interested in products like ClickyPay Review.
To sum it up:
You are not getting paid for doing the actual clicks.
The sales video is extremely misleading.
The ClickyPay app allows you to download other people's videos.
This is not legal and you can get into trouble
How Much Does ClickyPay Cost?
It is said that ClickyPay costs $37,000 to develop.
That's why they want you to think that this is a really precious digital product.
But still, you're going to pay only peanuts for ClickyPay and that is $19, or $17 if you get a discount.
But this is not the final price.
Here is the Upsell structure.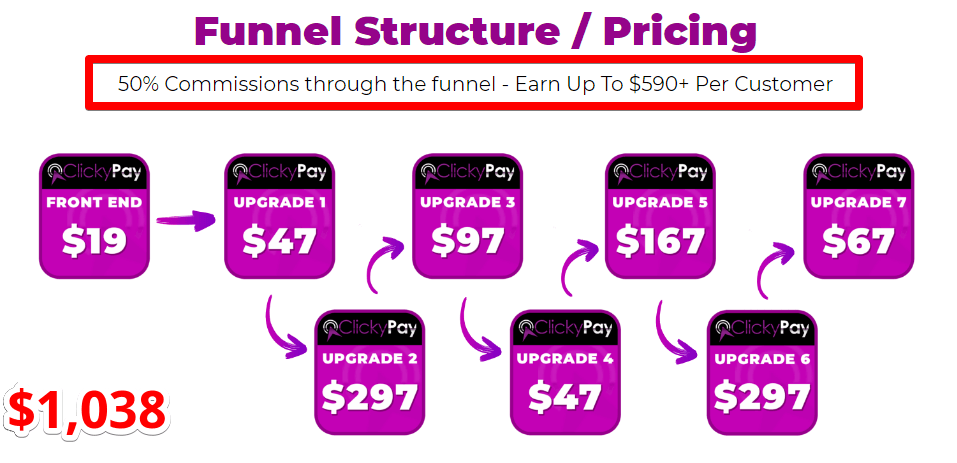 As I was mentioning, after purchasing the basic product for $19, you have to go through these offers, before you actually get to the basic product.
And from my experience, these offers are very tricky.
Meaning, that if someone is not careful enough, he or he can be charged up to $1,038!
But I believe that by now you understand that ClickyPay is not worth it and therefore you are going to keep from buying these upgrades.
One more note:
As you might have noticed, anyone who promotes the ClickyPay can get paid a 50% commission.
That's why you might have seen some extremely positive reviews out there.
Please be careful and remember that there is no such thing as a perfect product.
Even the educational platform I am a member of is not perfect, but at least they teach one of the simplest ways how to earn money online.
How to Make Money Online?
I am sure you have heard about a similar way, where one can earn money for displaying ads.
If someone clicks on it you actually get paid.
But please keep in mind;
If you have a website or youtube channel, you need a lot of traffic.
How to get the traffic though?
There are several ways and let me just briefly mention that you can get traffic from social media if you have a lot of followers.
Other ways are:
Organic Traffic (Free)
and Paid Traffic
Of course, the Paid option is irrelevant, because you're going to spend more money than earn.
So the best strategy is to learn how to get free traffic.
There are a few drawbacks to this method, but with proper education, one can start earning a few hundred bucks within a year.
And with such traffic you can have affiliate links – so if someone clicks on it and purchase a product or service, you again earn money.
So there are more ways how to make money on you have established website.
I know it might sound difficult, be let me tell you that it is not.
It is important to learn a few skills and be patient and the result will come.
Just check my number one recommendation, to find out more.
Or Let me make it easier for you:
Here is a video explaining how to really make consistent income online.
It takes a bit of time and effort but at the same time building a highly successful business online isn't rocket science.
Just spend about an hour and watch the video carefully. You will learn more in this hour and for free than any other paid WarriorPlus product.
ClickyPay Pros

Money-Back Guarantee (But be careful since WarriorPlus is not responsible for the refund. You will have to deal directly with Branson Tay and it is not easy to get in contact with him, especially when asking for a refund).
ClickyPay Cons
Extremely Misleading Sales Page
Software inside the Dashboard hardly works
A lot of upsells
Earning Potential close to zero
Is ClickyPay a Scam?
In my opinion, ClickyPay is not an outright scam, but it is very close to it.
It is important to be careful and if you only apply one rule, you will avoid a lot of similar products.
What is the rule?
Don't ever trust anything that seems too good to be true.
Do your own research, ask questions and you will be fine.
With that being said if you have questions regarding the ClickyPay let me know in the comment section below.
Also if you want to learn more about the legitimate way how to make money online I can help you as well.
Thank you for reading
Mike
Related Topics: