Not a long time ago (it was in the middle of August 2021) I was doing a review of one Warriorplus product called PermaLink.
Based on the research I concluded that this product will not help you to make money online.
The creator, Branson Tay keeps creating such products every month.
Currently (as of this writing, September 30th, 2021) he came up with a new product called Type4Cash.
Now, are we to believe that he has changed his approach and that Type4Cash is a real deal?
In this brief Type4Cash review, we are going to learn what is this all about and whether there is any earning potential.
You have probably done some research and read that this is a perfect product.
Well, I am personally sick and tired of such hypocritical reviews and I want to show the truth.
You may be asking, why would anyone promote a scammy product?
The answer is very clear, but I believe you already know why right? 
Jump to:
Let's get started.
Disclaimer
Please note, that I am not a member or an affiliate of the Type4Cash. This review is based on research and information available online in the public domain.
Any recommendations and conclusions are only opinions and may not apply to all persons or situations.
Quick Overview
Name: Type4Cash
Website: www.type4cashapp.com/mega-discount
Price to Join: $17 + Upsells
Recommended: No
Type4Cash Review – Quick Summary
Type4Cash is supposed to be an easy-to-use tool that generates money on autopilot.
In other words, this is another Get-Rich-Quick scheme created by Branson Tay, that doesn't work.
The sales page is hyped up, claiming that you don't need a website to make money with Type4Cash.
As soon as you purchase the product and manage to skip the Upsells, you get to the Dashboard where you have to create a webpage.
The problem is that this webpage is useless, and no one will ever see it.
It doesn't appear in SERP (Search Engine Result Page)
Sharing it on social media won't get any traction either.
This is a useless product that is just another "money-making" machine for the creator, called Branson Tay.
Stay away from it.
I know, at this point you might be a little bit upset, that you (again) stumbled upon a scammy product from WarriorPlus.
Well, it is not easy to find a legit platform.
But you can check the link below, where I explain what needs to be done to make money online.
Also, you have access to 10 lessons, absolutely for free where you can test the real training platform.
If you don't like it, you just go ahead and search for different ways how to make money online.
Sign up for Free and I will guide you through the platform.
No Credit Card is Needed – Just your email.
What Is Type4Cash?
Type4Cash is a WarriorPlus product that was launched at the end of September 2021.
It promises you to make quick money by doing very little work. Apparently, it is possible to make more than $25 every 2 minutes!
No experience is needed, and even 60 Years old people could do it.
So what is this "magic" product all about?
Doesn't it sound too good to be true?
It also seems like a very cheap product, but don't get fooled by the front-end price.
(We are going to check the entire Type4Cash price structure in a bit).
So what is it that you need to do to make money with Type4Cash?
According to the sales page, there are only 3 simple steps:
Access the Type4Cash
Activate their technology (it is easy as turning on a light)
You are getting paid for typing simple words, on phones or computers
I know it is still not clear what you need to do. And it doesn't surprise me.
All these WarriorPlus products have these hyped-up sales pages that don't explain the process.
And it is typical for the founder of Type4Cash.
Who is the Founder of Type4Cash?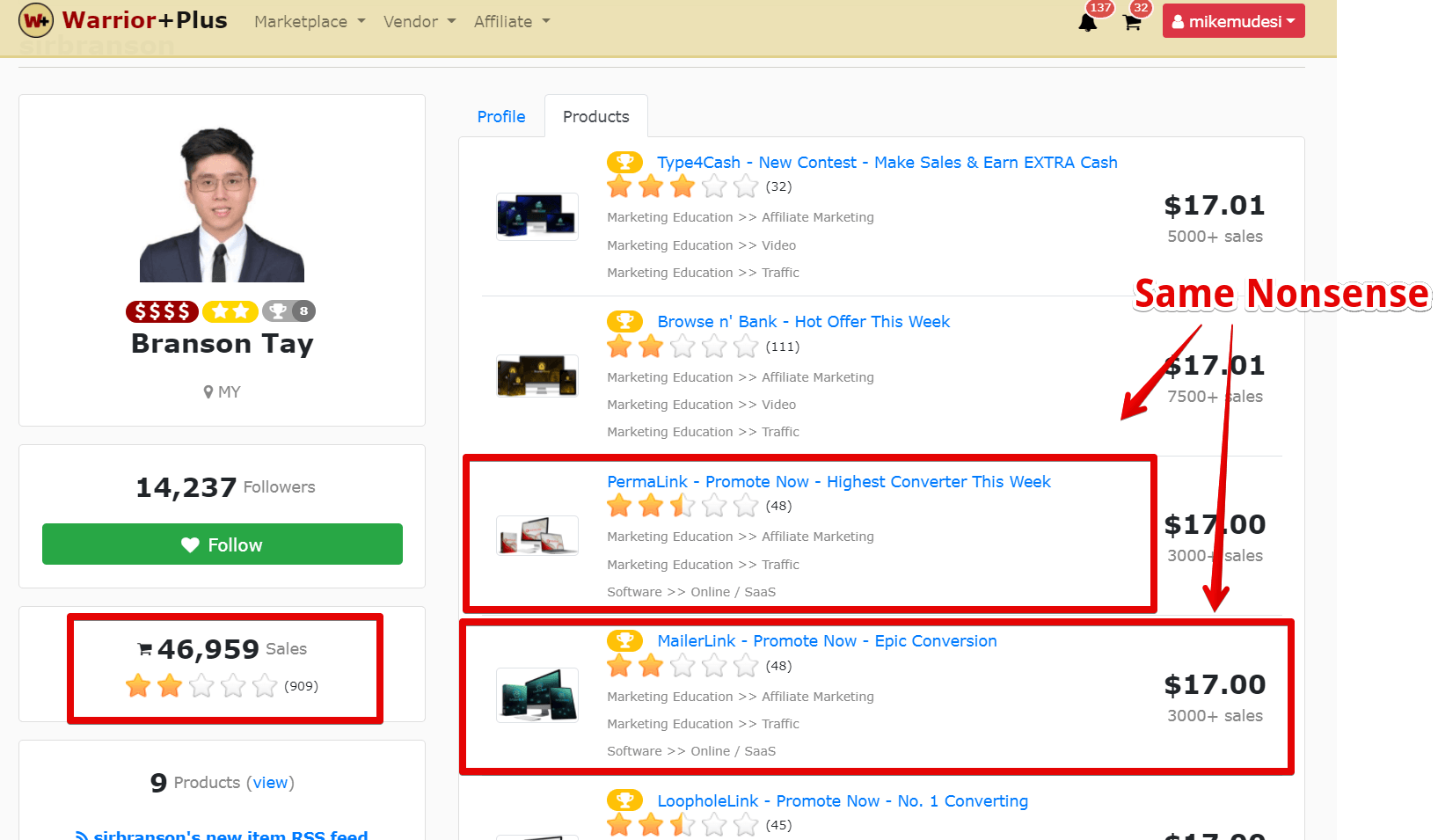 His name is Branson Tay.
There is not a lot of information about him on the Internet. We know that he comes from Malaysia.
He is "famous" for creating products and selling them on WarriorPlus.
If you are not familiar with his work, you can take a look at PermaLink or MailerLink.
Both are pretty much the same and offer little (if any) value to the end customer.
Who Is Type4Cash For?
This is supposed to be a perfect and easy way for total newbies, how to make hundreds of dollars per day.
No experience needed
You can get started just in 2 minutes
Super easy
Regardless of the claims on the sales page, I don't recommend this product to anyone.
All the claims are a total B.S.
Please understand one thing;
– There is no such thing as a Get-Rich-Quick Scheme.
A lot of people who now want to make some money on the internet are easy targets for such scammy products.
And I don't blame them.
A few years ago I also thought, it was gonna be easy to make thousands of dollars per week.
So I did some digging, and then even more, and eventually found out that running an online business requires effort and time.
And by online business, I mean a simple blog website, just like this one (you are currently on).
So at the end of the day, it is easier to make money online than offline (generally speaking).
But as I said it requires some effort and also one needs to learn certain skills;
To mention a few:
how to create a website
how to drive free traffic
how to monetize the traffic
I don't know about you, but I have tried a specific educational platform, that is built for newbies (just as I used to be).
Over there I have learned the skills mentioned above. And even more…
But I digress.
Let's go back to the Type4Cash.
How Does Type4Cash Work?
Inside the dashboard, you have a menu with options like
Training
Page Cash
Typing Cash
and so on
Let's break it down a little bit:
Training
In the training area, there are 7 different videos. These short videos are about Facebook posts, FB comment automation, reply automation, Instagram post, and so on.
It says how you can use Type4Cash and post the offers on Facebook, Instagram, and other social media.
But let's think about that. 
Why do we need the Type4Cash for that? 
We can simply go to our social media profile and post the affiliate link directly, right? 
Success depends on how many followers you have.
Here is the harsh truth:
Even with a lot of followers, the odds that someone will purchase it solely based on the link you share are slim; pretty close to zero.
Besides, any kind of automation within any social media is a big No-No.
In other words, using automation tools means that your profile is going to be banned.
Page Cash
Here you find templates, and categories of web pages you can create.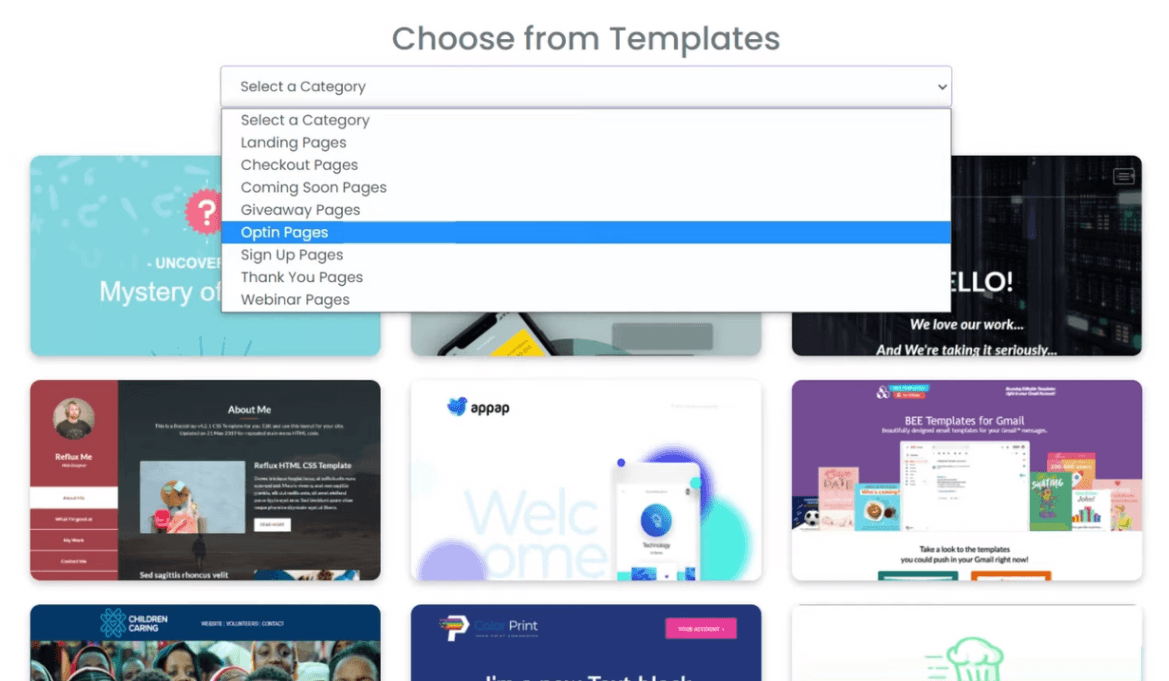 Well, this is like a Sandbox where you can use existing templates and make "your own" webpage.
Although on their sales page, it says you don't need to create a website, the reality is that you have to.
Pathetic isn't it?
To make money online, you need to have an offer on a unique webpage (that is ideally yours) and visitors that will see the offer. 
But the page created inside the Type4Cash dashboard, won't appear anywhere.
That means, no traffic and thus no sales whatsoever.
How about the rest of the menu;
Typing Cash
You can select an email from some templates… but that's it;
It is not explained how to send the email or more importantly who to send it to.
With that being said, this is another useless tool within the Type4Cash product.
It doesn't make sense to go deeper, since it is obvious that this type of product just doesn't work.
There is no way that someone will see that "offer" let alone the possibility they will click and purchase the product.
The products you are supposed to offer are also created by Branson or other low-quality Warriorplus products.
It is shame.
How About Other Reviews?
You have probably seen some reviews claiming that this is an awesome product, with no cons, whatsoever.
Or they give it a rating of 9 out of 10, or even better.
Other reviewers highly recommend the Type4Cash… And when you browse such a website to check other Warriorplus products, you get the impression that all WarriorPlus products are spotless!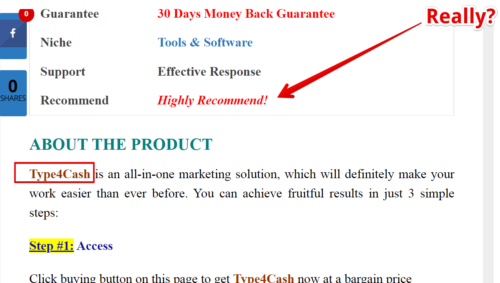 These reviews or reviewers are biased since they get a commission when someone purchases them.
And in the next section, we are going to learn, how much they can earn from one sale…(pretty good money, in my opinion).
How Much Does Type4Cash Cost?
It says, that you should hurry up since the price "rises up".
They want to get as many customers as possible, so they use this fake scarcity.
It is a cheap marketing trick.
The front-end price won't go over $19.
What next?
As soon as you check out, you are recommended to upgrade right away. You don't get to see the product…
If you don't want to pay for the upgrade you have to skip all the "offers" and only then do you get to the dashboard.
As we have seen above, what is inside…
Finally, here is the structure of the upsells:

Each upgrade has its discount (that's the bottom row).
Ideally one can end up spending more than $500.
You see, anyone who promotes this scammy product gets a 50% commission.
Not bad, right?
Now it makes sense why there are so many reviewers promoting the Type4Cash.
In case you are interested what kind of "magic stuff" these upgrades have, here are some screenshots from their JV page (that's a page dedicated to people who want to promote the Type4Cash).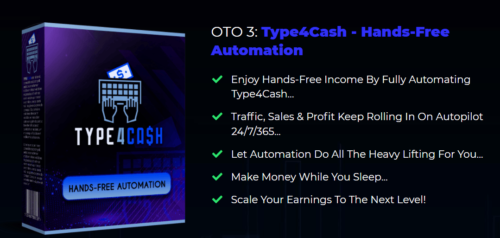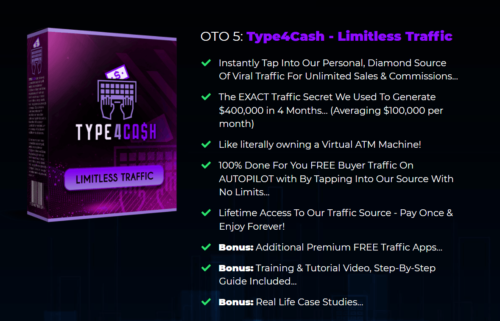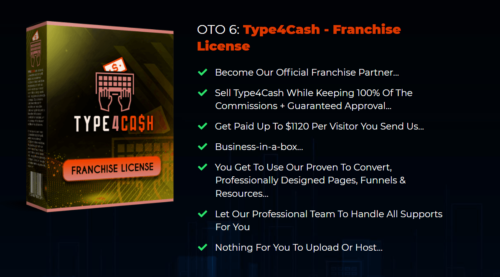 and finally the last one:
What I like about Type4Cash

Money-Back Guarantee (Although be careful with this one. The WarriorPlus is not responsible for the refund, Therefore if you want your money back, you better contact the Vendor. Most likely he will ignore your requests, or will find excuses why he can't refund you)
What I don't like about Type4Cash
Hyped-Up Sales Page
Get-Rich-Quick Scheme, that doesn't work
Unrealistic Earning Claims
Just a re-hashed product
Conclusion
You may be asking, is Type4Cash a scam?
It is not an outright scam, but very close to it. 
There is a money-back guarantee, although I am not sure how long it take… 
But I don't recommend spending a dime on this product. It is waste of time, money, and energy.
Is there some other product that I recommend?
Sure there is.
Now does it mean, that I don't want you to join the Type4Cash, but I want you to join the educational platform that I promote?
First of all, it is not possible to compare this low-quality, useless cheap WarriorPlu product, and the step-by-step training.
Second, the platform I recommend doesn't ask you for the money right away.
There is a starter membership that anyone can join and test out.
At least you have a chance to see, what the real training on affiliate marketing looks like. You don't need to spend a dime.
In the worst-case scenario, you might learn something new – and that's why I feel confident in recommending the platform, called Wealthy Affiliate.
Don't get me wrong. 
Even that training has some Cons, and I understand that it is not for everyone. But at least anyone can try it, for free.
Below you can watch the video for yourself, and form your own opinion: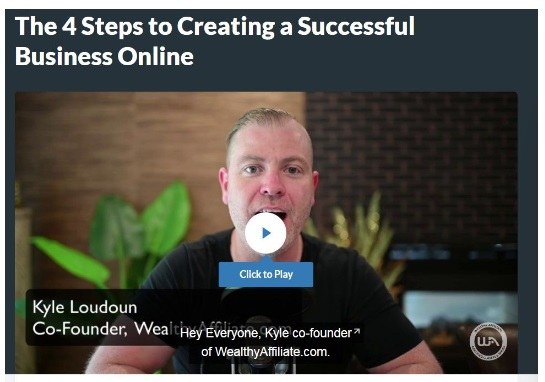 That's fair, don't you think?
Let me know in the comment section below.
Also, I would love to know whether you have already experience with any WarriorPlus product or any similar product.
Please use the comment section below.
There are a lot of people who want to know the truth.
I will also make sure to provide you with feedback, hopefully within 24 hours
Thank you for reading,
Mike.