Have you been doing research about the Secret Millionaire Bot? You may have already stumbled upon some reviews about this product. Some of them might promote it, but I hope most of them are unbiased and gives you a piece of objective information.
That is exactly what I do as well. I have been doing reviews about many (more than 100) products like this. I used to search for ways how to make money online as well. I got sick and tired of such scammy products, which as mostly available on ClickBank.
Currently, I have found out that many of these products are not available on ClickBank anymore, but they "re-appear" on a similar website called ClickBetter.
That is the case with this particular system as well.
So what is the Secret Millionaire Bot?
Is it another misleading product or does it actually have any value?
Name: Secret Millionaire Bot (SMB)
Website: www.secretmillionairebot.com
Price: Advertised Price $37 $9 + Upsells
Owners: Charles Allen (identity not confirmed, since I assume it is not the democratic politician in Washington, D.C)
Product Overview
The website has been created in December 2018. According to the similarweb there are about 40-50K visitors per month, which is quite decent. Does it mean that the SMB has something valuable to offer?
We will find out, but I can tell your right now, don't expect from it more than from Easy Insta Profits, which is quite a similar system.
The sales page is not very clear about what the product is all about. The sales video is not very transparent.
Let me share with you what I have found out though.
SMB supposed to teach how to sell on Instagram using bots.
In my opinion, using bots is part of the black hat SEO technique and you can't build a business based on these unethical tactics. Besides, I have my doubts that these bots provided by SMB work.
Briefly let's mention few red flags I have found out:
This is a common tactic, to show you that you have been selected and how lucky you are that you can watch this video.
It is nothing than the usual "you are the chosen one" cheap marketing technique.

In the previous version of SMB (when it was still available on ClickBank) they used to have paid actors as testimonials.
These kinds of products use that a lot, just have look at the Home Income Millionaire or Ecom Cash Crusher.
Apparently, guys behind the SMB learned their lesson and they don't use them in the sales video anymore.
They have chosen a different approach.

The fake scarcity.
It is not obvious as with other products, but still, it is misleading.
Nobody is waiting for access and anybody can join whenever he or she wants to.
So back to the product.
Here is how the spokesperson explains how the Bot works.
The SMB has been created and refined by himself and his friends who are digital marketers, apparently from the top companies around the world. These guys say that they created a "fully automated software system, commonly called a robot".
This robot identifies the most lucrative money-making opportunities. Then it targets these opportunities and copies them into your account.
That means that all hard work is done for you.
All you need to do is to follow simple instructions and you'll be able to replicate their success.
This sounds just too good to be true, and you know what that means.
In the Tools $ Training section we will find out that SMB does not provide you with such a system and 90% of the statements in the sales video are just lies.
The Good & the Bad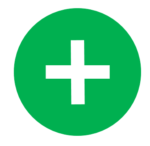 Low cost (basic price $7)
Money-Back Guarantee
N/A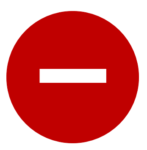 Material freely available on YouTube as well
Unrealistic Income Claims
With Upsells it is getting too expensive – $900
Who is it For?
SMB should be for people who want to learn how to make money online, using Instagram.
Unfortunately, this system will not give them the right answer. Sure, they can watch the videos inside the member's area but they are not going to make money out of it.
This system will not teach how to leverage Instagram and thus how to monetize it.
The Bot, the creators of SMB "developed", simply can't work.
If there were any robot, it might work only for a while (few days, weeks the most).
Just try to post a link or a text on different Facebook groups – do it often enough and you will soon see the warning and eventually your account might get locked.
That is just prevention against bots and similar techniques.
Secret Millionaire Bot Tools & Training
Let's have a look inside the back office of this product.
Step 1) Right at the beginning you can watch the introduction video.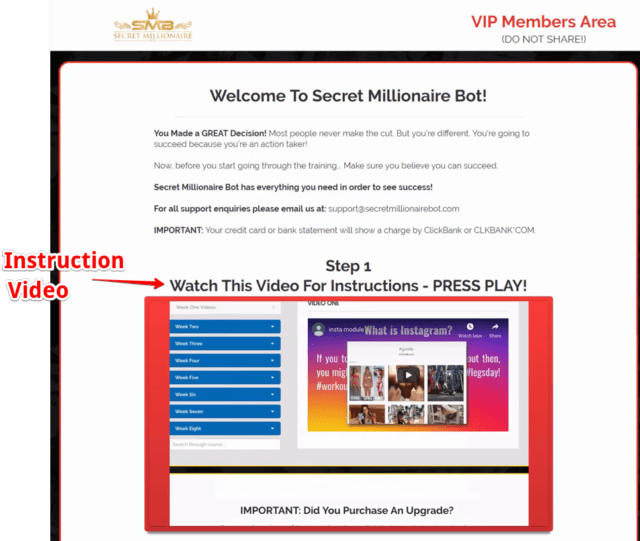 Step 2) Scroll down and you find a button that says "click here to supercharge your income" – this is just an affiliate link to Super Affiliate System, which belongs to John Crestani.
Another ClickBank product.
Step 3) Activate Your Exclusive Free Website for VIP members.
The thing is though that you still have to pay for the hosting (which is something over $100 – that is on the top of the product price)
Step 4) – This is an offer to the "highest recommended online product"
Guess what – this is going to take you to another similar product called Bullet Proof Profits.
Keep scrolling down and you finally will get to the training area. It is divided into 8 sections, each section is for 1 week.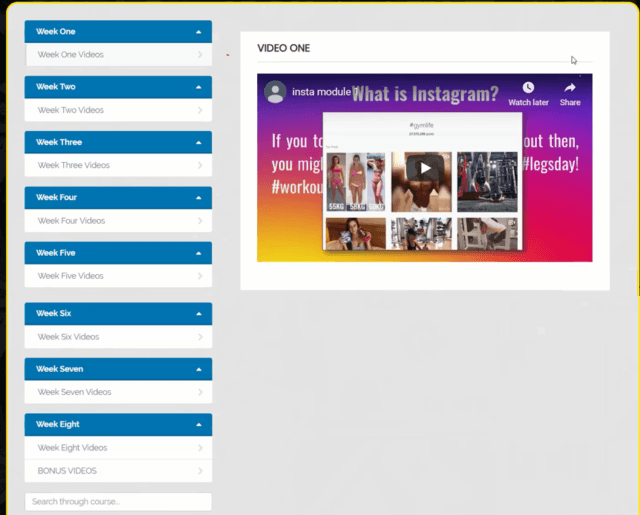 We won't go through each week.
What you get is for each week there are 1 or 2 videos. They don't have more than 12 minutes.
What I have found out that the information inside these videos, is available on YouTube. You can check the following topics and you will get the idea (you might learn even more and it is for free).
Week 2 – Module 2, Starting on the right foot
Week 3 – Module 3, Building your Instagram Brand
Week 4 – Module 4, Creating Instagram Business Account
Week 5 – Module 5, 5 Ways to Make Money on Instagram
Week 6 – Module 6, Becoming a Drop-shipper on Instagram
Week 7 – Module 7, Affiliate Marketing Case Study
Week 8 – Module 8, Growing your Following
I don't quite understand why it is divided into weeks. Each video is no longer than few minutes (12 minutes max). Besides all that stuff is now available on YouTube.
Support
They have a button for support.
In my opinion, if you want to get a refund you better do it through the ClickBetter support page directly.
Other than this button, there is no dedicated page or something like that.
Secret Millionaire Bot Price Structure
The price of this product used to be $37. It was at a time when it was still available on ClickBank. Now SMB is available on ClickBetter where the basic price is $9.
You can also get a discount if you wish to. Simply hover over the "close window" button and the offer automatically pops up.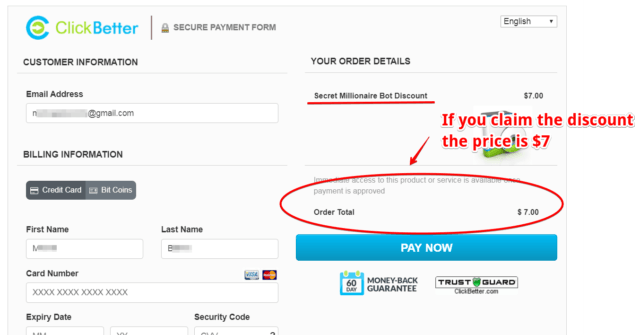 Once you inside the members' area you will see the option to "upgrade", in another word there are at least 2 upsells.
Millionaire Bot Pro – The cost is $147 (Also here you can get the discount so the cost would be $97)
Auto Profit Replicator – The cost is $147
Apparently, there is one additional Upsell, which supposed to be "Done for you" Traffic – the cost is $497
According to the affiliate page, anybody who promotes SMB can get a 50% commission on every sale – that means over $450.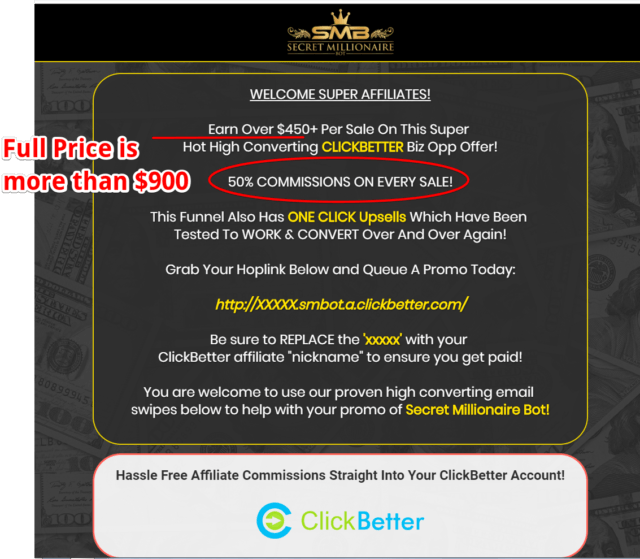 So, it is obvious that the full price of the SMB comes close to $1,000!
My Final Opinion of Secret Millionaire Bot
To sum it up, it's not worth investing your money and time into the Secret Millionaire Bot.
As I mentioned earlier
Bots are not going to work for more than a few days. Therefore there is no way that someone can make a profit using the bots
They are not going to teach you how to use it, since the product is just a bunch of videos with topics freely available on YouTube.
It is possible to make a profit using Instagram but building an audience on Instagram will take a couple of months. You need to be active and engage with your audience. Once you have enough followers, you can leverage that by posting some interesting stuff with a link to your website where you have an affiliate link.
That way you can monetize Instagram.
But not by using some bots.
Secret Millionaire Bot at a Glance…
Name: Secret Millionaire Bot (SMB)
Website: www.secretmillionairebot.com
Price: Advertised Price $37 $9 + Upsells
Owners: Charles Allen (identity not confirmed, since I assume it is not the democratic politician in Washington, D.C)
Overall Rank:

VERDICT:
I don't recommend Secret Millionaire Robot.
Save you time and money and if you are interested in how to make money online, I think I can help you. You can either read this about affiliate marketing or ask me a question in the comment section below.
How to Get Started with Affiliate Marketing Business?
I have been a member of Wealthy Affiliate since late 2017 without a prior marketing experience.
Beginning of 2018 I have learned how to build a website that drives traffic and makes sales.
Since the summer of 2019, I am a full-time internet marketer and I work from anywhere I want, whenever I want.
Training within Wealthy Affiliate teaches how to generate a consistent income in the long run.