If you looking for black hat SEO techniques you will find a few of them in this article. But I don't refer to them in order to use them.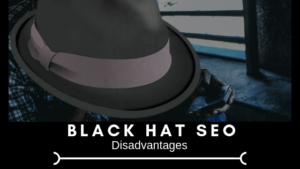 The reason why I created this post about the Black hat techniques is to let you know what to avoid.
This article is in no way intended to help anybody with better ranking by manipulating the search engine.
I am of the opinion that the long term online business is based on white hat SEO strategies, which improve the user experience of the visitor and thus the ranking.
Let me assure you that the only reason I am going to reveal them here is to avoid them. It really makes no sense to apply any of these techniques. Otherwise, you will be banned by Google in a short time.
In order to have a sustainable business, you really want to obey the white hat techniques only.
That means:
deliver quality,
use readable content
build a friendly relationship with google.
So once we know what to do, let's elaborate a bit about what NOT to do.
What Is The Black Hat SEO and What Are The Disadvantages of Using It
Black hat SEO is a series of techniques and strategies (in other words tricks) focusing on manipulation of the search engines in order to rank well.
Individuals who use these techniques in order to get to the top positions of the search engines often hurt the guys and companies which use the ethical way and are in compliance with the white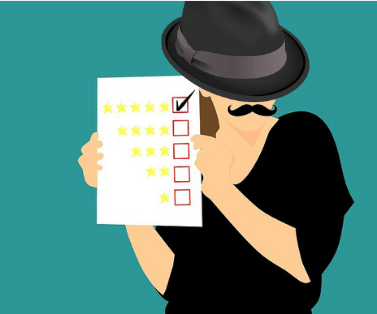 hat SEO techniques.
Google and other search engines constantly working on improving their algorithm so none of the above would be happening.
In the past, it was quite easy to get to the 1st page of search engines using some manipulation techniques. We will go through them later, in order to avoid them.
What are the disadvantages?
Most importantly, Google will penalize you. Sometimes in a way that your site will not be able to recover.
Some types of such black methods can be considered against the law. But that is already up to the FTC to decide.
But even if you do everything according to the proper SEO, you might get hit by some other source who tries to drag you down. Why anybody would do that? Well, some individuals prefer to put energy in damaging some properties instead of building their own.
So I am really grateful that more than a year ago I stumbled upon an online platform where you study how to do proper SEO, how to get organic traffic and most importantly how you can build a lasting business that will be there for years, regardless of any Google updates.
Even-though for somebody it might be tempting to go on this dark path (to trick google rankings), please keep in mind that it is only temporarily.
Think about it. Google wants to be here for as long as people will use it. And people will use google if they get quality search results. Many of these "guys" using black hat techniques make these results only worse. So no doubt that google goes after them.
Some Examples of Black Hat SEO – Brief Explanation
Keyword Stuffing
Keyword stuffing is basically a post with more than 1,000 words where you keep repeating one keyword or phrase you try to rank for. That includes close variations of that keyword. To spot such an article, is very easy these days, so it does not work anymore.
Here is an example of keyword stuffing:
We are in the business of selling foam mattresses. Our Foam mattress is the best. Check out the foam mattress section. if you are interested, contact our foam mattress representative. He advises you on the foam mattress's best offer. Follow us on foam mattress Instagram and foam mattress Facebook page.
You want to do quite the opposite -> to use the keyword or phrase only once in your article.
Private Blog Networks

PBN – this is a number of websites owned by the same person or entity. They have one purpose and thus to link to the main site which tries to rank. These secondary sites are not linked to each other.
Hidden Text
Hidden text can be considered a breach of Google's Webmaster Guidelines. That includes links as well.
How the text or links can be hidden? For example, using the same text color as a background. Or setting the text size to 0.
And please be careful with inserting the link in one small character as to the dot at the end of the sentence.
Also, placing text underneath the image can be seen as a violation of Google rules. If you are interested in how to place the image in your content see the article "Google Image Best Practices".
Social Spamming
This one is very tempting for many newbies. Having a link to his post pasted on many social media, forums, comment sections, including numbers of related Facebook groups. Please be careful with that.
This method is only one level above the email spamming and for only one reason – it is more successful. But Search engines can easily detect this spamming and in the best case scenario, your content will be hidden/not approved.
There are other types of Black Hat SEO for example:
Automatically generated content
Poor Quality Content
Cloaking
Paid Links
Being part of an affiliate program without adding value
I have mentioned in the beginning that you might get banned from google using some of the black techniques. Here are 3 of them you should avoid at all costs:
On a Side Note – Google Ads
Google got better also in the ads field. I mean it used to be possible to runs ads even without having a website.
You used to be able to run the google ad, with an affiliate link in it. A visitor who clicks on your ad is sent directly to the merchant site and once he purchases something, you get the commission.
Such a structure is no longer possible. So in order to run a sustainable business, you have to have a website. And even then you want to be careful with placing your ad.
So if you want to give to the paid advertising a try, you want to check the following link in order to avoid misleading content.
Otherwise, you jeopardize that your ad will not be approved and you want to avoid such messages: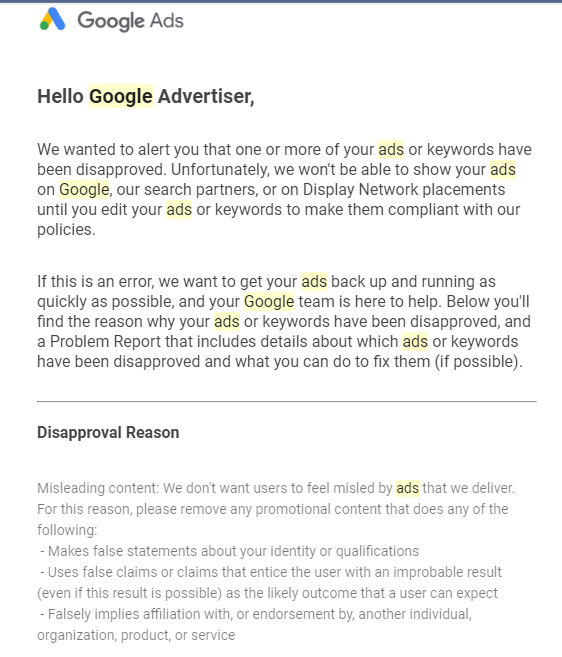 Let's Stay Away From Black Hat SEO
So I believe by now you understand that using black hat SEO is the wrong way how to get ranked. There is no point in doing that. Search engines these days are getting smarter and smarter so in order to keep your site alive in the long run you definitely want to do it the right way.
You don't want to be involved in this black practices in any way.
It is not the way how business works. You want to bring value to your readers. You want your readers/visitors to come back to your site and reference you as an authority site. That way you build your audience.
Please follow and like us: