You are probably searching for information about the Easy Retired Millionaire. I am glad that you do your due diligence.
One more thing before we dive into the easy retired millionaire review.
Please do not confuse Easy Retired Millionaire for the Retired Millionaire. These are different products. To save you time though, I can say right off the bat that both products are lousy.
They are not worth your time or money.
But I would like to give you a full picture regarding this system (ERM)
So what is the Easy Retired Millionaire?
This system is supposedly created by Chris and Kathy Graham. They claim that they create a website for you where you can just collect the paycheck and earn $600 in 5 minutes.
Sounds ridiculous right?
Let's take a closer look to find out if there are more red flags or whether we can find something valuable.
Name: Easy Retired Millionaire
Website: www.easyretiredmillionaire.com
Price: Advertised Price $47 + Upsells
Owners: Chris and Kathy Graham (The identity of both is questionable)
Product Overview
The website easyretiredmillionaire.com has been created back in 2010. Since then the traffic goes up and down. Its 2019 peak had in July with more than 100k monthly visits (source: similarweb).
This might give some credit to the product but soon we will find out that there are just too many red flags.
Well, this program used to be available on ClickBank. But currently, you will not find it there. Now you can find many similar products on ClickBank with not-so-great quality.
There are either high ticket products such as Commission Hero or cheaper ones (considering the front-end price only) such as 12 Minute Affiliate.
In my research, I have found out that for some reason many products move away from ClickBank towards ClickBetter, which is a similar retail page. Or maybe ClickBank is finally getting rid of the worst products with no value whatsoever as was Home Income Millionaire.
First of all, the alleged owners. They say their name is Chris and Kathy Graham. They show a few seconds short videos of both of them in Venice.
It looks like they both need extra money because you can buy the same image/video on a website called shutterstock.com.
Or is it the other way around? The creators of ERM just took or bought the stock image and use it as their own.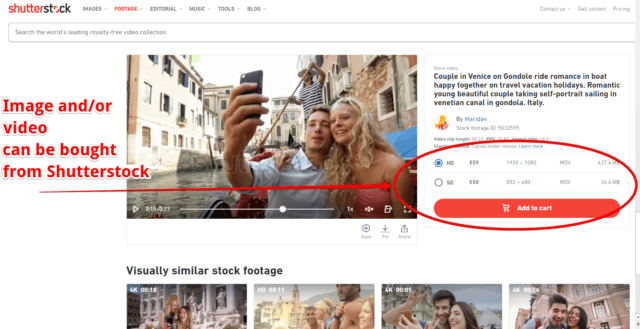 And on top of that, they use paid actors in their testimonial videos.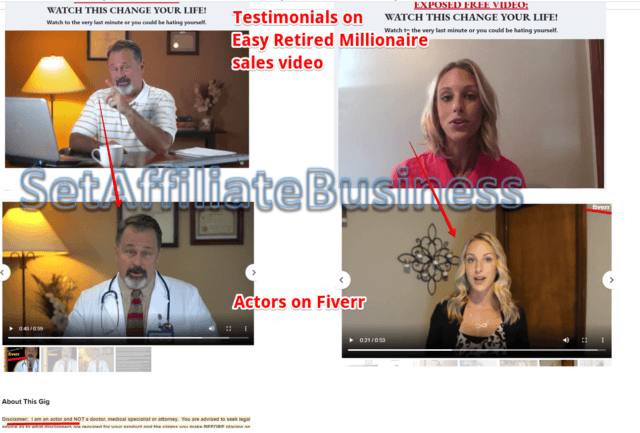 If I was interested in purchasing the ERM, and I see such dishonesty, I would just leave the site, immediately.
In case you are searching for a legit platform, you want to pay attention and if you spot this misleading information, just move on. There is no point in wasting your time with such dishonest programs.
In case you still would like to know what is the ERM about I am afraid I don't have good news for you. The thing is that they do not reveal this information to you. There is no training available, no educational material.
What they tell you is that while you watch the sales video, they have set up a website for you and that is already making you money.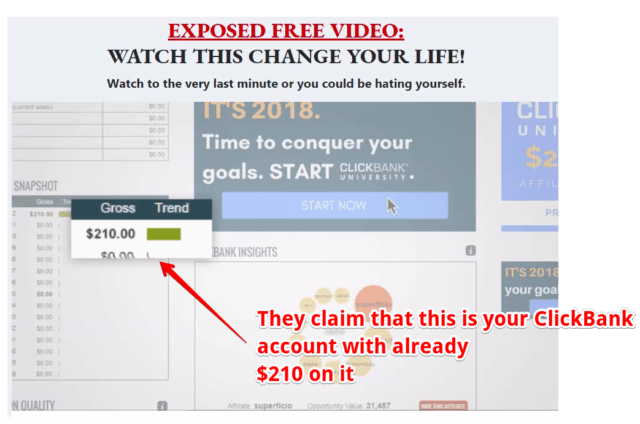 This information is a 100% lie. There is no website created, nothing like that. It is just a trick to lure you in.
I mean would you be still interested in what they have to offer you?
I am pretty sure you are already fed up with these fake promises.
The Pros & Cons

Money-Back Guarantee
The basic Price of $47 is reasonable for the product
N/A
Unrealistic Income Claims
No real training or educational material to learn from
Fake Owners and Testimonials
Who is it For?
From what we have seen, it is obvious that they claim to show you how to make money on ClickBank. Based on the fake stuff you have seen I can assure you that their method will not work.
Apparently, the person who joins the ERM does have to deal with
Website
Advertising
Marketing and Sales
This is interesting… I thought we were talking about internet marketing here.
Well according to this Chris guy you don't need any of the "technical stuff".
He has "completely automated your retired millionaire system".
There is not such a thing as an automated system or system where after a few clicks money pours into your account.
These are fake claims.
They keep talking about how great life will be if you join this system, but it is only a sales tactic. They want to find people who don't have yet any information about internet marketing and just take advantage of them.
Hopefully, you read this review, or any other unbiased review about ERM before you made a purchase.
Support
They do have a nice simple support page where you can ask questions. I have sent a simple question, let's see how long does it take to write me back.
So about a day later, they did get back to me. Although I don't find their email address very professional.
Here is the screenshot from the communication: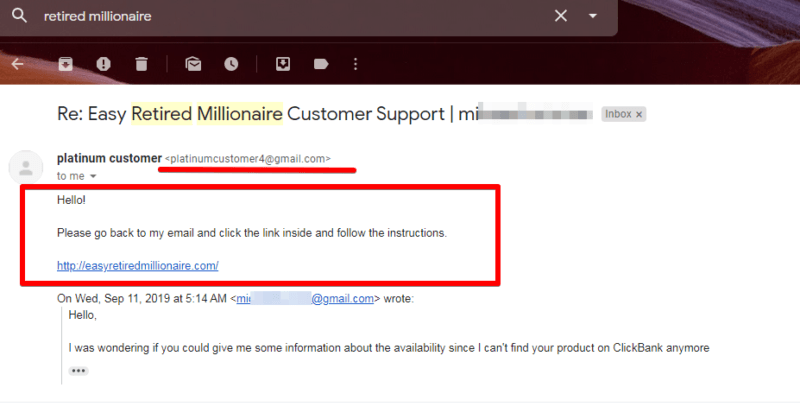 I have also found a Facebook page, but it seems to be abandoned.
Easy Retired Millionaire Price Structure
As already mentioned the front-end price is $47. This is quite reasonable if there were some educational material which is not.
Maybe in some reviews, you will find that ERM is considered a scam since they don't deliver what they promise.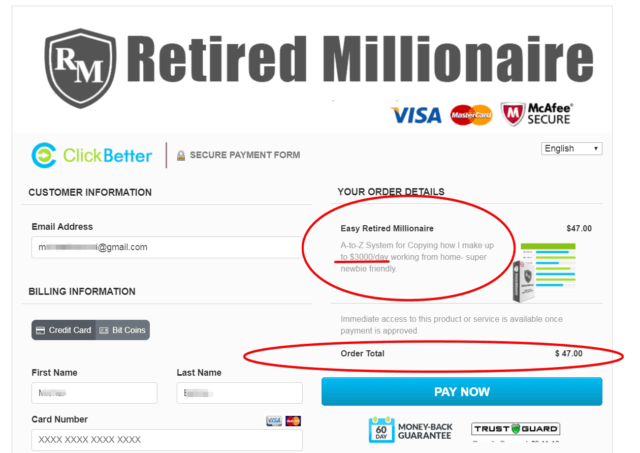 But there is this 60 day money-back guarantee. I know that ClickBank and ClickBetter do not ask any questions when you request a refund.
So the only thing you lose is time. And, yes time is precious so I understand that someone might call it a scam.
On opt of the basic price, there are some hidden fees. You might be aware of them once you bought the product.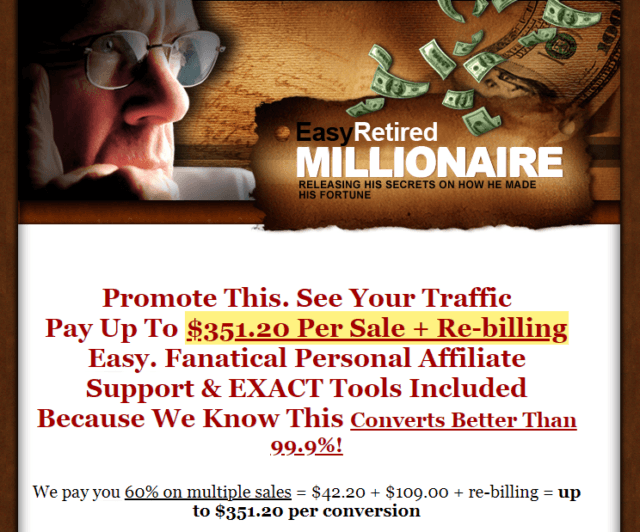 If I am not mistaken the entire product cost something around $585! (60% out of $585 is above mentioned $351).
My Final Opinion of Easy Retired Millionaire
With Easy Retired Millionaire you are not going to be able to make any money.
There is no automated system that can generate income just by pushing a button. What they say in the sales video is very misleading and I would call it an outright lie.
If you want to make money online, the best way is to start with affiliate marketing. You must realize though that it takes time until you make the first dollar. I am not saying this to discourage you. I am just being honest with you.
But when you think about all successful people, they all have one thing in common and that is patience and persistence.
Here is a screenshot of a fellow member.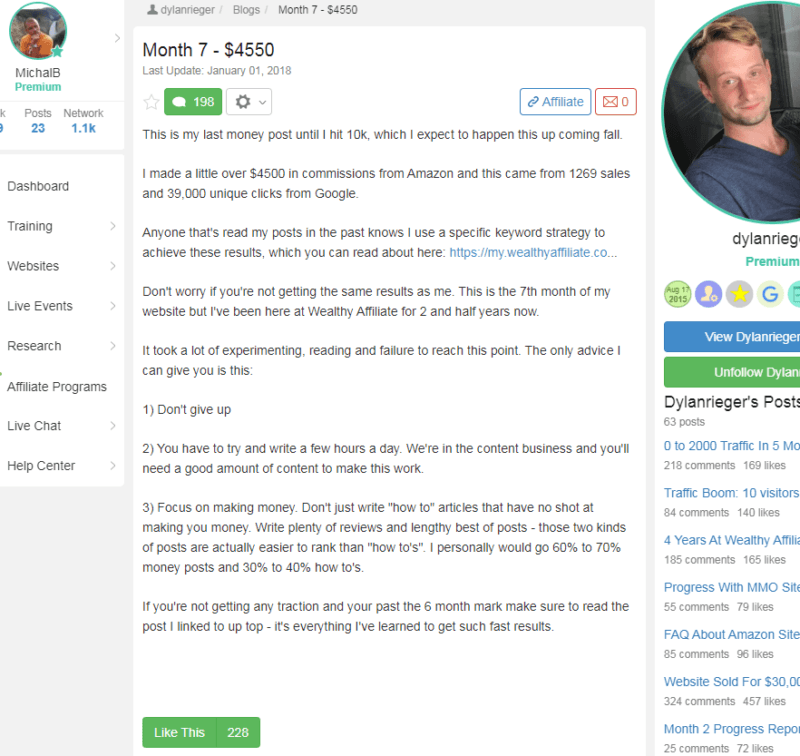 There are lots of affiliate marketers within Wealthy Affiliates like Dylan who started from scratch.
The training within Wealthy Affiliate has been structured in a very user-friendly way.
If you are interested you can try that as well and you can start for Free. No credit card is needed.
For the entire week, you can act almost like a premium member of the platform. After this period you will decide whether you want to take full advantage of Wealthy Affiliate or you will keep your Starter account (for Free), with limited functions.
If you want to find out more about Wealthy Affiliate I have also gathered some Pros and Cons of this platform.
Easy Retired Millionaire at a Glance…
Name: Easy Retired Millionaire
Website: www.easyretiredmillionaire.com
Price: Advertised Price $47 + Upsells
Owners: Chris and Kathy Graham (The identity of both is questionable)
Conclusion
At the end I would just say:
Save your money and time.
Don't waste your time with Easy Retired Millionaire. We have seen lots of red flags, so we don't have to even think about the product.
If you want to know what it takes to make money online, I have shown you the alternative. Or if you already found some training which you are satisfied with, share it in the comment section below.
Also if you have any kind of questions, let me know.