This is going to be a review of the ClickBetter product called Ecom Profit Sniper.
You may have seen or heard that this particular product is available on ClickBank.
Well for some reason you won't find it on ClickBank anymore. But it is available on a similar retail site called ClickBetter.
I have already mentioned that this is happening with other systems including Secret Millionaire Bot and many others.
Does it mean that ClickBank finally getting rid of the low-quality and scammy-looking products in the E-business section?
Is the Ecom Profit Sniper a Scam or not?
We are going to find out, but I can tell you right now that despite the promises in the sales video, you are not going to make a large profit using Ecom Profit Sniper (EPS) if any.
Name: Ecom Profit Sniper
Website: www.ecomprofitsniper.com
Price: Advertised Price $37 + Upsells
Owners: Tom Parker (not a real person)
Ecom Profit Sniper Overview
Ecom Profit Sniper is supposed to teach you how to dropship using Shopify.
And I use "supposed to" since we will see in the Tools & Training section that this system does not live up to the promises in the sales pitch.
Talking about promises, the sales video is full of them.
The spokesperson for this video is called Tom Parker. Unfortunately, there is no About Page or something that can verify who really is behind the EPS. I would say that 98% of legitimate products or website do have their About page.
What makes me a bit suspicious as well are these empty promises, saying that an ordinary person with this system can make thousands of dollars online every single day from home.
I mean, that is possible, but not for a beginner. It takes time to build a 5 figure business ($10,000+ a month).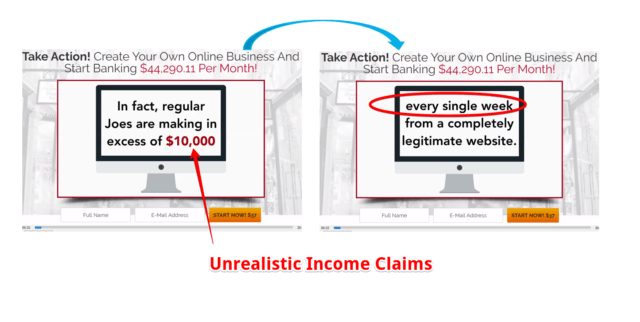 This guy keeps talking about the revolutionary secret method "absolutely anyone can make $500,000 in a single year".
I am sure you also realize that these are just exaggerated claims.
In order to reach that level of having an income of a couple hundred thousand dollars one must work hard and in 2 or 3 years one can achieve that level.
20 minutes of work a day is just not enough, as they say in the sales video. Sometimes it takes me 30-40 minutes just to write a short email. (in case you want to make it short and as informative as possible).
So talking about 20 minutes of work a day a having $500,000 a year is a lie. Even if you outsource all the work you still need to be in contact with your partners.
Dropshipping requires much more time and energy than affiliate marketing. With affiliate marketing, you don't have to deal with suppliers, cancellations, storage rooms, and so on.
Besides you need extra capital in order to start with dropshipping. You need to buy the stuff and then sell it.
That brings me to another over-inflated statement you may see in the sales video.
Here is the screenshot of the sales per month. Please note that if these figures are authentic, they refer to sales and not to profit.
You must also count the expenses.
Having more than $44,000 in sales out of 46 orders – gives us about $960 per 1 item. That is the average. What kinds of items are they dealing with?
Long story short, I have my doubts about the authenticity of these figures and other screenshots they show in the sales video. Also because more of these screenshots with different sales but the number of orders remains the same: "46". Isn't it strange?
They show how easy it is to start with dropshipping, but his kind of business requires much more effort and in many cases more resources (personal, financial, and so on).
The Pros and Cons

Money-back guarantee
Dropshipping is a legit business
N/A
The additional cost needed for running the ads
Material inside the members' area is available for free
The unrealistic Income claims in a sales pitch
Who is it For?
Apparently, a person who signs up with this EPS system can make thousands of dollars in a very short time with no prior experience.
In my opinion, a person who wants to make money with dropshipping needs some experience. It is basically a mixture of offline and online business models. You have to deal with suppliers and customers, take care of cancellations, and so on.
That means that the statements in the sales video are very misleading.
They want you to believe that a person who is about to apply for EPS does not need any prior e-commerce experience or any special equipment to get started.
Ecom Profit Sniper Tools & Training
We are going to check how the EPS looks inside the members' area. After you spent your $37 you will see the welcome page.
In Step 1, you are immediately prompted to get a free website. The thing is though, that you still have to pay for hosting, which is on top of the initial $37.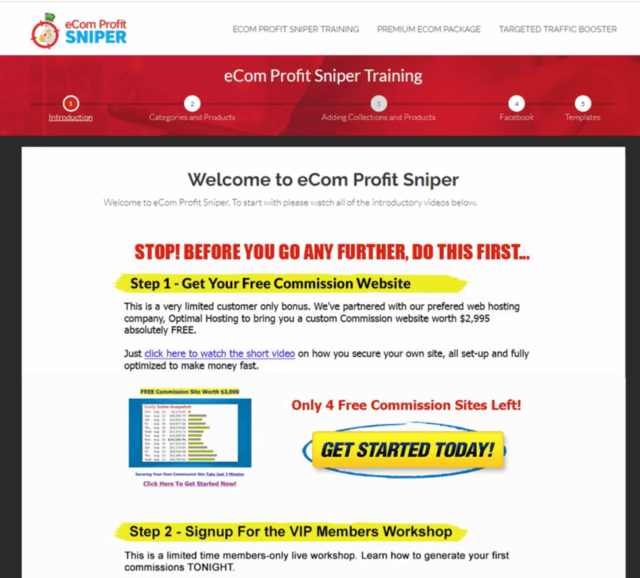 There is Step 2.
This has nothing to do with the EPS, though.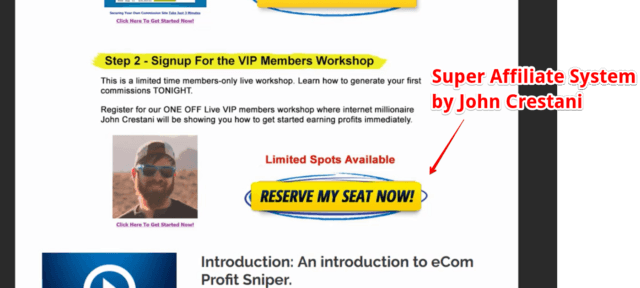 Right, this is an offer to join a different ClickBank product called the Supper affiliate system (creator is John Crestani)
I am not sure if you had a chance to review other ClickBetter products, but many of them are associated with this particular platform, for example, the product called china cash clone.
Don't get me wrong. I have nothing against the promotion of different products.
But in my opinion, if I had my own product I want to make sure the people who bought it are focused on my training only and I don't want them to be distracted by joining other products.
The only reason might be that I get the commission if the visitor joins the other program.
But then – what is the point of my product? Just to make money out of thin air?
I am of the opinion that that is the exact cause of Ecom Profit Sniper.
And the upsells structure we will see later on is proving my hypothesis.
Once you passed these offers, then you get to the EPS training section.
There are 6 Lessons, mostly in video format.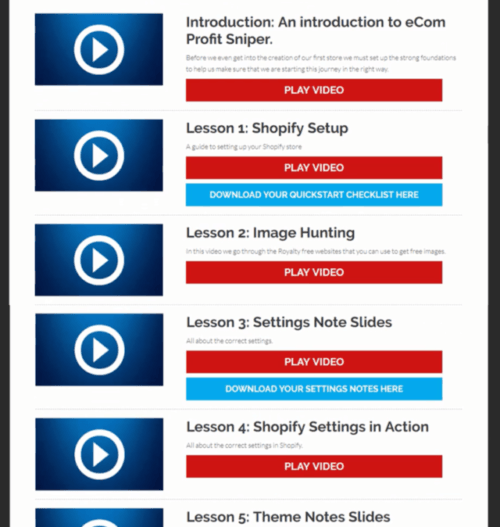 The entire training platform is divided into 4 different categories. The one above is the 1st one.
Here is the overview of the training:
We have seen already the 2nd category as well – that was the Introduction and Lesson 1 Shopify Set up.
The 3rd Category as you see in the screenshot above consists of:
Adding Oberlo Extension
AliPay and Oberlo
Collection Creation
Adding Products
The 4th Category Facebook:
Facebook Page
Facebook Post
Facebook Pixel
The 5th Category is templates you might need. Also, examples and images can be used for the homepage.
This is basic training about how to setup up Shopify and Facebook pages. They shortly also mention how to set up the Facebook ad but for the rest, you have to figure it out on your own.
Let me elaborate on Facebook Ad a bit.
Facebook Ad works.
But.
People and/or companies making money with Facebook ads do a lot of testing and tweaking to figure out something that really works. Not mentioning the thousands of dollars they invest in the ads.
For every $1,000 they put in, they can make $1,300 or $1,500. That is 30% to 50% profit. Not bad right?
But they already know how to do it and they have lots of experience.
You will not figure this out just by watching one or 2 videos about FB ads. You have to go there are test it out.
Support
When it comes to supporting, you won't find any dedicated section within the members' area where you can raise a question or send a screenshot.
The spokesperson makes statements about him being your guide in the sales pitch as just an empty promise.
Truly you can't find a support page, other than the contact email.
Ecom Profit sniper is supposed to be for people with no prior experience. And starting a dropshipping business is not an easy thing to do.
One would expect to have a dedicated team working on any issues the member might have.
If you would like to know how to get a refund, then I suggest you contact directly the retail page, in this case, ClickBetter.
They don't ask any questions, just simply fill out a few data including the order number and within a few days you have your money back,
Ecom Profit Sniper Price Structure
EPS' basic price is $37. The purchase is being done through ClickBetter.
All of these products make money mostly from upsells. Here just shortly how much would the "entire package"
1st Upsell is $197
2nd Upsell $97
3rdUpsell$196
Without these upsell, they would not be able to offer a $268 commission for anybody who promotes this ecom profit sniper system.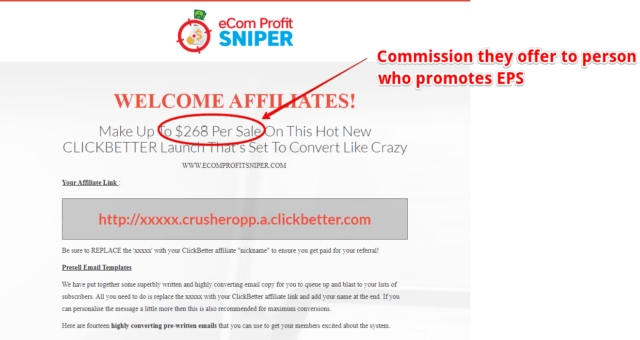 My Final Opinion of Ecom Profit Sniper
Having a dropshipping business with Shopify is not an easy thing to do.
First of all, one needs to have patience and budget until he or she sees a profit.
EPS does not provide you with sufficient training. It doesn't offer support and it is definitely misleading in the sales video about the net profit.
If you are interested in making money online, I believe the easiest way is to start as an affiliate marketer. Choose a niche, create a website and go check Amazon for categories you are interested in; that match your chosen niche.
Becoming an Amazon affiliate is very easy.
Amazon accepts almost anybody.
Of course, you will need the traffic to your website. There are many ways how to get traffic. If you are willing to learn how to get the free-organic traffic I can definitely give you a hand in this manner.
Let me know in the comment section if you are interested.
Regarding the EPS.
The entire idea of EPS is based on the mixture of a legit business model and the "naive" idea that making money online is easy.
In other words, they say how great it is to earn money online using their system but they do not reveal the nuts and bolts of the entire process.
A person watching the sales video was lured into buying this product.
Once he bought it, he watched some videos and sets up a profile and that is pretty much it. He or she may even be suggested to buy the upsells.
The truth is that all the information inside the members' area can be found for free. It does not make sense to "invest" in the Ecom Profit Sniper.
Is it a scam?
Well, maybe because someone who bought the product spends some time trying to figure out how things work. He eventually may ask for a refund but the time has been already wasted.
Ecom Profit Sniper at a Glance…
Name: Ecom Profit Sniper
Website: www.ecomprofitsniper.com
Price: Advertised Price $37 + Upsells
Owners: Tom Parker (not a real person)
Overall Rank:

VERDICT:
If you want to find out more about dropshipping with Shopify I recommend going on YouTube and checking out the free videos.
If you are a beginner in digital marketing, you might want to check other options as well.
I would like to show you, what in my opinion, is the best way to start an online business. That is affiliate marketing, you may have heard of it already.
That also requires some knowledge.
First of all, in order to create a sustainable business online, you need a website. Fortunately, this is not an issue anymore and anyone can create a website, within a few clicks.
You can also find many resources on how to start on YouTube or if you are interested here is my review about an educational platform teaching affiliate marketing from scratch.
The great thing about his platform is that anyone can start for free and test it out whether it is something he or she might be interested in.
There are more than 2 dozen people working in the back office of this platform, so you can imagine it can't be for free.
That is right.
But they do offer this Starter Membership you can sign up for Free.
As I mentioned you have the entire week to check things out. After the week you can become a premium member (which is about $359 a year) and take full advantage of this advanced training.
It is Risk-Free, you do NOT need a credit card or pay pal account.
If you have any sort of questions let me know in the section below, I'd be more than happy to answer your questions.