Welcome to my site.
I have been doing reviews of digital products since 2018 on a regular basis.
Recently (in July 2021) there was a launch of a new WarriorPlus product called ViroLink.
This is supposed to be the world's #1 App that uses smart automation so millions of potential buyers see your link, for free.
Well, this sounds like a real breakthrough in internet marketing, so let's take a closer look.
In the following ViroLink review we are going to check who is behind this product and beyond;
How it works
What are the Pros and Cons,
What is the final price.
Whether there is any Alternative
Let's get right into it.
Disclaimer
Please note, I am not a member or an affiliate of the ViroLink Email System. This review is based on research and information available online in the public domain.
Any recommendations and conclusions are only opinions and may not apply to all persons or situations.
Quick Overview
Name: ViroLink
Website: www.virolinkvip.com
Price to Join: $17 + Upsells
Recommended: No
ViroLink Summary
ViroLink is advertised as a push-button system that generates revenue on autopilot. There is no experienced needed so apparently, it is great for beginners.
The truth is, there are many red flags with ViroLink.
First of all, there is no such thing as a push-button system that makes money on autopilot. The earning reports on their page are fake.
The only way how you can promote your offers within ViroLink is via social media.
That means that there is no such thing as "free buyers" traffic.
If you don't have a ton of followers on social media, the offer won't be visible to anyone (that means no revenue whatsoever).
ViroLink has many upsells, so one can end up paying about $1,000.
I don't recommend spending time and money with this app.
To make a consistent income online one must have some skills first.
And there are many ways how to make money online, the one method I prefer is called affiliate marketing.
Below is a link with more details.
You can join the platform where I am a member. You can learn what it takes to have a real business online.
The platform offers a plethora of step-by-step training.
The first 10 lessons are completely free.
Sign up for Free and I will guide you through the platform.
No Credit Card Needed – Just your email.
What is ViroLink?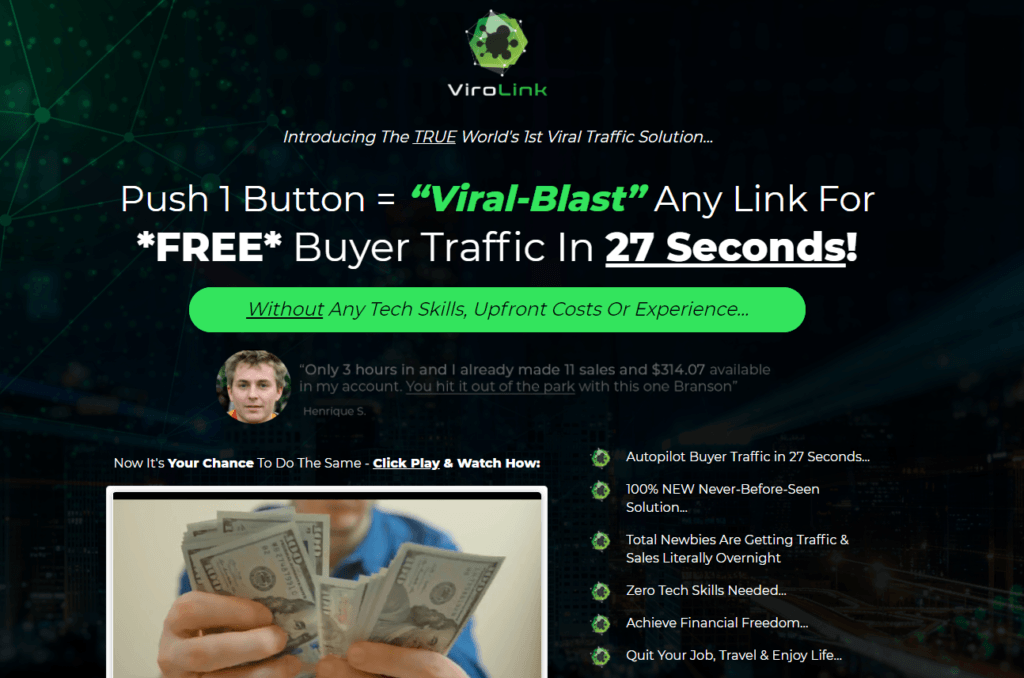 ViroLink is a "push-Button" app promising you to get free buyer traffic that is willing to spend money.
According to the sales page, there are only 3 steps:
Click the Buy Button
Login and Enter any link
Sit Back and Relax (this software should get you unlimited free buyer traffic)
Does it sound too good to be true?
Well, of course, it does.
As a rule of thumb, whenever you see such statements, be careful. These are typical claims for scams and misleading products.
The sales page is hyped up and they even say that the traffic one gets from ViroLink is "extremely contagious and viral".
Who creates such nonsense?
Founder of ViroLink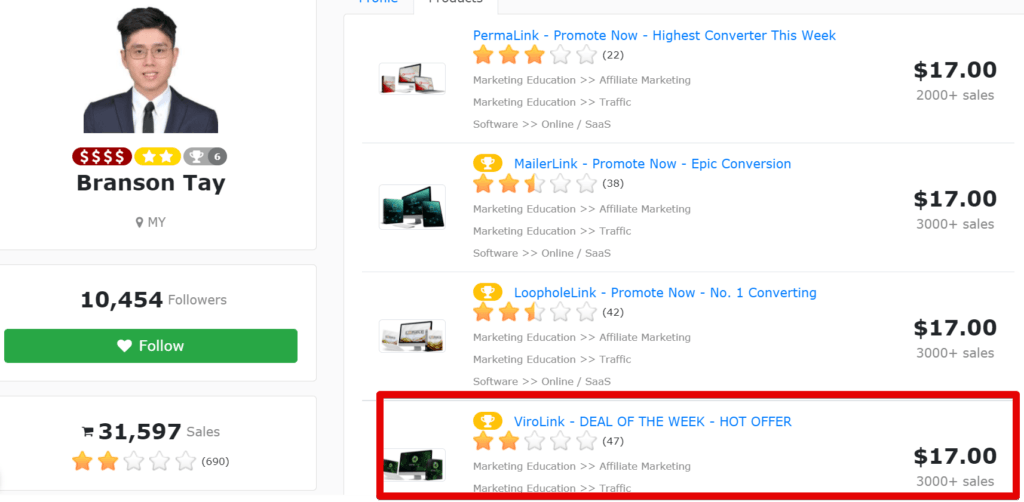 The creator of ViroLink is Branson Tay.
He is from Malaysia.
This guy is very active and keeps creating such products on regular basis.
After the ViroLink he launched MaierLink and about a month later another one called PermaLink.
By now we know that ViroLink is presented as a great product and perfect for newbies.
So the question is, why does he need to create another product. And a month later another one.
What's the point?
The point is that none of them works as advertised and he just needs to get new customers.
Does it mean, he is a scammer?
Well, not far from it.
Who Is ViroLink For?
Apparently, this is for beginners.
And it is true.
I mean no experienced marketer would believe the thing they say on their sales page.
Don't get me wrong.
It is quite normal that newbies might fall for this.
But when it comes to apps or systems promising you to make easy money online, be skeptical.
Do more research.
People making a full-time income online must have gained certain skills, and it took some time.
Even guys making thousands of dollars on YouTube;
They needed to upload at least 50 videos. Some of them even hundreds until they see 4 digits per month.
So how long does it take to post 100 videos on Youtube?
The same applies to a brand new website.
Please note that there are 5 essential things to know before creating a website.
My point is, to be realistic.
How Does ViroLink Work?
Here is what the Dashboard looks like.
You have a Welcome video and then a menu on the Left-Hand Side.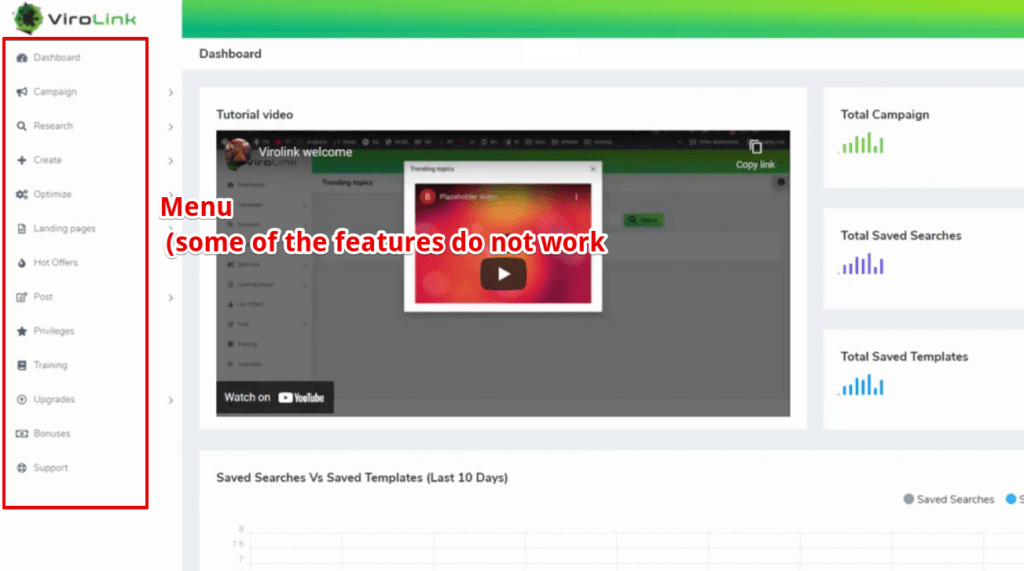 Within the menu, you see for example Campaigns.
In theory, you can set up your own campaign using the following steps:
Create a Campaign name
Pin Finder – it finds pins on Pinterest
Templates
Hashtags
Keywords
Landing Page
Post
Then you have a function to create a page, the page builder.
These look very cheap and if you want to create a page, just get Elementor free version and check the tutorial on Youtube.
Also, WordPress offers pretty much the same complex page builder as Elementor does, so there are many choices when it comes to building a website.
Besides within the ViroLink dashboard, we have found out that some of the functions in the menu, don't work.
How to get the traffic?
So you create your template/landing page and you can share it to get the promised free buyers traffic.
What is it?
Here is the big "secret".
Share your landing page on the following Social Media
Now, what is the purpose of it?
The thing is if you don't have thousands upon thousands of followers, no one will see the landing page.
If you have some, and they land on it most of them will unfollow you, because you are spamming them.
Actually, If you do have thousands of followers, you most likely don't read this and you don't need the ViroLink.
How about the training?
At the time of launching, the training did not work.
The same for support.
It is shame that there is no one to contact, in case you have questions.
I wonder how the money-back guarantee works…
How Much Does ViroLink Cost?
The basic price is just $17.
But that's not all.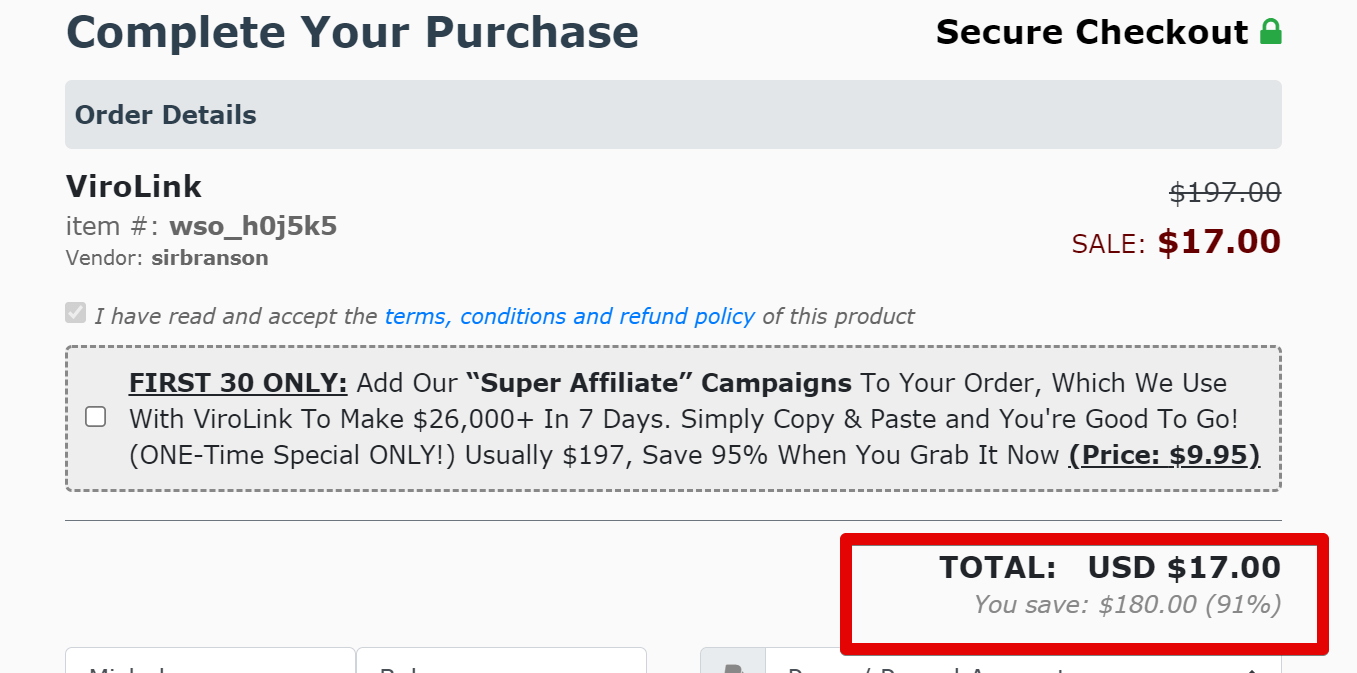 Right after the checkout, you are "bombarded" with the upgrades.
And there are 6 of them with the following price structure.

Upsells
And this is what you should be getting:
(I copied the text from their JV page, so you can see the hyped-up statements.
1) ViroLink – Unlimited ($47)
All Premium Features of ViroLink
Supercharge your ViroLink account to 100x Profit Twice As Fast With Unlimited Edition
Remove ALL Limits
Remove ALL Limits (Not sure why this is mentioned twice…)
Create UNLIMITED Traffic Campaigns
Get UNLIMITED FREE Buyer Traffic (I thought this was part of the basic price…)
2) ViroLink – Done For You ($197)
Generate 100% Hands-Free Income While We do ALL The Work for You
Enjoy Luxury Experience As Our Expert Team Will Login Your ViroLink Account To Setup ALL Your DFY Traffic Campaigns For You
Let Us Optimize Your Account For Maximum Results
Unlike Anything Else You've Seen In The Marketplace, We Actually Hire Full-Time Professional To Manually Serve You In This Done-For-You Upgrade
So There's No Technical Skills Or Experience Needed – Guaranteed Success!
Best Option For Anyone Who Is Too Busy, Lazy Or Simply Have No Time On Their Hands
3) ViroLink – Monetization ($97)
Turn The Traffic You Generate With ViroLink Into Profits
Enjoy $1,000 Paydays With High Ticket Commissions
Copy & Paste The Exact DFY Campaigns We Used To Generate $32,000 In 30 Days
Done For You Campaign
Done For You Funnel, Email Swipes Offers…
4) ViroLink – Limitless Traffic ($147)
Instantly Tap Into Our Personal, Diamond Source Of Viral Traffic For Unlimited Sales & Commissions
The EXACT Traffic Secret We Used To Generate $400,000 in 4 Months… (Averaging $100,000 per month)
Like literally owning a Virtual ATM Machine!
100% Done For You FREE Buyer Traffic On AUTOPILOT with By Tapping Into Our Source With No Limits…
Lifetime Access To Our Traffic Source – Pay Once & Enjoy Forever!
Bonus: Training & Tutorial Video, Step-By-Step Guide Included…
Bonus: Real-Life Case Studies…
5) ViroLink – Franchise Partner License ($497)
Sell ViroLink While Keeping 100% Of The Commissions + Guaranteed Approval (no legit business can guarantee anything.
Get Paid Up To $1120 Per Visitor You Send Us
Business-in-a-box
You Get To Use Our Proven To Convert, Professionally Designed Pages, Funnels…
Let Our Professional Team Handle All Supports For You
Nothing For You To Upload Or Host
Bonus: Get 100% Reseller + License Rights For All Our Past Products (Worth THOUSANDS)
6) ViroLink – The "Missing Piece" ($97)
This "Missing Piece" Accidentally Found Out By A ViroLink Beta Tester Pockets Us An Additional $300-500 Daily
Works Surprisingly Well With ViroLink – Apparently 5x Income Boost With This "Missing Piece"…
You're Leaving Money On The Table Without This Unique Upgrade!
Add Another Income Stream To Your Arsenal
Bonus: Training & Tutorial Video Included
You have probably seen these in other reviews.
Well, it is just a bunch of nonsense.
Besides, did you see the price? Without the downsells, one might end up paying $1,082 + plus the Front end price.
And one more thing to mention.
At the very end of the ViroLink sales page there is a disclaimer, claiming that they basically do not guarantee anything:
"There Is An Inherent Risk Of Loss Of Capital And There Is No Guarantee That You Will Earn Any Money."
What about the other ViroLink reviews?
No wonder there are websites promoting this product.
They even claim that there are no Cons and/or that this is a perfect product for everyone.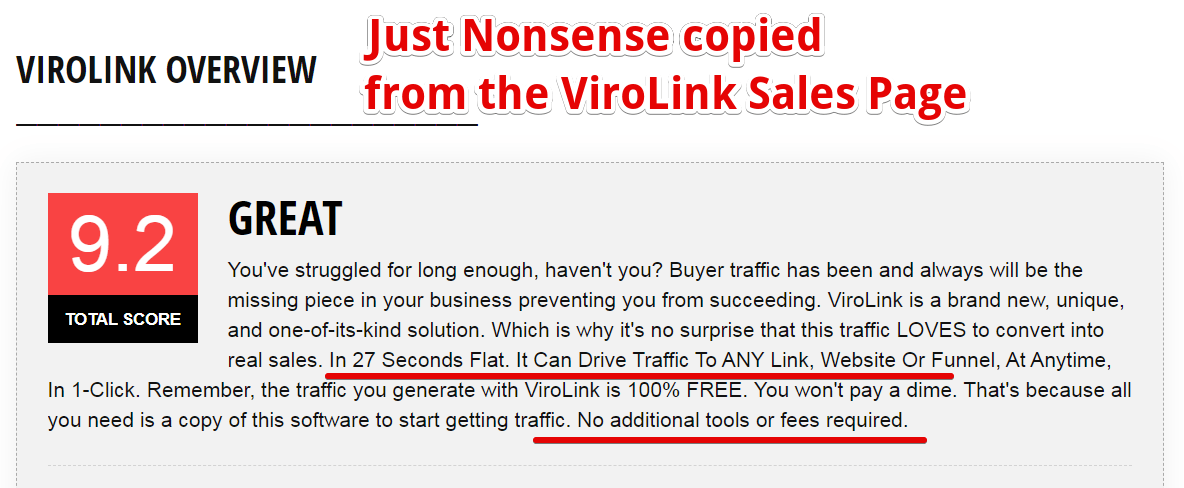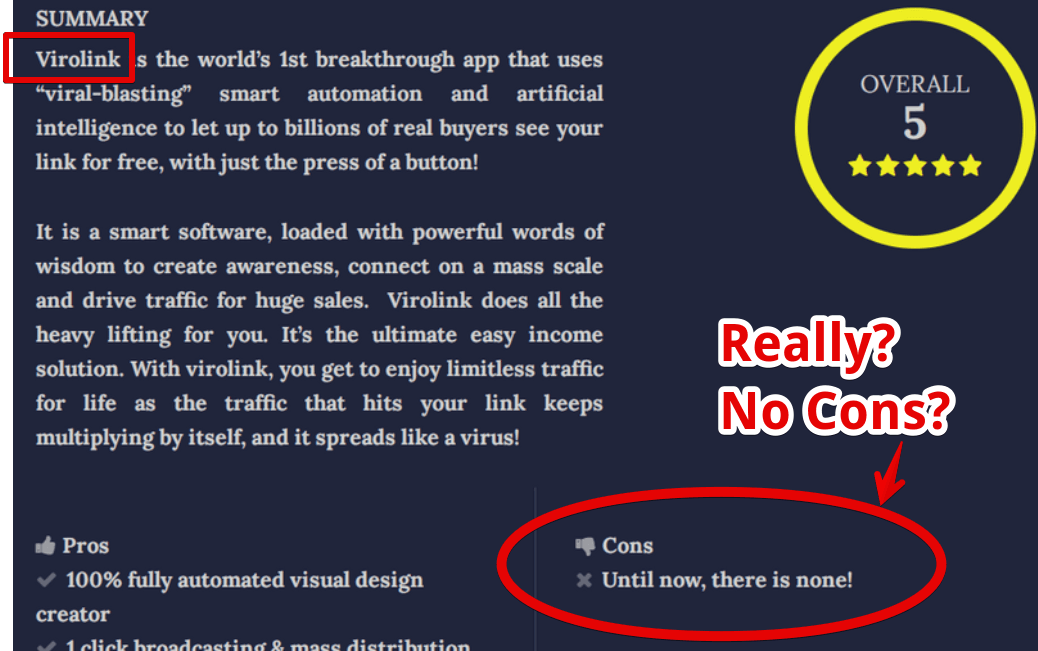 Unfortunately, these sites rank quite well on Google, so people think that the product must be good.
It is not.
These websites are affiliated with every single new launch there is on WarriorPlus.
They don't really care about your experience as an end-user.
Why do they do that?
It is simple – Did you see the Price structure?
They get a 50% commission, which in this case is more than $500!
Any Red Flags?
Sure, there are.
Despite the unrealistic earning claims, I am sure those testimonials are fake as well.
And let's take a look at the sales page of another Branson product called PermaLink.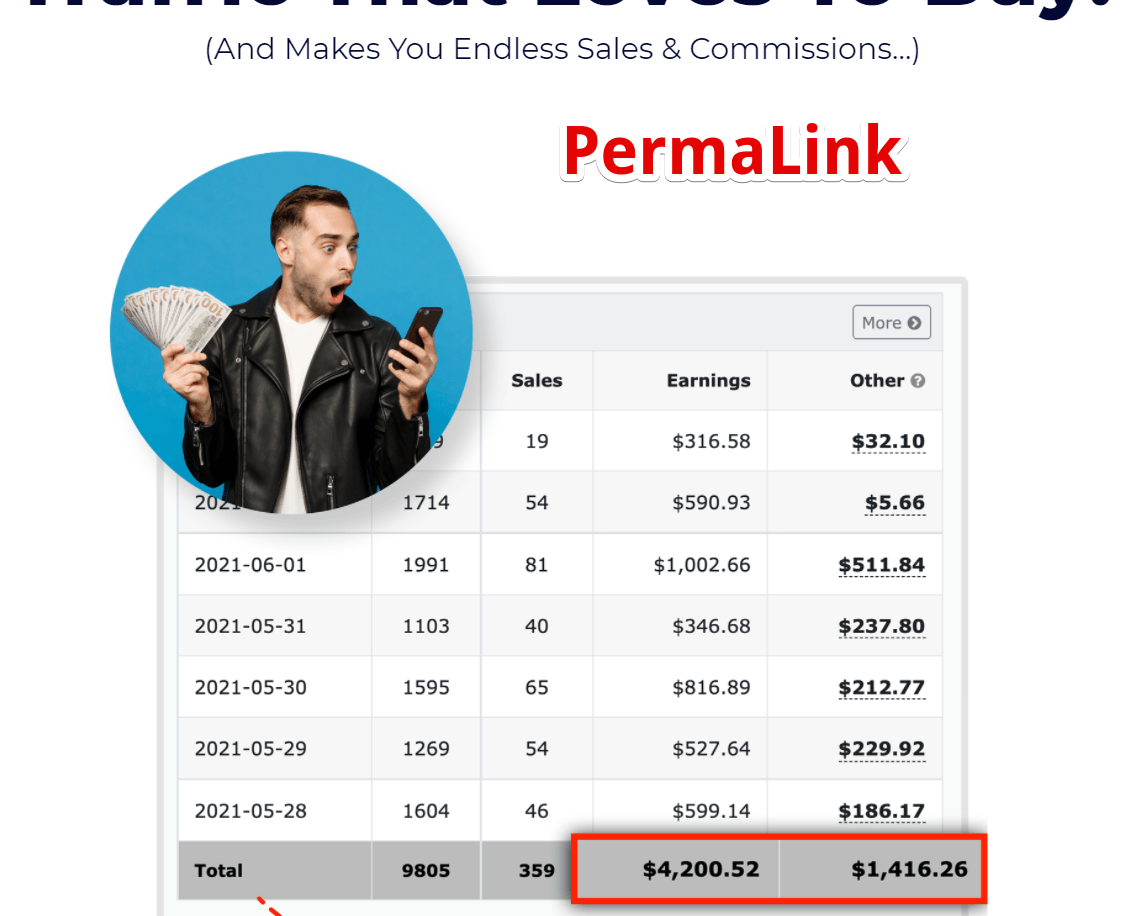 We see that it is exactly the same, and even the table with the commission is the same as we see in the ViroLink case:
Isn't this suspicious?
Exactly the same dates and exactly the same commissions to the penny.
As we see in the table above the earliest date is June 3rd, 2021.
It is interesting since the Permalink website was registered and launched on June 22nd, 2021.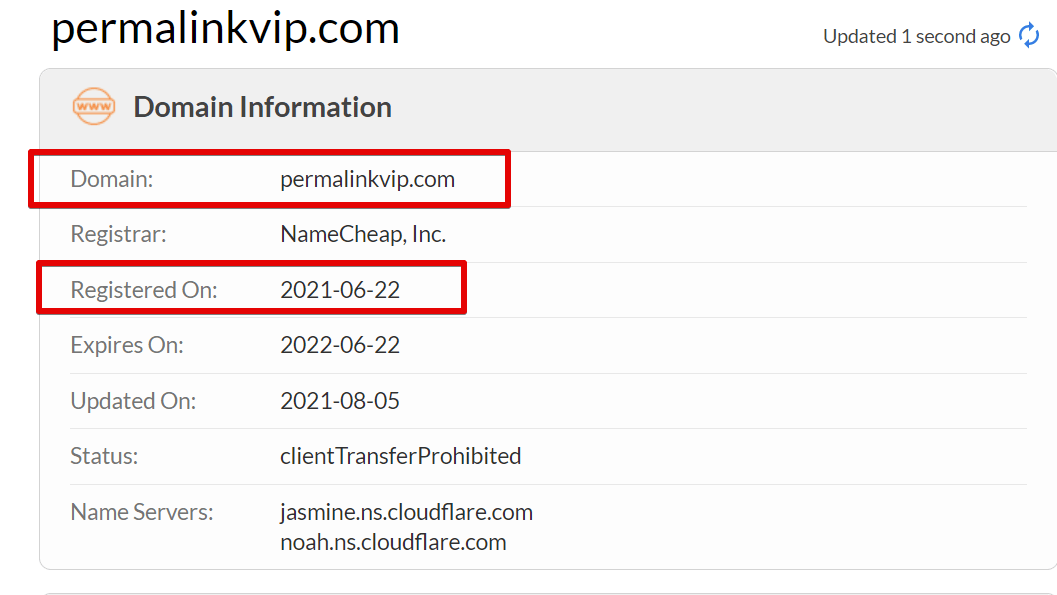 So back in the 1st half of June;
How come one can earn from a product that doesn't even exist?
The truth is these graphics are just made up and don't have any value.
This alone makes me not trust the product at all.
That's why I don't recommend spending time on ViroLink.
It is another scammy product.
What I like about ViroLink

Money-Back Guarantee (it doesn't work via WarriorPlus though, you would have to contact the vendor directly)
What I don't like
Unrealistic Income Claims
Too hyped up sales video
A lot of Upsells (up to $1,000)
Just re-hashed product
Conclusion
This ViroLink Review is for people that are looking for ways how to make money online.
I believe that you are one of those.
I am sure you are also responsible enough to know that proper research is essential.
I am glad you do your due diligence.
With that being said I can show you how I make money. You can check the link below, and test one specific platform that has been available since 2005.
They teach how to make money with affiliate marketing. It is considered one of the easiest ways how to generate revenue.
That doesn't mean that it is easy. It depends on your background.
You do realize, that in order to have a sustainable income online, it is necessary to put effort into it.
And it also takes time.
The good thing about the platform you can join for free is that there is 10 lesson you can go through.
Explore the platform and you can get in touch with me anytime.
Well, I do believe you find this ViroLink review helpful and if you have any kind of questions let me know in the comment section below.
I will be happy to help you.
Thank you for reading
Mike
How to Get Started with Affiliate Marketing Business?
I have been a member of Wealthy Affiliate since late 2017 without prior marketing experience.
Beginning of 2018 I have learned how to build a website that drives traffic and makes sales.
Since the summer of 2019, I am a full-time internet marketer and I work from anywhere I want, whenever I want.
Training within Wealthy Affiliate teaches how to generate a consistent income in the long run.