You have probably stumbled upon this WarriorPlus product called MailerLink and want to know more about it.
There are already some reviews claiming that this is a great way to earn money.
Is it really?
In the following brief MailerLink review, you are going to learn what is this really about.
What are the cons (and Pros if any) and most importantly what is the earning potential?
Let's get right into it.
Disclaimer
Please note, that I am not a member or an affiliate of MailerLink. This review is based on research and information available online in the public domain.
Any recommendations and conclusions are only opinions and may not apply to all persons or situations.
Quick Overview
Name: MailerLink
Website: www.mailerlinkapp.com/launch-specials
Price to Join: $13 + Upsells (up to $1,000+)
Recommended: No!
MailerLink Review – Summary
MailerLink is a product on WarriorPlus claiming to help you make money by sending pre-made offers to people. However, there are two major issues with this system:
Most offers will be ignored as people consider them spammy and don't know where they come from.
Sending such emails may violate GDPR and other similar policies in North America, making it illegal in many countries.
I strongly advise against spending money on MailerLink, as it appears to be a scam promising unrealistic earnings.
As of updating this post in July 2023, the domain mailerlinkapp .com has expired. The reason is that the product was not living up to its promises.
Making money online requires real effort and skills like SEO to drive traffic and generate revenue.
If you want to learn more, consider focusing on legitimate methods that provide long-term value.
What Is MailerLink?
MailerLink is a product claiming that you can make money by sending emails. Apparently, one email can earn you $400.
That is a pretty audacious statement and let me tell you right away that it is not as easy as presented on the MailerLink sales page.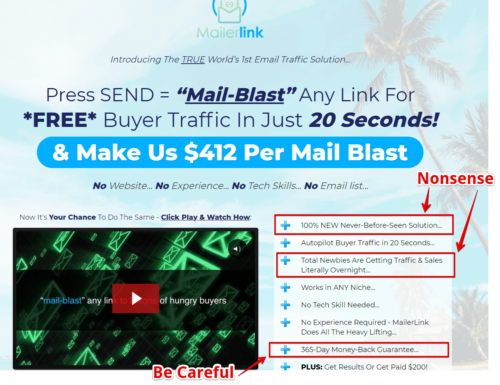 Besides, there are claims on their sales page, that are simply not true.
As already mentioned this is available on the Warriorplus site.
You might be familiar with this website, in case you are not find out more here:
Let's go more into detail starting with the creator of MailerLink
Founder of MailerLink
The creator of MailerLink is Branson Tay from Malaysia.
I was doing a bit of research but his profile is not available on LinkedIn anymore.
His Youtube channel is quite active and since July 2018 he has had more than 25 million views.
But when we take a look at this WarriorPlus profile, we see that he keeps creating new products on a monthly basis.
Besides the rating he gets is not very flattering.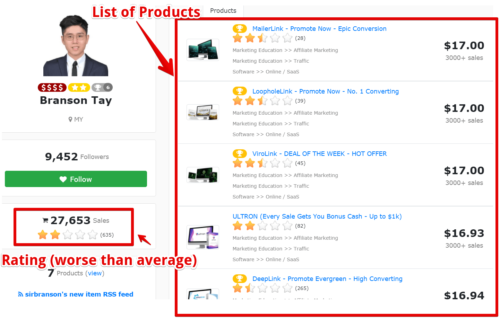 It is important to realize that there are a lot of these internet marketers who keep creating products.
Or let me be more precise;
They only re-hash the old one.
This means they change the color, name, and maybe some wording but essentially it is the same product over and over again.
I personally don't like this kind of marketing.
The only purpose is to make money for the founder.
It has no value for the end customer.
Who Is the MailerLink For?
This is supposed to be for total beginners.
And it is.
Since only newbies might believe that this will work.
Don't get me wrong, but unfortunately, this is the group of people that purchase such products.
Something is telling me that you are not in that group (anymore).
I am glad you do your research and that means you really want to learn what it takes to make money online.
Even for me, it took a while until I understood how to generate consistent income online. Thank one particular educational platform I am a full-time marketer.
How Does MailerLink Work?
Inside the dashboard, you have a menu where you can for example find offers, get leads, or if you want to edit an image you can do it as well.
In a nutshell this is how it works:
you get leads, you choose a specific offer, and then send this offer.
By typing a keyword inside the dashboard, you get a list of email addresses (your leads) to which you can send these offers.
In other words, you will be sending cold emails to people that have no idea where did you get their email.
Most likely your offer will get into the Spam folder, or it'll be ignored for good.
And here is another issue:
You don't have permission to contact these people.
They have to agree that you can collect their emails and then contact them.
Depending on where you are from, you might be familiar with the GDPR.
None of the people on the list agreed that you can collect their emails.
It is also quite possible that these emails were collected by different websites (data harvesting scams).
Then they were sold to 3rd party and now they are "available" for you.
A very shady tactic and also illegal in many countries.
What kind of Offers are there?
You can pick products from websites like JVZoo, ClickBank, or Warrior Plus.
Page Builder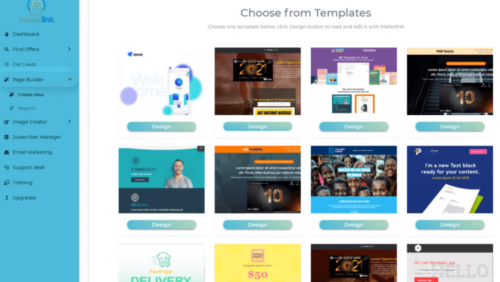 This page builder is the same for almost all WarriorProducts of its kind.
They use it over and over again, just associate a new name to it, change some colors, and a "new product" can be launched.
Image Builder
Again a very simple tool where you can edit images.
But you don't need to pay for this product to have access to the image creator.
Canva is what I use and it is for free.
Training
This is a very simple training where you can learn basically what is available for free.
I don't want to bother you with more details.
To sum it up, this is just another product, that uses the same principle as other Warrior Plus products.
None of them work, simply because using this method, you just spam people.
This is not how Internet marketing works.
How Much Does MailerLink Cost?
The front-end price is very interesting and in fact, it is just to get you to buy the entire product.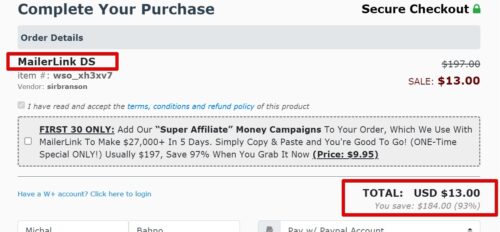 You would have to go through the upsells, which you can skip, but it takes a few seconds to find the "skip button".
Below, here is an entire price structure, or OTO as they call it (One-Time-Offer).
OTO 1: MailerLink – Unlimited ($47)
This is how it is advertised:
Unlock All Premium Features of MailerLink.
Supercharge your MailerLink account to 100x Profit Twice As Fast With Unlimited Edition.
Remove ALL Limits and Create Unlimited MailerLink Traffic Campaigns.
– Campaigns that will only spam people
Get unlimited free buyer Traffic.
– This is nonsense.
Get unlimited Leads & Sales On Autopilot.
– Again, another nonsense.
OTO 2: MailerLink – Done For You ($197)
With the 2nd upsells you should be able to Generate 100% Hands-Free Income. This includes:
All Done For You Packages
Proven Resources, Traffic Campaigns, Swipes, Funnels, Templates, Videos, Articles, Media Files, PDF Files & Many More
MailerLink staff hire Full-Time Professional To Manually Hand-Craft This Done-For-You Package
Apparently, you don't have to have any skills or experience.
They even say "Guaranteed Success!"
Well, no legal product can guarantee you success.
OTO 3: MailerLink – Monetization ($97)
And some more unrealistic claims:
Turn The Traffic You Generate With MailerLink Into Profits.
Enjoy $1,000 – $5,000+ Paydays With High Ticket Commissions.
Copy & Paste The Exact DFY Campaigns We Used To Generate $32,000 In 30 Days.
What is the purpose of Copy and Paste Campaigns?
Does it mean that everyone purchasing the MailerLink will use the same?
Done For You Campaign, Funnel, Email Swipes
OTO 4: MailerLink – Limitless Traffic ($167)
It goes on:
Instantly Tap Into Our Personal, Diamond Source Of Viral Traffic For Unlimited Sales & Commissions
The same Traffic Secret We Used To Generate $400,000 in 4 Months
Like literally owning a Virtual ATM Machine!
100% Done For You FREE Buyer Traffic On AUTOPILOT By Tapping Into Our Source With No Limits.
Well, how much 100% done-for-you free buyer traffic there is?
I thought this was already covered in the 1st OTO.
OTO 5: MailerLink – Franchise Partner License ($497)
By spending an additional almost $500 you can become MailerLink's official franchise partner.
You can keep 100% of the commission.
They promise you can earn some crazy numbers, with this so-called "Business-in-a-box".
OTO 6: MailerLink – The "Missing Piece" ($97)
This is advertised as:
"This Missing Piece Accidentally Found Out By A MailerLink Beta Tester Pockets Us An Additional $300-500 Daily"
Apparently, it is possible to 5x boost income.
There is a bonus involved as well.
Each OTO has also downsell (a discount) so in the end, you might end up paying from $392 to $1,102!
I did not purchase the OTOs simply because of my experience with Warriorplus products.
Is There MailerLink Money-Back Guarantee?
Regarding the potential refund, please be careful.
The thing I don't like about Warriorplus is that you can't get a refund from Warriorplus support.
You have to contact the vendor directly and hope that he will send you your money back.
For example, I purchased one product called Forget About Broke and wasn't happy with it. It was really a scammy one and here is the review I did.
Till today I did not receive my money back.
MailerLink Reviews
You might be asking…
…but Mike there are at least 3 reviews that highly recommend this product.
Well, that is true.
But here is the kicker:
They don't care about the value of the product. They only see the commission and in this case, it can be more than $500.
That's why you won't see any cons in those reviews.

or

I don't feel like promoting such a low-quality product.
My point and also the reason why I have created this website is that I want to let people know about such scammy products.
For beginners, it is very easy to spend several hundreds of dollars on such a product.
They use a sneaky way how to upgrade, and I did describe it in the Forget About Broke Review.
So please be skeptical when it comes to such exaggerated claims.
What do I like about MailerLink?

Money-Back Guarantee (although check above for more details)
What I don't like about MailerLink?
Unrealistic Income Claims
A lot of Upsells (hundreds of dollars) with no additional value
Questionable Money Back Guarantee
Is MailerLink a Scam?
We have checked that MailerLink is just another low-quality Warrior Plus product with a lot of upsells and misleading claims.
There are 2 main reasons why I can't recommend this product:
GDPR violation
The offers sent via MailerLink will end up in the spam folder or will be ignored. (the chance that someone will make a purchase is slim to none)
If you are interested in how to make consistent income online, the legal way, there is a link at the bottom of this article.
It is not a get-rich-quick scheme, so in case you are looking for some "push-button" system that works on autopilot, I can't help you.
There is no such thing.
It takes some skills and effort. But at the end of the day, it is much better than working in some 9-5. At least in my opinion.
Are you looking for ways how to make some bucks online?
Or you maybe have some questions regarding MailerLink.
Either way, let me know in the comment section below.
I will be more than happy to provide you with feedback.
Thank you for reading
Mike
Learn How To Make Money Online
Do you want to learn how to make money online?
First, it's essential to understand that there's no "push-button" system for autopilot money, as Branson Tay claims.
When choosing a business model, consider Affiliate Marketing, the simplest one. You won't create products or handle suppliers/customers.
Instead, you'll create a website about a specific topic and inform your readers about products or services. To succeed, you need skills in driving free traffic to your site.
Once you master this skill, your earning potential becomes limitless.
For more information and training on these skills and beyond, check out the link below.