This seems like a great way ho to make a couple of hundreds per day and it doesn't require any skills or experience.
Is this hyped up or can one actually make decent money?
In the following PermaLink Review, we are going to check how it really works and that is the earning potential.
I will do my best to keep this review short and brief.
Soon you will find out everything you need to know about his new WarriorPlus product.
Let's get right into it.
Disclaimer
Please note, that I am not a member or an affiliate of PermaLink. This review is based on research and information available online in the public domain.
Any recommendations and conclusions are only opinions and may not apply to all persons or situations.
Quick Overview
Name: PermaLink
Website: www.permalinkvip.com – Domain not Available Anymore
Price to Join: $17 + Upsells (a lot of them)
Recommended: No
PermaLink Summary
PermaLink is supposed to be a revolutionary app that can help you to generate hundreds of dollars per day on autopilot.
Apparently, you don't need any previous experience or skills.
In reality, though, this tool only sends unsolicited comments with an affiliate link to other's people YouTube videos.
In other words spam.
No one will see these comments, since they will either be filtered by YouTube or the owner of the channel.
There is no such thing as an app that generates income on autopilot.
It is necessary to master certain skills and invest some time and effort.
Besides the domain is not available and the platform has been shut down.
If you truly want to know what it takes to start earning revenue online, check the link below.
I have been using this method since 2018, and since 2019 I do this full-time.
Sign up for Free and I will guide you through the platform.
No Credit Card Needed – Just your email.
What is PermaLink?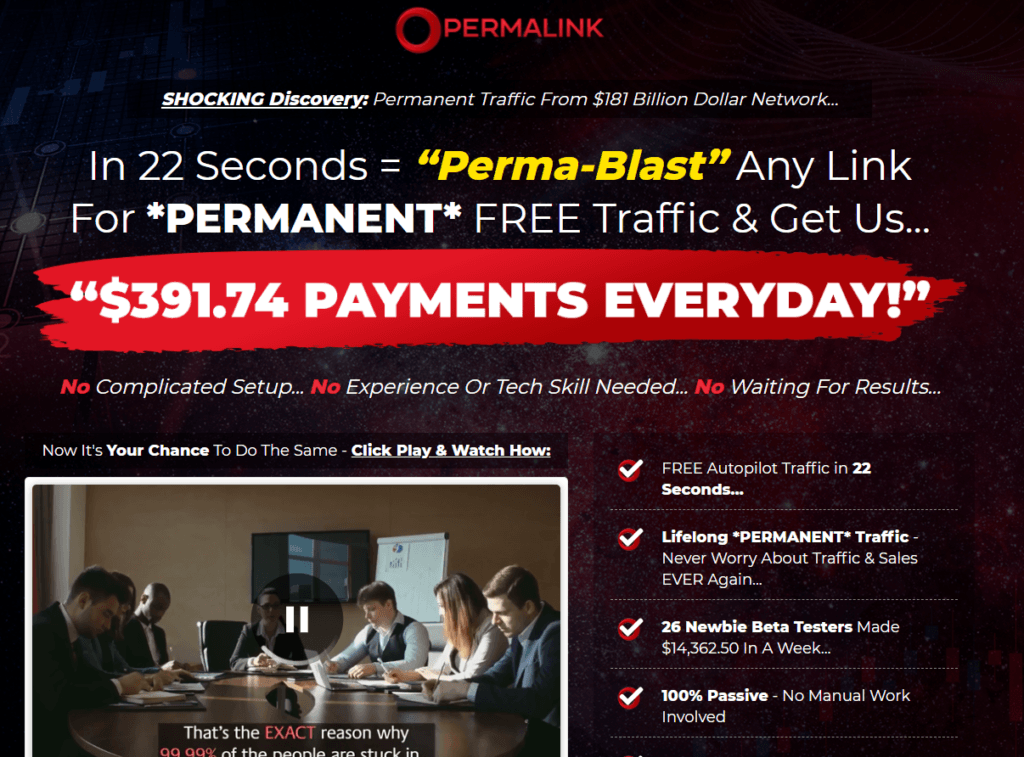 According to the creator, Permalink is the "World's 1st breakthrough app which taps into a $181 Billion Dollar Network".
In other words, this app allows you to click the mouse and make money.
Apparently, it is "all completely passive and fully automated".
Now without going any further, what do you think about such a statement?
Isn't it too hyped up?
I would love to hear your opinion, so please use the comment section below, and share with us what you think.
Now regarding the product.
I am sure you have already tried different products and none of them work as advertised.
That is exactly the case with PermaLink and we are going to see that this simply doesn't work.
Quite opposite, it can do more harm than good.
Right off the bat, let me share with you that PErmalink really does;
this app lets you spam other's people YouTube channels.
That's it.
In case you are would like to find out more, please stay with me.
Founder of PermaLink
The founder of this "new" app is a guy named Branson Tay.
His WarriorPlus profile is "sirbranson".
Based on the Warriorplus site, Branson is just another serial warrior plus creator.
He keeps creating products on monthly basis.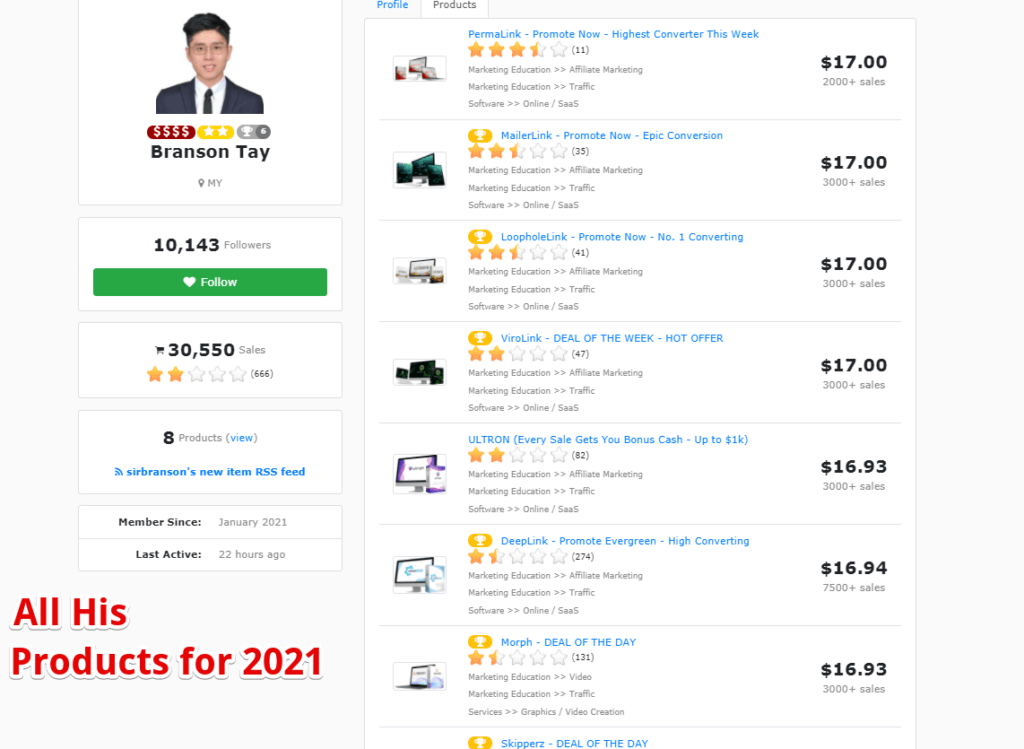 In fact, I just reviewed one of his "different" products called MailerLink.
It s pretty much the same as PermaLink, the creator only changed colors.
As for the rest of Branson's products I have my doubts as well.
Also, the rating (2 stars out of 5) is not flattering either.
Who Is PermaLink For?
According to the sale page, this is for beginners,
But if you have paid attention, I am sure you know by now that this is not good for anyone.
It is another scammy product that I wouldn't purchase.
In this article, I am also going to touch on the topic of making money online, realistically.
But let me tell your right away, if you are looking for some kind of loophole or a push-button system that makes thousands of dollars on a daily basis, I am afraid I can't help you.
You are welcome to go ahead and keep searching for such a "system".
How Does PermaLink work?
A simple answer would be – hardly.
But let's take a look at the dashboard.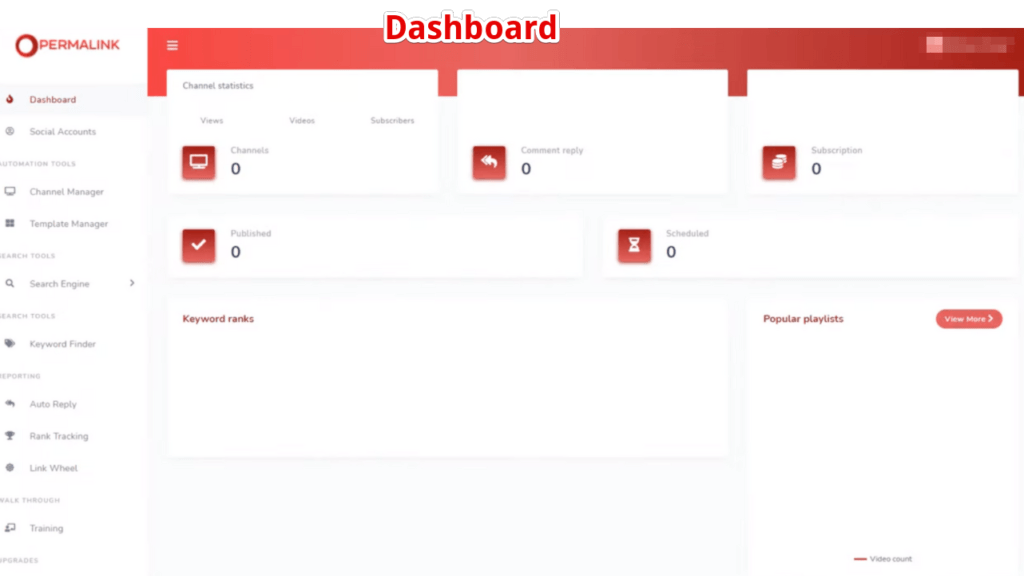 In principle, this tool allows you to automate certain steps for example comments on Youtube channels.
The idea is that each comment contains an affiliate link. So if someone clicks on that and purchases the item/service you offer, you get a commission.
In theory, this might work and it really seems like an easy way to make some bucks.
But here is the kicker.
Youtube doesn't allow spam, so since PermaLink operates as an automation tool the chances that your comment will be marked as spam are extremely high.
What's the point of doing this?
That's a great question – and the simple answer is, don't do it.
Don't waste your time with Permalink.
Besides here are some other red flags:
No Support
Money-Back Guarantee (even though they claim otherwise)
No value whatsoever
Concerning the money-back guarantee, the problem is that WarriorPlus is not responsible for the refund.
You should contact directly the vendor, and in my experience, it is extremely difficult to get your money back.
The same applies to the already reviewed product called ProfitZBuddy, and the majority of WarriorPlus products.
Now I am wondering whether these guys use the same basis and software as a template for crafting new products.
What Is the Price?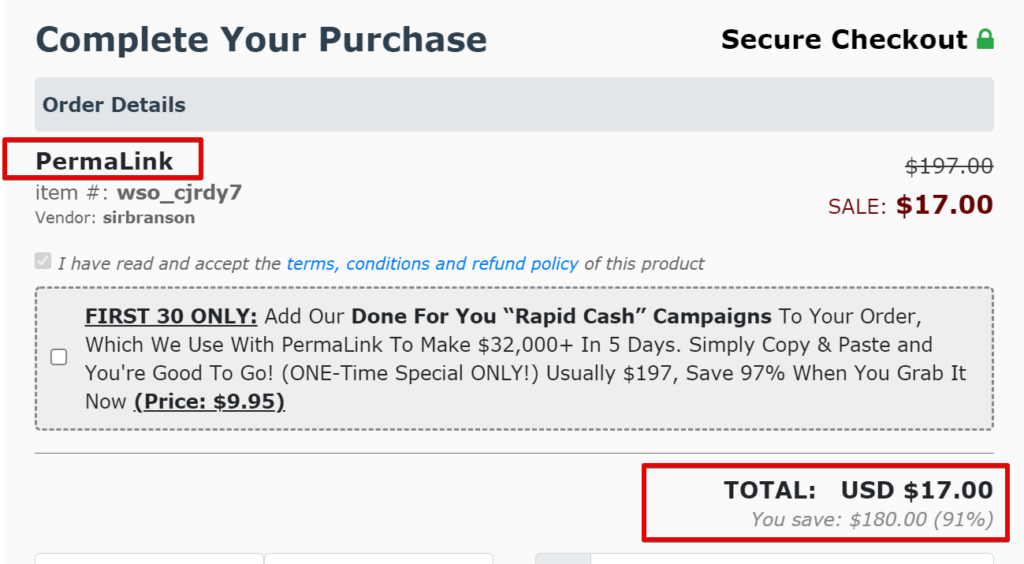 The basic price is $17, which is not a lot.
But please right after check out you have to deal with the upsells.
These pop-up windows asking you to upgrade are pretty annoying.
Generally speaking, I advise not to get the upgrade until you know what you are buying. With that being said, there is a skip button (it takes a bit of effort to find it), so just be patient and skip all of the upsells.
Upsells
There are 6 of them and here is briefly what is inside:
Let's go over the upsells (also called OTOs stand for One-Time-Offer), to check what the supposed value should be;
OTO 1- Unlimited $47.00
Unlock all premium features of this tool
Remove all limits (not sure what it does)
get unlimited free buyer traffic (this is nonsense)
OTO 2 – Done For You $297.00
Generate 100% hands-free income while "they d all the work for you"
Apparently, you can enjoy a "luxury experience" as the PermaLink expert team prepared all Done-For-You packages for you
Supposedly you get an advantage with their proven resources, campaigns, swipes, funnels, etc.
OTO 3- Monetization $97.00
Turn the traffic you generate with permalink into profits (I thought this was part of the basic program)
Copy Paste the exact DFY campaigns (meaning that every customer will have the same campaigns?)
Done for you Funnel, Campaign … same like the OTO above…
OTO 4- Limitless Traffic $167.00
This is supposed to be some kind of "Diamond Source of Viral Traffic"
Works like ATM Machine
100% done for you Free Buyer Traffic on Autopilot (again, this is redundant)
OTO 5- Franchise Partner License $297.00
Become PermaLink Franchise Partner
Sell this tool and keep 100% of the Commission
So-called Businesses-in-a-box
OTO 6- The Missing Piece $97.00
Another income stream
Training and Tutorial Video
the "missing piece" that helps to generate an additional $400 daily
Well, these are just overhyped statements.
There is also a discount for each upsell, but even with the downsells, one can end up paying more than $500, including the front-end price.
As you see these are quite expensive as well.
Sir offers 50% commission to their affiliates, but I personally don't feel like promoting this product.
That is actually the main reason why I do these reviews.
I spend more than a year, chasing courses, platforms, and systems that teach how to make money online.
In my experience, the vast majority were … misleading, for the lack of words.
Such courses within the MMO (Make Money Online) niche offer little to no value and it is almost impossible to make money.
Therefore, my goal is to inform my readers about potential scams and show them a better alternative.
What is a good course for you?
I don't know.
What I personally prefer, is affiliate marketing and you can try it too.
The platform that I am a member of, offers a 7-day free trial where you have access to 10 lessons.
Again, I am not telling that this is the best alternative for you.
But it takes no risk to test it out and then decided whether to invest in this course or somewhere else.
What I Like About PermaLink

What I Don't Like About PermaLink
Too Misleading sales page
Questionable Money Back Guarantee
Unrealistic Income Claims
A tool that allows you to spam other's people Youtube videos
Is PermaLink A Scam?
I don't recommend spending more than a few minutes on the PermaLink sales page.
Let alone paying for the product.
It is not an outright scam, but not far from it.
As a rule of thumb, whenever someone offers you a system that generates income on autopilot, run for the hills.
Everyone would be a millionaire by now, don't you think? Or at least the majority of us.
The truth is that in order to start making money online, one must realize that it takes time and effort.
I can't stress this enough but patience and consistent effort are the keys.
Now, if you are interested in a specific educational platform that has great training, please check the link at the very bottom of this article.
In case you have questions regarding the PermaLink, or just want to share your experience, please don't hesitate and use the comment section below.
I believe you find this article helpful. If not let me know as well 🙂
Thank you for reading
Mike