Hello and welcome to my website.
You may have seen this opportunity to make $500 today, and are wondering whether this is a true statement, or is Social Bounty another scam?
Good for you that you do your due diligence. I am happy for you.
In this article, we are going to find out who is behind the system, if their payment proofs are real. At the end of this Social Bounty review, you will know exactly whether you can trust this system or not.
This review won't be boring and at the end, we will reveal something that you may laugh about.
Stay with me 😉
Disclaimer
Please note, I am not a member or an affiliate for Social Bounty. This review is based on research and information available online in the public domain. Any recommendations and conclusions are only opinions and may not apply to all persons or situations.
Social Bounty Overview
Product Name: Social Bounty
Price to Join: $0
Creator: N/A
Rating: 0/10
Do I recommend it? No Way!
Social Bounty Summary
This system claims that you can earn hundreds of dollars just by inviting people on social media to join the Social Bounty. You can get paid also by performing simple tasks that are to be found inside the back office of this system (on their website).
The entire Social Bounty system is not trustworthy.
It is easy to find out that they are lying about the following:
Founders
Payment Proofs
Testimonials
A Year of Foundation
Besides, this is part of the network scam where nobody gets paid.
It is a data harvesting scam.
My suggestion is to stay away from Social Bounty.
If you have read enough about the Social Bounty and you want to know how I have learned how to generate income online, please check the link below:
It is an educational platform where you will learn how to build a website, how to get free traffic, and how to monetize the traffic.
Soon after signing up, you will receive a short welcome message from me.
What is Social Bounty?
Social Bounty is a new system that promises you to make $500 today. At least according to the message on their homepage.
It seems so easy and apparently, you can have your money in the following 4 steps:
Join Social Bounty and you receive $25 bonus just for the registration
Share your link on social media and earn $10 for every person who joins the system.
Complete the tasks inside the Social Bounty dash-board and earn from $10 to $50 per task
Withdraw your credit and get paid, via CashApp, Pay Pal, Bitcoin, or a check
Unfortunately, this entire system does not work as it is described above and we are going to double-check these statements.
You are maybe already familiar with a similar system, called Notion Cash or KashTree, where you are also promised to get paid just by referring your friends to the system.
Who Is Behind the Social Bounty?
When we check the section "About Us" we should find a person or company who created this system or product.
What amazes me is the year when they allegedly started:
It says "We started our journey in 2012 when the CEO of Social Bounty Kiya Kramaric saw…"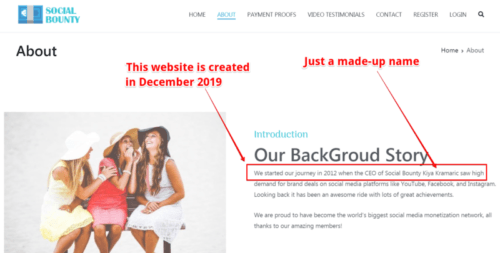 Now, here is why it does not sound right to me.
The website of Social Bounty was created only a few weeks ago, right after Christmas 2019. To be more precise it was on December 28th, 2019.
Second, the name Kiya Kramaric is nowhere to be found.
The only websites with this name are some fake sites, similar to the Social Bounty, or demo sites.
Let's verify the name with the photos of the founders (according to the website):
The CEO Kirya Kramaric is apparently also a model. Her photos are all over the internet. You can find here at the website called Unsplash.
Unsplash is a website with tons of stock photos where many of them available for free.
You can have a look by yourself at the image, just click here.
And our "beauty contest" goes on:
This supposed to be Maria Shimfera:
Another website dedicated to sharing stock images.
Let's close the last 2 images with a general overview of how many same images we can find on google.
The other two girls as well: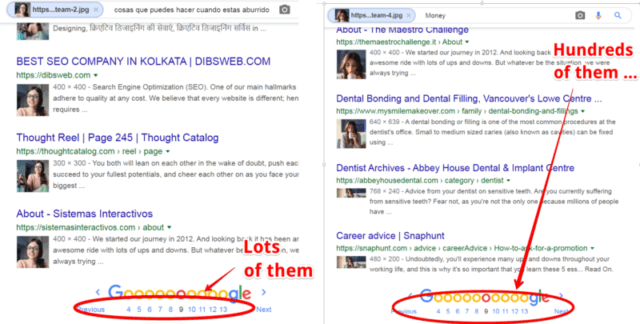 So far we have covered, the incorrect year of foundation, fake founders with made-up names and stock images.
How does it sound to you?
Do you still believe their claims about making $500 today?
How Does Social Bounty Work?
To sign in, you need your email, name, password.
If you want to check the system by yourself, I suggest you use some fake email and password. The reason is that you don't want them to have your original email and password.
If you don't feel like signing up, you can take a look at the screenshot below to check how the Dashboard looks like.
On the left-hand side, you have the main menu. Then in the middle, you have some notifications about how other users got paid (Fake) and in the middle, you have your link (something like an affiliate link).
It also says, "You will earn $2 when someone clicks…"
How is that even possible? It does not make any sense. Nobody pays for just clicking on a link.
This is just a cheap incentive from the owners of the Social Bounty. If you truly think that someone will pay you for just clicking on that link, let me know in the comment section below. I really would like to discuss this with you.
Scrolling down, we see the tasks that you can take and supposedly earn some extra cash.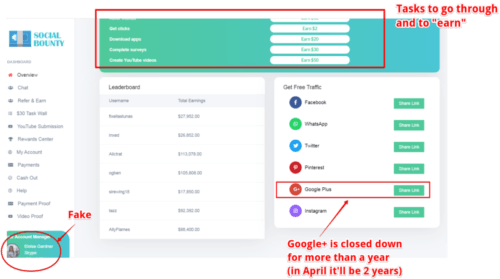 UPDATE FEB 08, 2020:
They have updated the dashboard. Google Plus option is not available.
That means they try to fix the errors, to look "more legit".
I am not sure how good you can read the screenshot, so let's just go over the tasks:
Refer friends -> Earn $10
Get clicks -> Earn $2
Download apps -> Earn $20
Complete surveys -> Earn $30
Create YouTube videos -> Earn $50
For referring a friend, theoretically, you can get paid only under the condition that the entrance fee is more than $10. Otherwise, it does not make any sense.
Same BS with the 2nd one as well.
For downloading apps and completer surveys, you may get paid – but with a different system (definitely not Social Bounty, nor Kash Tree).
Still, you have to realize that for such tasks, the different legit systems pay only a few cents. So you could make a few hundred bucks a month.
And YouTube? YouTube pays for videos with ads in it. And this works only if:
The YouTube channel has at least 1,000 subscribers
And at the same time, it must have at least 4,000 hours of watch time in last 12 months span
If you have such a channel, you may get paid $3 to $7 per 1,000 views. Now you can calculate what does it take to earn $50.
(I am not saying that it is impossible. What I mean by that, is it is impossible to get paid just for a YouTube video creation).
How it works exactly within the Social Bounty?
It is either extremely misleading or a total lie. (I would bet $1,000 on the latter one)
Here is where you are redirected, to the SocialBounty YouTube channel.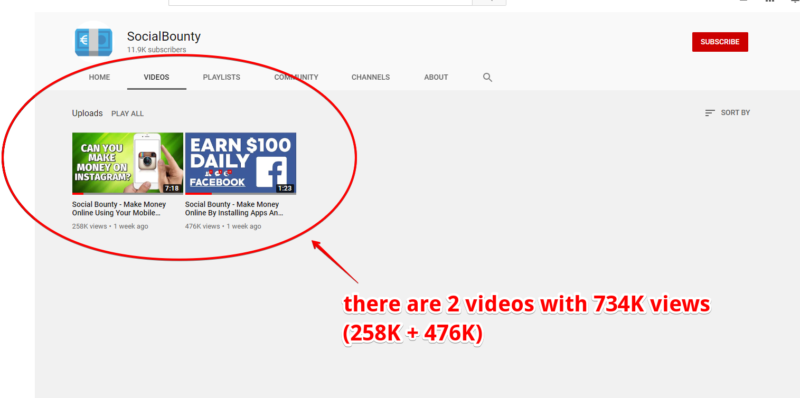 They have more than 11,000 subscribers, which is fine.
But there are only 2 videos and none of them has an ad. So none of the videos is monetized.
Besides, how do you want to pay thousands of people each $50, if your profit from these 2 videos can be something over $3,500 max?
(If you get paid $5 for thousand views – you get 734K x $5 = $3,670).
Spoiler Alert: YouTube charges 49% of that profit.
So theoretical profit from this particular YT channel is $1,835.
How many $50 bills make $1,835? -> 36.7.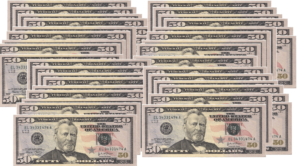 That means not even 37 people can be paid.
But again this is only theoretical since we did not see any ads inside the video. Meaning that channel is not monetized.
OK, enough of the math:)
Do you remember the possibility to share your link on Google+, from that screenshot?
I am sure you are aware that Google plus is closed down and it will be soon 2 years already.*
*UPDATEFeb 08, 2020 Regarding Google Plus:
as I have double-checked the Social Bounty, they have already removed the Google plus option.
The entire Social Bounty website is full of errors, misleading content, and lies.
And let me mention one and the most important fact.
No one gets paid. This is how this system works.
It is the same as Paid Leaf, Rain Money, Clout Bucks, or Kash Tree.
What they have in common?
The same principle – sign up and get $25 credit. Get paid for clicking on your special link.
Same (or similar) website and dashboard layout
Same Country of registration – Panama
Same registrant contact (telephone number)
Very similar errors all over the websites (address, term and conditions mismatches)
In the next section, we go over the red flags, to sum it up.
The Claims vs Facts
I am sure by now you understand that this system is just one big scam.
1) System Registration Date
We have gone through this already.
The website is registered at the end of December 2019. They want you to believe that their system is active for more than 8 years.
That is a simple lie.
2) Fake Testimonials
These testimonials are fake.
Just take a look at this guy – Jerome. He says he has been using Social Bounty for almost 2 years.
Well, I find it very hard to believe.

Besides the photo does not belong to Jerome.
The image is taken from DailyMail.co.uk and it shows a guy named Adams-Kinard.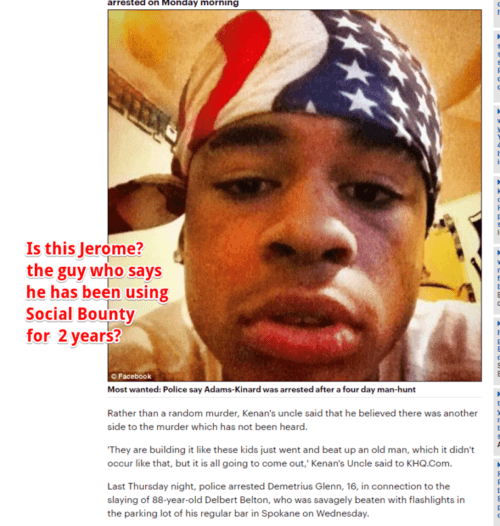 This person was sentenced to 20 years in prison for a crime he committed back in August 2013. I don't think he joins the system from the prison.
3) Address – Does Not Exist (Including the Email)
If you google the address, you find out that Pine Road does not exist in West Deptford, NJ 08096.
It is a fake address so no one can be contacted within the Social Bounty.
This is a typical sign of a Scam!
At the time I was doing this review I also contacted the Social Bounty via email, asking a simple question. No feedback from them, whatsoever.
Wouldn't you expect the "#1 Influencer Network system" to have at least an autoresponder service?
There are a lot of them for free as well.
Today, I have found feedback to my email (but from google):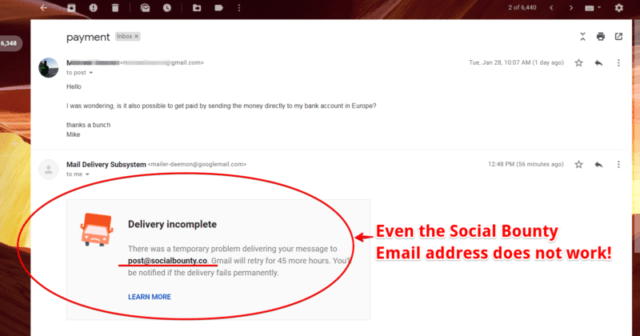 I did double-check my Gmail account a few days after I had published this article, and there is no feedback whatsoever from the email address post@socialbounty.co.
That right here is proof that Social Bounty is a Scam.
4) Founding Members
We have covered this lie as well. None of the ladies from those photos have anything to do with Social Bounty, and the names are just made up.
5) #1 Influencer Network
Let's do this section with any comments: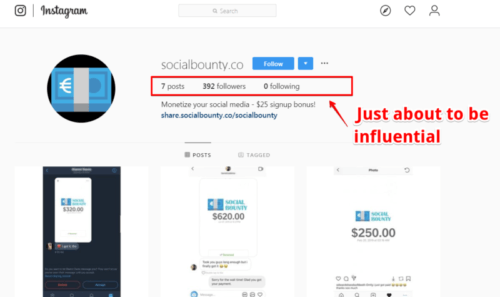 We have seen YouTube already
6) Cash Out
This system is still pretty new and I am sure members who already requested the cash out have to wait for about months until their request is approved.
Here is my prediction.
All of the requests will be denied, due to "fake referral/clicks". And those accounts will be banned.
Simply, none of the payments will be approved.
This has happened with all the similar systems (KashTree, ReferralPAy, PaidLeaf)
Is there anyone who still believes that she or he can earn actual money with it?
Well, there is also an income proof section, right?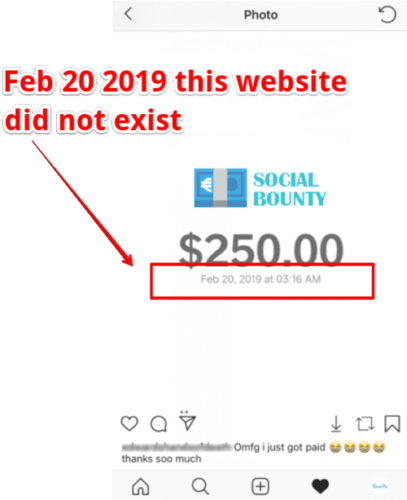 And another one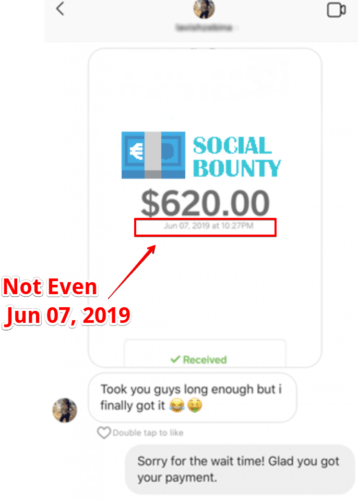 7) Term and conditions
This is a funny part.
Just take a look at the screenshot of their term and conditions, you won't believe it.
With that being said, I believe not many people on this planet can use the Social Bounty, right?
8) Support – Does Not Work
That skype is not clickable.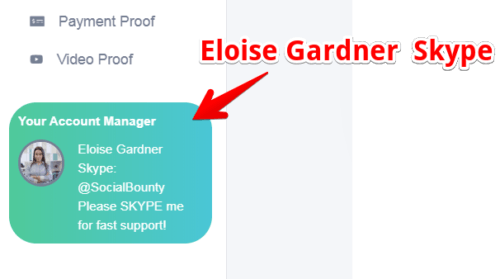 The name is Eloise Gardner.
"This is 7th episode of the 7th season and the 140th episode overall of the American fantasy-drama series Once Upon a Time"
Source: Wikipedia
The photo is again downloaded.
I believe there are a lot of red flags. It was obvious right at the 2nd one that this entire system is a scam, but I enjoyed going over the red flags.
Especially the 7th one – the terms and conditions. 🙂
What I like

There is nothing I can like about the Social Bounty. This is not the only system operating this way. There are many of them. The older are closed down, some of them are active and I believe many of them are about to be launched.
What I don't like

#1 Influencer Network is lie
Founding Members – They are all fake
The address does not exist
Fake testimonials
Fake payment proofs
Harvesting Data scam
How To Make Real Money Online? – This is Not a Get-Rich-Quick Scheme!
It is always frustrating to find out that another system does not work. I don't know how long do you try to find a solid system that would help you learn how to generate income online.
I know how it feels. I remember how I used to be upset, chasing digital products, courses (mostly on ClickBank). I was desperate, the only ones I was able to find were some kind of hyped-up get-rich-quick schemes, or high ticket programs (which cost $997 and some of them even more).
With such a mindset it is also hard to believe that there is a legit platform out there, I mean for a reasonable price.
Something that teaches you step-by-step how to create a website, how to get free traffic, how to rank in google search engines. You learn that even your website can rank on Bing and Yahoo – these also search engines, and people still use them.
And eventually how to monetize this traffic, so you know what you are doing when setting up an Ad campaign (Facebook, Google, and/or Yahoo).
I am glad such training exists and the price is something over $30 per month (if signed up yearly).
If you are interested to find out more about this platform, below I leave a link where you can read more about that platform.
Here is an overview of both systems:
There is no risk since they offer 7-day free access where you can test it out and form your own opinion.
Final Verdict
Fake founders (names) and stock images assigned to these made-up names; Invalid mail address; Fake income proofs etc…
Now is that enough to be on the safe side and claim the social bounty officially as a scam?
I do think so.
They go after the data. My prediction is that the traffic to their website will skyrocket. That is because of the illusion of easy money.
Based on my experience with other similar systems, they may have at least a couple of hundred thousand visitors per month.
Now that is a lot of email addresses. What can happen is that they sell these email addresses to 3rd party.
These email addresses will be full of spammy emails, or phishing scams.
That is why it is important not to reveal your original email address.
If you have any questions regarding this system, let me know in the comment section below.
I will be more than happy to provide you with an answer, hopefully within 24 hours 🙂
How to Get Started with Affiliate Marketing Business?
I have been a member of Wealthy Affiliate since late 2017 without prior marketing experience.
Beginning of 2018 I have learned how to build a website that drives traffic and makes sales.
Since the summer of 2019, I am a full-time internet marketer and I work from anywhere I want, whenever I want.
Training within Wealthy Affiliate teaches how to generate a consistent income in the long run.