Have you come across this system called Super Affiliate Network and you are wondering what is this platform all about?
Or, you may have seen a Super Affiliate Network Review on YouTube explaining how great this platform is.
It seems promising, right? Finally, a system that will work out and can bring you the long-awaited side income.
This system has been around for a while, an owner is a real person, so it is probably legit.
But is that really so?
Don't you think there is a lot of hype about the Super Affiliate Network?
At first, you are told that you can join for free, or for just a couple of bucks, and in the end, you may end up paying several thousands of bucks.
Why is it so?
The full price should be revealed right at the beginning, or am I too naive?
The more you dig into the product more you have the impression that this is a pyramid scheme.
Is the Super Affiliate Network a Scam?
We are going to go over the platform, step by step, and by the end of this review, you will have a clear picture of what is the Super Affiliate Network about.
Jump to:
Who is behind the Super Affiliate Network
How to join
What is the price structure
and more
You have probably already seen some reviews of the Super Affiliate Network, most of them sound almost like "too-good-to-be-true" and I believe you want to find an unbiased review of this system.
Well, here we go.
Disclaimer
Please note, that I am not a member or an affiliate of the Super Affiliate Network. This review is based on research and information available online in the public domain.
Any recommendations and conclusions are only opinions and may not apply to all persons or situations.
Quick Overview
Product Name: Super Affiliate Network
Price to Join: $1 +$47 monthly (Upsells up to $12,497)
Creator: Misha Wilson
Rating: 4/10
Do I recommend it? Not – It can become too expensive
Super Affiliate Network Review – Summary
The Super Affiliate Network offers training on affiliate marketing primarily using Solo Ads.
However, it took me some time to truly understand what this program is all about, as the platform lacks clarity and practical value.
The pricing structure is another concern, with the most expensive program costing nearly $12,500.
Moreover, the Super Affiliate Network (SAN) places excessive emphasis on self-promotion, raising suspicions of it resembles a pyramid scheme.
Building a sustainable online business requires a different approach.
If you're seeking a legitimate and more affordable platform, I encourage you to explore the link below:
Super Affiliate Network Review
The Super Affiliate Network was founded in 2015 by Misha Wilson. (We will talk about him in a bit).
This system is supposed to teach you how to make money using digital marketing. They offer online courses and mentorship and also one-on-one coaching mostly by video courses.
What I find disturbing about the system is the way how they promote the product.
According to the sales video (or the introduction page), I saw this program is for everyone and there are only 3 steps to follow:
Copy what your mentor does and learn from him/her
Take what the mentor is doing and apply it
Enjoy the freedom and lifestyle
This is a screenshot from one Super Affiliate Network introduction video :

They want us to believe that it takes a few days to generate 4-digit revenue.
This is too oversimplified and no business (and that applies to internet business) works that way.
It requires a lot of work and effort, and also a bit of time until you see the first result.
How To Join the Super Affiliate Network?
You can join this system for free.
To be more specific you can create your account within the platform for free. Just use your name and email address and you are good to go.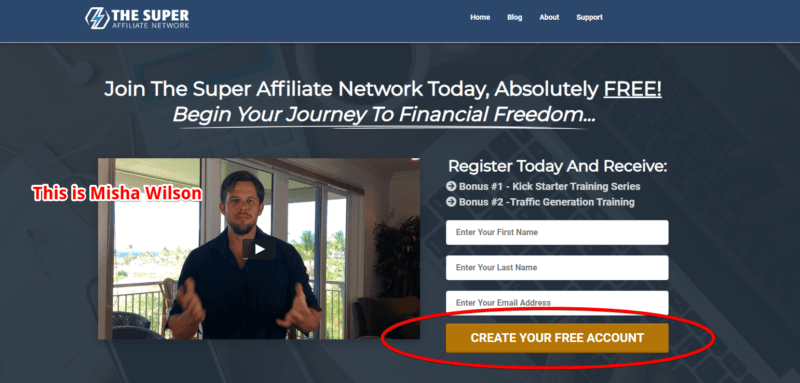 We will check how the platform looks a bit later.
What I want you to tell at this point, is that even if you are inside the platform you can't go anywhere. I mean everything is locked and you have to pay the basic membership which costs $1 (or $7 I saw both offers).
After that, you are obliged to pay $47 a month for this basic membership.
Who Is Behind Super affiliate network?
Initially, I thought that this was a kind of scammy product and they use only actors in their promotional videos.
I mean it certainly looked that way, just by looking at the information above.
And believe me, I wanted to be as unbiased as possible, but the impression I got led me to suspicion that this is some kind of fake system.
Well, it is not fake.
This is a real system with a real guy behind it.
His name is Misha Wilson:
As we see, Misha Wilson is a real person and he is the creator of Super Affiliate Network.
Misha lives in Hawaii and his website thesuperaffiliatenetwork.com is also registered in Hawaii.
He and a bunch of other guys working behind this platform, and do a good job, especially when it comes to supporting.
Who is Super Affiliate Network for?
According to the sales video and the claims, the Super Affiliate Network is supposed to be for everyone. This system is so good that every person can copy it and put it into action and make thousands of dollars.
Well, again some kind of hype.
I mean, I don't like such statements.
There used to be Keysha Bass promotional video, that is not available anymore.
I wonder why, but let me just share what was in the video …
Terms like:
"…and you begin to make sales in no time"
Is it really true that this kind of overhyped stuff works?
Do people really believe that fluff?
Like for "minimum effort you change your life".
Come on – this is an insult to every person who tries to find a way how to make this internet business work.
On one hand, they say how easy this is, on the other hand, they try to act like a professional system, meaning they are not a "push-button" scheme.
Let me tell you that the course is not for everyone. First of all, to get everything off of this course, you need to spend thousands of dollars with questionable results.
Who has at least $1,000 for a shady course?
It reminds me of the over-hyped systems such as MOBE or other scams. As you know this system was shut down by the FTC (FTC Action Halts MOBE).
Why do I compare it with MOBE?
Because of similar patterns, these systems have, we will see more in the price structure.
Don't get me wrong.
I hope this specific platform will work and they will try to improve it (maybe make it available for more people) so more people will be happy with such a course.
How Does Super Affiliate Network Work?
After signing up you are on the dashboard of the Super Affiliate Network.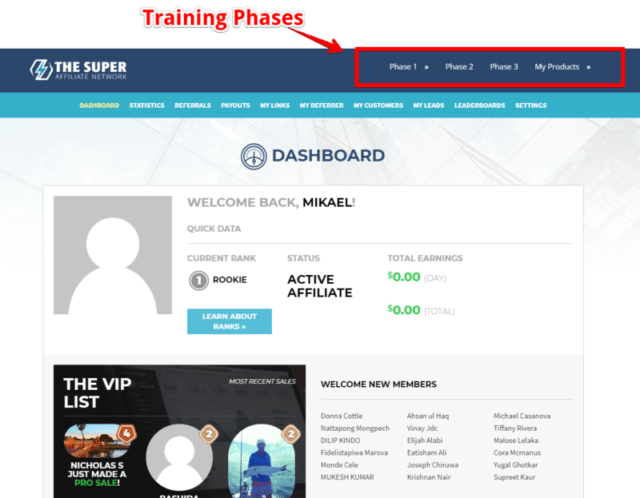 At the top of the page, you see 3 training phases that you can take.
The first Phase has 5 different modules: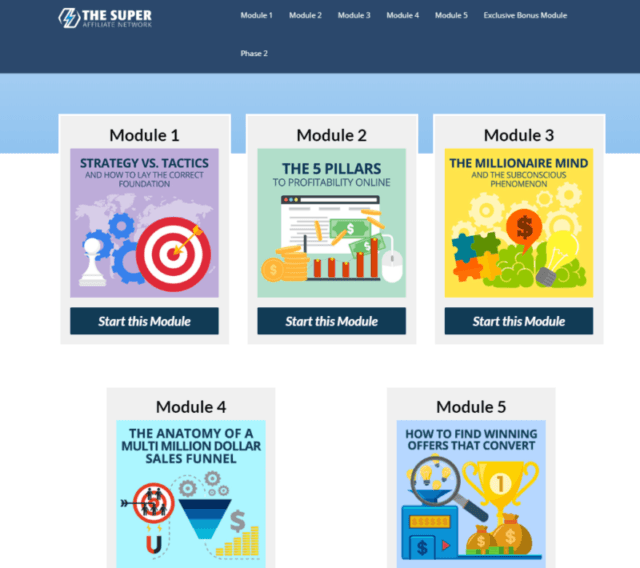 I could not figure out how to start with the module.
It seems to be locked.
If I want to go back to the product or back to the Bootcamp, it does not work somehow.
It makes me confused.
That thing is that this free access is worthless since you have no access to the training whatsoever.
You have to actually buy the basic membership for $1 as a trial. Then the membership costs $47 each month.
What I find really annoying is the entire process of purchase – you gotta go through all the videos and upsells.
No skip button, in fact, you feel like you are stuck in this entire system – and no escape.
It reminds me of Starting from Zero, where I wanted to get just the book.
And I could not get it since there were upsells upon upsells and stuff like: "wait for this offer" and "here is a bonus" and this kind of nonsense.
In the end, I had to contact the support so they emailed me that book.
Here is the list of the upsells or a complete Price Structure:
Basic Membership $1 for a 30 days trial – after that $47 per month
You have access to 3 phases with 21 modules. Each module is for 1 day, so this is a 21 days course.
A "personal coach" is included. After each module, this coach will ask you questions. Apparently, he wants to make sure that you understand what you have just learned. After that you get the next module unlocked.
Here is what is covered:
Mindset
Email Marketing
List Building
Selling
Follow Up
One-on-One coaching
Weekly webinars
You have an option to "save" $10 per month if you skip the $1 trial.
One Note:
Right after the purchase, you'll be hit with 2 upsells.
Solo Ad Success Formula for $97 (one-time offer)
Super Affiliate Monthly Newsletter for an additional $47 (one-time offer)
Pro Membership – $2,497 (one-time offer)
With this membership, you are getting better support and you have access to better training,
For example, you have access to a private FaceBook group, and also, and this is interesting, you have access to any products that might be available in the future.
Unless this product is part of the next membership.
What a tricky "option", isn't it?
So here is briefly what you get:
Systematic profits (not sure how they do that)
Solo Ads Success Formula (Sounds like you can't go wrong with this…)
Push Button Swipe File
Weekly Pro Coaching
Now, this is going to be interesting:
"Maui" Intensive Mentoring – $12,497 (one-time offer)
This is a 4-days event at Maui (It is an island in the Central Pacific, part of the Hawaiian island group).
You will be working directly with Misha's team members so you can help to grow your business (at least it is what they say about this session).
It is pretty expensive for a long weekend on Holliday.
It is believed that the more you "invest" the bigger ROI you get.
Unfortunately, it does not work that way.
Sure you can get some investment back, but the chances you get to break even are slim.
There is this misconception among a lot of people that Misha is aware of.
The thing is that still a lot of people think that once a product costs several thousand dollars, it must be good.
Well, it is not always like that, especially when it comes to digital products – as a perfect example is the Prosperity Income Network.
So Again – How Does the Super Affiliate Network Works?
I admit, it has not been very clear.
The Super Affiliate Network is a system that teaches you how to make money using affiliate marketing.
But the program is limited to email marketing and solo ads only. There is much more to learn about how to run an online business using affiliate marketing. For example, you need a website to know how to get traffic to your website.
It also shows you how to reach people using solo ads which may be tricky. Apparently, they have their own "carefully selected list" of vendors, so you would get the best response.
As I said Solo Ads are tricky, because buying this kind of traffic is never a good idea, especially for beginners. You don't know whether people on that list, really exist, whether they are interested in your offer, and besides it is a bit spammy.
With a "carefully selected list" there are other issues.
How many members are there within the system?
They all use the same vendor(s) right?
What would be the result of it?
The potential customers are getting the same spammy emails…
The Super Affiliate Network should teach you how to create a website and how to get organic traffic.
It takes some time though and people are not patient.
So they rather pay for the course and see quick results. but is this something sustainable?
Did I mention that a Solo ads, costs money?
Depending on the package you may end up paying thousands of dollars.
I have spent thousands of dollars on ads as a beginner and got nothing back. I did not know what I was doing.
This is apparently for beginners – the same as I was a time ago.
Besides, you will be advised to promote the Super Affiliate Network only, since the money is in the commissions. So it works like MLM or a pyramid scheme.
Super affiliate network – The Claims vs Facts
Let me go over some red flags I don't like.
1) Teaching Affiliate marketing, but in fact, the emphasis is on Email Marketing using Solo Ads
Pay for the email list and send this copied text to a bunch of people who have no idea where this email is coming from.
Isn't this spam?
And Imagine then other members of the platform do the same…
What kind of results you can get?
2) Focus on self-promotion only
Yes, you can make some money if some other person buys this system. So you get a commission.
But other than that, forget about it.
(not to mention the cost of the solo ads).
3) Training in affiliate marketing, but signs of pyramid scheme (self-promotion)
On the one hand, you can promote the course which is a good thing.
But only up to the membership you have purchased.
Meaning if you purchase the basic membership and you recruit someone who buys the higher Pro Membership, your commission is only based on the membership you have.
This is unfair in my opinion.
It forces you to buy the higher and more expensive modules.
The same way operates also the Prosperity Income Network, which in my opinion is an outright pyramid scheme.
4) Claims about free training but the course is locked
They use deceptive marketing tactics.
Saying that the course costs $1 (or $7) and then you have to go through the funnel of upsells and hidden fees is not an honest way how to find customers.
Well, it may be working for Misha, but in my opinion, the price structure should be revealed right at the beginning.
But Misha (and other similar marketers) have a different opinion.
They want you to lure in for a couple of bucks and once you are in the system they think it'll be easier to draw from you a couple of thousands.
Is Super Affiliate Network Legit?
For some it is legit, for others, it is not. It is not an outright scam, that's for sure.
My point is that every person has a different definition of a scam.
You get your training (even though it is a bit shady), you get support and you are part of an active Facebook community. People seem to be happy and they even may have some results.
But on the other hand, it overpromises and underdelivers.
Not mentioning the price structure.
I think it is safe to say that the Super Affiliate Network is misleading and it is obvious that the only one who gets something out of it is Misha himself and some promoters.
You can check other reviews on the BBB (Better Business Bureau) website to get a full picture.
Super Affiliate Network Pros

Creator – Misha Wilson – is a real person (unlike many other systems)
A lot of video training with some value in it
30 days money-back guarantee
Super Affiliate Network Cons
Deceptive marketing tactics
Self-promotion
Solo Ads – can become expensive
The price for the entire system (upsells up to $12,000+)
How About An Alternative?
I have not learned internet marketing by myself either.
I also needed some platform and let me tell you, it was not easy to find a system that teaches what really works.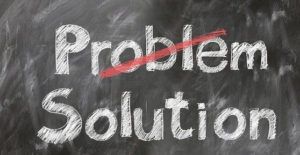 But the cost I pay for the course is about $495 per year including the price for the domain.
The platform teaches how to drive free traffic, how to create valuable content, and eventually how to monetize the traffic.
Besides, it has 400+ video training including email marketing.
Now I drive organic traffic to my own website – meaning I don't pay for traffic.
Disadvantage – it may take up to a year to get solid traffic.
But how long does it take for a regular business to take off?
There are certain criteria for the website until it gets the OK from Google.
Yes, it is time-consuming but it is the best way when you want to create a sustainable business online.
Here is a little comparison of both
Conclusion
I don't recommend the Super Affiliate Network.
They may have OK support. Some people who are promoting the course probably make some money, but this is not how a real business online should look like.
This is just another one of those: "Hey I teach you how to make money – Buy my course and sell it to others so they can also teach others how to make money…"
Just another vicious circle.
There is no real value in there.
I will leave a link at the bottom of the post – you can take a look directly at the educational platform, called Wealthy Affiliate, I was mentioning.
And you don't have to use your credit card.
Use your email and you can test it out for free for an entire week. After that, you will decide whether you want to continue or not.
There is no risk since you only access the platform using your email address.
If you have questions or concerns please leave them in the comment section below.