What is the Profit Pusher?
I believe you have already seen the sales video where they talk about the earning potential of this app, called Profit Pusher.
Apparently, it is a new way to make money…
I have been doing digital product reviews for more than 2 years and believe me based on my experience, this sounds too good to be true.
Let's break it down;
In the following Profit Pusher review, we are going to find out, how it works, what you get, and what real earning potential is.
Also, I am going to show you briefly what it takes to make a consistent income online.
Disclaimer
Please note, that I am not a member or an affiliate of Profit Pusher. This review is based on research and information available online in the public domain.
Any recommendations and conclusions are only opinions and may not apply to all persons or situations.
Quick Overview
Name: Profit Pusher
Website: www.profitpusher.net/push
Price to Join: $27 + Upsells
Recommended: No
Profit Pusher Review – Quick Summary
Profit Pusher is supposed to be an app that gives you everything you need to make a profit. Apparently, the price is only $27 and you can earn hundreds of dollars, on autopilot.
You create your website, your ad affiliate link to it, and when people purchase the product through your link, you get a commission.
This is a great business model and in principle, this works.
The problem with Profit Pusher is that the website you create is useless. Nobody will ever find the site since it won't rank on Google.
It is only a subdomain with the same content as all other Profit Pusher clients have.
On the Profit Pusher sales page, they use fake earning reports to make you believe that this is work.
The price structure is awful – it contains several upsells, so the total price is a few hundred dollars.
The only people who make money with profit Pusher are the founders.
BTW these guys keep creating these scammy products every single month.
People who want to learn how to make consistent income online must gain some knowledge first.
From my experience, it is not rocket science and once you learn the basics of SEO, you can start earning within a couple of months.
(Not next week, as many scammy products promises)
What is Profit Pusher?
Profit Pusher is a Done-For-You system where you get access to a webpage builder.
It is really easy to create a website with this system and it is a matter of minutes.
Then, you add your affiliate link to this page. Then you can start earning commissions.
Is it really that easy?
In reality, there are a few steps that your prospect must go through when you want to make a commission:
People have to find your specific website. The question is how do they find it? (there are several ways and we will go through it as well).
They must be interested in the product listed on your website.
They click on the affiliate link and when they purchase, you get a commission.
This is how affiliate marketing works and it is one of the best ways how to start earning money online.
But the main challenge is to get the traffic.
Now back to the Profit Pusher.
According to the sales page, Profit Pusher is the "Autopilot commission". In other words, you don't have to do anything in order to get the traffic.
Well, this is the first major red flag.
There is no such system that generates traffic on autopilot.
Founder of Profit Pusher
The founder is a guy named Rich and he has other two colleagues, Chris, and Vivek.
They even shared their photos in the sales video.
I am being sarcastic, but just want to let you know that if you don't see right away who the founders are, be careful.
As you see, the information about who runs the Profit Pusher is not clear enough.
But according to the sales page, Chris is a 6 – figure super affiliate.
His full name is (allegedly) Rich Williams.
There is no information about these individuals or the others.
But one thing is for sure.
Rich is a person who keeps creating these products on a monthly basis.
Now, why is it so?
Why he can't stick to one good quality product and sell it over and over again?
This is a screenshot from Warriorplus site with all his recent products;
Regarding Profitpusher we know that the website was registered only in March 2021.
(Check whois.com).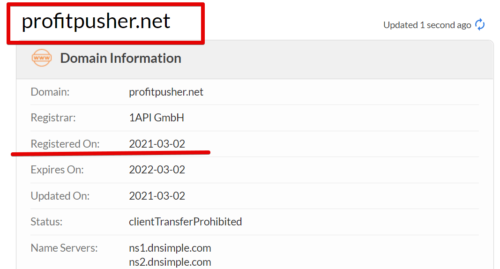 Since then he launched another 3 products, that are pretty much the same, including the Commission Creator.
So which one is the best?
Which offers the best method of making money online?
The truth is that this makes money only for Rich himself.
Who is the Profit Pusher for?
According to the sales video, it seems that Profit Pusher is a great system for everyone who wants to make easy money on the Internet.
And here is why it is so tempting:
You don't have to create content
You can start earning within days
No effort
Now, how many people do you know that make hundreds of dollars per day using similar systems?
Well, I know people making $10,000+ per month but they have their own website and they know how to drive free traffic.
My point is there is not such a thing as a push-button sysmte that generates thousands of dollars on autopilot, just because it is online.
Make no mistake, the money that successful internet marketers make comes from real people.
First of all, someone has to purchase something in order for you to make a buck.
And the more people purchase the more money you make.
That means one needs a lot of people to visit the website (that is like a store).
So the most important skill to learn is how to drive traffic to that "store".
Profit Pusher is not teaching this.
And it doesn't offer proper tools either.
You can't build a website using Profit Pusher, that will be visible to people.
Regardless of your experience, do you think you can profit from this Profit Pusher?
I doubt it very seriously.
Now let's take a look at how this "works".
How does Profit Pusher work?
After purchasing the product you have access to the Profit Pusher dashboard.
Inside the dashboard, you can start creating your website.
We don't have to go too deep into details to learn that this won't be working.
Here is the main problem with this "done-for-you" website creator.
It says that you create your website, choosing your URL.
But the truth is you can only choose the subdomain name.
Now, imagine how many others (Profit Pusher users, members) use the same subdomain.
Google will have no idea, which subdomain to rank better and which don't.
Most likely there will be a lot of different websites with a lot better content and therefore better rankings.
Social Media?
Well, apparently, you can share on several social media platforms.
They talk about 75 different platforms.
But again.
Do you have a profile on all of them?
Some of them don't even exist anymore.
And here is another thing. With no followers, you won't get any traction.
Content on "your" website
The website created within Profit Pusher, contains only affiliate links, banners, and offers for different low-quality products.
Not all of them are bad but the majority of them are not worth your time and money.
For example here, you can choose to promote Perpetual Income (I have already reviewed this product).
When someone clicks on it and purchases it, it is not guaranteed that you get your commission.
The thing is that Perpetual Income, as well as many other ClickBank products, have a money-back guarantee.
With that being said a person soon finds out that this doesn't offer any value and asks for a refund.
At the end of the day, you won't get any commission.
A Note:
It doesn't mean that ClickBank is a scam.
It is a perfectly legit site, but with a lot of low-quality products.
How much does Profit Pusher cost?
The front-end price is $27.
But this is just the beginning.
It is quite common throughout these products that they don't inform you about the whole price structure.
Therefore, you are "forced" to buy more and more and you might end up paying several hundreds of dollars for a useless digital product.
We know that there are other clones of the Profit Pusher (100K Cloner Review or Commission Creator) with pretty much the same upsells structure:
Upsell #1 – Unlimited Edition – The price is $29
This is the 1st upgrade where you are supposed to get unlimited offers so you can scale the commissions.
Upsell #2 – Autopilot Edition – The Price $39
You can activate up to 60x affiliate programs per day and have access to over 1,5000 campaigns instantly.
Upsell #3 – Done For Your Edition – The price is $197
The Commission Creator Elite team will set up a done for your site "FOR YOU". You only need to provide them with your ClickBank ID.
Upsell #4 – Reseller Edition – $197
Apparently, it is possible to earn 100% across the entire funnel selling.
You keep the 100% commission.
Upsell #5 – MegaBundle Edition – $97
You can get access to 37 software tools that cost more than $300,000 to build.
What does it take to make real money online?
I am not gonna spend too much time explaining all the details of how to make money online.
That requires more information, in fact, it is recommended to go through specific training (more detail at the link at the bottom of this article).
The bottom line is the traffic and the best way is to learn how to get the organic traffic.
Once you have some traction, then you can leverage it with paid traffic (PPC – pay-per-click).
Regarding social media, this is also a good source of traffic. But you have to have followers, first.
Followers that are interested in your niche.
Then there are other sources of traffic, but the first and most important thing is to learn how to get the free traffic.
It takes effort and a bit of time, but it is the best method in the long run.
Considering that there is no quick solution on how to make money online (there is no such a thing as get-rich-quick) there is no better alternative than free traffic.
There are many educational platforms with decent training, but if somebody wants to speed up the process, there is this particle platform that has a plethora of training.
It is very well structured, and it contains hundreds of webinars, that are part of the platform.
Besides that, the community is extremely helpful and it is possible to get started for free.
(They offer a starter membership with limited training – for more details check the link at the bottom).
What I like about Profit Pusher

Money-Back Guarantee
The website builder that "works" from a technical point of view (but the created website is useless)
What I don't like about Profit Pusher
The Done-For-You website won't get any traffic and therefore no sales
Fake Earning Reports
Copied system over and over again
Too many upsells that have no value
Some Thoughts at the End
Profit Pusher is a kind of simulator, just a game…
You can create a website very easily, but there is no real purpose for this site.
It won't get any relevant traffic and at the end of the day, you just learn that you wasted time and money.
The worst part is that if a person with no experience with internet marketing, sees the Profit Pusher sales page, he starts to believe that it is really easy to make money.
Everything that is said in the sales video seems to make sense.
It is true that you can create a website
– but no one will find it.
It is true that you can share it on social media
– but how many followers do you have?
If a person has for example 30,000 followers on Instagram, he/she does not need systems like Profit Pusher.
Profit Pusher won't magically create followers.
So either way, this is just a waste of them and I guess we can call it scammy.
The only reason, why I don't call it an outright scam is the money-back guarantee policy.
I am glad you did your own research about Profit Pusher and hopefully, you understand how this system "works".
Now let me know what is your opinion about Profit Pusher.
Or do you still think that it is possible to make money with this app?
You might have experience with similar products or get-rich-quick schemes.
Please let me know in the comment section below.
Thank you for reading
Mike
Learn How To Make Money Online
Do you really want to learn how to make money online?
First of all please realize that there is no such thing as a push-button system that generates money on autopilot.
Choose a specific business model that has been proven that works in the long run.
While you are here, let me share with you that the simplest business model is Affiliate Marketing
You don't have to create any products, you don't deal with suppliers or customers.
You simply create a website about a specific topic and inform your readers about the product or service.
Check the link below to learn more about a specific platform teaching these skills (and beyond).