Hello and welcome to my website (or a blog) where you can find a lot of digital product reviews.
Back in 2017, I was unable to find a legitimate course or software teaching how to make money online.
Simply because of many scams, misleading products, and products that were just too expensive.
Therefore I have decided to create this blog, to show people what really works and what to stay away from.
How about Loopz?
In the following Loopz review we are going to check how it works, how much can you make, and whether there are better alternatives.
This is a WarriorPlus product, so I have already some doubts about it…
But let's thoroughly check the product.
Disclaimer
Please note, I am not a member or an affiliate of Loopz. This review is based on research and information available online in the public domain.
Any recommendations and conclusions are only opinions and may not apply to all persons or situations.
Quick Overview
Name: Loopz
Website: www.grabloopz.com/loopz-exclusive
Price to Join: $19 + Upsells
Recommended: NO. It is waste of time.
Loopz Summary
According to the sales page, Loopz is a get-rich-quick scheme, where you just need to get access to Loopz and money starts flowing to your account.
After purchasing the product, though, you learn that you need to create some pages, based on already existing websites.
In other words, you steal other people's sales pages and make them your own.
This strategy doesn't work, since the page, you create within Loopz won't be visible to anyone.
No traffic = No Sales.
Loopz is a borderline scam and I don't recommend spending time on it.
To make consistent income online, it is necessary to master some skills.
To mentioned a few:
Learn how to create a website
Learn how to drive free traffic
And how to monetize the traffic
If this is something you are interested in, check the link below to find out more.
Sign up for Free and I will guide you through the platform.
No Credit Card Needed – Just your email.
What Is Loopz?
That guy made more than $100,000 – this is how the sales video starts.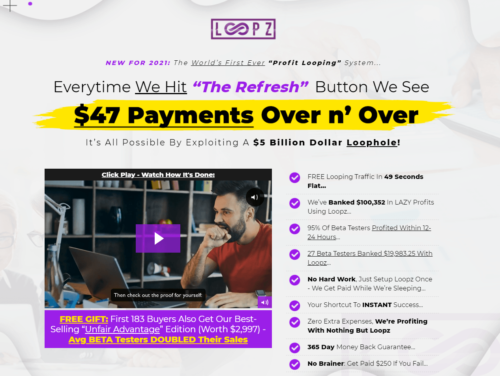 The way how the video is made, the voice of the spokesperson, and the earning claims – right off the bat I know this is nonsense.
It goes on, on how they discovered a $5 Billion loophole…
Well, to save you some time, I am sure you realize that this sounds too good to be true.
In other words, they claim that this is a get-rich-quick scheme.
No hard work needed
Instant Success
Free looping traffic in 49 seconds
These all statements are ridiculous and have nothing with reality.
Does it mean that this entire Loopz from WarriorPlus is a scam?
Not too far from it.
Soon we are about to find out that this is not a push-button system and money just doesn't flow on autopilot.
There is still some work to be done and also a person who purchases Loopz must be prepared to deal with the upsells.
The only good thing is that there is a money-back guarantee. Although I would be careful there as well.
The thing is that WarriorPlus is not responsible for the refunds.
In case a person wants to get the money back, it is necessary to contact the vendor. And that is where problems might occur.
I personally bought one of Jamie's Lewis products, called "Forget about Broke", the other day.
Was not satisfied, asked for a refund – till today I have not received a dime from Jamie.
But back to the Loopz;
Who is behind this product?
Who is the Founder of Loopz?
We don't know the name of the person who created the Loopz.
But it's the same guy that created Clicko. Clicko was launched about a month before Loopz.
Above it is the Warriorplus profile of this person, together with a list of products he created in the last 11 months.
These people keep creating "new" products, but at the end of the day, all of them are the same – with no value.
Just a money-making method for the creator.
Who Is Loopz For?
I am sure by now, you understand that this is not god for anyone.
Or do you still believe that with Loopz you can start making hundreds of dollars per day, by following the 3 steps (as suggested on the sales page):
Get Access to Loopz – by purchasing the $19 product
Activate it
Hit Refresh, sit, and relax (apparently you get an endless string of $47 payments)
Do you?
Please let me know in the comment section below.
Loopz is just another WarriorPlus product targeting total newbies that think that it is easy to make money online.
Well, it isn't.
Is it possible though?
Of course.
Internet is really the biggest marketplace, so the earning potential is huge.
But it is necessary to follow a certain strategy to learn some skills, apply them and one of the most important things is patience.
Please do realize that it can take up to 10 months until you see the first sale.
I am not going too deep into that, right now, but the first thing one needs is a website.
No worries, it doesn't require any coding, no programming.
That's why these days it is really relatively easy to generate consistent income online.
Of course, it isn't as easy as claimed on the Loopz sales page.
How Does Loopz Work?
First of all, what is said on the Loopz sales page has nothing to do with the real software.
So let's check how it really works… or how it suppose to work.
After purchasing the Loopz, you are basically going to find JVZoo and WarriorPlus "best" products and clone their sales pages.
(Actually, you can go to JVZoo and/or WarriorPlus website right away and check the "best" product there. No need to check them through the Loopz).
You then use these pages and make them your own (with a few variations).
At the end of the day, the sales page will be pretty much the same as we have seen at the beginning.
So you just take a template, make minor changes and that's it.
Here is an example of one of the pages created within the Loops.
It has the following URL: loopzapp.com/clicko
This is pretty much the same sales page as the original Clicko sales page:
And who is actually going to find these pages?
One thing for sure – these are not going to show in the SERP.
Even though someone wants to search for "Clicko product" most likely he is going to end up on the original page and not the one generated within Loopz.
So this product absolutely makes no sense.
Other than to take advantage of people that not yet understand how to make money online and make money off of them.
How much does Loopz cost?
The front-end price is pretty cheap. But considering what you get, it is too much anyways.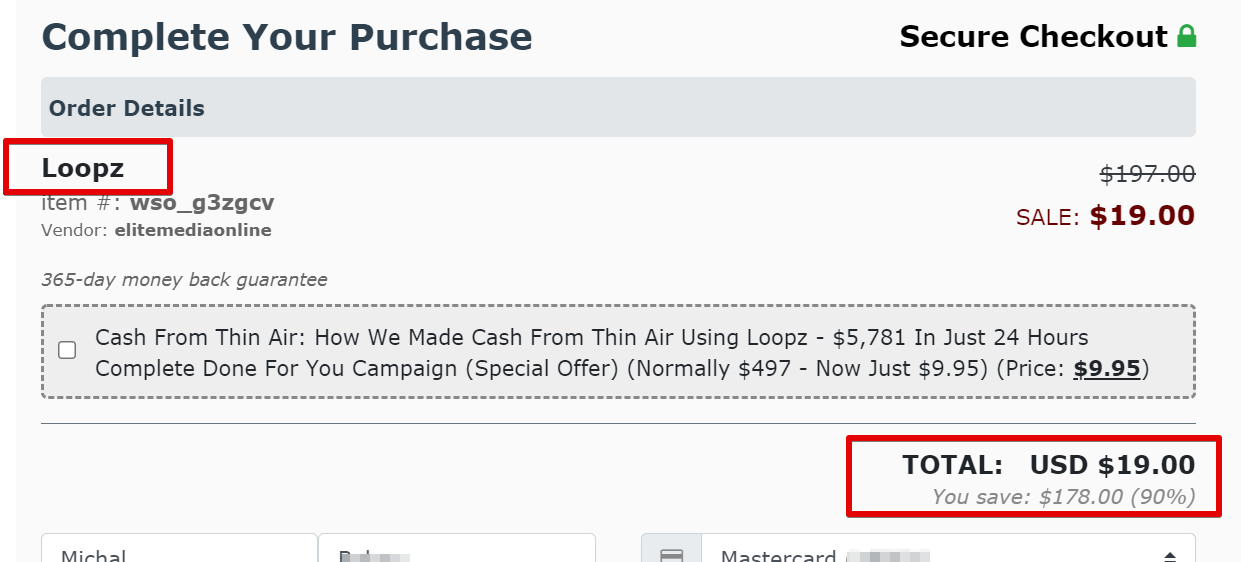 But the real magic happens, when after purchasing you must deal with the "upgrades "that are suggested for you.
If you are not careful, you can spend more than $500!
This is the screenshot from their JV page, showing the price of the upgrades: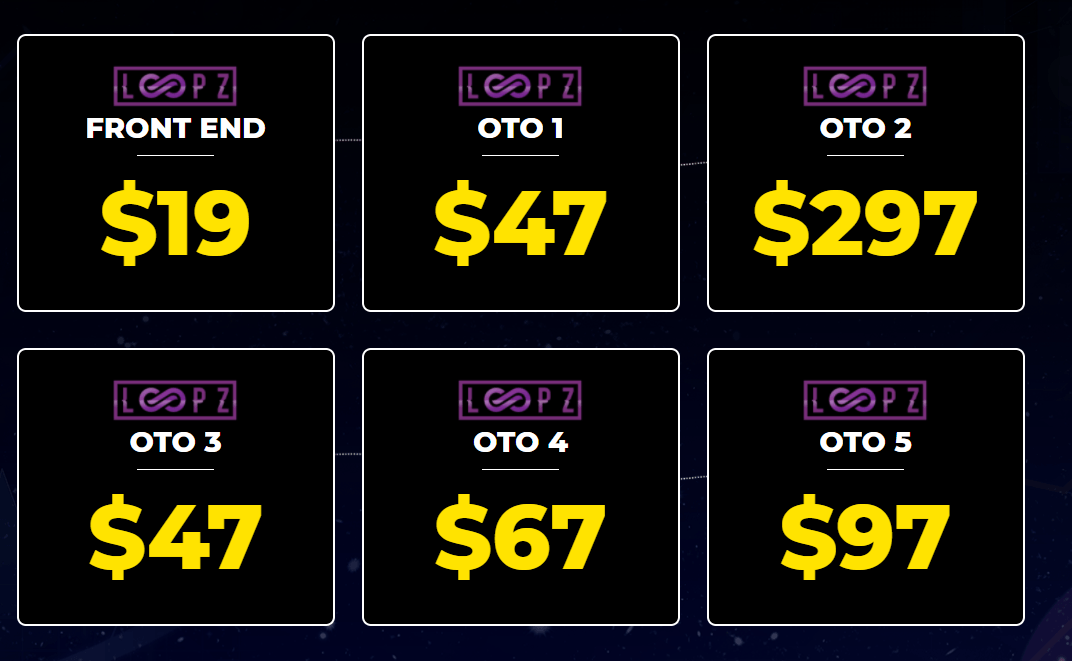 What I Like About Loopz

30 Day Money Back Guarantee
What I Don't Like
Fake Scarcity (this is for a certain number of people only).
An extremely misleading Sales video
Presented as a Get-Rich-Quick Scheme
Too Many Upsells
Is Loopz a Scam?
Loopz is not an outright scam. The only reason why I don't call it a scam is a money-back guarantee.
Here, you can check a different review, that goes a bit more deeply:
Other than that, it is extremely misleading and if you are not careful, you might spend several hundreds of dollars on Loopz.
But something is telling me that it is not your case.
You do your due diligence and want to learn the truth about these products.
Great, I am happy for you.
Now, let me share with you something that not many people are aware of.
You have the possibility to check one particular educational platform teaching how to build a real online business.
Check the link at the very bottom of this article and you get access to 1st 10 lessons, for free.
Then, you decide what path you wanna take:
the one you have already taken and chasing shining objects, just like Loopz
Or the new path, where you learn new skills, you apply them and become a full-time internet marketer
It is up to you.
Now let me know, what you really think of this WarriorPlus product called Loopz.
Also in case you have questions, please let me know in the comment section below.
I will be more than happy to help you.
Thank you for reading
Mike.