Have you stumbled upon the site WiredBucks.com and you want to know whether this system is legit? 
Can you really make $200 per day as they claim on their homepage, or is WiredBucks just a scam?
What is WiredBucks?
Is WiredBucks a Scam or Legit
Let's find out more.
I will walk you through this system and we are about to find out how it works, who is it for, how much can you make with the WiredBucks (if anything), and what are the alternatives.
I have researched more than 200 digital products and something is telling me that WiredBucks is not what it pretends to be.
Let's get right into it.
Disclaimer
Please note, that I am not a member or an affiliate for WiredBucks.
This review is based on research and information available online in the public domain.
Any recommendations and conclusions are only opinions and may not apply to all persons or situations.
WiredBucks Overview
Product Name: WiredBucks
Price to Join: $0
Creator: N/A
Rating: 0/10
Do I recommend it? No! This is a Scam!
WiredBucks Review – Quick Summary
WiredBucks is a website where you allegedly can earn a lot of money by performing simple tasks, inviting your friend to WiredBucks.com, or testing sponsors' products.
Let me tell you right off the bat that statements like "make $200 today" or "Get $25 Sign up Bonus" are just empty promises.
The bottom line is that WiredBucks does not pay!
This data harvesting scam collects email addresses and potentially other personal information.
Do NOT join the WiredBucks!
When it comes to making money online, here is the "Secret":
Making money online takes time and especially your effort.
So if you are not willing to work on your business online you may also check other systems with empty promises.
If you want to know what it takes to make consistent revenue online check the link below.
The good news is, that you can check the educational platform for free – you also get access to the 1st 10 lessons.
What is WiredBucks?
WiredBucks is supposed to be the reward site where you can earn money by taking surverys and performing simple tasks.
Apparently, you can also make money by referring other people to join the WiredBucks.
According to their homepage, they say they are the #1 Influencer network.
One would assume that these guys would be overall social media, right?
Well, it is exciting since the social buttons on their homepage do not work! 
(We will have a look at that later).
Besides the statements about making $200 today or getting the $25 bonus are fake!
And there is more:
According to the website they have already paid you more than $410,000,000!
That is a lot of money considering that the site was registered only in April 2020.

Let's do the math together.
As of this writing (today is August 28th, 2020), the website wiredbucks.com has been alive for approximately 4 months.
That means that they have paid out $100M per month, which equals $3.3M a day!
How do they do that?
Where is the money coming from?
It says:
"…Money generated from ad-spend revenue and sponsorship products is used to pay our members. By inviting friends, you are building traffic to our site and increasing ad revenue. You are also increasing exposure to our sponsors' products, ultimately, increasing sponsor relations across our network."
But I don't see any Ads on their website, nor in the member's area (we are about to check as well).
And here is another thing about the amount.
Those $400M is just money that they allegedly payout, it does not include their income. So their earnings must be higher by 10%, at least.
But are we to believe that a new website/system can within 4 months generate revenue that is comparable to Wendy's revenue which was about 1.59 billion USD in 2018.
If that is the case, the WiredBucks site should have millions and millions of visitors per day.
But is it so?
According to Alexa, the domain WiredBucks.com is getting attention only recently.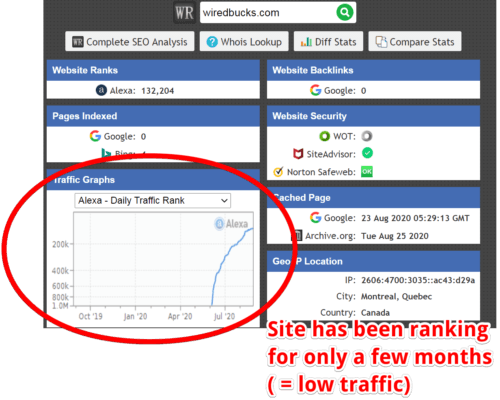 To give you some perspective about a legitimate site, let's take a look for example at InboxDollars.com (here is the review).
This GPT site has paid less than $60 Million in the last 20 years! 
And look at the data of the inboxdollars.com: 
Inboxdollars.com has had consistent traffic.
As for Alexa, the lower number the better ranking. (For example, Google has 1).
See the difference?
$400 Million in 4 months vs.
$60 Million in 20 years
If you still believe that the claims on WiredBucks's site are legit, let me know in the comment section below.
We need to talk!
😉
Who Is Behind?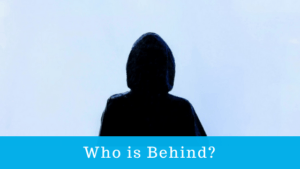 I have no idea.
Does it mean that I didn't do my homework?
Not at all.
My point is that it is extremely difficult (almost not possible) to find out who is really behind this website.
Most likely this is some sort of organization that keeps creating these sorts of scams just to get people's email (and most likely other personal data as well).
With freely available tools we can only find out the age of the domain, and we can try to contact them via email or using the contact form.
Let's go check the age of this website.
I already mentioned that the domain WiredBucks.com is only 4 months old, (as of this writing).
How to find it out?
If you want to check the age of and domain just go to the website whois.com and proceed as per the video below:
It is a super easy process:
Please note that this specific video shows how to check the foundation date of another scammy system called inboxdollar.co. (That website is not available anymore)
In other words, Inboxdollar.co is redirected to another scammy site, called RewardDollars.
Note:
Don't get confused:
inboxdollar.co was a scam
inboxdollars.com is a legit GPT site that I have used as an example in the section above.
So according to whois.com the domain WiredBucks.com was registered in April 2020.
Let's get in touch with them using the contact form.
It is not difficult to notice that there is something odd here: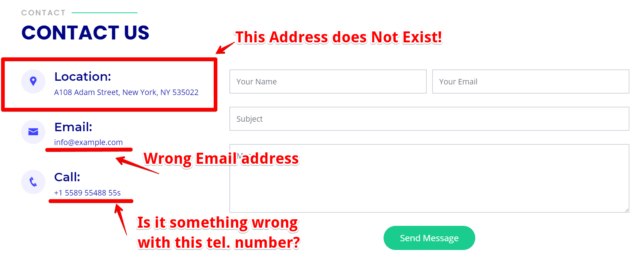 According to Google, the address does not exist. It shows only an approximate location in Brooklyn.
The same with the email address and the telephone number.
Just out of curiosity I wanted to send them a message via the contact form: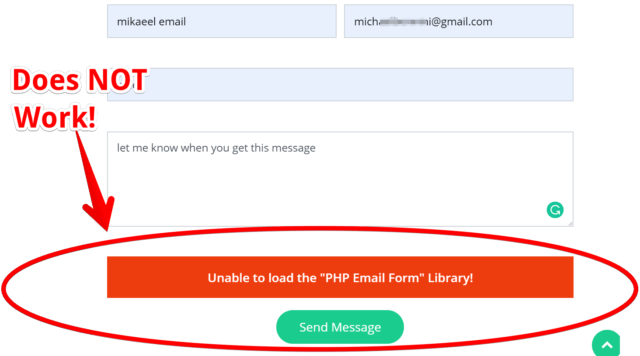 You guessed it right – it does not work either.
These all are major red flags and you should stay away from the WiredBucks.
Who is it For?
With all that we have just found out, who do you think this is for?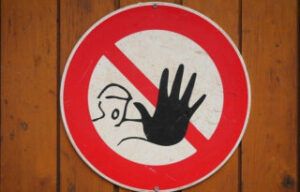 Let me put it this way.
When you see a system promising that you can make hundreds a day, and yet you can't get in touch with them  – there is just one piece of advice :
Run for hills!
Unfortunately, people still fall for this stuff.. especially newbies.
The bottom line is there is not a system that can generate hundreds of dollars per day on autopilot.
If you see someone saying otherwise, you can be certain it is a scam.
Let me share with you legitimate sites where you can earn money without investing too much in education:
www.swagbucks.com
www.inboxdollars.com
or www.surveyjunkie.com
These are just examples of legit GPT (Get-Paid-To) sites where one can make a few bucks doing surveys and performing simple tasks.
What is the disadvantage?
There is more than one.
First of all, some of them are available only in certain countries, but what is probably the most disappointing, the earning potential is extremely low.
You can make some extra pocket money, for example when you need to put gas in your car, or you want to go out for dinner with your spouse.
If you want some numbers, we are talking about $100 per month on average.
How to make a consistent income?
When it comes to real money online, there is a learning curve involved.
You have to gain certain knowledge and besides that, it is advisable to develop the following:
You have to be consistent
Be patient
And you have to invest your time and effort
Are you OK with these points above?
Great, so I can offer you one specific educational platform where I have learned how to earn 4 figures online.
In the beginning, I did "work" for free – did not make a dime until my 6th month.
That is perfectly normal when it comes to the monetization of the new website.
But once the website gets more traffic, it gets more and more sales.
Regarding my website – the best part is that I can work from any place with an internet connection and I can work anytime I want.
But I digress.
Let's go back to the WiredBucks.
How Does the WiredBucks Work?
These guys behind the WiredBucks want to collect as many email addresses (and other data) as possible and therefore they made it super easy to join.
Sign up and join the "community"
Share your link and invite friends to this site. You will earn $10 for every friend
Withdraw your earnings instantly using PayPal, CashApp, Bitcoin, or mailed checks
Let's go again through these 3 points and this time for real.
1) When you want to sign up you should have a chance to check the Term and Conditions, Privacy Policy, and Fraud Policy.
Unfortunately non of these pages work!
If you click on these links, it says "404 Not Found"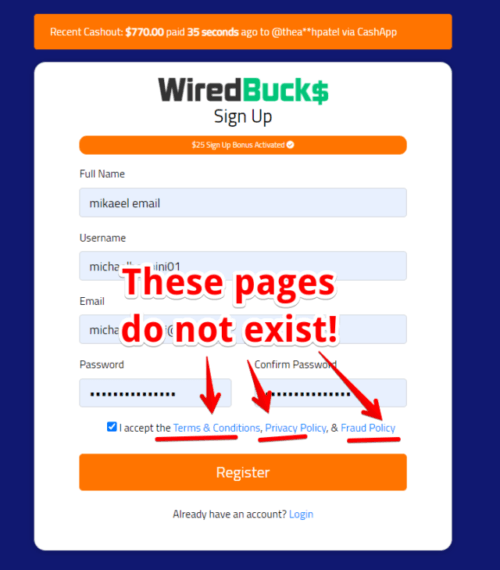 2) I don't recommend sharing that link. People who do, think that they earn the $10, but the truth is that WiredBucks does not pay at all. 
3) It says you can withdraw the earnings instantly, but it is not true.
Here is how it really works:
By taking the tasks and surveys your balance within the WiredBucks dashboard shows let's say $200 bucks
You are ready to request the cash-out, so you do so.
Despite their claim that you can withdraw your earnings instantly, for some reason it is put on hold.
A few weeks later you find out that your request is rejected.
If you are lucky, you get the feedback saying that you did use fake referrals and clicks and therefore. Therefore you are not getting paid and your account is closed.
That is it.
Game over.
You have just wasted your time with the WiredBucks.
This system works exactly the same way as these clones (check other reviews of these scams).
Inside of the WiredBucks
Just briefly let's see what the dashboard looks like. 
It is again the same as MoneyGuru or Use2Earn site.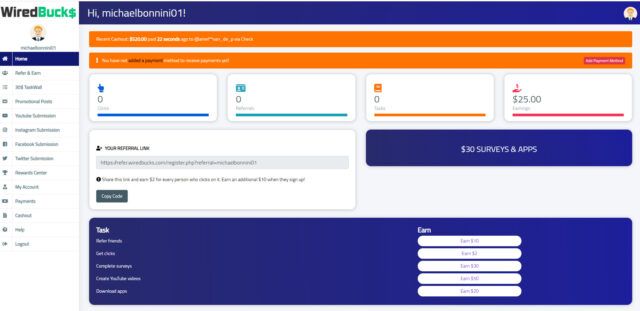 On the left, you have a menu, in the middle some notifications with your "unique" link and at the bottom the Tasks.
Refer friends – Earn $10
Get clicks – Earn $2
Complete surveys – Earn $30
Create YouTube videos – Earn $50
Download apps – Earn $20
These all are lies.
You can't get $10 for referring a friend. Access to the WiredBucks is for free.
It would make sense when for example the membership costs $20 and if you refer someone to the WiredBucks and he pays $20, then you can get the 50% commission.
But we know that everyone can sign up for free. That means there is no money coming into the system so there is no way how you can get paid for referring your friends.
Regarding the statement that you get $2 for each click – this is ridiculous.
And it does not make any sense.
List of the Red Flags
I know we have covered a lot.
And you have probably noticed that there are other scams, just like WiredBucks that have exactly the same patterns. Let's go over them, so next time you are aware of them and you know what to check.
1) Age of the system
I believe no further comment is needed.
We have shown how to check the age of a domain and if the information on the website is different, just stay away from it.
2) Fake Payment Proofs
Older clones use some screenshots that show how people received the payments.
If you check for example MoneyGuru, you see that these screenshots must be fake.
The dates are before the domain was registered.
The WiredBucks Payment proofs have been "improved". There are no dates anymore.
These are just made up.
They have no value at all.
3) No One Gets Paid
People spot an "opportunity" on Facebook that they can make $200 today.
They rush in, complete the tasks and 2 weeks later they find out that it is not possible to get a dime from them.
Then, they start to do research and complain about being scammed.
My advise:
Do the research First!
4) Fake Testimonials
The testimonials they use are not real.
Just google the photos and you get a lot of results.
That means, that these are just stock photos and not real people that joined the WiredBucks.
5) Terms and Conditions
Every site offering to make money has to have the Privacy Policy page and/or Terms and Conditions.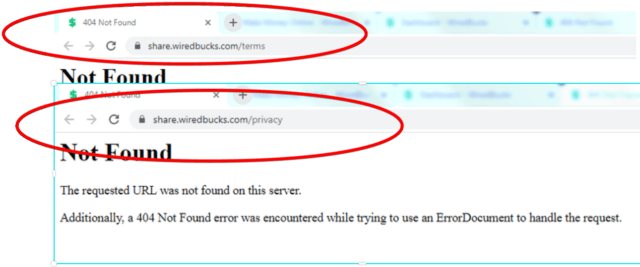 The Term and Conditions Page does not exist, nor does the Privacy policy page. 
6) Clone of other systems
There are at least 30 scams, that operate the same way as WiredBucks.
Same incentives, same statements that they are the #1 Influencer network, and the same red flags. 
Some of them don't exist anymore, just like RainMoney or CloutBucks, some of them are to be released yet.
Most of them don't last more than 16 months.
For obvious reasons, these systems are taken down. The creators can move on and create new ones to scam other people.
7) Fake Contact Information
It is not possible to contact them, as mentioned above. These people can keep creating new and new scams without being tracked.
8) Unrealistic claims about the payout
Did the pay of more than $410,000,000 last for 4 months?
This is an outright lie.
That's it.
9) Social Buttons
One would assume that the #1 Influencer Network should have the website in perfect shape.
Of course, nothing is perfect, but at least the social buttons should work, right?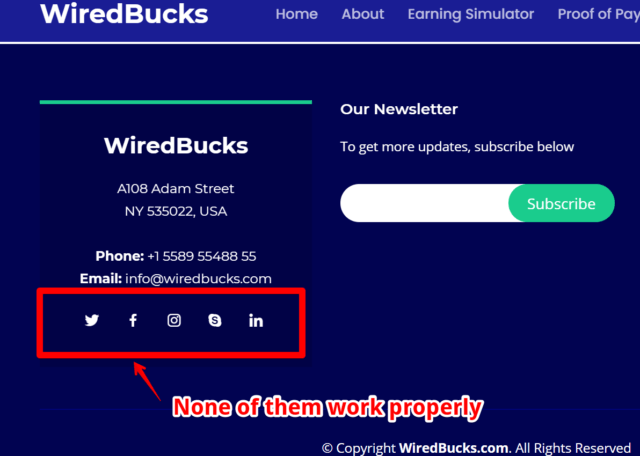 Well, these buttons do not work either.
After clicking on them you get to the top of the home page.
What I like

There is absolutely nothing that can be liked about the WiredBucks!
What I don't like

Fake Testimonials
Wrong/Fake Contact information
Payment proofs – fake data
Clone of other scams
No Term & Condition Page
No Privacy Policy Page
Where to Go From Here?
Aren't you tired of all these scammy systems and false claims?
Is there anything that works and does not cost $8,000?
I know exactly how you feel.
Before 2017 I was almost convinced that it was impossible to make money online due to the waste amount of scams and misleading products that I had gone through.
Then I found one platform that showed me step-by-step what to do and how to do it.
Well first thing I had to realize, there is no such a thing as quick money.
It takes time and effort, but it is worth it. 
If you are not patient and you still looking for shortcuts or some kind of a push-button system, then don't even bother to read the following post.
I don't mean to be disrespectful, but if you check people who earn money online you find out that it took them at least 2 years until they earn a consistent income online.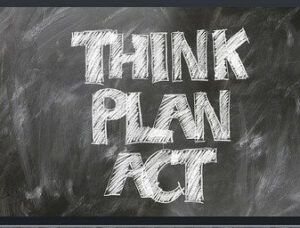 Patience and effort are essential.
Are you OK with that?
Then let me share with you this review of one educational platform that teaches how to create a sustainable business online.
I am now a full-time internet marketer, making 4 figures online.
Is WiredBucks a Scam?
The answer is simple.
Yes, the WiredBucks is a scam.
We have gone through the major red flags. It is enough to claim that this is not legit and everyone should stay away from it.
I am sure there are more red flags within the Dashboard but I don't want to take up any more of your time.
But feel free to ask questions in the comment section below.
Also if you want to know more about the ways how to generate income online, let me know as well.
I will be more than happy to give you feedback (hopefully within 24 hours)
Thank you for reading
Mike