I have reviewed many scams and system that promises to make instant money for little to no work.
Most of them have the same pattern, so it is easy to spot them.
Only recently I have found out that one of such websites (use2earn.co) has a lot of visitors in the last 3 or 4 months (beginning of 2020).
Is Use2Earn a scam?
Let me walk you through this system to find out what is this all about.
I have decided to write a review on it and I want to warn people not to sign up for Use2Earn.
In this Use2Earn Review, we are going through many red flags and claims that they make on their website.
Let's jump right into that.
Disclaimer
Please note, I am not a member or an affiliate for Use2Earn. This review is based on research and information available online in the public domain. Any recommendations and conclusions are only opinions and may not apply to all persons or situations.
Use2Earn Overview
Product Name: Use2Earn
Price to Join: $0
Creator: Not Known
Rating: 0/10
Do I recommend it? No!
Use2Earn Summary
Use2Earn is a website/system pretending to be a GetPaidTo (GPT) website and promises you to make $500 a day!
You are supposed to make money by performing simple tasks or just referring your friends to the Use2Earn using the link you get. One of the ridiculous claims they make is that you get $2 when someone clicks on your link.
The problem Use2Earn is that no one ever gets paid.
This is a harvest data scam and Use2Earn is only one of many similar scams.
You should stay away from this website.
They go after your personal data such as email, password, and possibly credit card information or telephone number.
Spoiler Alert:
Making money online is a serious job and it requires more effort than merely sharing a link or pushing a button.
If you are serious about the idea of making money online, check this review. It is a platform where I have learned how to generate income online.
What is Use2Earn?
Use2Earn is a website that promises you to make $500 daily. Access to this system is for free and apparently, you can make money by referring your friends on social media to join the Use2Earn.
You can perform simple tasks, download applications, make YouTube videos and for each task, you should get paid.
Also, you are promised to get a signup bonus.
All these claims about the earnings are fake.
The reason why they want you to sign up is to get your email address, password, and other personal data (depending on the task you take). And there are millions of people per month visiting this website.
I bet a lot of these visitors sign up for it. They made the signup process super easy:
By entering your email and password you can join the Use2Earn dashboard. I strongly advise using some fake email if you really want to take a look inside.
After signing up, you get the unique link that you should share all over social media. The claim, that you get $10 for each referral is just B.S.
Apparently, you can cash out the earnings using PayPal, Bitcoin, Mailed check, or other systems as well. This is another lie. Use2Earn does not pay out.
Let's take a quick look at how the Dashboard looks like.
Again, if you want to check it by yourself, do not use your regular email nor password.
Use2Earn Dashboard (System Back-office)
After signing up, you see this pop-up window with another BS statement, saying that for each click on your link you earn $2.
And this is how the dashboard looks like.
On the left-hand side, you see a menu, in the middle some notifications and access to the alleged earning section with Apps and Surveys.
Scroll down and you find a chat room.
Interestingly enough I see that the chat is locked.
Is it only a temporary or permanent issue?
Well, take a wild guess!
I am sure by now you understand this entire website is one big red flag.
Here is the rest of the dashboard with a fake leaderboard and the area where you can complete the tasks:
BTW, Google plus was shut down on April 2nd, 2019, so people behind the Use2Earn did a terrible job.
Who Is Behind the Use2Earn?
When you are looking for ways how to make money online and you stumble upon a website that seems legit, make sure to check the About Us section. It will give you some information regarding the age of the system, the name of the company, or the person who runs the system/website.
According to the information on their website, this system has been around since 2015.
As you can see, they even made up a story.
Let's double-check the information using the WhoIs ("query and response protocol that is widely used for querying databases that store the registered users" – source Wiki).
This is the result we get regarding the domain use2earn.co:
The truth is that the domain Use2Earn.co was registered in October 2019.
Again, another proof that use2earn is fake.
If you want to find out how to check the registration date of any domain, check this short video (I think you will find it helpful in case you will stumble upon a similar website).
The Claims vs Facts
I believe you have seen enough.
Let's sum it up and let's go over the red flags I was able to find out.
This list can help you to check the other, future similar systems as well and determine whether you are dealing with a scammy system or not.
1) Fake Testimonials
It is quite common that a lot of scammy systems use fake testimonials. Usually, they hire paid actors, but sometimes they just use stock photos (downloaded from the internet) and make up some text to back up their story.
People behind the Use2Earn took a different approach.
A person did shoot a video and then added a lot of comments. All these comments are positive and they are 5 months old.
I bet they all were added at the same day.
At the homepage, there are other testimonials as well.
For example, the first girl named Alissa is the same person as we see at the Tap2Eearn, which is just another clone of the Use2oEarn (or another way around).
Here is the same Alissa from the Tap2Earn, with the same text:
Also, the rest of the testimonials are exactly the same. Only they changed the name of the website from Tap2Earn to Use2Earn.
2) Unknown Owner
It is not easy to find out who is the real person or company behind the Use2Earn.
But I am pretty sure that whoever is behind the Use2Earn is behind all of these scams as well.
3) Email Address Fake – Postal Address Fake
The contact information on their website does not work either.
I did write them an email and immediately I received feedback, saying that the email address does not exist:
The post address is fake as well.
If you google the "27 Division St, New York, NY 10002, USA" you see that at this address there is a Chinese Seafood restaurant and above a ballroom dance studio.
Both companies have the same address for the past at least 10 years.
4) Social Media
I believe the purpose of the social media icons on your website is that when you click on them they should direct you to your profile on that specific social platform, right?
Well, this #1 Influencer Earning Network website has social media buttons that really work, but the problem is that you are directed to the default page of the social media.
So what is the point of these buttons?
The thing is that Use2Earn does have a social media presence, but you have to find them manually.
If you do, please check the comments of other people.
5) System's Age
We have already covered this.
AT the Use2Earn website they lie about their history.
We know how to find out the real foundation date, so the entire story about how they began is a lie.
6) Payment Proofs
Payment proofs should convince you that people really make money. But if we take a look at the proofs, we see that these are fake as well.
First of all, these are not screenshots of Use2Earn but the already mentioned clone, called Tap2Earn.
And another fake payment proofs:
Besides, the screenshots were taken before the website was even registered.
BTW, the Tap2Earn was registered in September 2019.
7) Terms and Conditions / Privacy Policy
You are not allowed to use this system if you are younger than 99 years old.
Now, is this just a typo, or are they serious about the information?
Either way, this should have been corrected with the last update as it supposedly was on April 4th, 2019.
I find it very "interesting" since the Use2Earn.co was registered in October 2019.
The Privacy policy does not exist.
This is a huge red flag. This fact alone makes the whole system not to be trusted at all.
8) Nobody Gets Paid
I just wanted to highlight the biggest red flag of this website.
Briefly here is how it works:
You are told that you need to reach a certain earnings threshold. It is $200, I believe.
Once you reach that, you can request the cash-out. Your request is put on hold and you should wait for approximately 2 weeks or so.
After this period, you receive a message saying that there is a problem with your account and you won't get paid.
The reason is, you have used fake clicks and fake users. Even if everything you did was legit.
They will close your account and you won't be able to log in again.
A few words at the end
Use2Earn Review is an outright scam.
No doubt about it.
My concern is that the number of visitors to the Use2Earn grows.
I do believe that it is extremely important to warn people about this scam and inform them not to fall for it.
Look at the traffic that Use2Earn.co gets in the last months:
I hope that this website will be shut down. The sooner the better.
But, the problem is that there are many other – very similar systems.
The good news is that they are pretty much the same, so once you understand how they work, you will be able to recognize the other scams.
What I like

There is absolutely nothing I like about the Use2Earn
What I don't like

Fake System
Fake Testimonials and Payment proofs
Another clone of Tap2Earn
Use2Earn  does not pay
How To Make Real Money Online?
We have checked the Use2Earn and learned that it does not make sense to even try this system.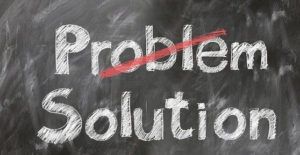 It is a waste of time and people who sign up for Use2Earn are disappointed and frustrated.
If you want to know what is the secret about making money online, you might not like it.
Especially if your mindset is wrong.
What do I mean by that?
Forget about the get-rich-quick schemes or some kind of push-button systems that start generating the revenue on autopilot.
These are all scams.
There are basically 2 approaches when it comes to making money online:
 Easy access, and easy tasks – small income potential
The effort, time, a lot of content, meaning a lot of traffic – huge income potential
If you want to check some legitimate systems that relate to the 1st option here are 3 examples:
www.inboxdollars.com
www.swagbucks.com
www.surveyjunkie.com
If you are interested in building a real business online, then the 1st thing you ought to do is to start thinking in the long run.
If you want to have more details about where I have learned how to make money online, check this review.
Final Verdict
Use2Earn is an outright scam.
No doubt about that.
What amazes me is the number of people that still go to this website. Last month there were more than 2 million people.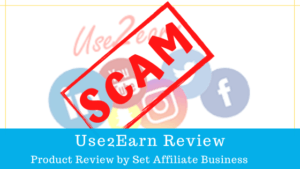 Please, if you have a chance to share this review with others, inform them that Use2Earn  is a scam and people should be careful when they see websites promising easy money.
If you have any further questions regarding the Use2Earn, or you want to learn how to create a business online let me know in the comment section below.
I also leave a link for you, where you can test one educational platform for free.
How to Get Started with Affiliate Marketing Business?
I have been a member of Wealthy Affiliate since late 2017 without prior marketing experience.
Beginning of 2018 I have learned how to build a website that drives traffic and makes sales.
Since the summer of 2019, I am a full-time internet marketer and I work from anywhere I want, whenever I want.
Training within Wealthy Affiliate teaches how to generate a consistent income in the long run.