Do you want to know what Project 303 is all about?
Proejct303 is a new investment system that is supposed to help you to earn thousands of dollars every week.
And you don't need to work 40 hours per week.
According to the sales page, this requires only 30 minutes of work – 3 times per week.
(That is where the number 303 comes from)
Andre Keene is a person who created this system and now he wants to teach you the same…
According to him, you can make an investment and make a couple of thousands in a very short period of time.
Is it true?
OR is Project303 a scam?
This review will answer that question and I am going to include some of the Pros and Cons as well.
Without further ado, let's get started.
Disclaimer
Please note, that I am not a member or an affiliate of Project 303. This review is based on research and information available online in the public domain.
Any recommendations and conclusions are only opinions and may not apply to all persons or situations.
Project 303 Overview
Name: Project 303
Founder: Andrew Keene
Price to Join: $129 per year (or $199 per 2 years)
Recommended: Yes and No (Please read the whole review)
I recommend Affiliate Marketing. Check the Pros and Cons of both business models (Affiliate Marketing vs. MLM).
Project 303 Review – Quick Summary
Project 303 is a trading system where members are promised to make thousands of dollars per week.
Remember if something seems too good to be true, then it most likely is.
Despite the fact that the creator of Project 3030, Andrew Keene, is a legit person with a lot of experience in trading.
He just created this "course" for a simple reason – to have another source of income.
The information provided in his course is basic and one can't start making thousands of dollars, just by watching how Andrew places trades.
Not to mention that trading is too risky and it requires a lot of patience and knowledge.
If you are really interested in trading, I can show you a legitimate company that has plenty of educational materials, provides trading signals and members have direct access to mentors.
It is also great for beginners. The name of the company is Forex Signals and you can find out more about this company at the link below.
What Is Project 303?
Project 303 is a trading service that should help you to make up to $4,000 a week. This service concerns access to the so-called "virtual trading room" where members can see what trades Andrew is playing.
Then you are advised to do the same – meaning to duplicate those trades that are within your trading account.
This way you are supposed to get the 100% to 400% ROI.
Apparently, it only takes 1.5 hrs per week (3 times per 30 minutes as the name of this project suggests…).
Really?
Is it that easy?
Or is this Project 303 one of those scammy systems claiming high returns?
The thing is that many of them are just Ponzi Schemes with faceless ownership (for example Tronex World, or FBS).
Well, we know that the person behind Project 303 is Andre Keene.
So that is already a good sign.
Who Is Andrew Keene?
Andrew is a professional trader with a lot of experience in this industry.
Apparently, he used to live with his parents in his 20s, in fact, he lived in their basement
His career started at the Chicago Options Exchange as a clerk.
Later, he started trading options contracts and soon become wealthy.
Besides he was trading his own money, he also decided to create several different trading platforms and trading websites.
You may have heard about AlphaShark or 1450Club.
With that being said he makes money from selling these courses. But do they provide enough information for a beginner to make thousands per week?
Unfortunately, they do not; and one of the reasons is that trading is risky and 95% of people just lose money. Sure sometimes it is possible to make a lot of money in a short period of time but the same applies to losing – and in many cases losing all (greed is human nature).
In Andrew's sales pages, he makes it seem easy, but trading is not that easy.
That applies to his new Project 3030 where he teaches (or showing) trading.
He works with Money Map Press – which is actually a parent company.
Money Map Press is a financial publishing company. It offers a bunch of newsletters, both paid and free, that give importance to different investment strategies such as:
Options Trading
Day Trading
Long-term value investing
and also short-term investing (in other words get rich quick schemes).
Andrew works with other investing experts that work with Money Map press as well.
Who Is Project303 For?
This is only for experienced traders with 10+ years of experience.
No, I am just kidding 🙂
The thing is that it would be pointless to sell his service to experienced people within the trading niche (How to choose a proper niche).
He claims that his investment system is perfect for those who have no experience and it is available to anyone.
According to Andrew, anyone can learn his investment system, there are some requirements though:
Laptop
Internet connection
30 min per day
Not that strict, right?
How Does Project 303 work?
You sign up, pay for the membership, and get recommendations and advice every week on how to trade.
The price is $129 per year, which is not expensive at all.
Be aware that there will be upsell, so you may end up spending more than you can earn back.
(Upsells usually cost twice the front price, in some cases even more).
But a good thing is that Andrew offers a 60-day money-back guarantee. So if you are not satisfied with the service, you simply ask for a refund.
Once you become a member, you get access to his webinars (or an online video conference), where Andrew shows what trades to place, and you just follow his actions.
But What Is So Special About Project303?
It is the algorithm that Andrew has developed. It is called SCAN and it is an acronym for:
S – Spot the tell
C – Confirm the signal
A- Automate and execute
N – Net worth boosted.
According to Andrew, this algorithm can spot abnormal trades and place winning option trades.
(Options trades are an advanced sort of stock marketing trading that concerns speculating on future price movements.)
As a member you automatically get:
3 Trade targets are already locked and loaded for you.
Live trading room access, 3x per week (on Monday, Wednesday, and Thursday).
Project 303 Weekly Wrap Up – you get an email each Friday with a watchlist and new recommendations
"Net Worth Booster Alerts"- in case the trade needs to be sold or bought
Fast Track to Financial Freedom Training Series – where you learn how to test this strategy without risking your money, how his SCAN system helps to solve the problem etc.
Profit Pregame – access to insights regarding what is happening in the market
Private Member Website – All the bonuses, and training archives are available here on the "member only" website
It looks fancy, but to sum it all up, it is all about watching Andrew, copying his moves, and applying them.
But it makes me ask a question:
What is the point if every member does the same?
I mean let's assume that he picks certain trades and 100 students watching him are about to do the same.
Is it really that effective?
Most likely not, and below we will see some real feedback on his project303.
Not now, but in the section below (the real living proof).
Here below, I want to only show you that there are some serious issues with this program and one of them is fake testimonials:
Project 3030 – "Living Proof"
We can see on his sales page some testimonials, showing how much they earned.
But are these testimonials trustful?
Are these people really the "Living Proof"?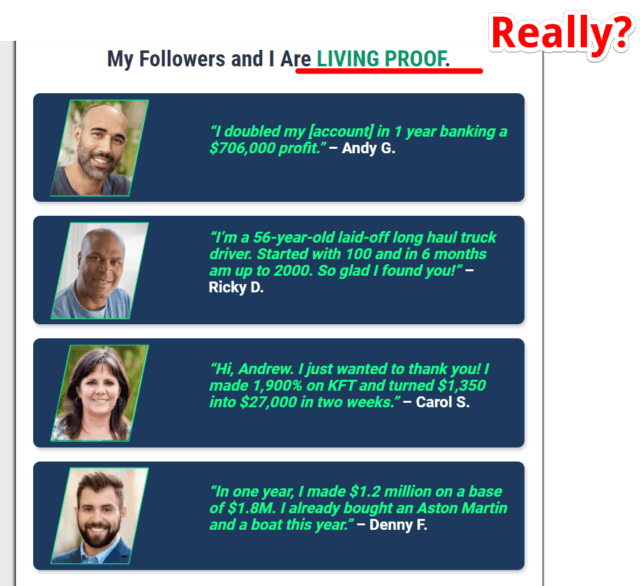 Let's see…
Unfortunately, I must say, that these testimonials are fake and the photos are just stock images, you can purchase them on websites like Shutterstock or Adobe Stock Images.
Let's take a look at Andy G.

This is exactly the same photo that is used on another website, and I doubt that this person's name is Andy G.
How about this guy?

I am not sure about a really Denny F., but this photo above is just a stock image that was taken (or purchased) from shuterstock.com.
See below: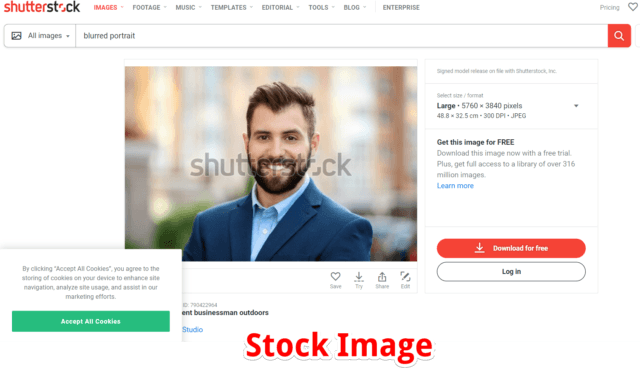 How about Carol S.?
Nope…
Again a stock image.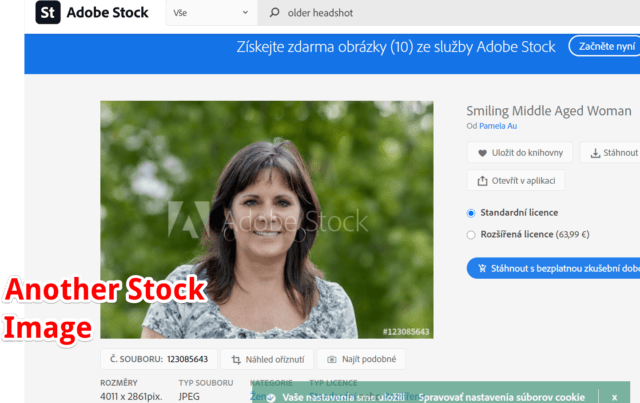 Why?
I am sure by now Andrew must have successful clients who would like to provide a genuine testimonial.
Or not?
The Real Living Proof
How about real testimonials?
Let's take a look at experiences people/former members have had.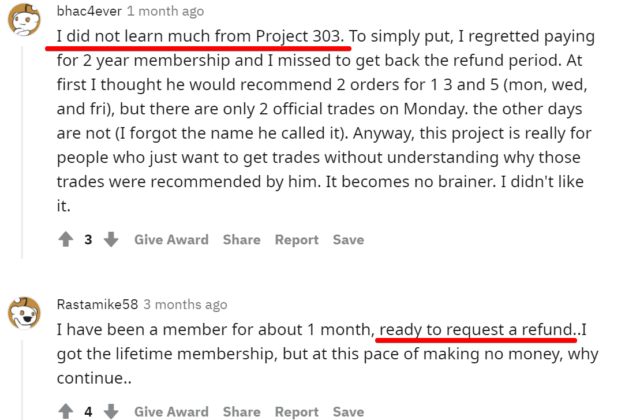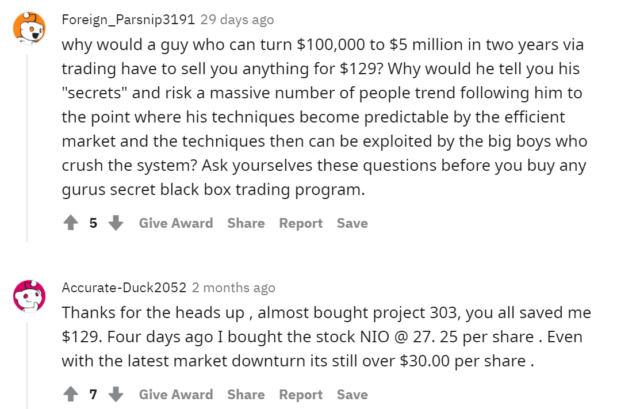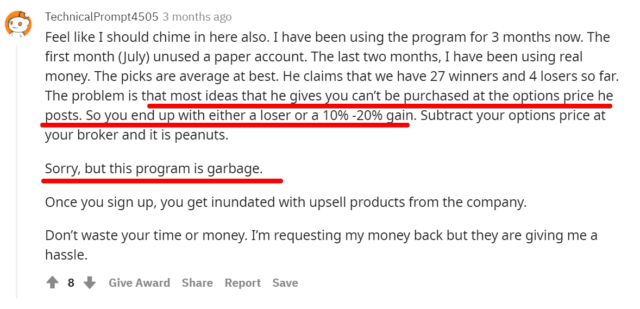 And there is more and you can check it on Reddit.
As of today's writing, I have not found one single positive review on Andrew Keene and his Project 303.
That must mean something.
Is Project 303 A Scam?
No, Project 303 is not a scam.
But it does not mean that you will make a lot of money.
Trading is a volatile business and if you don't know what you are doing, you can lose a lot of money.
It is obvious that 1.5 hours per week is not enough to understand this kind of business and that is why many people are disappointed in the service Project 303 provides.
Many of the clients did ask for a refund.
Besides, when it comes to investing, keep in mind the golden rule:
Don't invest more than you can afford to lose
Other than that, trading can be very stressful, and going through an emotional rollercoaster is not for me, anymore.
I prefer something much more reliable and that is online marketing, to be more specific, affiliate marketing.
Obviously, you are not here to find out about how I make 4 figures online, but who knows? Someone might be interested in other ways how to generate consistent income in the long run.
Affiliate Marketing is not as "attractive" as trading might be, but it is not risky at all.
All you need is time and a bit of effort.
On top of it, proper education is a plus and there are many people I know that make 5 or even 6 figures per month, just by running one website.
So it is up to you what path you want to take.
What I like about Project 303

Decent refund policy (60 days money-back guarantee)
Quite inexpensive to join (not considering the upsells)
What I don't like about Project 303
Fake testimonials
Upsells
A lot of complaints from former members
Final Words
The price is good, but does Andrew provide enough information for a beginner to make the promised $1,000 per week?
The reality shows that no, it does not.
Even though one can learn basic stuff about trading, I do not recommend spending money on Project303.
Now I would like to ask you to leave your opinion down below, in the comment section.
Do you think Andre Keene is a scammer because he has used fake testimonials?
I wouldn't purchase his service, also because of real reviews (on Reddit).
People complain about Project303 and it really seems that this is only made to make money for Andrew.
Simple as that.
If you have experience with a similar product, please leave a note in the comment section below.
I will review the product and will come up with an unbiased review.
Thank you for reading,
Mike
Looking for a sustainable income online?
Let me save you some time and allow me to introduce you to one of the best educational platforms teaching how to make money with affiliate marketing.
This platform has been around for more than 15 years and hundreds of students are now successful internet marketers.
Feel free to explore the platform (no credit card required) and if you don't want to pay for the Premium membership you can keep our free account for 6 months.