Hello and welcome to my website.
You are looking for information regarding the GPTHub, how it works, and most importantly what is the earning potential. 
Currently, we live in crazy times and an extra source of income is always welcomed.
I understand.
In the following GPTHub Review, you are going to learn what is the GPTHub site all about, and how much you can earn, at the end, I will mention some alternatives as well. 
Disclaimer
Please note, that I am not a member or an affiliate for GPTHub Review. This review is based on research and information available online in the public domain.
Any recommendations and conclusions are only opinions and may not apply to all persons or situations.
Quick GPTHub Overview
Name: GPTHub
Website: www.gpthub.com
Price to Join: $0 (Free)
Recommended: Not Really
GPTHub is a legitimate Paid-to-Click site where you can earn money through various methods, including paid surveys, playing games, and watching ads.
The good news is that anyone from around the world can join this site for free.
The not-so-good news is that you won't earn a significant amount, so I don't recommend joining GPTHub, especially if you're looking for ways to make substantial income.
If you're searching for a platform or system where you can earn $300, let me introduce you to a better method called Squadhelp, where you can earn a few hundred dollars just by coming up with names.
What is GPTHub?
GPTHub is a PTC (Paid to Click) site where you can make money for the completed tasks.
This site offers many opportunities on to make money including quizzes, paid surveys, clicking on ads, and games and they also have a referral program. 
How much can you earn, and where is the money coming from?
Let me inform you right away that it is not a lot.
But at least this is a legit site (unlike many scams out there) where advertisers from all over the world reach potential customers.
Just let's take a look at the number of visits GPTHub.com gets:
As we see the number is about 100K visits per month and such a site is already attractive for advertisers.
They pay the GPTHub, and then GPTHub pays their clients/members.
This is in a nutshell how it works.
And how can you specifically make money with GPTHub?
Let's break it down:
How to make money with GPTHub?
There are many ways how to earn using this site and here is the list:
1) Paid offers
This is the easiest way to earn on GPTHub. 
It consists of short tasks that you perform according to instructions that you follow.
Make sure to read the instructions literally since if you don't pay attention you won't be rewarded.
As it is always in every walk of life, the easier tasks there are, the smaller the reward you get.
With that being said you won't make a lot, using this method. 
TIP:
Don't reveal your bank details.
The thing is that sometimes you can stumble upon an offer that asks you for such details. Then just simply cancel the subscription, so you won't be charged.
2) Paid Ads
One of the most popular methods, since it does not require any experience, or effort, other than being patient and being able to watch the ads for a few seconds. 
So you just click on the ad and you need to view the ad for at least 10 seconds otherwise you won't earn GPT points.
Different ads pay different rewards. Also, you get 1 GPT point for each ad as well.
3) Paid Surveys
Paid surveys are the best way to earn money; I mean this option has the biggest earning potential.
There are many different surveys and they change also according to your location.
But please bear in mind that before you start with the survey, you have to go through a qualification process and you have to be accepted.
The requirements might be age:
For example, some surveys are only for people older than 45 years old.
Or location:
Here is a screenshot survey available for me.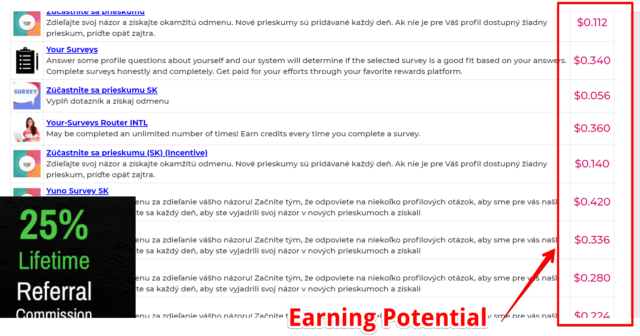 As you see the earning potential is not that high – but still this is the highest-paying opportunity within the GPTHub. 
One thing I want to mention here:
3rd Part companies provide these surveys, so you will be redirected to other websites. I find this annoying since one can get lost and it happened to me that I accidentally closed some sites.
Tip
You don't want to cheat the system. So while going through the survey make sure to answer truthfully.
4) Refer a friend
If you have a lot of friends on Facebook or other social platforms, who is interested in earning a few bucks on the side, you can share your link and ask them to join the GPTHub.
For each person who signs up and is active, you earn 10 to 50 points. 
5) Grid Game
This is a very common game throughout the PTC sites (for example Paidverts or IndexClix).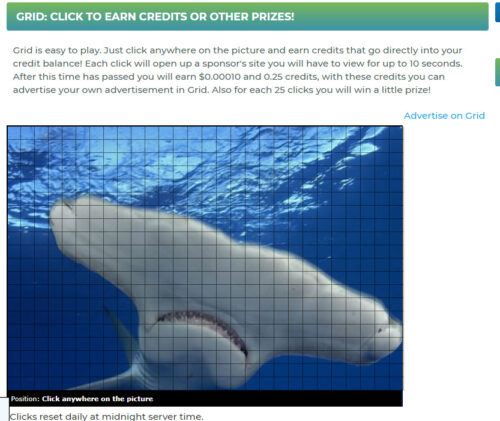 You see an image with a lot of squares or grids.
Click on one Grid and a new page will open where you have to finish viewing the Ad.
Once you are done watching the ad (a few seconds) you see how much you have earned. Each grid can make you $0.00010 and 0.25 credits.
Regarding the rewards – it is no typo in the earnings, there are really 3x zeros. So it is 0.01 cent.
Is it worth your time?
You tell me, but I assume you have expected something with a higher earning potential.
6) Quizzes
Answer a quiz and get the reward.
It works like Paid surveys but with no qualification process. 
There are not that many quizzes as for paid surveys and therefore you won't earn a lot here either.
7) PTSU Offers
This means, "paid-to-sign-up" – and you can sign up for other websites where you can earn rewards as well.
Each offer has different requirements and you need to pass them in order to get paid.
8) Contests
Sometimes you may see content that you can join.
And here is one of the contests that is already over: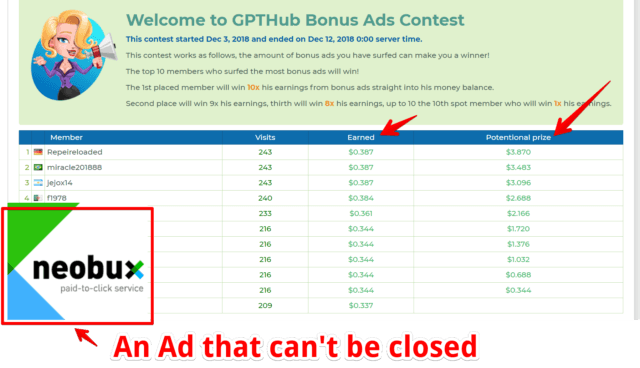 As we see, the "Potential Prize" is quite good but people earn only a few cents.
(just a side note, I have no idea how to close that Ad and it is quite annoying)
These contests do not happen often enough, but if you like content, I can recommend you to check a different platform called Squadhelp.
I do mention this platform once again, below also with a link (review of the platform with some inside tips).
Who is the GPTHub for?
Many GPT (Get-Paid-To) or PTC sites have their limitations, meaning that only people from certain countries can join such sites.
The good news is that GPTHub is accessible from every country, so from wherever you are you can sign up and join the GPTHub, for free.
You can even use it on your mobile phone.
This site was still not mobile-friendly only a few months ago, but today you can enjoy GPTHub from your cell phone as well.
How to Join?
It is very easy to join GPTHub.
You simply fill out your name, and email address and you can log in. (You don't have to confirm your email).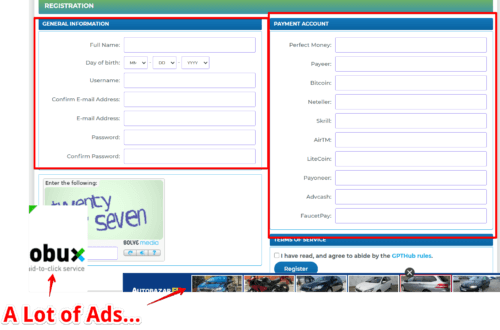 As you see on the RHS you can choose the payment account, but it is not required when registering.
You can choose how you want to receive rewards later on.
How Much to Earn?
It does not matter what method you choose you will always earn something – some pennies, that accumulate on your GPTHub account. 
Let's take the example of viewing ads.
To earn $1 it is necessary to watch hundreds of ads. Assuming that one ad lasts 10 seconds – that is roughly $1 per 1,000 seconds which is 17 minutes.
Another drawback is that it takes too long until you can withdraw your money, because of the high GPT points that you need to have.
In other words, it means you have to go through hundreds or thousands of tasks until you can pull out your money.
So if you are looking for ways to earn quick pocket money, this is probably not the best way.
I have stumbled upon a different platform called Squadhelp.
Here you can earn by typing the domain names and in the review, I show some tricks on how to come up with as many names as possible. 
But back to the GPTHub.
How Can You Withdraw Your Money? 
There are a lot of options and it is probably not that clear from the image above so here they are:
Perfect Money
Payeer
Bitcoin
Neteller
Skrill
AirTM
LiteCoin
Payoneer
Advcash
FaucetPay
Make sure you have at least one account.
In order to get your money in your account, you need to earn at least $2 and on top of it at least 1,500 GPT points. 
You can become a paid member and then the threshold is lower.
GPTHub Types of Memberships
In case you want to earn more (or quicker) you can choose a specific membership.
There are the following 4 types:
Free
Clique Family Member
Elite – The price $5
Super Elite – The price $50
TIP:
Start with a Free membership. Familiarize yourself with the site, and different options on how to earn. 
Then, when you like it, you can check the paid memberships and proceed accordingly.
The good thing is that you can pay with the points you have earned within the GPTHub.
Is GPTHub Legit?
Yes, it is.
But do I recommend it?
Nope.
If you really want to know how to make money online, my recommendation is to forget about GPTHub.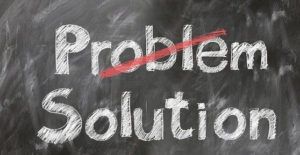 There are certainly better ways to generate consistent income – the drawback is that it requires time and effort. 
People willing to invest their time are rewarded down the road, and when it comes to business online, there is no limit to how much one can make. 
Again, it may take 3 to 5 years until somebody earns $50,000 per month, but it is certainly possible.
1st year is the hardest one because you literally work for nothing.
Depending on a chosen niche(What is Niche and How to choose one), it may take 8 to 14 months until one earns 4 digits per month.
What kind of business do I have on my mind?
My recommendation is affiliate marketing – that is what I do.
Back in 2017, I joined an educational platform, where I learned how to create a website, how to get free traffic, and how to monetize the traffic. 
Prior to 2017, I was jumping from one thing to another without any results.
So it is up to you what direction you take.
In case you want to "quick money," you can take a look at the Squadhelp, as mentioned above. 
Every day there is a member who wins a contest and makes from $100 to $300. 
It is not an ideal way to have a 2nd source of income, but it is worth trying. 
What I like about GPTHub

A lot of opportunities
Free to join
Globally available
What I don't like about GPTHub
Low Earning potential
Annoying ads on the website (sometimes covering the content)
High GPT points to withdraw the earnings
Some Thoughts at the End
GPTHub is definitely a legit system but it can take months to make $100.
If you like surveys, and simple games, you can certainly join the GPTHub and have fun. 
But it is not a good platform if you are looking for a 2nd source of income.
Let me know in the comment section below what is your opinion about the GPTHub.
Or if you have experience with a similar site, please share your experience in the comment section below.
Thank you for reading
Mike