Hello and welcome to the Forex Signals Review.
I've reviewed hundreds of products, many related to trading.
Unfortunately, most of these companies are shady, so it's best to steer clear of them.
That being said, it's also challenging to find a legitimate company that fulfills its promises.
Now, let's talk about ForexSignals.
In this ForexSignals.com review, you'll get all the information you need about this platform.
Right from the start, I can assure you that I'm glad ForexSignals.com is legitimate. If you want to learn more about this company, stick around with me.
Jump to:
Disclaimer
Please note, that the following post might contain affiliate links.
That means if you click on them and purchase the product, I will receive an affiliate commission at no extra cost to you.
This review is based on research and information available online in the public domain.
Any recommendations and conclusions are only opinions and may not apply to all persons or situations.
Forex Signals Review (Summary)
Let's dive into a quick summary of ForexSignals.com.
In this section, I'll provide you with an overview of the platform's key features and offerings, making it easy for you to grasp the essence of what ForexSignals has to offer.
Whether you're a beginner or an experienced trader, this quick review will help you understand the platform better.
Name: Forex Signals
Website: www.forexsignals.com
Price to Join: starts at €20/month (12-Month Room Access) – Check the Price Structure below
Recommended: Yes (But I personally prefer Affiliate Marketing)
ForexSignals.com is a forex educational platform founded in 2012, offering trading signals, an active trading room, and direct access to coaches.
Their top-notch trading training caters to both beginners and intermediate traders, making it beneficial regardless of your skill or trading experience. With forex signals, you can initiate or enhance your trading activities.
The platform equips you with powerful tools, strategies, professional coaches, and continuous support.
However, to fully reap the benefits, you must be willing to invest some time.
The platform promotes transparency, allowing anyone to join, and they even offer a 7-day trial for you to test it out.
What Is ForexSignals.com?
As the name suggests, ForexSignals is a platform that provides you with timely trading opportunities.
Besides providing accurate forex signals, this platform offers an abundance of educational materials.

Furthermore, you become part of a community of like-minded individuals who share ideas, suggestions, tips, and tricks. Having the ability to learn from other successful traders is always a significant advantage.
They also provide a 7-Day Trial period for everyone to test out the platform and decide whether to join.
With the most popular package, priced at €20 per month, you gain access to coaches to help you get started with your trading career, who can answer your questions and provide feedback.
To form your own opinion, you can check their YouTube channel, which regularly publishes new videos on a weekly basis.
Overall, it is beneficial to subscribe to their channel and stay updated.
Who Is the Founder of The Forex Signals?
ForexSignals was established in 2012 by professional and experienced forex trader Nick McDonald.
The idea originated from Nick's search for a trading room where people could share ideas and discuss the market.
To address this need, he founded ForexSignals.com, the trading room we know today.
As the community grew, Nick began hiring coaches to provide the best service, selecting experienced individuals with the right attitude and coaching skills.ForexSignals was established in 2012 by professional and experienced forex trader Nick McDonald.
In 2012, Nick partnered with talented developer Will Thomas to create the world's best forex website and online trading room.
The goal was to provide exceptional services to clients in the forex industry.
They have already attracted more than 500,000 members to their platform.
With a dedicated team of 52 staff members and 4 knowledgeable coaches, their commitment is evident. Despite operating globally, they maintain a cohesive vision. With years of experience, they are poised for even greater success.
Side Note:
After staying updated with the ForexSignals representative, I learned that Andrew Lockwood is no longer with the business.
In other reviews, you may still read about the mentors; however, they now refer to them as coaches.
Forex Signals trading coaches in 2023
Inside the trading room, you'll find our team of four seasoned trading coaches: Max, Shain, Scott, and Nick.
Collectively, they possess more than 30 years of forex trading experience. These experts are dedicated to offering valuable insights through:
Market commentary
Trade bias
Guidance and education
Their expertise covers a wide range of markets, including:
Forex
Crypto
Stocks
Commodities
Futures
Options
Who Is the ForexSignals For?
The company was founded on the principle that trading is accessible to all, catering to both newcomers aiming to grasp fundamentals and experienced traders striving to enhance their performance.
By receiving guidance from seasoned trading coaches, individuals can refine strategies and elevate trading performance.
It particularly suits those desiring to learn strategies, hone skills, and achieve consistent market results.
If you've attempted trading solo and found challenges, you likely understand the advantages of community involvement. ForexSignals presents a community of adept coaches offering valuable guidance.
With over 40,000 global members, the company provides more than just forex signals; it also offers comprehensive educational resources, which I found well-structured.
These materials include strategies, methods, and techniques covering both trading skills and the right trader mindset.
1) Set Realistic Expectations
Is it realistic to expect a 40% annual return from the market?
How about in just a month?
Probably not.
Only scams and Ponzi schemes make such exaggerated claims, like NovaTech FX, for example.
It's important to have realistic expectations and consider aiming for a more reasonable 4 to 6% per month.
2) Understand the probability and Law of Large Numbers
Trading is a game of probability, and you will learn more about it within ForexSignals.com.
3) Perform Back Testing
Evaluate how the strategy performed in the past. In other words, do your homework and continue doing it.
Every member of ForexSignals learns new skills every day, but it requires focus and patience. Many people fail due to a lack of discipline and dedication.
However, if you are eager to learn new skills and strategies, ForexSignals is definitely the right platform for you.
What is Inside the Forex Signals Platform?
In this section, we'll explore ForexSignals' advantages and features for traders and investors.
Enhance your trading with expert signals, educational resources, and a vibrant community. Discover why ForexSignals is a top choice for all traders.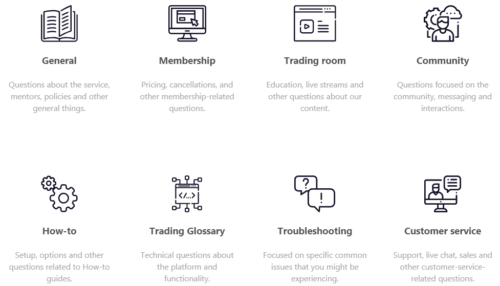 As you already know, you can sign up for free and explore the platform.
As a member, you can access exclusive ForexSignal features, including trading on social media networks and daily live streams.
The trading academy offers a variety of trading strategies that ForexSignals expert coaches use every day in the markets.
You'll learn about different approaches like:
Forex scalping
Swing trading
Naked trading strategy
Wave dash forex strategy
Day trading
The courses are designed with easy-to-digest educational modules, covering entry and exit techniques, risk management, and crucial aspects like journaling, back-testing, and psychology.
Free Forex Trading Tools

The platform provides a comprehensive range of essential Forex trading tools, including a currency heat map, that is crucial for mastering the markets.
Lot Size Calculator
The Lot Size Calculator is a helpful tool that prevents traders from making mistakes in determining their trade size and risking too much of their accounts.
By inputting your desired risk level, the calculator automatically calculates the appropriate lot size for your trade.
It's a user-friendly and completely free tool provided by the platform to ensure traders can manage their trade sizes effectively and improve their risk management in Forex trading.
Profit Calculator
The Profit Calculator is a user-friendly tool that helps you easily calculate your Forex trading profits, avoiding confusion and mistakes, especially when dealing with multiple trades.
It provides the Gross profit for your currency pair, making it simple to track your earnings and manage your trades effectively.
Currency Pairs
Currency pairs are the foundation of forex trading.
They represent the comparison of two different currencies and their values in relation to each other.
Major pairs involve widely traded currencies like USD, EUR, JPY, GBP, etc.
Minor pairs include less common currencies paired with major ones.
Exotic pairs involve a major currency and a currency from a developing or smaller economy.
Forex Trading Platform provides comprehensive overviews of all currency pairs (also called Forex pairs), prepared by experienced trading coaches.
This valuable information empowers you to trade with confidence and make informed decisions in the forex market.
Free Economic Calendar

The Free Economic Calendar is a tool that helps traders keep track of important events happening around the world.
These events have the potential to influence the Forex market, either causing small shifts or significant movements.
The Free economic calendar provides you with essential information about major global events.
By staying up-to-date with these events, you can make informed trading decisions and be prepared for any potential impact on the Forex market.
It's a valuable resource to stay ahead in your trading game.
How Much Does ForexSignals com Cost?

The membership options for ForexSignals.com have recently changed, offering more affordable choices than ever before. You can select from three packages:
monthly,
six months,
or one year.
Here's the breakdown of the membership options:
The Apprentice
Price: €52 per month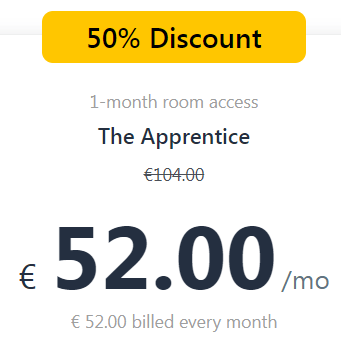 Here is what it includes:
Trading room access
Pro trading video academy
Daily live trading sessions
Trade sentiment analysis
Weekly "hot-pick" technical analysis
Real-time global news stream
Engaging live workshops
Pro Trading tools access
The Committed
Price: €31 per month (Billed every 6 months)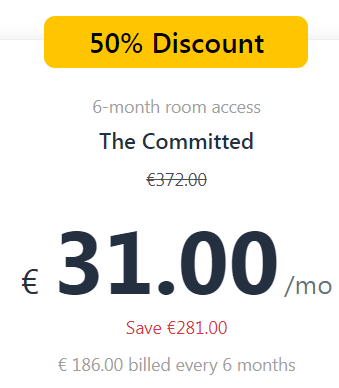 Includes everything from The Apprentice, plus:
Exclusive brokerage access
Personal guidance from ForexSignals mentors
One-on-one mentoring sessions
The Professional
Price: €20 per month (Billed every 12 months)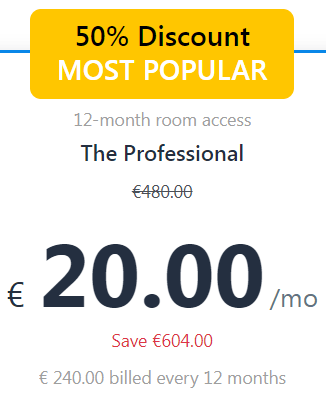 This is the yearly membership option and the most popular choice.
Includes everything from The Committed, plus:
Direct contact with mentors
Priority pass for mentor questions
Software for market scanning and trade notifications to your phone

It is important to note that the Apprentice package does not include exclusive brokerage access, and you do not have direct contact with the mentors with this monthly room access.
On the other hand, the most popular package (priced at approximately $48 per month) provides a priority pass for mentor questions.
Furthermore, regardless of the room access or package you choose, you can always test it out.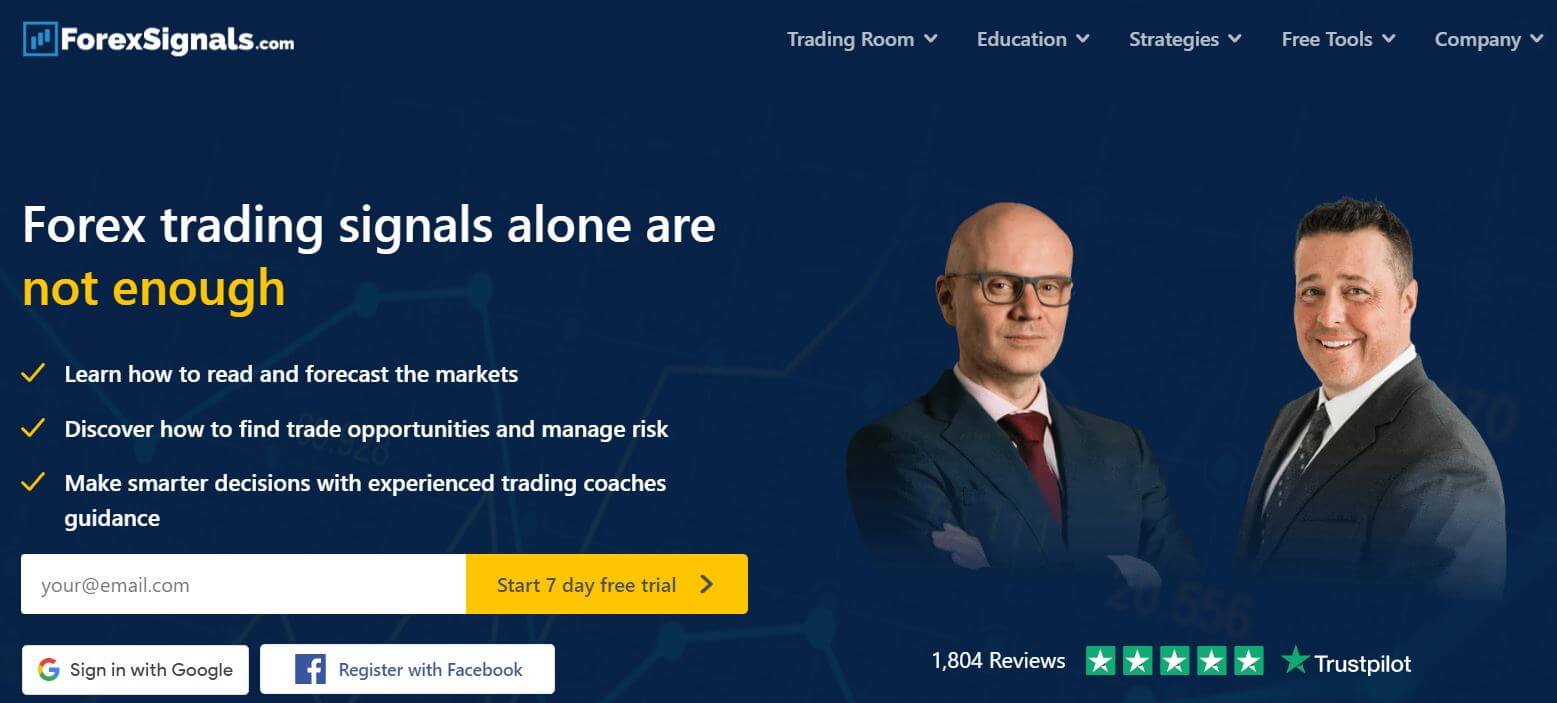 Remember, all packages come with a 7-day free trial.
You can test the platform without charges to see if it suits your needs.
ForexSignals.com Reviews From Clients
Checking forums and reviews about a specific company, especially concerning your finances, is always recommended.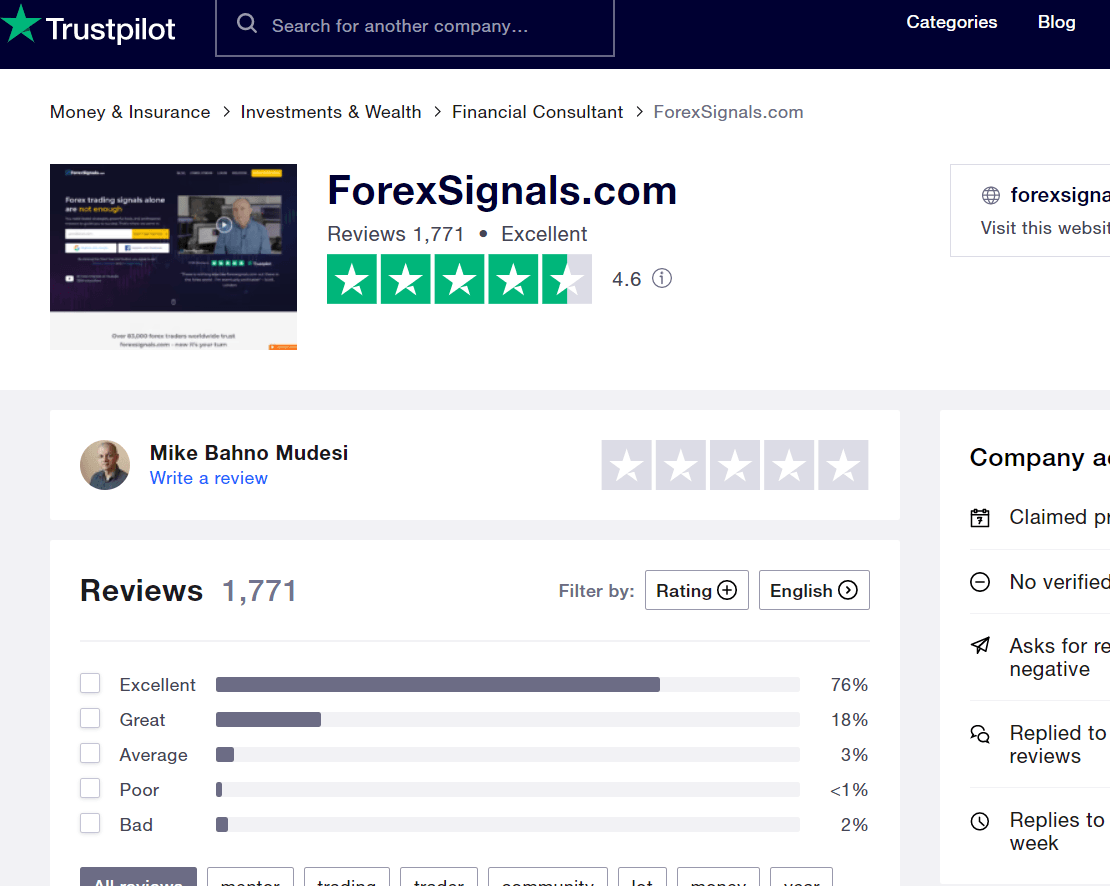 One of the best review sites that one can check is Trustpilot.
Generally speaking, it is advisable to take these reviews with a grain of salt since there might be a lot of fake reviews.
I have seen many reviews where it was obvious that people leaving extremely good ratings were just promoting the actual product.
Typically there are only a couple of reviews.
But the more people write the review the higher chance is that they are genuine.
From my experience, it seems that ForexSignals reviews are legit (at least 90% of them – my estimation).
Let me share with you the most recent negative review that a person left at the end of 2021, saying:
" The seven-day trial insists on my financial information and it states it is for free just sign up"
And the feedback goes:
" Hi Jesse,

Thank you for your feedback.

Please note that this is normal practice with most companies that offer a free trial.

The customer is asked for payment information but can cancel at any time during their 7-day free trial, therefore we do not charge you at any point and your payment details are safe.

If you have any further inquiries please get in touch with our 24/7 support team on this matter via our live chat or via email at support@forexsignals.com

Thanks,

The Forex Signals team"
Here is the screenshot: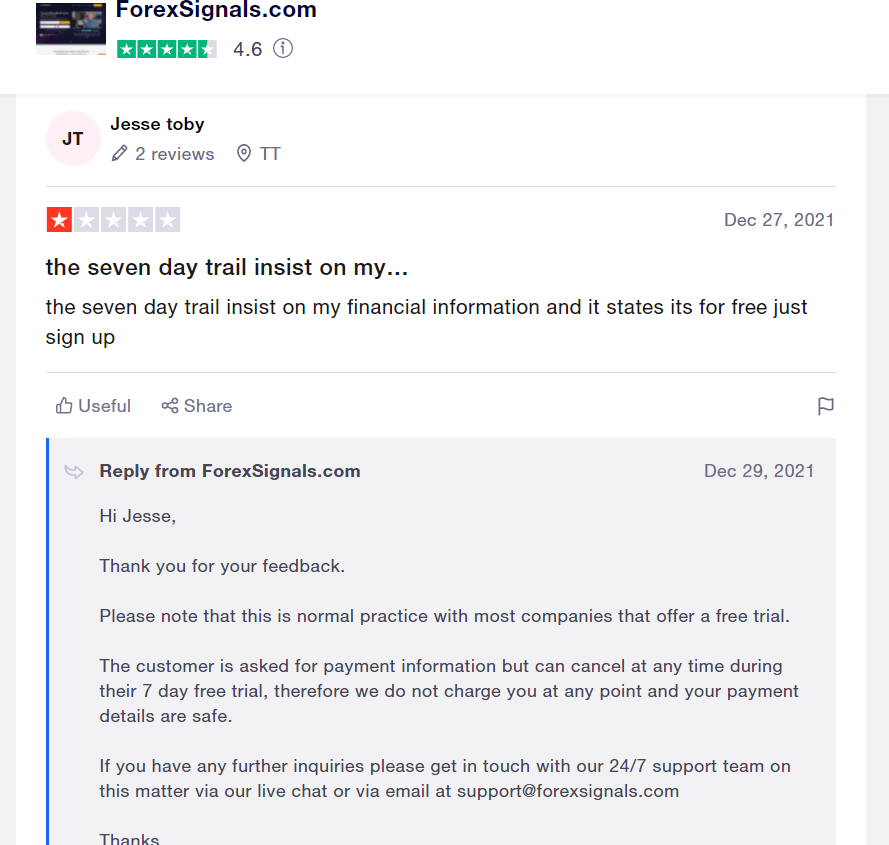 It is evident that the team at ForexSignals strives to gather user feedback.
This is not really common when it comes to other similar companies.
ForexSignals Users Feedback
Let me provide a summary of people's opinions about ForexSignals for a comprehensive overview.
Users appreciate the signals provided by the platform, as they help in analyzing trades and understanding how to place and calculate pips.
The platform is regarded as genuine, with coaches who dedicate their time and passion to teaching and explaining.
users have learned a lot and appreciate the knowledgeable coaches, although making money seems to be a challenge. However, this aligns with ForexSignals.com's goal of teaching about forex rather than solely focusing on making money.
Before we wrap up let's see the Pros and Cons.
What Do I Like About Forex Signals?

Great Trading Active Community
An excellent choice for beginners who want to become professional traders
Easy-to-understand video lessons and great education tools
No previous experience with Forex needed
What I Don't Like ForexSignals?
Limites access with a monthly subscription
Requires time dedication
Is ForexSignals com Legit?
Forex trading has become very popular, leading to the emergence of numerous new companies and websites claiming quick riches.
However, most of these companies are less than a year old and provide poor customer service. Many of them are scams, which is why people are naturally skeptical about such ventures.
Being skeptical is perfectly fine as it helps protect you from falling victim to forex trading scams or any other scams.
Let me conclude with my favorite quote from Napoleon Hill:
"There is no such thing as Something for nothing", from Napoleon Hill.
Therefore, it is important to acquire knowledge and new skills. ForexSignals is a legitimate platform that offers a great opportunity for anyone interested in this field.
With their training and support, you can transform your knowledge into profits. In other words, the best investment you can make is in yourself.
What enhances your life? There are many factors, but one of them is undoubtedly learning new skills.
And what brings happiness? Progress. The idea of continually learning and becoming smarter tomorrow than you are today, even if it's just by 1%.
Regarding ForexSignals.com, I encourage you to check out their YouTube channel and watch their videos.
You can also take advantage of their free trial (check the link below) and see if it suits your preferences.
You have ample time to determine whether this is a good company to invest in or if you prefer to explore other options.
If you have any questions about Forex Signals or if you would like to share your experience, please leave a comment below.
By doing so, you contribute to the growth of this page and enable more readers to benefit from it.
Thank you for reading,
Mike.
FAQs
Is Forex Signals .com legit?
Yes, the platform is legitimate.
ForexSignals.com has received overwhelmingly positive reviews from users.
With a significant number of excellent reviews on Trustpilot and a high average rating, it indicates that the majority of people find the Forex signal service to be legitimate and satisfactory.
Additionally, the positive rating on forexpeacearmy.com further supports the credibility of ForexSignals.com.
How much does a ForexSignals.com subscription cost?
The most affordable subscription option for ForexSignals.com starts from just €20.00 per month with the Professional Bundle.
This bundle not only grants you 12 months of room access but also provides insightful financial market analysis to support your trading journey.
Does ForexSignal.com provide Forex signals?
ForexSignal.com is more than just a forex signals provider.
They have a community where traders share their best forex signals and trade ideas daily. It's not only about signals; they want you to become a better trader overall.
Are Forex Signals Reliable?
Forex signals' reliability largely depends on the provider's track record.
If a provider has a consistent history of accurate signals and transparent performance data, it's more likely that their signals can be reliable.
However, it's essential to do thorough research and consider various factors before relying solely on any signal source for your trading decisions.
Can I cancel my subscription at any time?
Certainly!
If you choose to cancel, you have the convenience of easily canceling your subscription from your profile within the trading room.
What is fundamental analysis?
Fundamental analysis in Forex involves studying the impact of political, economic, and social factors on currency values.
It focuses on the broader economic picture, analyzing elements like economic growth, inflation rate, interest rates, and unemployment rate to make informed trading decisions.
What is MetaTrader 4?
MetaTrader4 (MT4) and MetaTrader5 (MT5) are the most widely used trading platforms globally. They serve as your primary tools for:
analyzing charts,
conducting technical analyses,
planning your trades,
and executing them efficiently.
With millions of retail traders relying on these platforms, they have become the go-to choice for trading in the forex markets.
To access MT4 or MT5, you'll first need to sign up with a trading broker. Once registered, the broker will provide you with your personal MT4/MT5 trading terminal.
They'll send you the necessary login details, and you can start trading using either a demo account for practice or a live trading account for real transactions.