Welcome to my website. I have been doing research on digital products since 2018 and I have reviewed hundreds of them.
Just recently I stumbled upon a company called Troncase.
Since you are here I assume that you want to find out more about this company. Is it legit? Is it safe to invest with Troncase?
In the following Troncase review, we are going to check how it works, what are Pros and Cons, if there are any red flags so by the time you are done reading this review you will know what is this company all about.
Let's get right into it.
Disclaimer
Please note, I am not a member or an affiliate for Troncase. This review is based on research and information available online in the public domain.
Any recommendations and conclusions are only opinions and may not apply to all persons or situations.
Troncase Overview
Name: Troncase
Website: www.troncase.io – The domain is for sale
Price to Join: $4
Recommended: No!
I recommend Affiliate Marketing.
Check the Pros and Cons of both business models (Affiliate Marketing vs. MLM).
Troncase was an online investment platform that operated as an MLM in the cryptocurrency niche. It promised daily passive income to its users.
However, the company relied solely on investments from new affiliates and lacked any retail products, displaying characteristics of a Pyramid Scheme.
Unfortunately, Troncase is no longer available and the domain is now for sale, indicating that it likely crashed or ceased to exist.
Pyramid schemes are illegal in most countries, so joining Troncase was strongly discouraged.
Thankfully, there are legitimate ways to generate consistent income.
For those interested in trading, I can recommend a reputable company called Forex Signals.
They offer extensive educational materials, trading signals, and direct access to mentors, making it an excellent choice, especially for beginners.
What is Troncase?
This is an online platform that uses smart contracts and offers the opportunity to make a profit.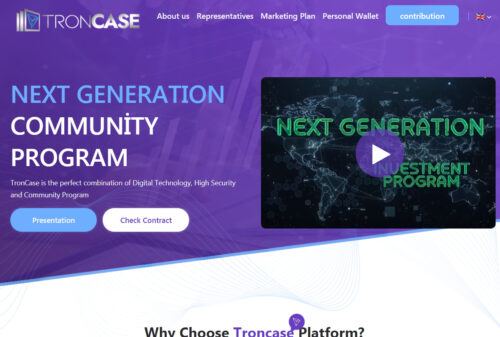 In other words, Troncase is a cryptocurrency MLM company promising you to earn passive income. All you have to do is make an investment and wait for the returns.
According to their website here are 3 key points why you should choose Troncase Platform:
Transparency
Decentralized
High Security
Now just a few notes:
Transparency – Actually this is strange since we have no idea who runs the company (There is no information whatsoever on their website)
Decentralized – The platform is supposed to be developed as a fully automatic system. Well, we live in 2021 and no automation can generate you profit in the long run
But despite that, they promise you to get 1.5% ROI daily.
Well, I have seen similar companies promising such a return, and turned out that all of them were just Ponzi Schemes.
Remember whenever something seems too good to be true, then it certainly is.
We are about to check major red flags when it comes to the Troncase so hopefully, you have not sent them any money.
Another problem is that this is an unregulated investment company.
That means that Troncase is not reliable and it can collapse at any time, meaning that all the money will be taken by people behind the Troncase.
But who are they?
Who Runs the Troncase?
Unfortunately, there is no information about the owner or founder of Troncase.
This is always a red flag.
I don't know about you, but I personally wouldn't trust such a company. Simply as that.
It is your money that is at stake, so it is not a bad thing to be a bit skeptical when it comes to such companies.
Therefore it is essential to know the people who run the company.
So after doing a bit of research we have found that there is one specific youtube channel called Ryan Conley – this guy apparently is a USA Team manager in Troncase.
He heavily promotes this company claiming that it does not cost a lot to join, you don't have to recruit anyone and you will see that Tron is coming into your wallet "every 4 seconds".
You can actually watch the 11 and half minutes video here if you want:
Update:
This video isn't available anymore
There are other videos within this Youtube channel and in one particular, we can see 2 guys who are most likely the ones who run this company.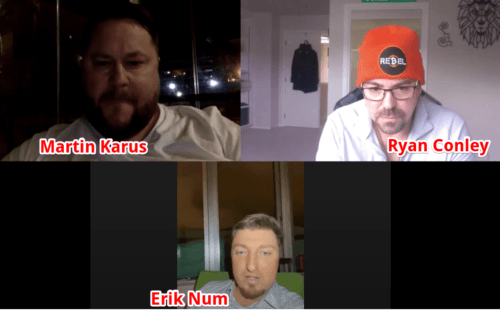 Therir names are Martin Karus and Erik Num.
Both guys are from Estonia and according to Ryan, these two individuals are master distributors.
It is safe to assume that these 3 people are the ones who run the Troncase.
Martin Karus has a profile on LinkedIn.
He has some experience with Amway, back in 2010.
Also, he has been involved in several other companies, including Crowd1.
(There are already several countries that issued warnings against Crowd1). He was also promoting other companies and all of them were MLM Ponzi schemes.
To me, this is another red flag.
I mean once a person was involved in a fraudulent system, what makes you think that he is not going to do that again.
Especially when there was no punishment.
This is quite common among these scammers.
They create one platform, promise high returns, get money, and disappear.
Soon after they rehash the original system, give it a new name a new website, and here we go – the same thing, same scam.
A good example is PGI Global or Tronex World.
Is Troncase a Pyramid Scheme?
From what we have covered so far it is quite possible that Troncase is a pyramid scheme.
Let's look at the fact:
They promise you a high return
We don't know exactly who runs the company
A company has no retail products
Sounds too good to be true
There is no sign of an external source of income
That means that the only money that flows into the system is from new affiliates. And when the fees from new affiliates pay the existing affiliates, then you can be sure that you deal with a Pyramid Scheme.
Generally speaking, a multilevel structure company where members (or affiliates) are paid by the new members and yet there is no other source of income is called a pyramid scheme.
These people (whoever is behind the Troncase) realize that people are greedy, meaning people want immediate returns without any effort.
Therefore these scammers create such a scheme to lure in as many people as possible and once there are no new investors, the entire structure just collapses.
99.9% of "investors" lose money and the founders move on, getting ready for a new scam.
As a rule of thumb, here are the main signs of the Pyramid Scheme: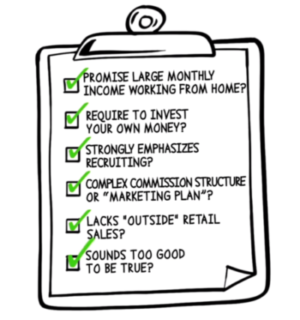 How Much to Join the Troncase?

As per their website, it is necessary to invest at least 100 TRX. That equals approximately $4 and about 3 quarters (as of this writing).
They have an upper limit too, and the maximum amount one can invest is 4 Million TRX (approximately $192,000).
The advertises ROI is 300%!
Isn't this ridiculous?
And here is the "funny" part:
Once your 300% is paid out, you must invest again in order to stay active in the game…
Compensation Plan
Compensation plans are to show a variety of ways how to make money.
But generally speaking, when it comes to MLM companies, this is usually quite a complex document and it is meant to be done that way.
Let me break the Troncase compensation plan down for you.
Troncase pays their referral commission using a uni-level compensation plan structure and it looks following:

If you are at Level 1, you get a 7%
Level 2 – 3%
Level 3 – 1.5
up to Level 11 and you get a 0.1% commission.
Additionally, you can earn some bonuses assuming you comply with the following conditions:
0.1% if you bring 50,000 affiliates
same bonus for every 20,000,000 (that is 20 Million) in referral commission paid
0.2% bonus for every 80 million TRX
Just a short note:
Do you know how long it must take to find 50,000 affiliates?
Let me tell you – A very long time.
By now we know that all affiliates are paid from new members. There is no other source of income. That means that once there are no more new members, the entire structure collapses.
And almost every "affiliate" will lose money.
Troncase operates since September 2020, and it still might be active for another 4 to 6 months.
What Else?
As we know the website is already a couple of months old, and one would expect to have a nice clean site without any errors.
It is a shame that they have not been able to fix it yet.

Also, I have sent them an email, with a specific question asking who runs the company.
The answer?
Here is it goes:
"Hi troncase was born as an idea that any person does not have a boss and
the founder is completely decentralized. All transactions are going on
through the Tron ​​network. It cannot be intervened by third parties,
there is only a support team in the process, you can check our contract
address here.
…"
Now, what is your opinion about that?
Please let me know in the comment section below.
To me, this is not sufficient.
What do I like about Troncase?

There is nothing I can like about Troncase
What I don't like about Troncase?
No Retail Products
No Proof of External Source of Income
It is not quite clear who runs the company (and if people who seem to be behind Troncase really run Troncase, then good luck to everyone since they have been promoting Ponzi Schemes already)
Is Troncase a Scam?
Yes, Troncase is a scam and it is recommended to stay away from it.
There is no information on their website about who runs the company and that by itself is a big red flag.
Troncase has no other income than the income coming from new "investors"…
Troncase can easily collapse at any time.
That is enough evidence to show that it does not make any sense to send them one dime.
Let me know please in the comment section below, what is your opinion about Troncase.
Your opinion might be different and I would love to know more about it.
Also in case you want to learn how to create additional income, please check the link below, or you can also use the comment section.
Thank you for reading,
Mike