You are doing some research about this new system called Social Rebel, right? 
Is it really possible to make $500 a day with this site? 
How does it really work and what needs to be done to make extra money? 
You have probably seen already some reviews and maybe watched some videos on YouTube where people claim how great this product is.
Well, let's find out the truth.  
In the following Social Rebel review, you are going to find out that this is not what it looks like and you should really think twice before signing up. 
Jump to:
Disclaimer
Please note, that I am not a member or an affiliate of Social Rebel. This review is based on research and information available online in the public domain.
Any recommendations and conclusions are only opinions and may not apply to all persons or situations.
Quick Overview
Name: Social Rebel
Website: www.socialrebel.co
Price to Join: $0 (It is for free, but do not sign up with your email! Read the full review to find out more).
Recommended: No! This system is useless. It is waste of time.
To generate consistent income online, it is necessary to gain some knowledge and then apply it. 
Social Rebel Review
Social Rebel is supposed to be a platform where you can make quick and easy money. 
You are promised to get $50 sign-up bonus. 
After that, you should share this platform with your friends and family members. For every member that joins through your link, you get $20. 
If they only click on your link, you get $2. 
Now, this alone doesn't make any sense. 
Where is the money coming from?
There are many red flags throughout the entire website including fake founders, fake payment proofs, and so on. 
Stay away from Social Rebel. 
This is a data harvesting scam that collects your personal data. 
In case you want to know how to make consistent income online, check the link below. 
It shows a method that has been proven over and over again. 
A lot of people want to make quick money, but there is no such thing as a system generating money on autopilot.
To makes sustainable income online, requires some knowledge, and skills…but it is actually not that difficult to learn. 
What Is Social Rebel?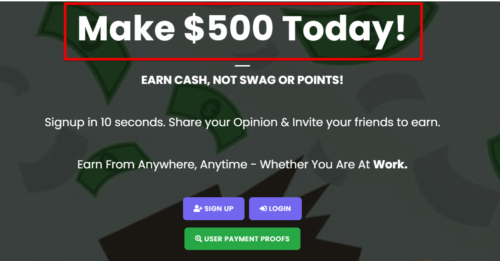 Social Rebel is a platform promising to make extra cash in a very short period of time. Basically, it is advertised as a great method how to earn passive income.
As it is seen from their homepage, they claim you can make $500 today. 
Without going too much into detail, I want to let you know that this is nonsense. 
Let me be clear though.
Generally speaking, it is possible to make $500 per day, but not with this platform called Social Rebel. 
How About SocialRebel.cc?
It was the same thing.
The same lies, the same scam.
They have changed a bit the website, but it is hardly noticeable.
They still claim that it was founded in 2018.
My question is what had these guys been doing for 3 years?
The registration date of SocialRebel.CC, is November 23, 2021.
Do you still find this platform trustworthy? 
To me, this is a major red flag and a single reason to leave the site and never come back.
The platform started with extension .co but for some reason, this domain expired so they moved all the information to the domain with extension cc.
But it was still the same, the same false promises, and pretty much the same red flags.
Again they changed it back to the co, and as of this update, the domain socialrebel.com is active.
Just let's take a look at the traffic that was flowing to these platforms.
This is a screenshot from Ahrefs, where the platform with CO extension was active at the end of 2021 and then again a year later.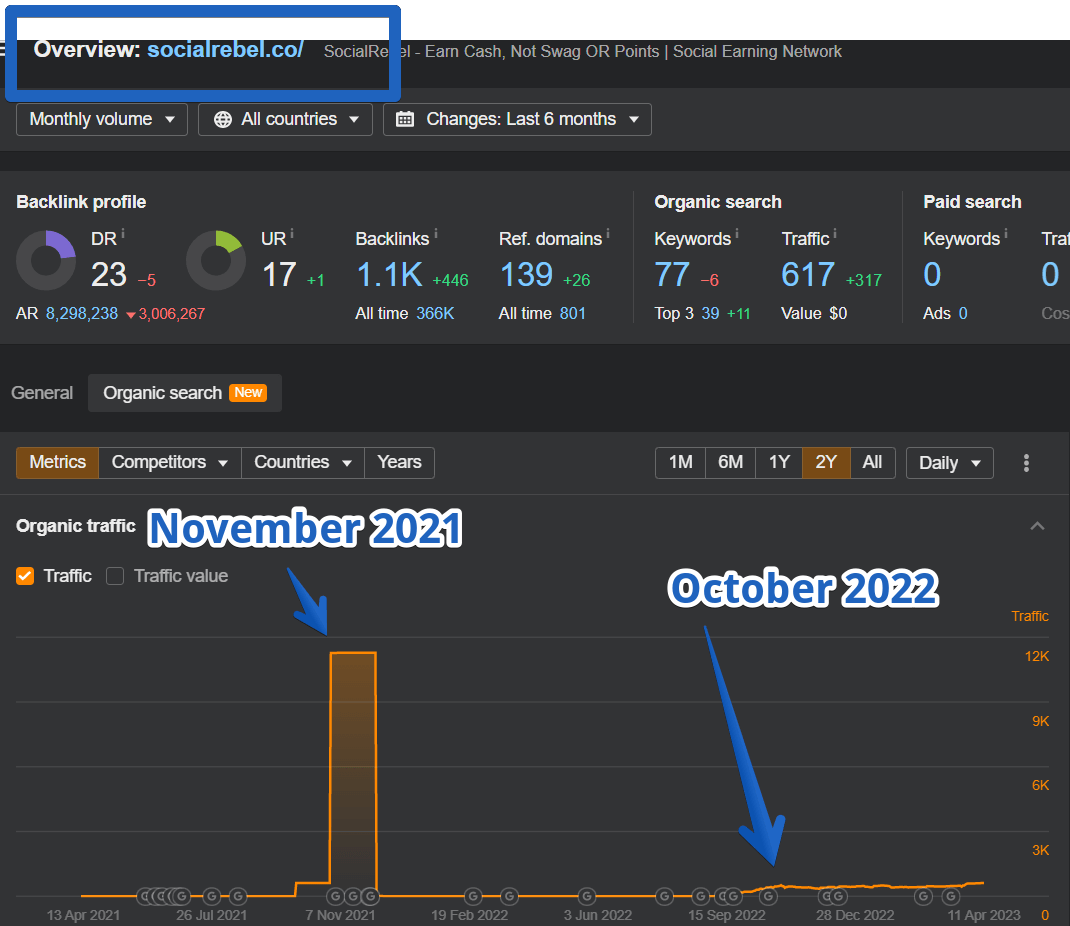 Between they used the platform with the extension CC: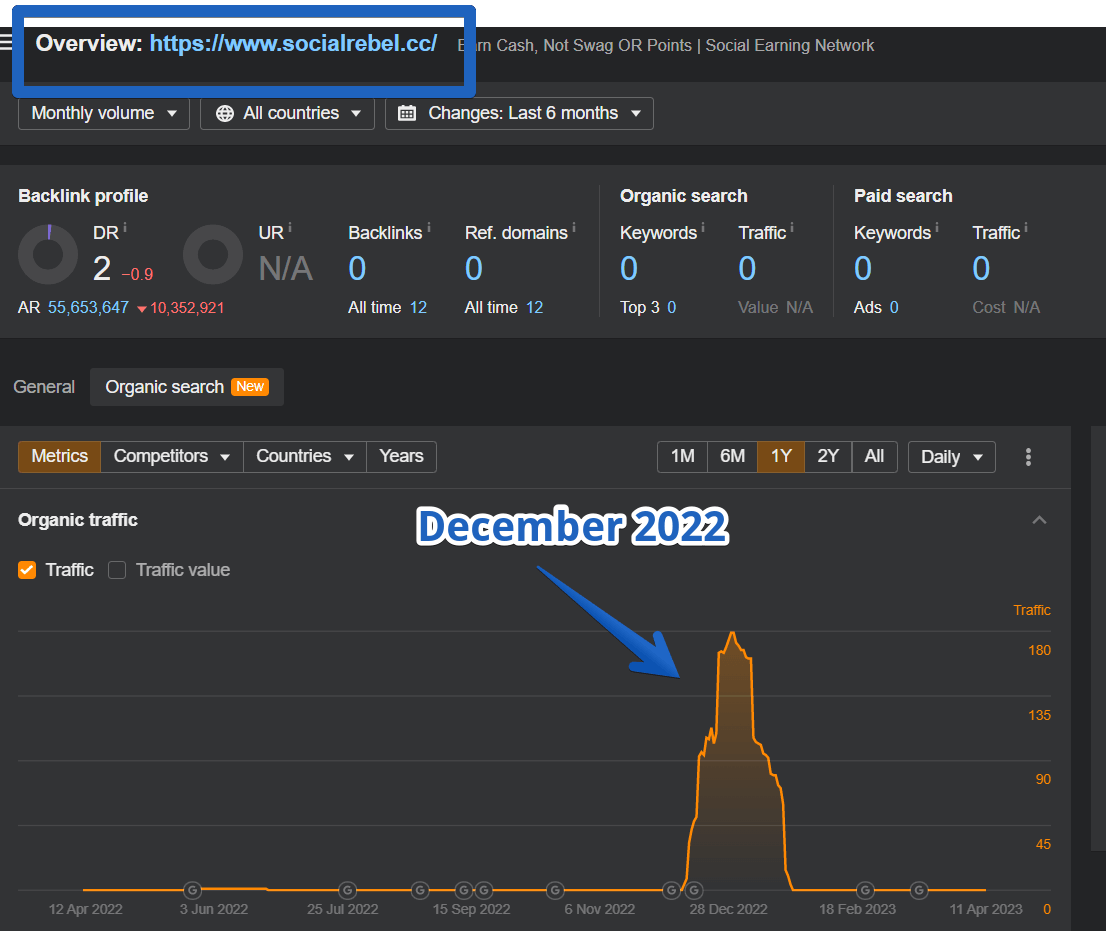 Is this a red flag?
Not necessarily, but it is strange.
Let's find out some facts about this platform. 
First of all, who is behind it? 
Who is the Founder of Social Rebel?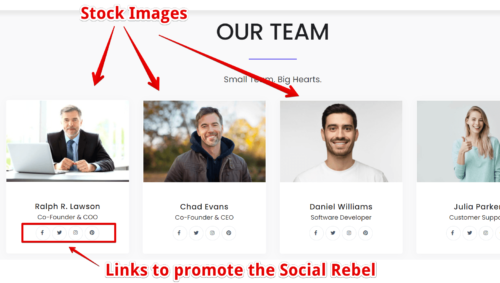 According to their website, there are these 4 people who created this system. The two co-founders are Ralph R. Lawson and Chad Evans.
Well, I couldn't find any information about these two guys. Short research shows that this is false information.
Fake Photos
First of all these names are made up and the photos are stock photos that are available for everyone. 
Just let's compare the first person (Ralph. R. Lowson) who is allegedly the co-founder and COO of this platform, and the person in the picture below: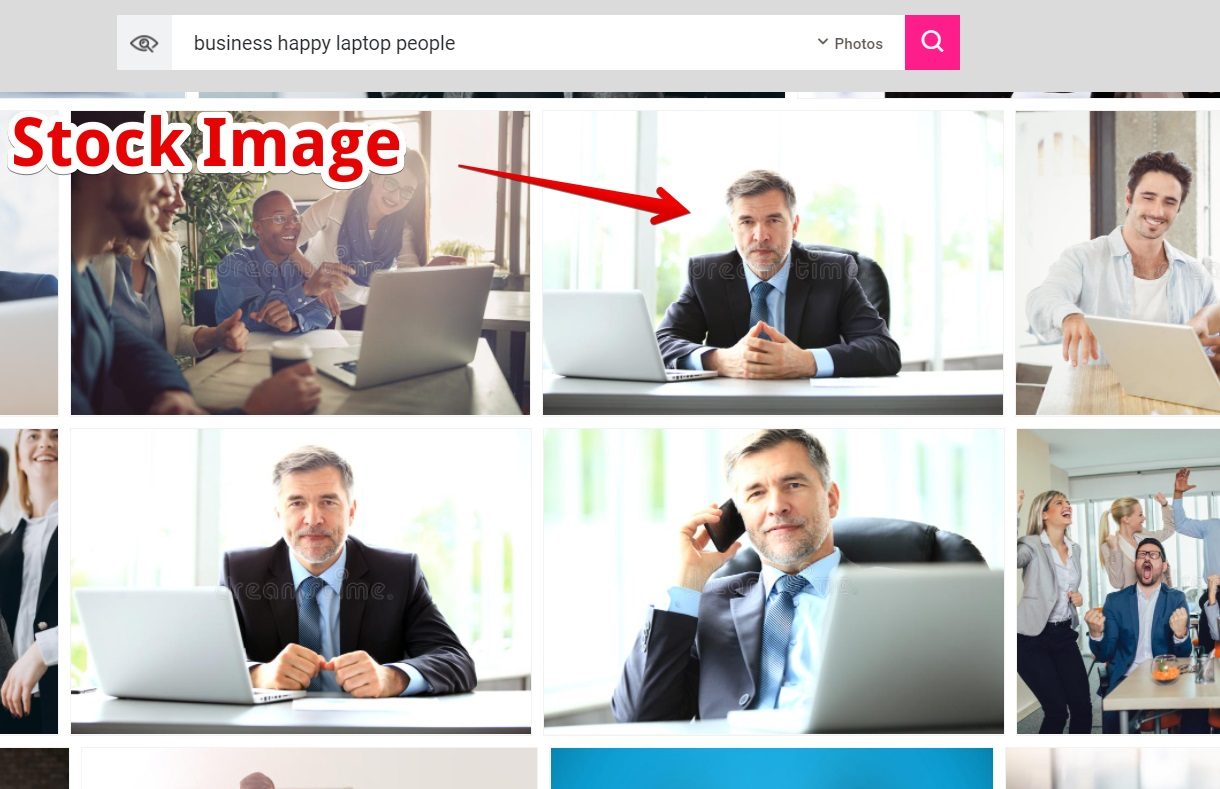 See, that's a stock photo. 
And all images are just stock photos, that can be purchased from websites like Shutterstock.
Note:
In 2022 (with the updated versions of socialrebel.com) they don't use these images anymore.
Social Media Links
And here is the second thing;
The links (or rather social media buttons) below their names are supposed to go to their personal social media accounts or business accounts. 
But they are not. 
When you click on them, they get you to the specific social media platform, with an attached link to the Social Rebel website. 
And here is another interesting fact: 
According to the "About Us" Section, this company started in January 2018. 
It expanded in 2019, and connected with other firms to "create a multinational team". 
Here is the truth:
The website was registered only a few months ago (as of this writing). To be specific in the middle of August 2021.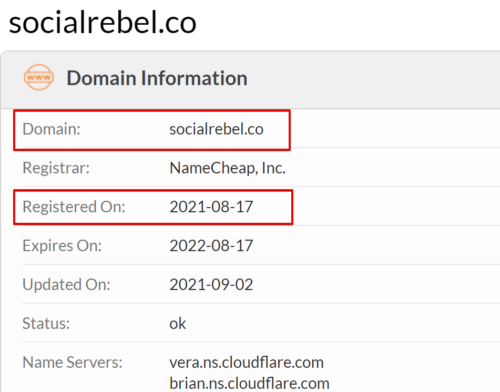 So they lie about their registration date, founders…
Note:
For some reason, they keep changing the extension.
First, it was socialrebel.co then they changed it to socialrebel.cc.
And as of today (January 2023), the socialrebel DOT co works again
But it is still the same thing. 
The original domain .co was shut down (at least didn't work for some time). There was a good reason for that. 
Who Is Social Rebel For?
By now, I hope you are convinced that Social Rebel is no good for anyone. 
In fact, if you can, share this review on your social media to let people know about this scammy system. 
Let me digress a bit. 
There are actually websites where you don't need any knowledge or experience and you can make some money. 
These are called survey sites, and some of them are legit. 
For example here is a list of three of them:
www.swagbucks.com
www.inboxdollars.com or
also www.surveyjunkie.com (it is not available in the EU – the site is not accessible).    
The drawback is that the earning potential is very small. 
It is possible to make about $5 to $10 a day by taking surveys, playing games, or clicking on ads. 
The thing is that in order to make a consistent income online it is necessary to offer some value to the market. 
These survey sites are only good for some pocket money. 
Let's go back to the Social Rebel. I am going to explain how it really works and we wrap this review up in a bit. 
How Does Social Rebel Work?
Based on the website, you might make money by doing simple tasks, like playing online games or visiting reward websites.
Apparently, there are only 3 simple steps and you are on your way to making hundreds of dollars per day. 
Create an account on the Social Rebel website and you get a $50 bonus
After signing up, you get a referral link that you should share with your friends, family, colleagues, and followers…
When they click on the link, they get $2, and for every sign up they get $20. 
You can instantly withdraw your money using one or more of these payment methods:
– PayPal,
– CashApp,
– Bitcoin, and more.
Well, that is nonsense. 
First of all this system doesn't have any resources to pay its "members".
In other words, no one gets paid!
Yes, after signing up, inside the Dashboard you see a little $50 icon right below your name. But that's just a graphic. 
Inside the dashboard, you have a menu and some instructions on how to start earning.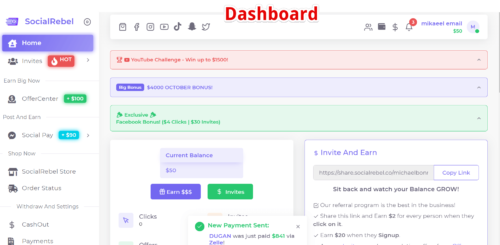 That's all B.S., and you won't get a dime. 
How Does Social Rebel Really Work?
This entire platform is basically clickbait to get your personal data. 
You are probably saying, it is not a big deal to give them an email address. 
But for many people, it is since they sign up with their best email. 
Then it is sold to 3-party companies. 
These emails are a target for spam, scams, phishing, or other illegal activities. 
And there are dozens of these websites or platforms and they all work the same:
You sign up and start doing the surveys, sharing links, and downloading apps. 
You see that the "earnings" rise up. 
Once you reach a certain amount you are ready to withdraw your money
And this is where the problems start. You will be told that you have used fake clicks, and therefore you won't get paid. 
On top of it, your account will be closed. 
You won't make any money with Social Rebel, you don't get the promised $500 gift card- these are all just false promises.
So again, please stay away from this platform. 
Social Rebel Red Flags
There are many red flags with this site, but let's mention a few of them. 
I believe you already have a picture of what is this all about. 
Or do you really think they are going to pay $50 to each person that signs up? 
Even though this website is only a couple of months old, it gets a lot of visitors already. Probably thousands per day. 
If only 100 sign up – they would need to pay $5,000 a day! 
Where does the money come from? 
Well, there is no money, whatsoever. 
1) Age of the System
We have covered this already and we know that the SocialRebel website was registered in August 2021.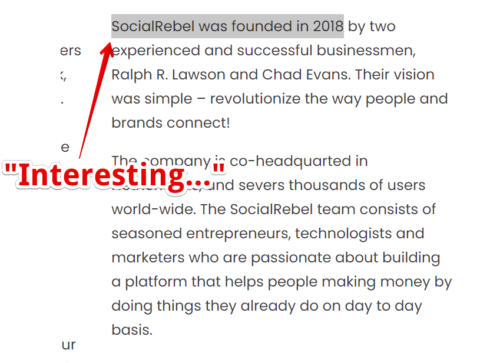 So even if the company was founded in 2018 as per the screenshot above, what had they been doing for more than 3 years? 
These days, it takes a few minutes to set up a website.
2) Fake Testimonials
I have not gone through all the testimonials. But I picked one and found out that the image is taken from Pinterest.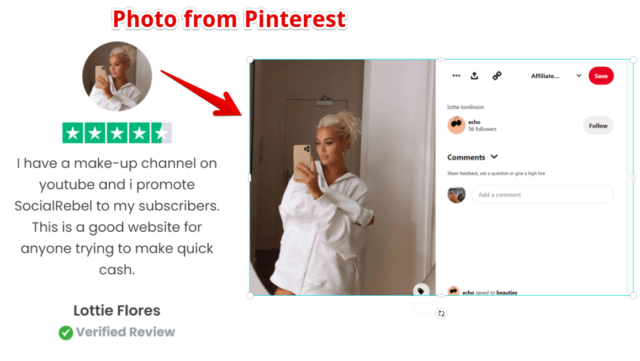 Or is it possible that the same lady with the Pinterest account actually made money with SocialRebel? 
She claims that she made a channel on youtube and promoted this platform. 
There is only one Youtube channel with the name Lottie Flores: 
This channel has 5 subscribers and it is a Kids Youtube Channel.
  It has nothing to do with Social Rebel.
3) Fake Payment Proofs
I am wondering why the real creators of this platform do such errors.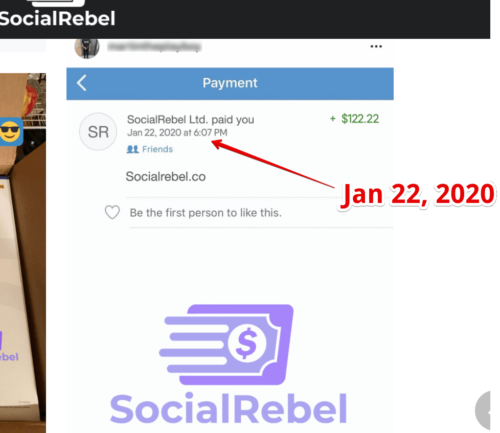 We all know that this website was registered in August 2021. 
So how come someone could receive $122.22 on January 22, 2020? 
You get my point, don't you? 
Obviously, the "payment" screenshot is fake.
4) Fake Founders
Apparently, there are these 4 guys who created the Social Rebel
Well, again, here is proof that none of these are real. 
This is another photo taken from Shutterstock.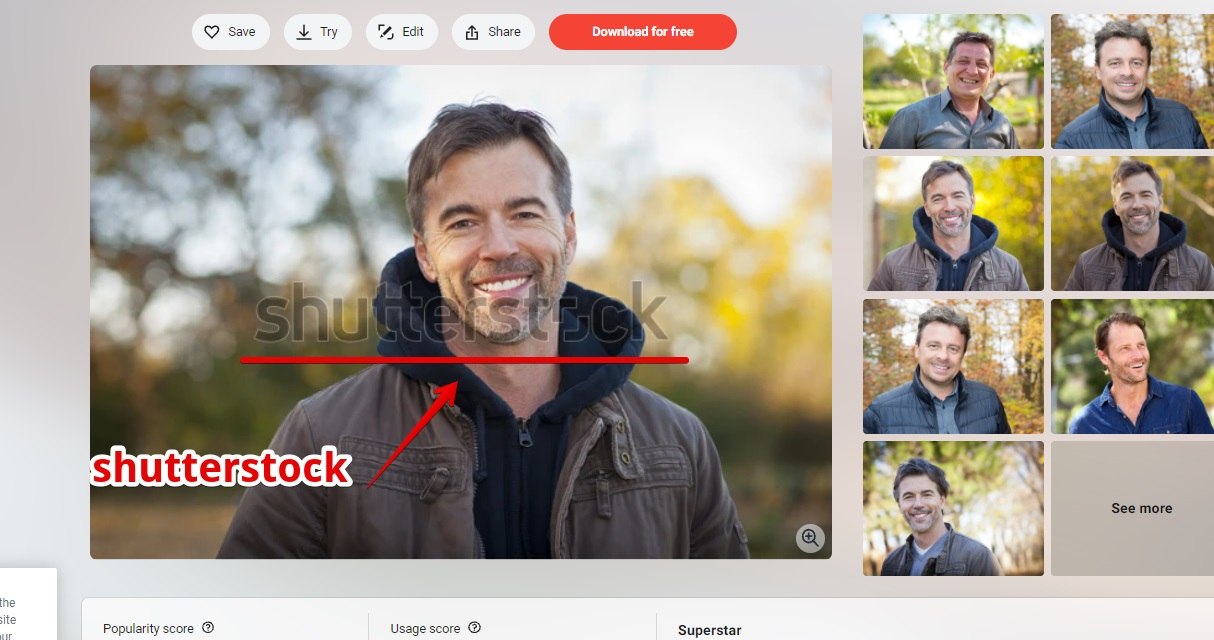 Why would anyone want to hide his or her real credentials? 
Because whoever is behind this platform, knows that it won't last long and this site will be shut down. 
This is just one of many scams that operate the same way. 
The real founders, can move on, create a new website, and scam more people. 
But once you check one or more reviews of these scams, you quickly learn the patterns, that all have in common.
So you will know what to check, and how to check it and you won't be scammed by these pathetic platforms. 
5) Impossible to Get in Touch (Lack of Support)
When it comes to making money on online platforms, one of the crucial things is that they have support or at least an email address. 
It took me a while until I found an email address on the Social Rebel website. 
In fact, the only place where they reveal the email address is in the Terms and Conditions. 
I wanted to make sure that the email address worked, so I went ahead and dropped them a few words. 
After about a day I got this "feedback":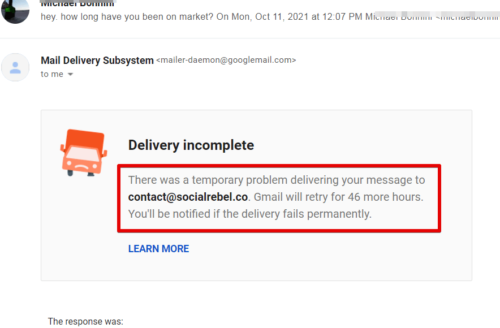 Delivery incomplete. 
And finally, after a few days, I get the final "feedback" saying: "Message not delivered"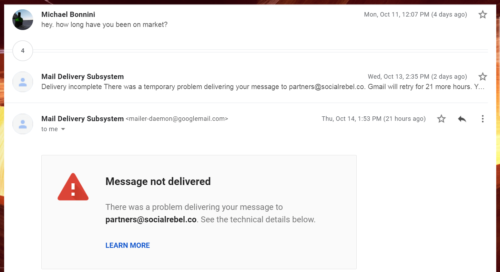 The email address doesn't exist. 
So how one can get in touch with these people when he or she needs help? 
Just another proof that they don't care about their visitors (members) and it is all scams. 
What Is The Social Rebel App?
It is just a cash app that installs Social Rebel software on your mobile phone. But make no mistake, it is just a data harvesting scam as described in this article. 
Here are a few screenshots of comments that people left on producthunt.com:
Other Social Rebel Reviews
It is interesting that the Social Rebel has a lot of positive reviews on Trustpilot. These are all biased and the majority of them are written by users that left only 1 or 2 reviews.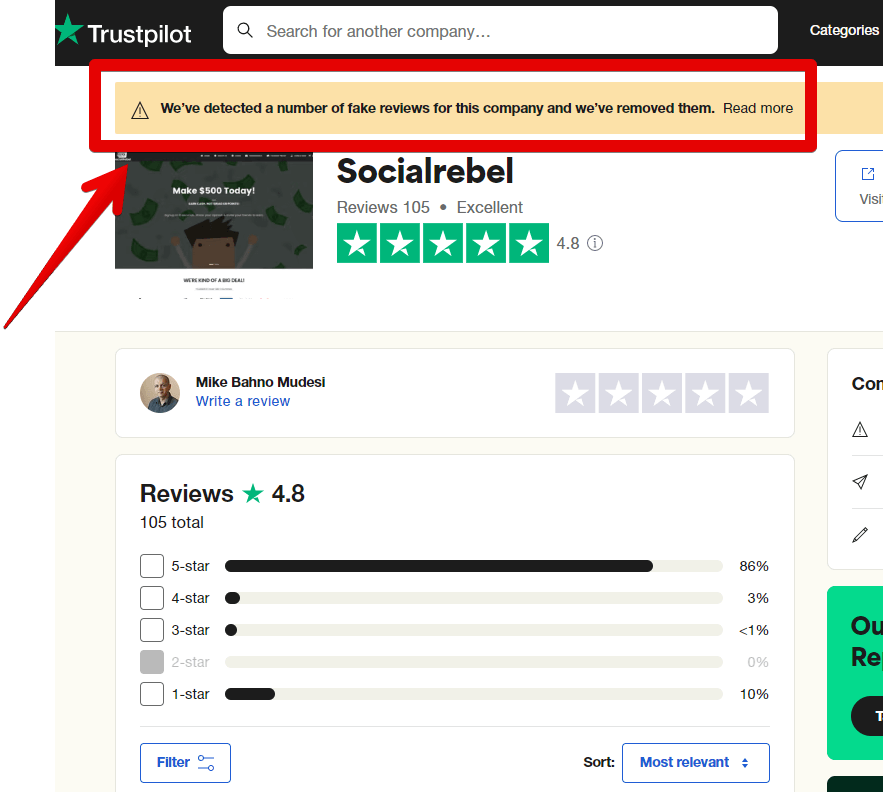 And it even says at the top of the page:
"We've detected a number of fake reviews for this company and we've removed them."
A lot of these reviews are not from real users.
How To Really Make Money Online? 
By now you know that there is no way that you can get paid from Social Rebel. There are many misleading products online that want your data, money, or both. 
It is not easy to find a legitimate platform teaching how to make consistent income, in the long term. 
Let me share with you a video where it is explained how to set up an online business in 4 steps. 
Please realize that it needs some time and effort, but this is an evergreen formula that has been proven over and over again. 
If you join me inside the platform I will guide you through the training and might show you also some tips.
What Do I Like About Social Rebel?

What I Don't Like About Social Rebel?
It is a data-harvesting scam 
Social Rebel does NOT pay 
Just one of many scams out there
Is Social Rebel A Scam? 
We have proven that they lie about the history of the company. 
They lie bout the founders and they use fake testimonials. 
Also, the payment proofs only prove that the screenshots are made up. Fake.
Do you still believe that it is possible to make real cash with Social Rebel? 
Of course not (at least I hope so 🙂 )
It is safe to say, that Social Rebel is a scam. 
Even though you won't lose money (at least not at the beginning of the process), the chances that your email will be sold on a black market are pretty high. 
Then there is a risk that your inbox will be hit with lots of spammy links, and who knows what else. 
Do not sign up for the Social Rebel. 
But if you really want to get inside the dashboard, create some fake email just for this purpose. 
Make sure to use a different password, from what you usually use. 
Hopefully, you find this review valuable.
If you have questions or concerns, please let me know in the comment section below. 
I will be more than happy to help you. 
Thank you for reading,
Mike.
Do You Want To Learn How To Make Money Online?
First of all please realize that there is no such thing as a push-button system that generates money on autopilot.
Choose a specific business model.
The simplest one is Affiliate Marketing where you sell other's people products. You connect potential buyers and vendors.
Just choose a specific topic and learn how to create a simple website where you inform your readers about the product or service.
Learn the basic SEO and how to drive free traffic to your website. These skills are priceless.
Once you master that, the sky is the limit, when it comes to earning potential
Check the link below to learn more about a specific platform teaching these skills (and beyond).  
Related Resources