I was checking the popularity of products on the Clickbank site again and in the TOP 5, there is this opportunity to "Get Paid For Your Opinions! Real Survey Jobs – Updated For 2019!".
The product is called Gold Opinions. At first sight, it looks like a legitimate way how to make some money. The website goldopinions.com has been around for some time, actually, it was created in May 2015.
Therefore I have decided to do the Gold Opinions Review, and see whether it may help you to make some money.
Name: Gold Opinions
Website: www.goldopinions.com
Price: Advertised Price $1 for 7 days as a trial, then $27
Owners: Not Known
Gold Opinions Review – Product Overview
With the Gold Opinions, it is said, that you will get paid for sharing your opinions.
Basically, you would take companies' surveys about products and/or services, and in return, you are rewarded. The idea is that companies would like to have an honest opinion about their products in order to improve them. And that is why they issue such surveys.
Gold Opinion is like a liaison between a person filling up the survey and the actual company. And they claim to be connected with many high-paying corporations.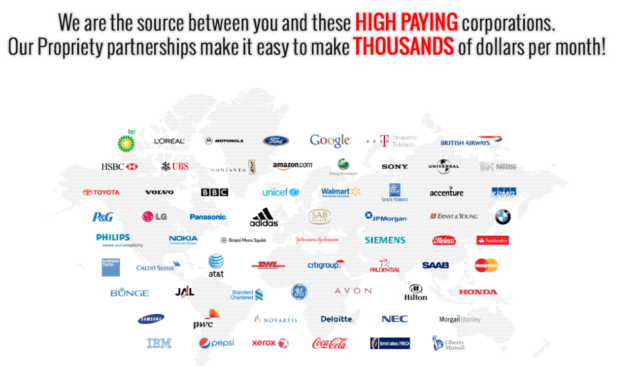 Such a statement is unrealistic in my opinion.
You can become a member by joining them (meaning paying for the membership) and waiting for confirmation.
The process of joining is done in 3 steps.
Select Membership
Enter Information
Get Paid for your Opinions
With the membership, you -supposedly- get access to many products and databases.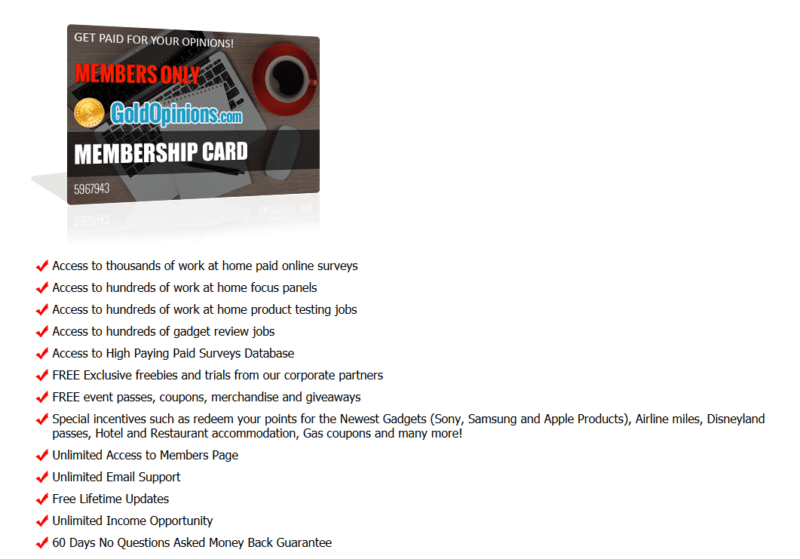 What I find really misleading is the chance for a "Promo for a very limited time only". That is the 7-day trial of Premium Membership for just $1.
Here is the screenshot of what I have in mind.
And here is the screenshot from the other day.
If they are not honest in one thing, they can easily make such a false statement about pretty much anything.
The Good & the Bad

Money-Back Guarantee
Trial for $1 (7 days)
n/a
Fake Scarcity
Income claims are not realistic
The unknown person behind the product
Fake Testimonials
Who is it For?
Anybody, even a complete beginner can start to work from his/her home. That is of course general statement valid for many online platforms.
And in this case, for taking the surveys you really do not have any experience. It is not affiliate marketing, where you need to have a website, build content and get traffic.
This can be done really by anyone. I agree.
But is it really that lucrative as shown at the Gold Opinion sales site? I don't think you can make $500-$5,000 every month as promised.
More likely you can make a few bucks here and there but that does not give you the income as promised.
Gold Opinions Tools & Training
There is not a real platform once you join Gold Opinions. Once you pay, you will be provided with a bunch of links where you need to sign up in order to fill out the surveys. After taking the surveys you will be paid – by the actual company.
So what would be the point of joining the Gold Opinions?
I see only 1 advantage – they can save you a little bit of time, so you do not have to search for the list of companies by yourself. Other than that I do not see any value in Gold Opinions.
Support
It looks like they have 3 different kinds of support, which is a good sign.
Whether you lost your password or account, you can fill out the form with your name email, and subject and describe what is the issue.
There is another link if you want to cancel the membership. And you can do it directly via Clickbank as they recommend.
What I don't understand is the page for Refunds. In my opinion, that can be done via the email address mentioned in 2nd option (please see above)
Gold Opinions Price Structure
As I mentioned, you have the option to join the trial for $1. This offer lasts 7 days. After that you are charged $27.
Have you seen the screenshot in the previous paragraph? It is said that the "$1 trial is a special offer and can only be canceled and not refunded"
If I understand it correctly, once you join you lose the 1$, which is no big deal, but still it is good to know about that.
My Final Opinion of Gold Opinions
I think there is no need to purchase this product.
There is no platform, no training where you can learn something.
This entire product is just a link between those taking surveys of the companies. So it is without value.
You can easily google the term "paid surveys," and you will have a bunch of options to join.
It reminds me of these companies who claim that they can help you to win a U.S. Green Card. The thing is that the application is for free and the entire process takes no more than 30 minutes. You can also download the instructions with step by step guide. You probably know about that.
And I am sure you also know, that there are many companies who claim that they will help you with the application. The price is from $50 to $150.
This very same principle applies to Gold Opinions.
Why would I pay some 3rd part, when I can do it for free?
Alternative That Actually Works
If you are looking for ways how to make money online I have something you might be interested in. It is not about surveys, but about building an online business.
You will build your own website where you will be adding your own content (in case you have a budget, you can hire a content writer)
You will learn how to drive traffic to your website.
People visiting the site will find your content valuable and helpful
You will learn how to monetize this site, so your visitors will be happy that you help them and in exchange for that service you will be rewarded
I admit it is not as easy as I just described above. If you would like to find more, please follow this link where I break down the concept of monetizing your website and thus building your sustainable business online.
Gold Opinions at a Glance…
Name: Gold Opinions
Website: www.goldopinions.com
Price: Advertised Price $1 for 7 days as a trial, then $27
Owners: not known
Overall Rank:

VERDICT:
The idea of having such a secondary income by taking surveys is not bad. Although I do not see the reason, why anybody would join the Gold Opinions. You can search for these surveys on your own and save your money.
I have ranked the product Red. To me, there is no value in it. If you have a different opinion, please let me know in the comment section below.
I would like to hear from you.
Cheers,
Mike