The name itself sounds pretty tempting, doesn't it? I mean, who wouldn't want some free cash?
Freecash.com is a website that claims so.
But is it legit?
This is a GPT (Get-Paid-To) platform, where you can supposedly make money.
But here's the thing, it's not always as good as it sounds.
So, let's dive into this Freecash review and find out what it's really about.
We'll see if it's legit and figure out how much you can actually make using the Freecash app.
Note:
You can think of this review as a helpful guide that you can use when assessing different platforms that promise to help you make money online.
If you come across a platform or website that you want to learn more about, you have a couple of options:
– You can use the search button on my website to see if I've already reviewed it, or
– You can leave a comment, and I'll do my best to provide feedback within 24 hours.
Disclaimer
Please note, that I am not a member or an affiliate of Freecash.
This review is based on research and information available online in the public domain.
Any recommendations and conclusions are only opinions and may not apply to all persons or situation.
Jump to:
Freecash Summary
Freecash.com (formerly known as Freeskins.com) is a website where you can earn money, cryptocurrencies, and free skins by completing various online micro-tasks.
According to reports, the average user can earn $10 or more per day without spending any money.
While there are some negative reviews, it is important to note that Freecash is a legitimate platform, and users do receive their payments.
Additionally, the platform offers multiple payment options, giving users flexibility in receiving their earnings.
However, it's worth mentioning that earning potential can vary depending on the country you are in, and in some countries, it may require patience to accumulate earnings.
What is FreeCash?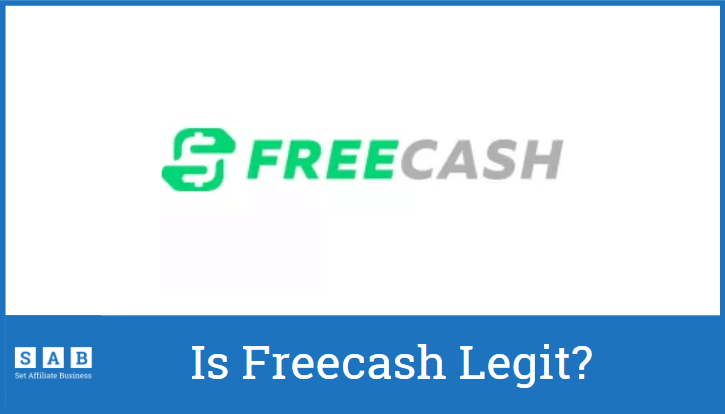 You may have heard about GPT sites, where GPT stands for Get-Paid-To, and Freecash is exactly that kind of site.
Freecash, previously known as Freeskins.com, is a platform that connects you to various offers where you can earn rewards.
You can earn points by:
completing simple tasks such as watching videos,
taking online surveys, or
trying out apps
These points can then be redeemed for gift cards, virtual currency, or game items. It's a convenient way to earn rewards online.
It's worth noting that on Freecash, sharing personal information may be required to earn rewards.
Therefore not everyone may feel comfortable with the idea of sharing personal information when participating in online earning platforms.
If you have concerns about sharing your personal data, it is completely understandable.
However, for those who don't mind sharing their information, it can be a suitable way to make a few bucks each day.
The earning potential varies, and we can discuss that further in a moment.
Free Cash Website information
Analyzing the website traffic of a specific platform is like visiting a new city and deciding on a restaurant. You'd prefer a busy restaurant with satisfied customers, rather than an empty and abandoned one.
Similarly, checking website traffic helps gauge the product's quality.
Additionally, I often consider the age of the website (domain registration date) to make more informed decisions.
In my years of experience with various digital platforms, such as GPT sites, affiliate marketing courses, and MLM companies, I have learned that checking the platform's traffic is quite an important step.
As I mentioned earlier, this is just one of the many factors that can assist you in determining whether you are dealing with an online scam or a legitimate platform.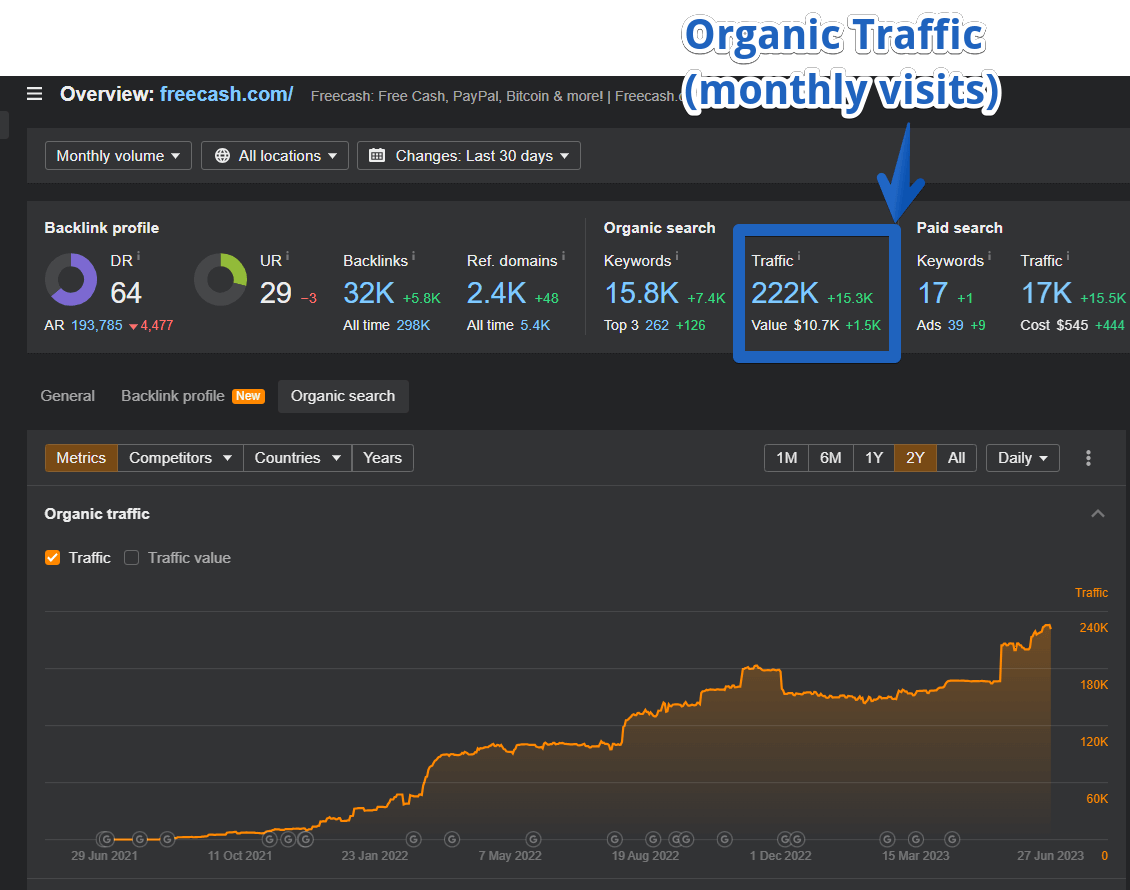 When we take a look at the traffic that the Freecash website receives, it's clear that a lot of people find it attractive, and its popularity continues to grow.
If we examine the organic traffic by country, we'll see that the majority of visitors come from the USA, making up almost half of the total.
Based on the available data and the absence of any reported issues so far, it is safe to conclude that Freecash appears to be a legitimate platform.
Now, here's an important thing to keep in mind: the earning potential of Freecash varies depending on where you live (or where you are located while using the Freecash app).
This is because the availability of actual surveys and offers differs from region to region. Some regions may have more offers available, while others might have a more limited selection.
This variation directly affects how much you can earn, depending on where you're located.
Freecash Website Registration Date
When determining the credibility of a platform, it's a good idea to double-check their claims about how long they've been around.
You can do this by looking up their actual registration date using a website like Whois.com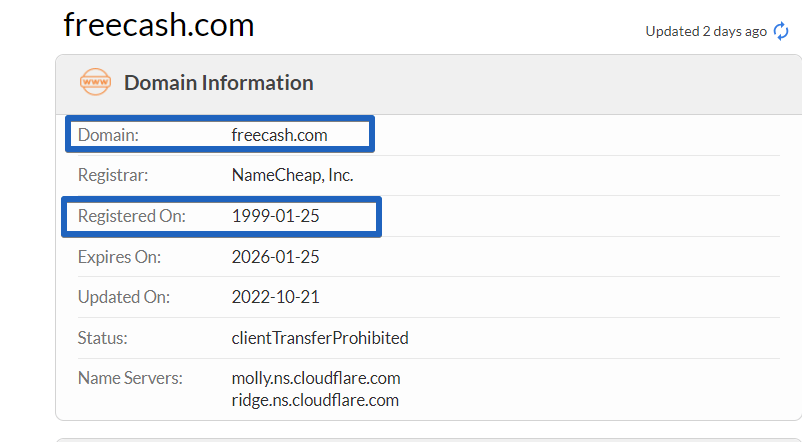 I personally haven't come across any issues when checking the registration date of Freecash.com and the information on their website.
It's worth mentioning that some websites may boast about being around for much longer than they actually have (Like was the case with CloutZap).
By using Whois.com, you can uncover the real registration date and ensure the information is accurate.
How to sign up for FreeCash and what to expect?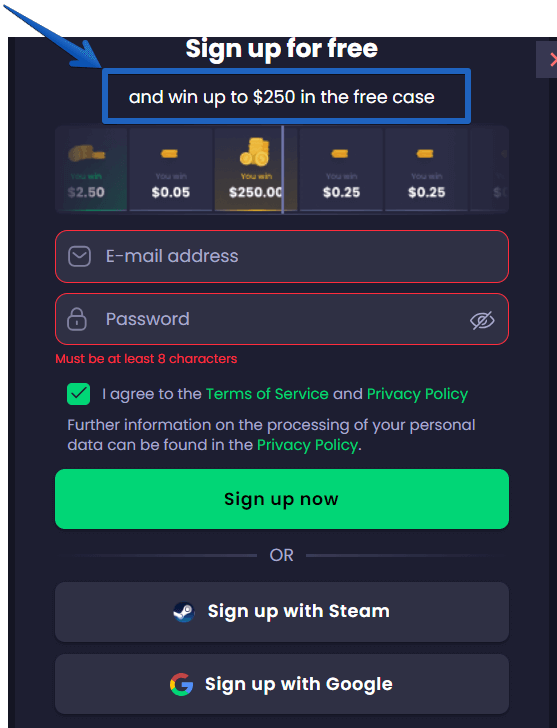 Signing up for Freecash is a breeze.
You have the option to sign up using your Google account or your existing Steam account, which is an online gaming platform.
Once you've signed up, there is a quick walkthrough that guides you on how to start earning money with the Freecash app.
As a welcome gesture, they reward you with 10 coins upon completing the walkthrough. It's important to note that 10 coins equate to $0.01.
However, it's crucial to be aware of the following warning:
Avoid using a VPN while signing up and going through the offers. Using a VPN is futile because the system can detect it, and you may receive a message similar to this:

Please ensure you refrain from using a VPN to maintain a smooth experience with the Freecash platform.
Freecash $250 Sign-up Bonus
As you may have noticed in the screenshot above, there is a chance to win $250.
Theoretically, it is possible, but the chances are not very high.
In fact, it's more likely that you will win around 25 cents.
Personally, I won $0.05.
The platform prefers it when someone signs up using a referral link like the one below. So try your luck and let me know how much you won 🙂 :
The button contains an affiliate link, so when someone signs up using that link and completes an offer I earn a small percentage.
And that segways us to the next section regarding the Freecash earning potential.
How to make money with FreeCash?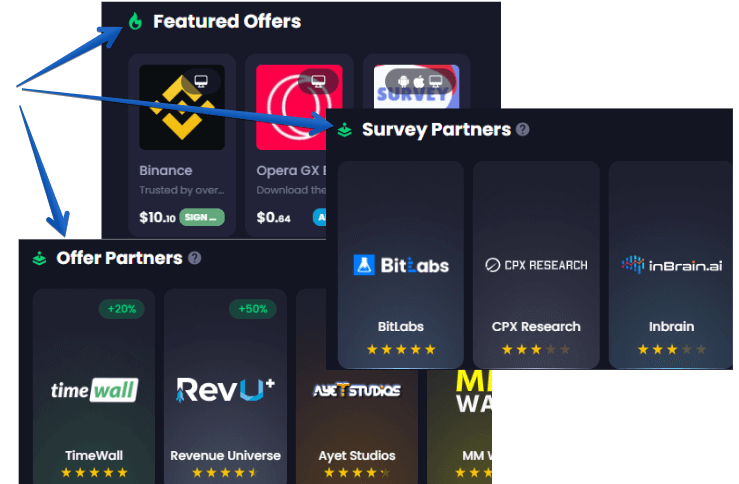 There are several ways how to make money with Freecash.
Featured Offers
Offer Partners (these contain hundreds of tasks to complete to earn coins)
And Survey Partners (these connect you to hundreds of surveys that pay you per complete)
Some survey providers might want you to use FreeCash a bit before you can do all the surveys.
To level up, just do the surveys you can; try complete offers, and invite friends.
Additional ways are basically one-time earnings methods for example:
Here are offers and at the top bar you have a chance to win some "quick cash".
Win up to $250
Jackpot event (not available in all countries)
by downloading the app you can earn 150 coins

In my opinion, it is better to start with these quick offers, to earn some points, and then you can go to offers.
Please note that these offers at the top bar might not be the same for you.
The menu differs based on the location.
I tried my luck and wanted to win the $250 sign-up bonus.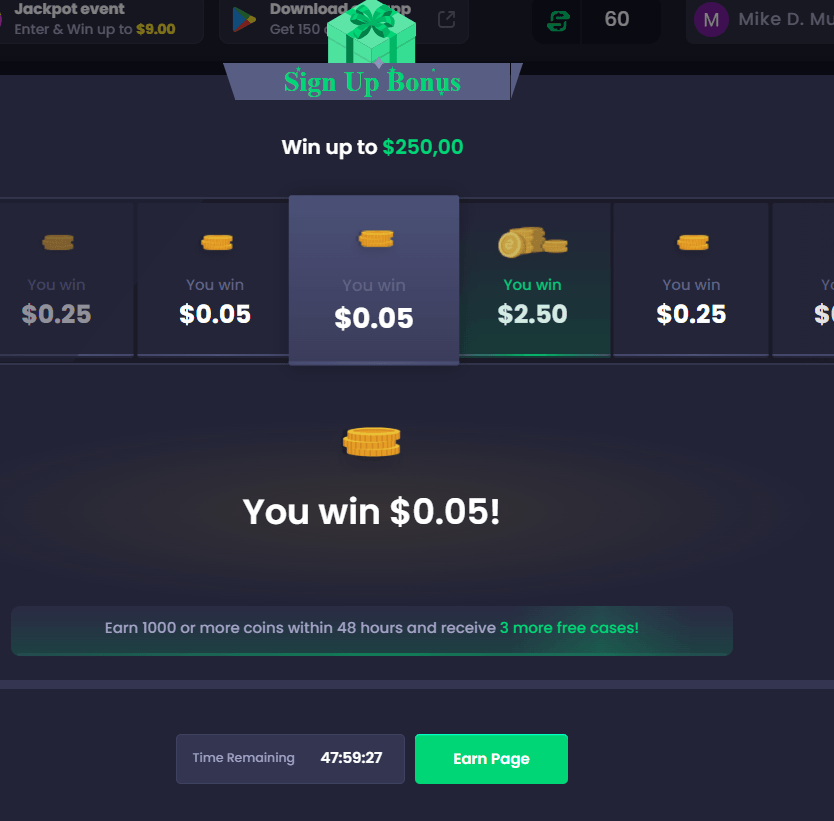 and won $0.05.
It is suggested to make 1,000+ coins within 48 hours and you will receive 3 more "free cases".
Then you can try the Jackpot. That requires some points to enter, and since I have some budget already I did try my luck here as well.
Well, more on the earning potential in the section below.
Let's break down a bit the ways to make money with this app.
Featured Offers
Please note that you can choose whether you want to play on
You can even filter that out for your convenience.
In the featured offers section, there are various ways to start earning.
You can choose to:
complete surveys,
Play mobile games (or on desktop/laptop/tablet as well)
watch videos,
or download and install apps or software.
Each offer comes with a description, provider information, category, and the corresponding reward amount. It's all quite transparent, making it easy to see how much you can earn from each opportunity.
Let's play a bit
Here are my personal notes on my experience trying different ways to make money with Freecash.
I encountered multiple redirects to third-party sites, which made the process feel a bit unmanageable. Additionally, some surveys took longer to load than expected, causing delays.
I attempted a survey that was supposed to take about 20 minutes and had several questions. Unfortunately, I didn't qualify as a good fit for that particular survey.
I realized that it's not Freecash's fault entirely. They act as a middleman, and earning even a few cents can require some patience.
As for the Games;
In one case, I found that some games required additional purchases or extra items to progress.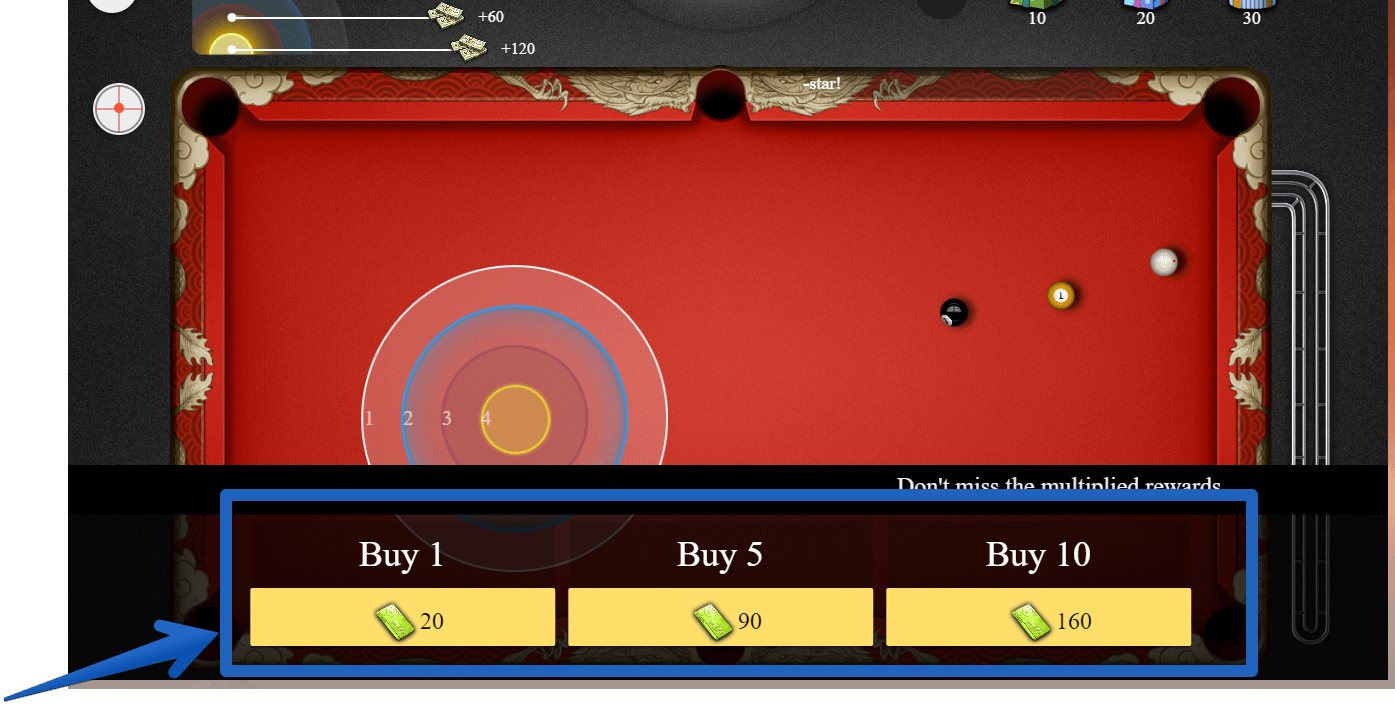 I did try another game;
After going through a couple of websites, I finally reached a tutorial for a game that I believe is frequently advertised on YouTube (worldofwarships.eu):
I should download the game and I didn't feel like it.
In summary, my experience with Freecash involved some challenges, such as survey redirects and qualifying for certain surveys.
It's worth noting that the availability of playing games and surveys may vary depending on your region.
Binance
It seemed tempting, but after being redirected multiple times, I was asked to provide my ID:

which made me feel uncomfortable.
Survey Partners
Their paid surveys function similarly to featured offers but with a focus on surveys instead of offers.
To begin, you must complete profile questions that help tailor the surveys to your preferences.
After answering these questions, you'll be presented with available surveys, each indicating the estimated completion time and corresponding reward.
Offer Partners
I personally don't find this very attractive.
The main reason is that there are too many go-betweens, websites, and apps I have to go through before reaching the one where I can potentially earn a few cents.
Refer Your Friends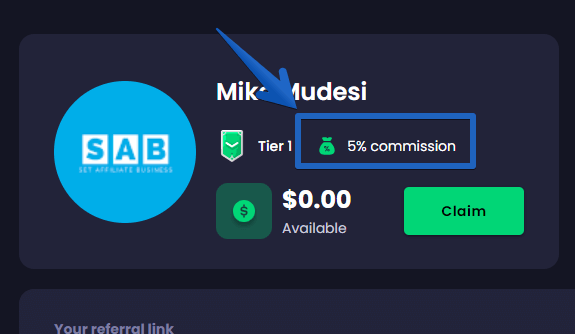 The platform offers the opportunity to earn up to a 30% commission. It is called a referral program.
But as a beginner, you can earn through this affiliate program 5%.
And that's not a bad thing.
Joining through a referral link actually, provides an advantage, offering additional points during sign-up.
By using the provided link, you can explore the platform, discover available offers in your country/region, and start earning some pocket money.
Freecash and VPN
Some of the offers might not be available in your region.
Let me remind you that using a VPN to access different offers is not allowed on Freecash.
Violating this rule by using a VPN can result in being blocked from the platform and not receiving any payments.
The reason behind this restriction is that surveys and offers are provided by third-party companies that conduct market research in specific regions.
These companies are not willing to pay for surveys completed outside their designated operating regions.
Getting Free Paypal Money
PayPal is great for buying stuff and sending money.
There are these articles out there promising free PayPal cash, but most of them are not trustworthy.

I have found a guide explaining how to get free PayPal money using a referral code.
They have a helpful blog that explains everything in detail. It's a simple and reliable method.
How much you can make with Free Cash?
The earning potential varies depending on several factors, including the number of surveys you qualify for and the country/region you live in.
It is also theoretically possible to win up to $250, as mentioned above.
Let's consider my region as an example, which has limited offers available.
According to one user, it is possible to make around $115 in 23 days, which is not bad for pocket money.
However, this is not the norm, and further research indicates that in the low-earning region, monthly earnings range from $12 to $115.
Here is a summary table, noting that the Low Earning Zone represents the Slovak Republic, while the Higher Earning Zone includes countries like Germany, the USA, and the UK.
| Low Earning Zone | Higher Earning Zone |
| --- | --- |
| $13.3 | $59 |
| $19.2 | $9 |
| $35 | $36 |
| $116 | $291 |
| $89 | $173 |
| $12.5 | $213 |
| $13 | $42 |
| $18 | $59 |
The average earnings from the Low Earning Zone are $39.5
Whereas the average earnings from the Higher Earning Zone are approximately $110.
It's far from the point of making 4-figures per month, right?
FreeCash Referral Program
At FreeCash, they have also a referral program that works in tiers.
When you bring in new users, you'll earn a 5% commission on what they make from offers and surveys. On top of that, your friends will get a free case and a chance to win up to $250 when they sign up.
| Tier | Commission | Total Affiliate Earnings | Affiliate Earnings in Last 30 Days |
| --- | --- | --- | --- |
| 1 | 5% | – | – |
| 2 | 6% | $10.00 | – |
| 3 | 7% | $25.00 | – |
| 4 | 8% | $50.00 | – |
| 5 | 9% | $100.00 | – |
| 6 | 10% | $500.00 | – |
| 7 | 15% | $2,500.00 | $300.00 |
| 8 | 20% | $10,000.00 | $1,200.00 |
| 9 | 25% | $50,000.00 | $6,000.00 |
| 10 | 30% | $100,000.00 | $12,000.00 |
As you refer more users and reach higher tiers, your commission percentage and total affiliate earnings increase.

How to withdraw your earnings from Freecash com?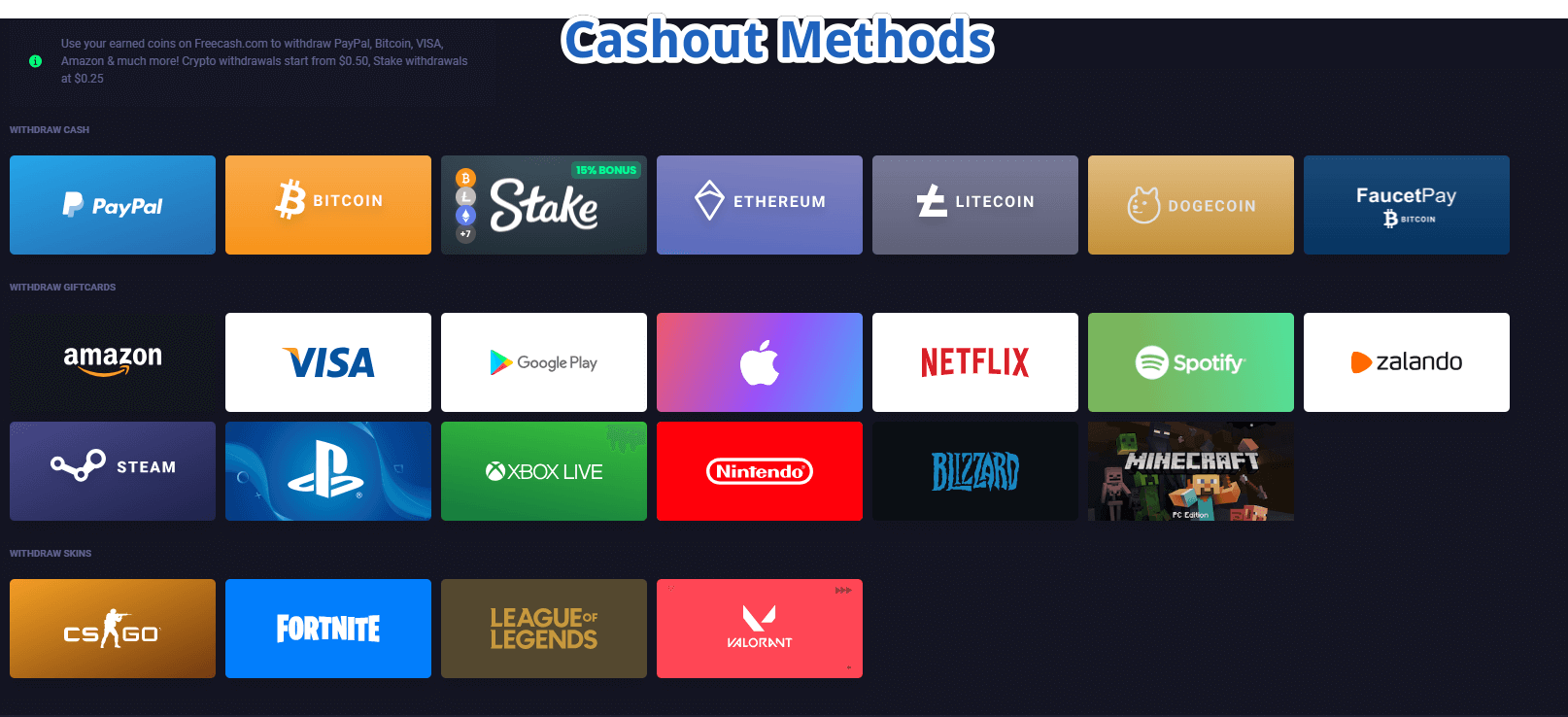 There are plenty of methods of how to cash out your earnings.
Some withdrawal options to mention:
PayPal (there is a 5% withdrawal fee for Paypal transactions)
Visa
Cs:Go (wide variety of Country Strikes Skins)
Amazon code
and many others
Crypto withdrawals start from $0.50, Stake withdrawals at $0.25
Withdrawals from Freecash are usually processed quite quickly, taking around 5-10 minutes in most cases.
When withdrawing through PayPal, it may take a bit longer, usually within 24 hours.
Verified users can enjoy instant coin transfers, receiving up to 50,000 coins per day.
It's important to note that PayPal withdrawals require manual processing by the Freecash team, which is why they take a bit more time.
But overall, the withdrawal process is smooth and efficient.
Can you do this for a living?
It's not a bad idea to earn some extra pocket money while having fun at the same time. However, if you're looking for a reliable source of income on a daily basis, there are better options available.
When considering earning potential, there are more effective ways to generate passive income. The main challenge lies in the learning curve and time investment required to reach a point of passive income generation.
To clarify, if you opt for affiliate marketing and aim to attract organic traffic to your content, you must acquire and refine certain skills, as well as maintain patience and consistency.
The outcome?
Once your website gains traction, the earning potential can range from $2,000 to $10,000 per month, depending on your chosen niche and the quality of your website's structure.
Ultimately, you need to ask yourself:
Do you prefer quick money right now, or are you seeking a more sustainable and lucrative opportunity in the long run?
FreeCash.com Reviews
When I'm deciding whether to join a platform, I like to check websites like Trustpilot, Sitejabber, and even Reddit to see what others have to say.
It's important to remember that we all have our biases, but reading these opinions can give us a broader understanding.
While it's necessary to take reviews with a grain of salt at times, they can still be helpful. In the case of Freecash, I've noticed that most of the reviews are quite positive and align with my own findings.
Here's a screenshot of a review that appears to be genuine:
I have gone through many of the reviews on Trustpilot so let me sum them up:
Freecash Positive Reviews

The app's customer support efficiently resolves issues in a timely manner, including account bans.
The platform offers tailored and rewarding offers, with a good return on investment.
Some users experienced frustrations with delayed payments and a lack of communication on pending offers.
Freecash is praised for its transparency, active engagement, and responsive customer support.
While the site pays, some users encountered issues with mismatched surveys and broken offer links.
Of course, no system is perfect so it would make sense to show you some of the negative ones as well;
Freecash Negative Reviews
Some users experienced payment difficulties and encountered account bans.
Rewards were not awarded or declined without explanation in certain cases.
Users expressed frustration over VPN-related bans before withdrawing earnings.
Glitches and lengthy waiting times for pending offers were reported.
Mixed experiences were observed, with successful survey completion but disappointment in delayed or missing payments.
Sometimes the ratings we see can be biased, so we can't always trust them completely.
But, based on my experience with online companies and their reviews on Trustpilot, I've noticed that when a company takes the time to leave feedback, it's usually a good sign.
It shows that they care about what other people think.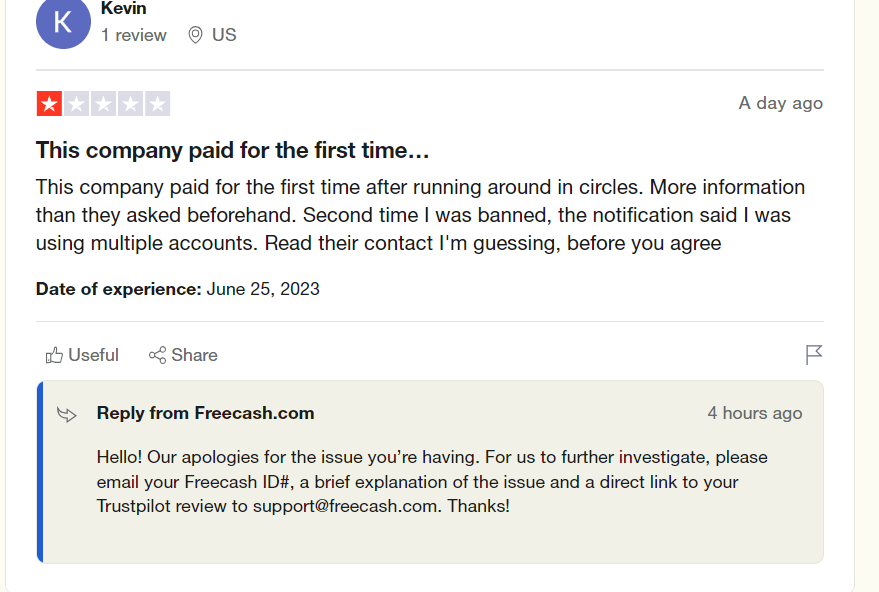 So while overall ratings might not tell the whole story, seeing companies actively engaging with reviews is a positive sign.
Freecash reviews on SiteJabber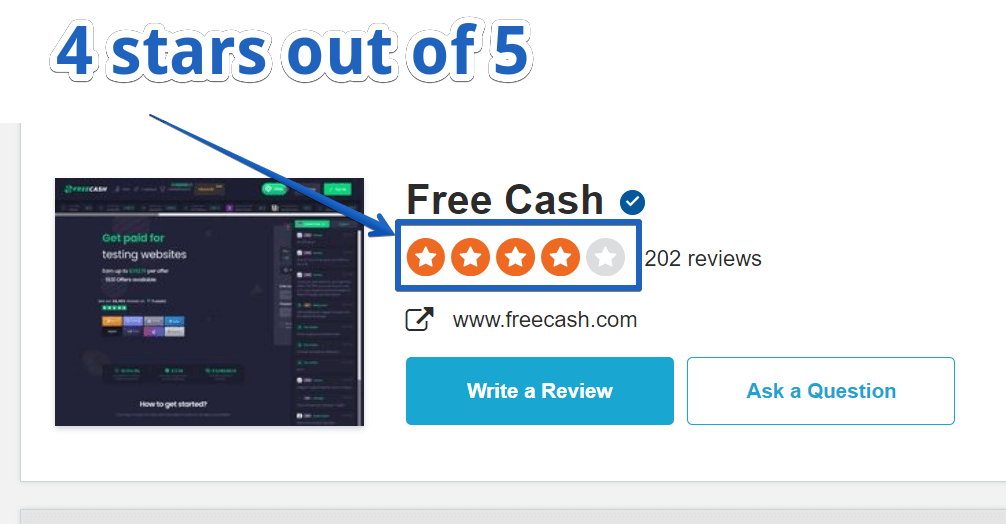 Even on Sitejabber, the rating is mostly positive. More than 76% of reviewers gave 5 or 4 stars.
Here is the breakdown:
5-star: 66.83% (135 out of 202 reviews)
4-star: 10.40% (21 out of 202 reviews)
3-star: 3.47% (7 out of 202 reviews)
2-star: 2.97% (6 out of 202 reviews)
1-star: 16.34% (33 out of 202 reviews)
Freecash Red Flags
There aren't many red flags when it comes to Freecash. It's a legitimate system where people can earn some pocket money. If you're comfortable sharing your personal information, you can make a few bucks a day.
However, there are a few issues that I find concerning:
Limited availability of surveys, which could be due to your region.
Low affiliate commission of only 5%.
Some surveys require patience as you navigate through third-party websites and ads.
Apart from these concerns, I'm pleased to say that Freecash is a trustworthy platform with reasonable earning potential.
Unlike many other reward sites, which often fall short in terms of reliability and rewards, Freecash stands out as a superior option.
Are you willing to put in more effort?
There are numerous ways to make money online, and survey sites are just one of them. However, it's important to note that the easier the method, the lower the potential earnings.
For those of you who are willing to put in more effort beyond just taking surveys, there is an alternative that can provide a significant stream of income.
It's called affiliate marketing.
By learning and applying the right skills, it's possible to generate four-figure monthly earnings in the long run.
The only drawback is that it requires time and effort, typically around 10 to 14 months. However, building a passive income through affiliate marketing is akin to establishing your own online real estate—a well-established website that can bring in consistent earnings.
So, if you're willing to invest the necessary effort and time, affiliate marketing offers a higher earning potential compared to simpler methods like surveys.
Conclusion
Freecash is a legitimate Get-Paid-To (GPT) site that offers a range of engaging features, making it an ideal platform to earn extra cash during your spare time.
It offers various ways for anyone to earn extra money by completing paid offers and surveys. The platform provides enticing rewards, and it's possible to make around $100 a month as pocket money.
It's important to note, though, that the availability of offers may vary based on your region or country.
While Freecash is an excellent option for earning some extra rewards, it may not be a reliable long-term income stream.
It's more suitable for those seeking additional income on the side rather than a consistent source of substantial earnings. Nonetheless, if you're looking for a way to earn some extra money effortlessly, Freecash is definitely worth considering.
If you have any questions about the Freecash app, feel free to ask in the comment section below.
Additionally, if you're interested in exploring more sustainable streams of income, I can provide assistance.
Thank you for taking the time to read this.
Mike.
FAQs
Is Freecash com safe and legit?
Yes, Freecash.com is a legitimate platform that offers numerous tasks and surveys for earning extra cash online. Users receive timely payments with multiple cashout options to choose from, so it is also safe.
Is Freecash app real or fake?
The Freecash app is 100% legitimate, (almost) free of fees, and has a proven track record with several years of history. The organic traffic received by the website further confirms its authenticity.
How much do you make from Freecash?
The earnings from Freecash can vary from country to country.
On average, people tend to make around $10 per day.
You'll need to reach a minimum payout of $5, but they do pay real money.
How much is 1 coin in Freecash?
The exchange rate is 1,000 coins for $1.
How long do Freecash withdrawals take?
The withdrawal time from Freecash varies depending on the payout option you choose.
If you opt for cryptocurrencies like Bitcoin, Ethereum, or Litecoin, most payments are sent within 5-10 minutes, ensuring a speedy transaction.
However, for PayPal withdrawals and gift cards, there is a minimum requirement of earning at least 5,000 coins, which is equivalent to $5.
The processing time for PayPal withdrawals may take longer, typically within 24 hours, before the funds are reflected in your account.