Recently I have been checking the TOP 5 products as featured on the ClickBank site.
The last two, I was reviewing, were not that good, and really have no idea why they got into the TOP 5. Besides John Crestani's product and ClickBank University which brings value to the customer, there is one particular product, which is not cheap, but from what I have checked it is legit.
This platform is called the Membership Method by Chris Luck. That is right; Chris Luck is the owner or founder of this high ticket program.
Disclaimer:
Please note, that the following post might contain affiliate links.
That means if you click on them and purchase the product, I will receive an affiliate commission at no extra cost to you.
This review is based on research and information available online in the public domain. Any recommendations and conclusions are only opinions and may not apply to all persons or situations.
Name: Membership Method
Website: membershipmethod.com
Price: Advertised Price $1,497
Owners: Chris Luck
Membership Method Review
The founder of this platform is Chris Luck. He says that he has designed a business to produce predictable passive income. Unlike in most of the ClickBank products, Chris is a real person and he has been an online entrepreneur since 1999.
He offers a high-ticket product called Membership Method.  It is expensive training, but it certainly has value.
Has remodeled the idea of Lynda Weinman – founder of Lynda.com.
Lynda was an online training website, that taught its member's computer skills. These members paid monthly or a yearly subscription.
It is actually a great idea; with only a few hundred subscribers, your monthly income can reach 4 digits, easily.
He also refers to Netflix as an example. I think it is a good example to explain, what the membership site is all about, although I have my doubts about the earning potential, especially for a beginner. In his introduction video he uses the following table: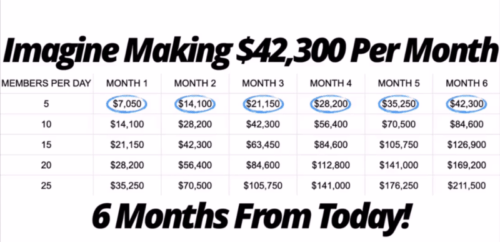 Theoretically, this could work. But you must realize that Chris has been working as an online entrepreneur for 20 years. He knows how to get 5 members each day. For a newbie with no experience, it may be difficult.
What is good though, is He offers you a bonus (as described below) where you get the first 100 paying members in the first 30 days. The fee for each member is recommended to be $47.
How many of these members will stay also for the 2nd month later, is another question. You will have to make an effort to keep them paying.
The Good & the Bad

Real Training Platform, with step by step system and assignments after each chapter
Available support from Chris and other members
Bonuses
Price $1,497
Requires constant effort in order to keep subscribers (but any online business requires effort)
Expected additional costs, such as website hosting, outsourcing, paid to advertise
Who is it For?
If you are starting a new online business from scratch and still struggling – then this is for you. Or you already have a business and would like to add a new stream of predictable passive income.
That is what Chris says. Basically, anyone can join the training (again if you have the budget).
In my opinion, someone who already has some experience with digital marketing can easily follow this 6 weeks course. On the other hand, a newbie can feel a bit overwhelmed, although with little extra effort it is doable as well.
Besides the support from Chris, there is also a section with support and a forum inside the Membership Method training platform.
Chris also points out that if someone is looking for a get-rich-quick plan, this training is not for this kind of person. It is also not for some who can't follow directions and as already mentioned who are unable to invest money into building a business.
Membership Method Tools & Training
We are going to look inside the platform. Right at the beginning, you have a dashboard. From the dashboard you have access to different sections:
Masterclass – This is the 6 week Step by step training/video tutorials
Bonuses – List of Bonuses that you can find below (under the Membership Method Price Structure)
Mastermind – Here you can ask a question, get help from Chris and other members as well
Workshops – Live webinar, hosted 1st Wednesday every month
Partnership – You can refer this product to your friends, or visitors and get a commission
Support – In case you have questions about your account, or program, simply contact the founders
Let's break down the main section where the main training is: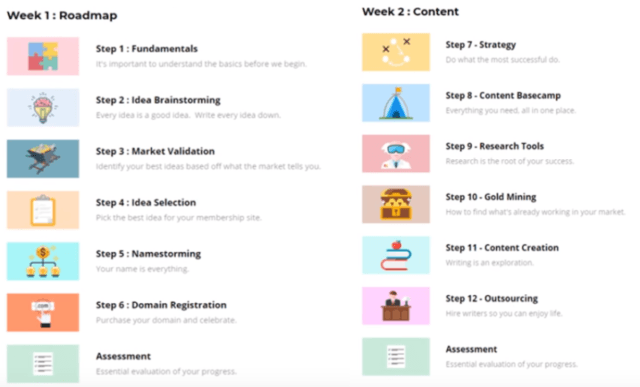 Support
I would say there are 2 kinds of support, within the platform.
You can access the Mastermind section where you have a bunch of topics. Members raising questions there are getting answers, and opinions. There is also a search bar, so before you ask your question, double-check if there is already some information related to your question.
Go Directly to the Support section where you can write an email directly regarding the program or account.
Membership Method Price Structure
Chris claims that the product is worth almost $30,000 and he is giving it to you with a $1,500 discount which means you would end up paying $1,497 US.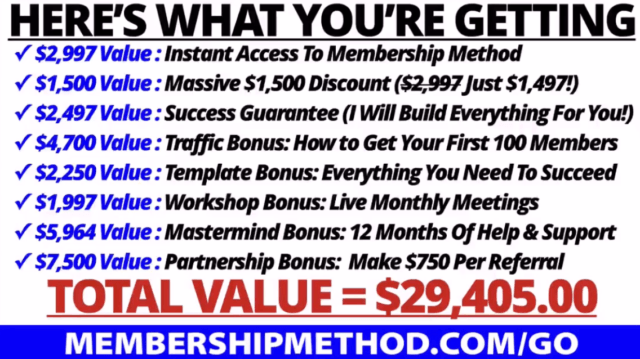 I guess this is just a marketing trick to show you such a large amount. It makes you think what a great deal, right.
Well nevertheless, for that price you also get bonuses:
Traffic Bonus: You get your first 100 paying members for your membership site for free in your first 30 days
Template Bonus: You get Chris's membership site template that has everything you need to succeed (all pages are already built up for you)
 Workshop Bonus: You get access to Chris Live Monthly Workshops, where he will answer questions regarding your membership site (so you won't be left alone)
Master Mind Bonus: Here you get help, feedback, and support from Chris and other membership site builders, like you (you should not worry about being alone, lost, or left behind)
Partnership Bonus: You can become a business partner with Chris and you may get paid $750 for anyone you refer to the Membership Method (you will get an affiliate link)
Just a quick note, the final price varies depending on your location. And it is related to Tax. For US residents the total price is $1,497. If you are in Europe though, the price including VAT might get over 1,700€.
My Final Opinion of the Membership Method
It looks like a great idea to have a membership site. With this product, you also get the first 100 members, which should bring you an income. I have not tried that so I cannot tell whether that works as described.
The downside is the price. I mean, I do think that Chris did his best to create such a platform and it certainly cost him time and energy. As a result, he can provide you with the "road map to success" as he calls it. But if you have no budget
Also, he offers you a return only if you prove to him that you could not make a membership site. Which can be quite subjective.
But imagine a person who subscribes and decides to pay for a membership on some cool website. He is happy with the content. But what happens if the content is not updated, or there is no more value for this customer.
He just cancels the membership and moves on. My point is that in order to maintain such a membership site, you have to provide your members with new content with updated information or some cool stuff.
Membership Method at a Glance…
Name: Membership Method
Website: membershipmethod.com
Price: Advertised Price $1,497
Owners: Chris Luck
Overall Rank:

VERDICT:
I probably should have ranked the Membership Method by higher ranking, but the cost for this product is too high.
So if you have the budget, by all means, you can invest in it. Otherwise, I would look for cheaper solutions. And by cheaper, I do not mean worse.
I am sure, that if you are willing to put an effort into building a business online, you can easily start to sea earning money online within a year; with proper training and support, probably within 6-8 months.
To me, the golden middle way is Wealthy Affiliate.
I also pointed out some pros and cons of WA, including the Starter Membership, which is for free.
If you have any sort of question or you would like to share your opinion, you can do so in the comments section below.
Thank you for reading,
Mike