Borrowify is a new software launched on WarriorPlus in July 2021.
As the name of the product suggests, you can "borrow" content from other pages and make it your own.
How does it work?
How much does it cost?
Is it even a legal way how to make money online?
In this short Borrowify Review, we are going to go answer these questions and beyond.
In about 4 minutes, it will be clear, whether to invest in this product or not.
Disclaimer
Please note, that I am not a member or an affiliate of Borrowify. This review is based on research and information available online in the public domain.
Any recommendations and conclusions are only opinions and may not apply to all persons or situations.
Quick Overview
Name: Borrowify
Website: Their website has been changed (now it is available on www.rickngz.com/borrowify-live)
Price to Join: $14 + Upsells
Recommended: No
Borrowify Review – Quick Summary
Borrowify is a product that claims to allow you to clone any large website, edit the content, and make it your own. Essentially, it's a WordPress plugin that includes training and support.
The main issue with this "strategy" is that it's not legal. Furthermore, websites created using Borrowify will likely not rank well on Google or other search engines.
Making money online involves more than just cloning other websites. It's crucial to select an appropriate niche, create a website, and learn how to drive free traffic.
It's not too difficult to accomplish this, and it's possible to start generating consistent income within 10 months.
For more information about the method I use, please refer to the link below:
What Is Borrowify?
Borrowify is a digital product launched at the beginning of July 2021.
It is supposed to turn "uninterested visitors into motivated buyers", and it doesn't take any effort.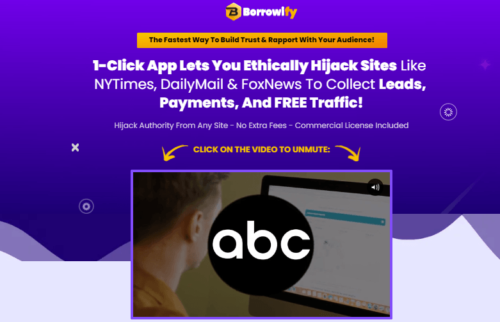 You probably realize that to have a sustainable business online, you need to build trust.
Well apparently, with Borrowify you don't have to spend any time building trust.
You simply clone well-known authority sites, use that content on your domain, and people "automatically" land on your site and make purchases.
We are about to find out how this works and what is the full price of this product.
Founder of Borrowify
The person behind Borrowify is Rick Nguyen.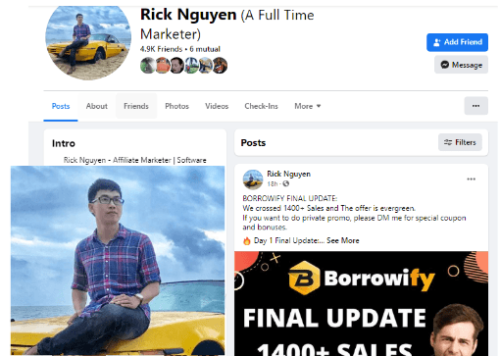 He is an internet marketer, to be more specific he sells digital products on a regular basis.
This is a screenshot of his WarriorPlus profile and the products he created.
Only in 2021, he launched 5 products that are pretty low-quality products offering the same service as Borrowify does.
With that being said, Rick keeps coming up with the same product over and over again.
Why would he do that?
To attract new customers.
This is quite common along with the WarriorPluse products.
To me, when one product works and delivers quality, I would be proud of it and people would gladly promote it in the long run.
So I don't have to rehash the original one again and again.
Who Is Borrowify For?
If you are new to internet marketing, or affiliate marketing, I know that Borrowify might look like an easy and quick solution on how to make money online.
Just want to warn you that the "tactic" these guys show is very shady and I don't recommend using them.
I mean, using other's people content is illegal, even if they claim otherwise.
So again, if you are a newbie and you want to use their method, please don't do that.
It is not legal.
In case you have already heard something about affiliate marketing you realize that this method won't work.
With that being said, I don't recommend using Borrowify to anyone.
How Does Borrowify Work?
Borrowify is a WordPress plugin that allows cloning any website, so your new website will look exactly the same as the original one.
According to the sales page, there are 4 following steps:
Enter the URL of a site you want to edit (allegedly you can use sites, like CNN, ABC, and Forbes)
You get a link to the cloned version of that site (URL) you have entered in the 1. step
You are now able to edit this site and change whatever you want
Use a Borrowify "one-click Content Syndication". This allows you to post the content on the Social Media
Basically, you can use other websites' content on your domain, and make it look like an authority page.
Then, since it is "your" website you can edit the content, add images, offers, affiliate links, and so on.
What Is Inside of Borrowify?
This is how it looks inside the product.
As already mentioned this is the plugin within WordPress.

Underneath the Borrowify plugin, you find some options like, for example:
Create Campaign
Campaign List
Obviously, you can create your own campaign or choose from the existing one.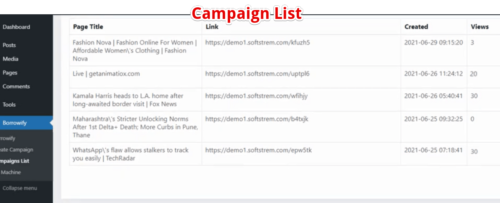 In other words, you can just copy another website and make it your own.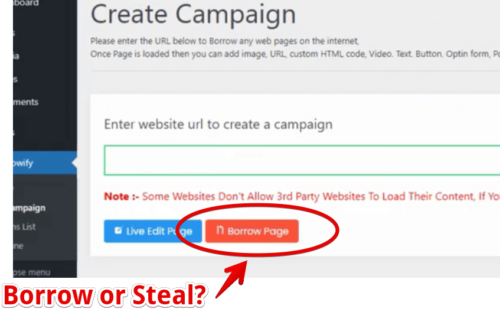 After the "cloning," your site will look exactly the same as the original one.
The million-dollar question is:
How to get traffic to your website?
Obviously, your (new) website has no authority because it is new and there is not enough content.
Therefore it won't rank in search engines and the only way how you can get people to this site is to share it on social media.
But how many followers do you have?
These are important questions one should ask since if there is no traffic there are no sales.
How to get the traffic, the right way?
Here are more details about one particular educational platform (called Wealthy Affiliate) that has been around for more than 2 decades.
They teach what really works and you can take advantage of a free Starter Membership.
There are 10 lessons you can take completely for free.
Then you will know how to build a real authority site.
Back to the review.
Another issue with Borrowify is that the content is not yours.
It is not even Plagiarism, it is stealing.
Google is getting smarter and smarter and in 2021 Google punishes websites with duplicate content.
How Much Does Borrowify Cost?
You may have watched the sales video where they claim that this is a very valuable product. They could charge $97 per month for this product, but they don't.
So the front-end price is $14.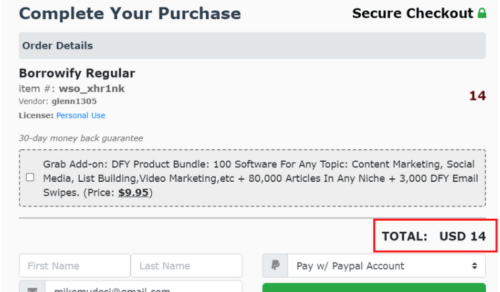 Like always with these WarriorPluse products, you can get a discount of a few bucks.
So instead of $14, you can pay only $12.
That sounds like a great deal!
And here is what you will get:
Clone Any Website
Add clickable image
Add videos
Add Google Map
Live-Editor Campaign
Now there are several upsells, and let's go over them just shortly.
Borrowify Pro
With the first OTO (One-Time-Offer) you get unlimited campaigns and unlimited websites to be cloned.
Also, you get:
Add Popup option Form
Add popup Images and Videos
The price is $32.
Borrowify Advanced
This allows you to clone any site and replace any keyword with your affiliate link.
So you basically, steal content from a specific authority page and put the content on your website with your affiliate links.
The price is $37
Now, how ethical do you think this is?
Please go to the comment section and let me know how you like this "strategy"
Borrowify DFY Toolkit
Another stuff you get that supposedly will help you to get more sales.
Just to mention a few (according to their JV page):
20 Premium software bundles
800 Premium graphics
200 Premium customizable logos and video collection
The price is $37
Borrowify Club
With the 4th upsell you get 4 Best-selling products and weekly software.
The cost is $32
Borrowify Reseller
With the last upsell you can resell the Borrowify and keep 100% profit, using their sale pages and their marketing modules.
It would cost you an additional $67.
Why would anyone pay for a product that allows stealing content?
Some Thoughts Before We Wrap Up
I believe this is not the first Borrowify review you are reading.
The thing is that there are many websites that just promote this product without showing you the Cons.
The only reason why there are these biased reviews is the fact that they promote the product, to get a commission.
I believe we both agree that every product has some cons.
Well, this is a screenshot from such a biased review:

Apparently, there are no Cons.
This is suspicious.
(The screenshot is from a different website and I wanted to show you what such a biased review might look like).
So be careful when reading these reviews, and make sure to check at least 2 or 3 websites.
Most of them do promote some product, (just like I do), but the thing that I feel confident about is the educational platform I recommend.
The best part is that everyone can test it out for free – there are the first 10 lessons that you can take and only then decide whether to pay for the membership or not.
Check the link at the very bottom of this page to find out more.
What I Like About Borrowify

30-Day Money-Back Guarantee (But be careful since it might be difficult to get money back)
What I Don't Like About Borrowify
It is illegal to steal content from other pages
Too many upsells with no value at all
The website created within Borrowify won't rank in search engines (Google, Bing/Yahoo, and others)
Is Borrowify a Scam?
Borrowify is not an outright scam, even though I understand that someone would call it a scam.
However, the way they show how to create your websites is illegal.
Imagine renting a movie on DVD (backing 1990s). Make a copy of that movie (burn it on your DVD) and start selling it to other people.
What is this?
A Fraud.
It is illegal.
Borrowify shows you exactly the same "strategy".
This is illegal and I strongly suggest not to purchase the Borrowify.
If you have questions regarding Borrowify or you want to know more about affiliate marketing, let me know in the comment section below.
I will be more than happy to help you out.
Thank you for reading,
Mike.
I'm Mike, an internet marketing enthusiast since 2015.
From buying my first website and using paid ads for traffic to mastering organic traffic through SEO and diving into affiliate marketing, I've come a long way.
In 2018, I took advantage of an educational platform where I learned how to effectively monetize websites. While working as an SEO junior analyst, I honed my expertise, enhancing my knowledge and skills.
Now, I apply these insights to offer valuable guidance to help you navigate the world of affiliate marketing and SEO, empowering you to make money online.