I was looking on the ClickBank website to check whether there is a new product in the E-business & E-marketing section. Among the products I have reviewed, I have spotted one particular which caught my attention. It is called AppCoiner and it says: "Get Paid To Test Apps".
The Appcoiner is also available on Jvzoomarket, which is another website with digital products.
So apparently you can simply test apps and make money out of it.
Is that so?
What is AppCoiner, really?
Can you make money by creating reviews about different Apps?
We will find out. But I can tell you right now, that this product is not entirely what it looks like. If you interested in whether you can make money with Appcoiner, keep reading.
Name: AppCoiner
Website: www.appcoiner.com
Price: Advertised Price $27
Owners: N/A – This is actually a red flag. It should be at least polite to reveal who is behind the program.
Product Overview
AppCoineris a platform where you can earn money by testing and creating reviews about new apps. According to the product sales page, this is to be done in 3 following steps:
Choose an App to test – You go to the AppCoinerapp review database where you choose a specific App that you like and you are going to test it. Apparently, in the database, there are hundreds of apps and they are added daily.
Write a review of the App – Once you are done with the App testing, whether on your tablet or smartphone, you go to log in to the AppCoineraccount and write your honest review.
Get Paid – They say that this program (AppCoiner) monetizes all of your reviews, and it does automatically. You just need to keep on testing more apps and writing reviews. The more reviews you write, the more reviews you should make.
The payment method is up to you: Check, Payoneer, or direct deposit.
Here is an overview of how much you can make. They embedded in their sales page a calculator where you can check how much you can earn.
You have to put the number of apps you review per day, the average amount earned for each review, and the third figure is the number of days per week you want to be testing.
I made a screenshot of both the lowest and highest potential earnings, so you can get an overview.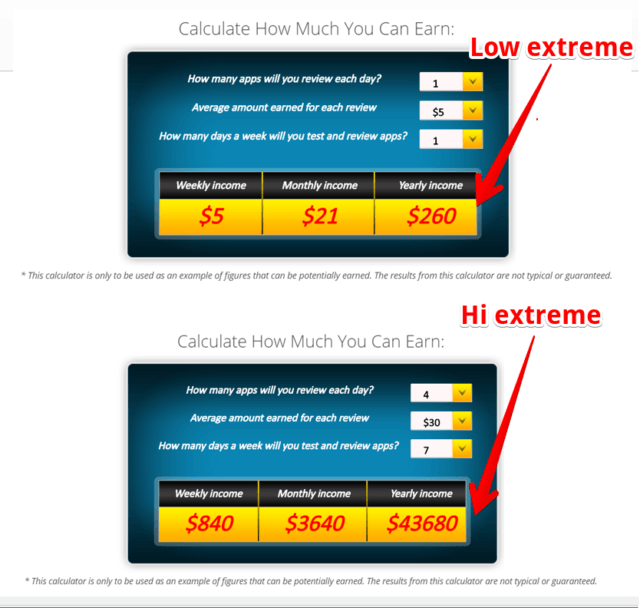 The Good & the Bad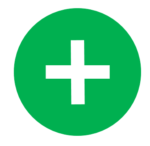 Price 27$ with downsell $24.30
Money-Back Guarantee (as all ClickBank/Jvzoo products)
N/A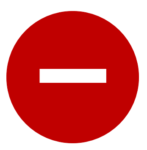 Misleading Product
No training on how to get traffic
Owner not known
I could not find 100% proof, but I do suspect the testimonials are paid, actors. I have seen this girl also on YouTube talking about different products and also when I go to google search the image, she is to be found at many different sites.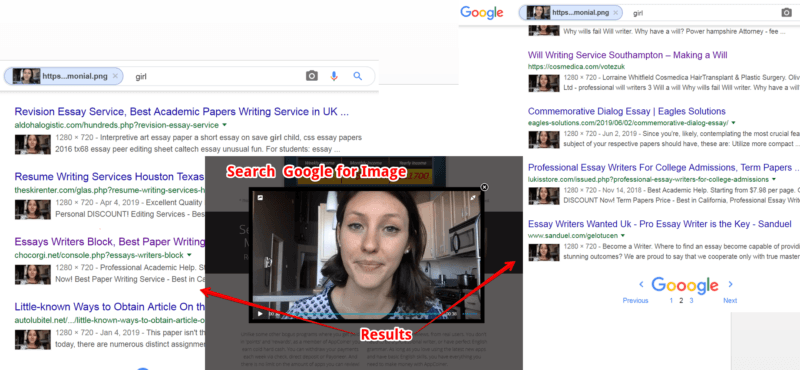 This is my personal opinion, but having reviewed lots of similar ClickBank products, I do know that many of them use for their testimonials paid actors from the website like Upwork or Fiverr. Don't get me wrong, it is a legit job.
My concern is, why anybody would need a paid actor to make a testimonial.
Who Is It For?
Anyone who uses any kind of apps on a tablet or smartphone can start earning money using AppCoiner. This is at least the idea you are told. No matter where are you from you can get paid to test apps. You don't need to be a professional writer either.
The requirement is basic English knowledge and a smartphone or tablet (Galaxy, HTC, iPad, iPhone, etc).
Looks pretty easy to be part of it.
In their sales pitch, they continue claiming that there are more than 200 billion apps downloaded a year which generates billions of dollars in revenue. This apparently causes a problem for app developers and users. So they seek out help.
They need people "test pilots" – real app users like you.
As you know, most people when they consider buying a new app they wanted to make sure what they actually buy so they search for reviews. And here is the part for you.
You will make money testing and reviewing apps.
AppCoiner Tools & Training
There is no real training as far as I am concerned. To be honest I got a little bit confused when I first saw the actual "program". There is like one web page where you will be adding these reviews. But it is one site, where everyone else adds the reviews as well. Just the username is different.
Every user basically gets a sub-domain of the website www.popularreviewer.com.
Here is how it looks the actual sub-domain for AppCoiner: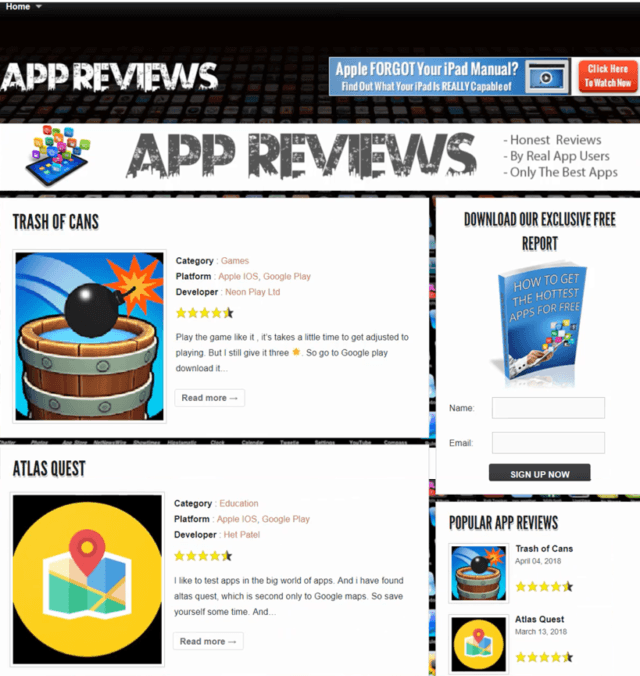 So you have this site (sub-domain) where you can add the apps you like.
Here is the catch:
You are not going to be paid for creating the app reviews. In fact, the way how you can make money is basically through affiliate marketing. (Recently I finished a post about affiliate marketing in case you are interested).
That means, that whoever lands on this site of yours might sign up for that Exclusive Free Report you see in the upper right corner. This visitor then will receive an email with another ClickBank product (most likely from E-business and E-marketing section).
If this visitor decides to purchase the other product, you get a commission. That is basically Email Marketing.
Another way you might earn money is when the visitor clicks on the banner which is on this sub-domain of yours.
Again, the visitor would be redirected to another ClickBank or Clickbetter product and when he buys, you get the commission.
The million-dollar question is – how do you get the traffic to your site?
You probably would have to find it on your own.
Support
They do have a dedicated page for support. Although many of the questions are general. You can also submit a specific ticket. You can actually access the support site as well, without being a member (http://helpdesk.appcoiner.com/support/home)
But I did not contact the support, so I am not sure how fast they get back to you.
One "interesting" thing I have found on this Help-desk page. When you go to question "How will I receive payments from jobs" you are prompted to join a different ClickBank product called paid social media jobs.
To me both products Appcoiner and Paid social media jobs are connected, they may even be created by the same owner.
AppCoiner Price Structure
The price is $27, although when you are about to leave the page you have a pop-up window with code. You can use this code and apply it right before purchasing it. That gives you 10% off, so you can get the product for $24.30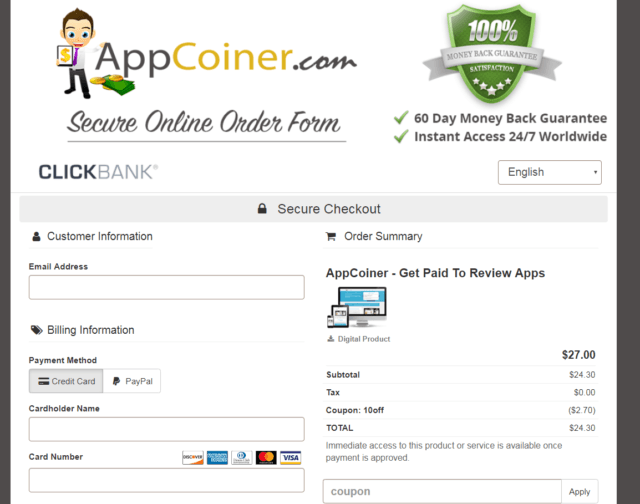 I have not found any further upsells. If anyone of you reading this review has a different experience with the AppCoiner please let me know in the comment section below.
My Final Opinion of AppCoiner
One big red flag I see is the misleading information about how you could make money vs. the actual way of making the money with Appcoiner.
At the beginning, you are told that you will make money by reviewing some apps. But once you inside you find out that you need visitors coming to this "website" and hoping that they purchase a different CB product.
This is very close to the scam, in my opinion.
But I will not qualify it as a scam since you can get your money back.

Would You Like to Know How to Make Money by Affiliate Marketing?
Affiliate marketing is one of the best ways how to set a business online. It is perfect for beginners. I am not saying that everyone can jump on the internet and by pushing a button will generate income.
You must realize that setting up a business online is similar to an offline business. Online business is easier and you can have many more customers, comparing to offline business.
It is recommended to choose one specific field or niche, something you are passionate about.
Create a website and start adding content to it (you can even start with a YouTube)
Get traffic to your website – these are your potential customers
Monetize your website, by helping your customers and/or recommending products that fit the best
Does it sound like a big project? Well, it may so, but there is one platform where you can learn all that stuff, step-by-step. If you are interested in what is this platform about, just check out my review.
Take your time and let me know what you think about that.
AppCoiner at a Glance…
Name: AppCoiner
Website: www.appcoiner.com
Price: Advertised Price $27
Owners: N/A
Overall Rank:

VERDICT:
I do recommend you to save your money. But most importantly, since $27 is not a significant figure, save your time. There is no training material where you can learn something.
To me, AppCoiner belongs to these low-quality products which I do not recommend.
If you are interested in affiliate marketing, I suggest you read my post.
Let me know if you have any questions or comments regarding this product or also I would like to know if you are interested in building an online business.
How to Get Started with Affiliate Marketing Business?
I have been a member of Wealthy Affiliate since late 2017 without a prior marketing experience.
Beginning of 2018 I have learned how to build a website that drives traffic and makes sales.
Since the summer of 2019, I am a full-time internet marketer and I work from anywhere I want, whenever I want.
Training within Wealthy Affiliate teaches how to generate a consistent income in the long run.