Hello and welcome to my page.
I am Mike and I do digital product reviews since 2018, almost on a daily basis.
You probably want to find out more about this product called Profit365, right?
The first time I came across Profit365 was in February 2019. That was about a time when Jamie (the owner) was launching his product. It was available on a website called ClickBank (which affiliate marketing program) and only recently I was wondering whether it is still available.
I know that many digital products have been removed from ClickBank (due to the high refund rates, in other words, customers were not happy with the product so they asked for their money back). They are either not available anymore or re-appear on ClickBetter. (ClickBetter is similar to ClickBank, but it has very low-quality digital products only)
Profit365 is not available on ClickBank either!
Does it mean that Profit365 is a scam?
Not precisely, and we are going to find out how Profit365 works, whether you can make money with this system, and what are Pros and Cons.
Disclaimer
Please note, that I am not a member or an affiliate of Profit365.
This review is based on research and information available online in the public domain. Any recommendations and conclusions are only opinions and may not apply to all persons or situations.
Profit365 Overview
Product Name: Profit365
Price to Join: $37
Creator: Jamie Lewis
Rating: 02/10
Do I recommend it? No
Profit365 Review – Summary
Profit365 is a digital product that should teach you affiliate marketing using paid advertising, email marketing, and solo ads. You should be able to generate a profit by promoting other ClickBank products and making commissions.
The problem is that inside the platform there is no training to show you how to drive traffic, to where you need to send the link to.
On top of that, the videos inside the Profit365 platform are outdated.
Learn how to generate income online – click on the link below:
What is Profit365?
Profit365 is a digital product that teaches how to earn money by promoting other ClickBank products. You basically go to ClickBank, get an affiliate link (or a "hoplink" as it is called at ClickBank) and you share it and when people click on that, you get a commission.
Well, this is at least the way how Jamie introduces his product to others.
He calls it a virtual partnership with him, that would cost you as a potential partner $37.
Jamie defines the Profit365 as the "most streamlined systematic accelerated way for you to generate your own income streams online".
Honestly, I have never heard a more convincing definition of any product, ever. He must be sure about his product.
Unfortunately, we are about to find out that it is not as hot as he presents it.
Apparently, you don't have to:
spend hours of learning
it does not require you to register a company (like LLC)
recruit your family members and friends for MLM
read long e-book
create videos, banners
According to Jamie, this is a powerful business opportunity and you as a potential partner can make as much as $2,800 a day!
In his cheesy sales video, we can see how he shows his commissions to other people.
In case you are not familiar with ClickBank (CB), you can go to check my article where I have also added a video on how to create an account on CB.
Who Is Behind Profit365?
The founder of Profit365 is Jamie Lewis.
He is a real person, unlike the creators of many other products, also listed on ClickBank (Although Clickbank recently tries to partner up with legit platforms only).
Jamie Lewis has been in the internet marketing business for more than 14 years.
He is the founder also another product, for example, a Profit Injector which is, in my opinion, the same low-quality system as well as Profit365.
Let's also check how old is his website and whether we can check how much traffic this page gets, just for fun.
Honestly, I thought that this has been around for a while, but to my surprise, it is a kind of new product. Why am I surprised?
According to the website data, it did not last more than a year on a ClickBank. That is not a good sign. For example, CB Passive Income was created in 2011 and it is still available on ClickBank.
The creator of CB Passive Income keeps updating his product. I did a review of version 5 and a newer version has been released just recently.
It is just to gain a perspective, on how to recognize a good product from the lousy one.
Regarding Profit365 it seems that the traffic to that website increased and suddenly decreased – just like the product itself. Too hyped at the beginning but eventually, it does not bring any value to the customers.
Some Profit365 Red Flags
We should get deeper into the research and double-check Jamie's statement about how perfect this system is.
You will see that it is not as great as it was introduced.
1) Income of $2,800 per day (Impossible with such outdated material)
Looking at the back office, I thought Jamie was kidding.
There is no real training or system where you can ( as we were told) plugin and make money.
You have to find the solo ad vendor, pay for the ad, and hope that someone will click on the affiliate link. But you guess it right. It does not give you any sales. The person who clicks on the affiliate link must purchase that product. Otherwise, you won't get paid.
The training itself has 8 videos only.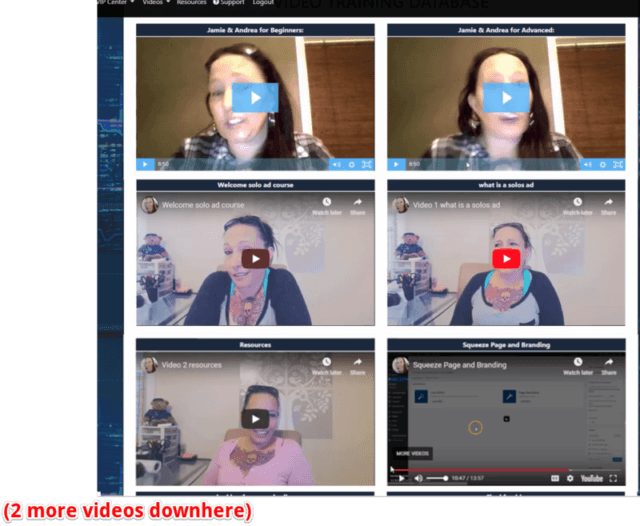 There is only one tutorial showing how to create a squeeze page ( which you can learn right here for FREE). The rest is just taken from the previous course (remember I was mentioning that Jamie has already created some digital courses before – he just uses the old material here, within the Profit365)
In the back office of Profit365, you find also other sections but it does not provide you with any valuable information.
If the material is outdated how about the affiliate links to the ClickBank products, you would be promoting through Profit365?
How do we know these are still active products?
I did mention how ClickBank removes many products from their page. Many of them don't last more than a year, for example, the "Ecom Cash Crusher" was created in late 2018 and it is not available on CB.
The Silk Road Effect, created in January 2019 – Is not on the CB anymore.
You got my point, right?
2) One-time fee vs upsells
It said in Jamie's sales video that there is a one-time fee of $37.
Maybe for the basic training which does not have any value in 2019 (not even back in 2018 when it was launched)
Here is the list of upsells (with little additional value)
Upsell #1 – Elite high-converting campaigns for $194 (one-time fee)
Upsell #2 – Save $100 – Same Campaigns, $100 Off downsell
Upsell #3 – Unlimited Profit365 reinforcement classes $174
Upsell #4 – 6 Months Profit365 reinforcement classes for $124
This is how it states on their Affiliate page. As far as I understood there is a downsell to 2nd upsell, meaning we don't have to count that when figuring out the total:
the entire package cost the front-end price of $37 + $492 for Upsells.
That is a lot of money for a not very updated product.
3) Profit365 was removed from ClickBank
We already mentioned this fact.
When people buy products on ClickBank they have automatically 60-day money-back guarantee. No questions asked. You just simply visit the ClickBank Support page, fill up the form (it takes about 2 minutes maybe less) and within 5 business you get your refund.
ClickBank decided to remove products with a high refund rate and therefore Profit365 is not available at CB anymore.
I have checked a recently similar website called JVZoo, and it is not there either.
4) Who is making money with Profit365
Jamie is an experienced marketer. He knows what works and what doesn't.
He creates Profit365 (for the same reason as he is behind the Profit Injector) as just another source of income.
A product promising easy money for a very low investment – is a good bait for everyone who is about to start with internet marketing. We have seen a dramatic increase in traffic to his website.
I bet Jamie made a ton of money regardless of the high refund rate. Regardless that Profit365 got banned from ClickBank and JVZoo.
He will be back shortly with a different project. He may even use the same outdated material. There are still people who believe this hype and a big percentage of newbies fall for the upsells as well.
What do I like about Profit365?

There is not much I like about Profit365. Especially when I compare the hyped-up sales video with the actual product (the back office)
I must point out though, that there is a money-back guarantee.
Jamie is a real person (this fact should absolutely normal, but having such low-quality products I have decided to give credit to Product365)
What I don't like about Profit365?
Jamie's product or "training material" does not live up to the hype presented in the sales video
He uses outdated videos, and swipe files. The videos are from 2016 and some of the downloadable material is from 2009!
The upsell structure. In the sales video, Jamie says "You just pay one small one-time fee to our retailer and you have full immediate lifetime access to the Profit365, exclusive members area where you can activate the switch and …".
Then my question is, what are the upsells for almost $500?
Additional resources are needed to cover advertising costs. In order to let people know about the products you promoting, you need to pay the solo ads or pay for advertising ( Google ads, Facebook ads, and so on)
Jamie does not teach you how to drive free traffic to your website.
How About An Alternative?
I have seen many similar digital products before. They are almost all the same.
The sales video is hype, promising big earnings, and low front-end price, but the product itself just does not work. I was really sick and tired of such misleading systems. My idea about a good educational platform was that there is a video tutorial about how to set up a website.
I wanted to learn how to start from scratch – little steps to see how WordPress work, how to create content, how to drive traffic, and what to avoid. I did find such a platform and it actually exceeded my expectations.
There is much more than I would think of.
The founders of this educational platform make sure to deliver real value. They understand real marketing.
Here is an overview of both systems:
Here's a link to the system where I have learned a lot about internet marketing and how to generate income online.
Final Verdict
We have gone through the product and learned why the customers were not happy with Profit365. So it makes sense that ClickBank removed Profit365 from their list.
I don't recommend joining Profit365 at all.
Personally, I don't trust Jamie. He presents himself as an internet marketing guru who is basically retired and he only wants to help you.
I am not that convinced.
He keeps creating new products just to find newbies who buy his rehashed systems. Because that is exactly what it is – just a rehashed product.
Jamie just takes the old material, put a new name on it, and sells it promising big earnings. He has an affiliate program so people can promote his stuff and make commissions out of it.
But the end customer ends up with a refund request.
Well, this is it about Profit365.
I hope you find value in this review. If you have any questions just let me know in the comment section below. I'd be more than happy to answer any of your questions, hopefully within 24 hours.
Thanks for reading,
Mike.