SurveyWorld is a platform that has been active since 2017, and it might seem like a regular Get-Paid-To site.
In this SurveyWorld review, I will explain why it's not a typical survey site.
I'll also show you how to check the platform's organic traffic, which is an indicator that can reveal its legitimacy.
Furthermore, if you've tried signing up, you might already be aware of some issues with SurveyWorld. Here, I will explain in-depth what SurveyWorld is all about.
Note:
You can think of this review as a helpful guide that you can use when assessing different platforms that promise to help you make money online.
If you come across a platform or website that you want to learn more about, you have a couple of options:
– You can use the search button on my website to see if I've already reviewed it, or
– You can leave a comment, and I'll do my best to provide feedback within 24 hours.
Disclaimer
Please note, that I am not a member or an affiliate of SurveyWorld .
This review is based on research and information available online in the public domain.
Any recommendations and conclusions are only opinions and may not apply to all persons or situation.
Jump to:
SurveyWorld – Quick Overview
SurveyWorld is a website that promotes other survey sites and earns money from doing so.
They don't offer their own online surveys, it is more like a survey aggregator.
While they promote legit sites, it would be better if they were more transparent about how it works.
SurveyWorld may not be worth your time.
If you are looking for much better opportunities when it comes to the get-paid-to sites, you'd be better off with more popular survey sites, like Freecash or PrizeRebel.
What is SurveyWorld?

At first glance, this looks like a regular survey website.
But, SurveyWorld (to be specific surveyworld. me) is quite different from your typical survey platform.
It has its own unique way of doing things. Instead of being a directly paid survey site, it acts as a middleman.
What it does is redirect you to different survey sites that it promotes. So, the money you earn doesn't stay on SurveyWorld itself.
It stays on the survey platforms they refer you to.
I've got a direct message straight from the source, giving us an accurate definition of what SurveyWorld truly is:
In summary, SurveyWorld is a community that compares and promotes research companies.
They carefully choose the best companies looking for new panel members and advertise them on social media.
As a panelist, you'll have different tasks like taking surveys, testing products, or scanning groceries.
Each task earns points, which can be exchanged for gift cards or PayPal payouts.
Who is behind SurveyWorld?
It is not quite clear who the founder is.
But it is evident that the company is based in the Netherlands.
The company is called e-Bron Markteing BV.
According to Google Maps, the address seems to be legit: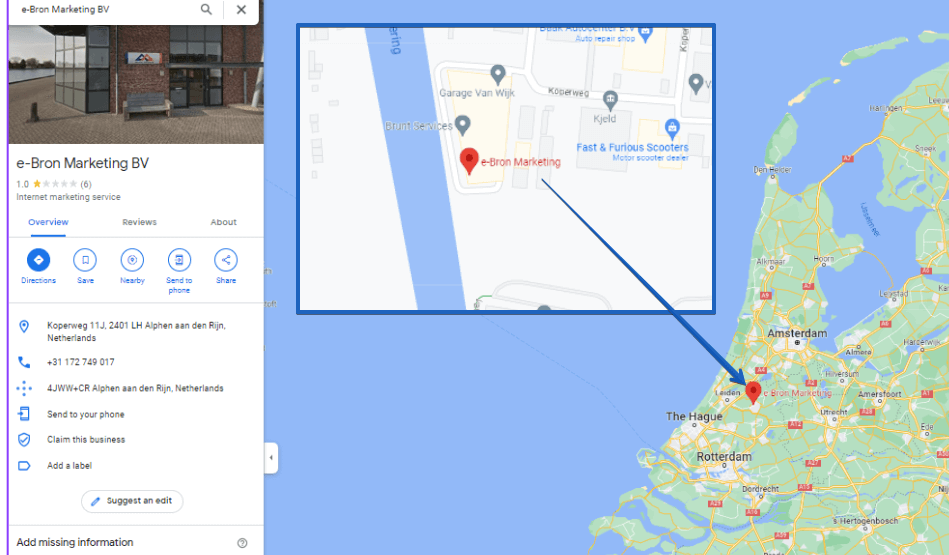 Many similar platforms use fake addresses, but you can verify them easily by checking Google Maps.
Just by looking at it, you can often tell if the address is genuine or fake. In some cases, contacting the building manager to confirm if a certain company is located there is a good idea.
This happened with a company called PetronPay, where the building administration had no knowledge of such a company.
In case you want to get in touch with them, this might be problematic as there is no contact form and their email doesn't work.
This actually concerns me a bit because every legitimate platform has no problem revealing who the founder is.
So let's have a look at some information regarding their website;
SurveyWorld Registration date
They claim to be around for more than 5 years (as of this publishing – July 2023)
Just visit the "About Us" section on the SurveyWorld website and compare it with an independent website checker called whois.com:
If there's a mismatch between the two, it's likely that they're being deceptive in other aspects as well.
SurveyWorld Traffic Overview
Be cautious with websites promising earnings.
Check their traffic using free SEO tools like Ahrefs or Semrush.
Look out for major fluctuations in visitors and be skeptical if a site claims lots of users but has low traffic.
Here is a screenshot from Ahrefs: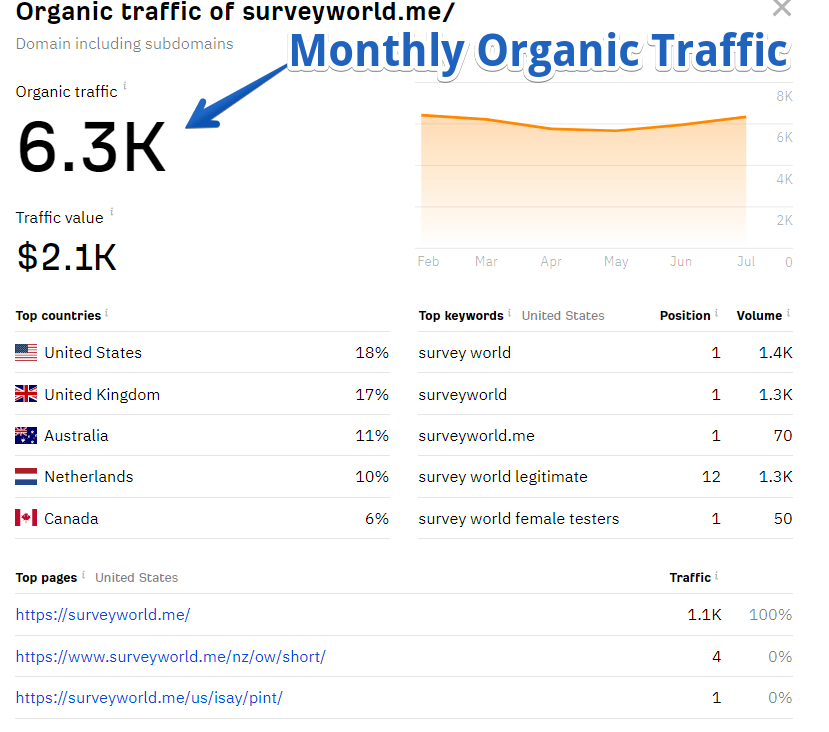 And here from Semrush:
The data are pretty similar.
Also, the number of visitors to a website remains stable without any major ups and downs.
How to join SurveyWorld?
Now, this is getting interesting!
SurveyWorld doesn't have to sign up form or sign up button;
Therefore, signing up with SurveyWorld was quite challenging and it can take several days to complete.
First, you have to contact them via messenger.
Then, after a few days, they reply back to you, explaining what they do and asking about:
your age and
the country you live in.
It took about 2 days until I received feedback.
So I wrote back but didn't get any feedback for another day or two.
This makes the entire process unnecessarily difficult, and I don't see how anyone has the patience for it. There are many other survey sites where you can start making money in a matter of minutes.
Who can join SurveyWorld?
SurveyWorld is available globally, so theoretically, anyone can join.
However, it depends on your location and where you live. It may happen that there are no surveys available for you.
From my personal experience, it is extremely difficult to sign up as they don't respond to your questions or queries.
How does SurveyWorld work?
Even though I was not able to sign in using their link, I found a workaround and got straight into one of the surveys.
It was done on the site called meinungsort.de, which means "OpinionPlace" in English.
I answered 3 questions and was then redirected and asked to agree and join the page.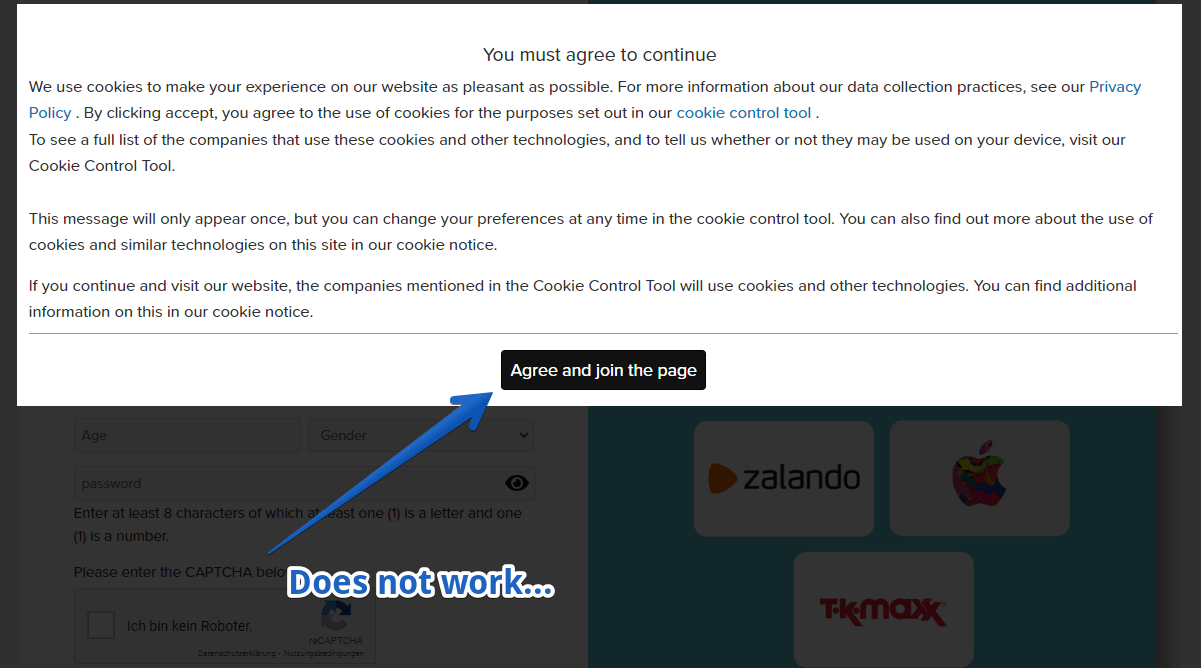 Unfortunately, the button doesn't work, and I couldn't find any other way to proceed further.
Well, typically, SurveyWorld sends you a promotional link after answering a few questions.
This wasn't my case but many people users claim so.
So, you might have a different experience, but to me, this thing just doesn't work. At least it doesn't work as smoothly as I would expect.
Feel free to share your experience in the comment section at the end of this article.
Can you make money with SurveyWorld?
Well, it seems like making money with SurveyWorld might not be as promising as it once was.
In the beginning, they used to pay, but not anymore.
On top of that, their lack of communication makes it even more challenging.
One user has been waiting for a refund for 2 years and hasn't received any response despite trying various means of reaching out. So, based on this experience, it might not be the best option for earning money.
Earning with SurveyWorld seems doubtful and communication is problematic.
if you are looking for a way how to make extra money, this is not a good option.
How much can you make with SurveyWorld?
As I had trouble signing in, I didn't have a chance to make any money. However, small research shows that the earning potential is pretty low.
Let's assume you won't have such sign-in troubles and taking the surveys will be quicker for you. Still, you need to wait, and the earning potential is low.
Would you consider it a valuable use of your time?
Okay, let's get to the numbers and reveal some information about the earning potential, at least what the users used to make.
Earnings Range Up to $5 per Hour at Best
When it comes to Surveyworld, the amount of money you can make depends on the specific survey panel you're connected to. It's important to note, though, that this is generally a low-paying side gig.
Most survey sites offer earnings of around $1 to $5 per hour at best, so it's not a substantial source of income.
It's more like a quick way to make a little extra cash, but not something that will significantly boost your earnings.
Does SurveyWorld offer support?
As you know already, getting in touch with them can be pretty challenging, and the same goes for their customer support.
Additionally, keep in mind that their support team may not assist you with any payment-related matters. Their role is primarily to redirect you to other survey sites.
How to contact SurveyWorld?
According to the SurveyWorld website, there are 3 ways how to contact them
Facebook
Messengers
Email
But here is the reality;
I have used all 3 ways mentioned above.
No results so far and in fact what I find disturbing their email address does not work.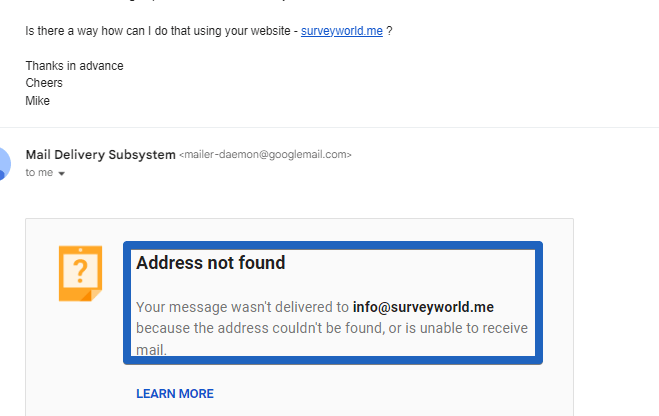 As you already know it is very difficult to contact them via Facebook/Messenger. My personal communication looks like I was talking with a chatbot with only 2 answers.
I kept getting the same answer over and over again…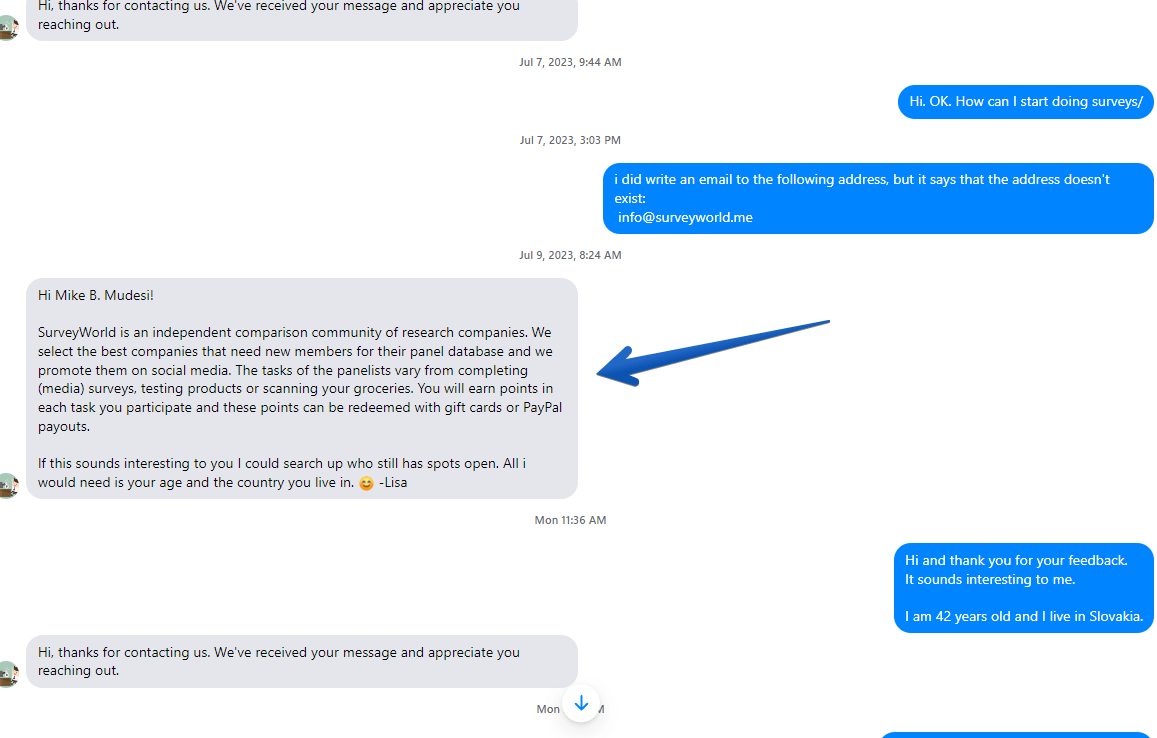 After a couple of days and asking a different question I got the same answer:
So to me, it means that SurveyWorld as a money-making platform is useless.
SurveyWorld Reviews
It is always recommended to check other's people opinions as well. sometimes we can be biased and checking review sites like Trustpilot can give us a better overview.
In this case, though, it looks like SurveyWorld is not a good source for making online income.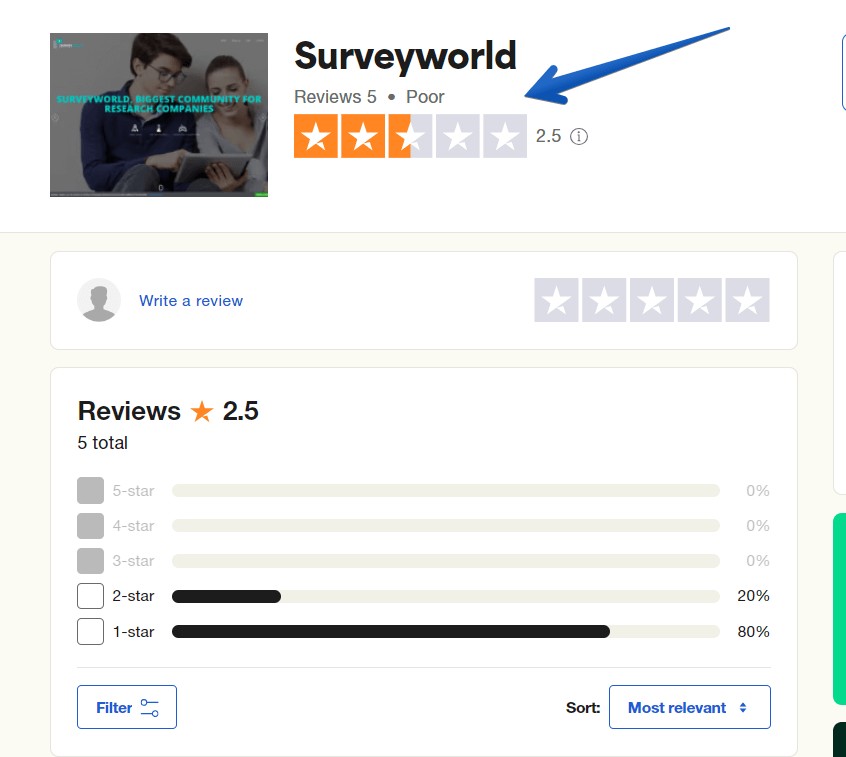 These people successfully signed in, but their experience with Surveyworld only proves that it is a waste of time.
People have different opinions about SurveyWorld.
Some are skeptical about earning money for opinions and worry about data collection and too many ads.
Others say that they used to get paid before but not anymore, and they struggle to communicate with the company. Some have been waiting for refunds for up to 2 years without any response, even after trying emails, messages, and social media
Is SurveyWorld Legit?
It seems like a legit survey site, but that doesn't mean you can make money with it. Signing up and getting surveys is very difficult. In summary, the system is legit, but it's a waste of time.
If you're looking for more reliable platforms of the same kind, you'd be better off with … or …
Some people aren't interested in making money this way due to the low earning potential. For more sustainable ways to earn money online, one of the best options is affiliate marketing. Basically, you create your own website and learn how to drive free traffic to it.
People click on affiliate links and purchase products, and you make commissions. It may take time to reach 4-figures per month, possibly even 12 months or more in some cases. But once you know how to drive organic traffic, you have more ways to monetize it, like displaying ads.
I just wanted to mention this alternative for you, and in case you want to explore more, you can check the link below.
If you have any questions about SurveyWorld or if you've had any experiences with it, please share them with others by leaving a comment below.
Your input will surely help others make better decisions.
Thank you for reading,
Cheers,
Mike.