Are you wondering how to make money online but don't know where to begin?
Are survey sites a good opportunity? I've been researching these sites, and sadly, most of them turn out to be worthless.
What about PrizeRebel?
Is PrizeRebel a legitimate site?
In this review, we will thoroughly examine their website to assess how much one can earn and the level of ease or difficulty involved. Additionally, I'll provide some alternative options.
Let's dive in and get started!
Disclaimer
Please note, that I am not a member or an affiliate of PrizeRebel. This review is based on research and information available online in the public domain.
Any recommendations and conclusions are only opinions and may not apply to all persons or situations.
PrizeRebel Review – Overview
Name: PrizeRebel 
Website: www.prizerebel.com
Price to Join: $0
Recommended: As a Survey site, Yes (But not as a primary source of income)
PrizeRebel is a legitimate GPT (Get-Paid-To) site that allows members to earn points by completing tasks, surveys, watching videos, or playing games. These points can later be exchanged for cash via PayPal or Amazon Gift cards.
Founded in 2007, the site boasts over 10 million users as of this writing.
However, it's important to note that as a survey site, PrizeRebel may not offer a consistent income stream online. If you're curious about discovering methods for generating consistent income online, I can help you explore those options.
What Is PrizeRebel?
PrizeRebel is one of the largest survey websites in the world. It is free to join and it operates worldwide. Members can earn points by taking surveys, playing games, or even watching videos.
The earning potential depends on the specific activity. Usually, the more you have to do, the more points you can earn.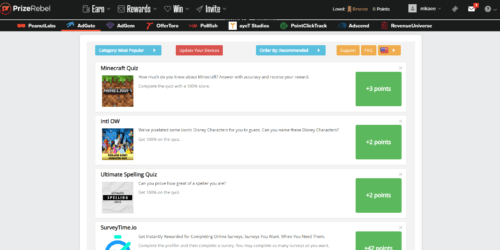 It is easy to join, and everyone who joins the PrizeRebel starts at the Bronze level.
There are other rankings and you can move up to higher rankings, simply by being active, performing the tasks, and earning points.
You can even make points by referring to this site to your friends. 
I know that the terms like, "level", "Bronze", "Silver" and so on might remind multi-level marketing, but don't worry – this is not the MLM kind of business.
This is a legit Get-Paid-To site that was founded back in 2007, so by now, this is a well-established system.
Who is the Founder of PrizeRebel?
We don't know actually who is behind the PrizeRebel.
This is usually considered a red flag, but it does not mean that the system is automatically a scam or fraud.
Don't get me wrong, but if you have searched for more than 100 similar sites and a big portion of them are scammy (like these ones), no wonder that one is careful.
There are other ways how to check the legitimacy of the site.
For example, we already know that it was founded in 2007, and by now it has more than 10 million members.
Also if we take a look at their Facebook profile, we see that PrizeRebel has more than 220,000 followers on Facebook.
Another sign that this is a legit survey site is the traffic to their website, www.prizerebel.com.
The site has constantly about 1M visits per month:

These are signs that it is a perfectly legit system.
The founder or people who are behind the PrizeRebel doesn't want their identity to be revealed.
We can respect that.
Who Is the PrizeRebel For?
This is a great site for people who want to make some money online.
It is available in most countries, but the types of surveys and tasks may vary, depending on your location.
According to the traffic the sites get, we see that most of the visits are from the United States (more than 40%), then the UK (7.7%), and less than 5% from Malaysia, Brazil, and India.
There are no restrictions for the members, other than age.
A person must be at least 13 years old, however, if you are between 13 and 18 you need an agreement from your parents.
If you are looking for ways how to make a full-time income online, I am afraid this is not exactly what you want.
One can earn some pocket money within the PrizeRebel, but it definitely won't pay your checks.
In case you want to learn how to make a consistent income, I can show you a guideline where I explain how I earn money online.
How to Join PrizeRebel?
It is extremely easy to join PrizeRebel.
It literally takes up to 10 seconds as announced on their website.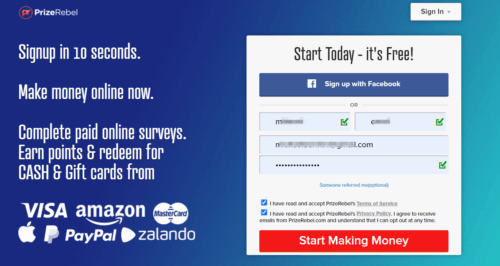 Just enter your name, email, and password and you are ready to go.
You know, that as a newbie you start at the Bronze level.
To give you an overview of their ranking system here are the minimum points that are necessary to reach the specific rank:
Bronze: 0
Silver: 1000
Gold: 4,500
Platinum: 10,000
Diamond: 16,000
In the next section, we are going to cover how can you earn the points. There are more ways and one of them is by referring this system to others.
Your commission also depends on the level you are at.
How to earn points with PrizeRebel?
There are a lot of ways how to earn points.
Let's start with the primary one.
Paid Offers
These offers are presented by PrizeRebel's partners. These are companies that want to have feedback regarding their new launch or product. It is a form of advertisement.
You as a PrizeRebel member can choose a specific offer and interact with it according to the requirements.
As a result of that, you get points.
The number of points, as well as the offers, depends on your location.
Here are a few examples of these offers:
download and open an app
play Facebook game
register for a free trial at a specific website
and so on
Get paid to play Games
If you like to play games this is certainly a great way how to have some fun and earn some points.
Some games are easy and in a short period of time, you get your points. Other games require you to reach a certain level and only then you will be rewarded.
How much can one earn?
There are games that you can install, and play it up to a specific level and you can earn points worth $5.
It is always recommended to read the requirements of each game you want to play.
They have different rules regarding the earnings, so in order not to waste your time it is advisable to check the requirements first.
Paid Surveys
After login in you need to fill out some personal details, but right after that you select the Earn tab and there you have the surveys.
There are many different survey providers, and every day you have a chance to do a new survey.
I personally don't like taking surveys; to me, it is a bit annoying but there are people who don't mind doing these.
Since PrizeRebel is one of the sites that offer the highest rewards I can certainly recommend it.
To give you an overview, every 100 points equals $1. So based on the screenshot above one can earn 50 cents for less than 15 minutes.
Not a bad deal.
It can also happen that you won't qualify for a certain survey; in that case, just move to a different survey, or you can try to earn the points in a different way.
Watch Videos
There is a large section of videos covering a lot of fo different topics.
What is also great about the PrizeRebel, you are not limited by the number of videos/ads you can watch per day.
The downside is that the earning potential for watching the videos is pretty low.
Lucky Numbers
This is basically like a lottery where you can purchase a ticket and win extra cash.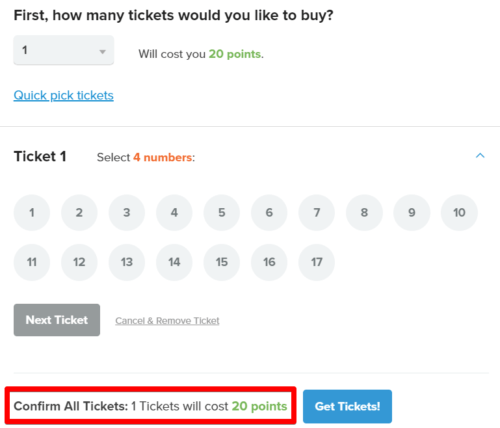 As you see you need to have some points before purchasing the ticket. The price for one is 20 points and you can even win a jackpot (as of today, the jackpot is 7,500 points, that's about $75).
Referring others to join the PrizeRebel
You can invite your friends to join this site and get a commission if they join and earn some points.
Your earnings depend on the level you are at, and below is a table showing how much you can earn,

Other ways to earn?
If you follow the PrizeRebel on social media (Facebook), quite often they post a code that you can simply paste in the upper right corner and you make points immediately.
Participate every day in these challenges and you get a bonus (a few points though).
Some are for free. a few hundred points for a 1s place. Some are for the US, some international.
How to withdraw your earnings?
PrizeRebel uses a lot of methods, including Amazon gift cards, Paypal, or prepaid MasterCard.
The threshold is $5 which is also great.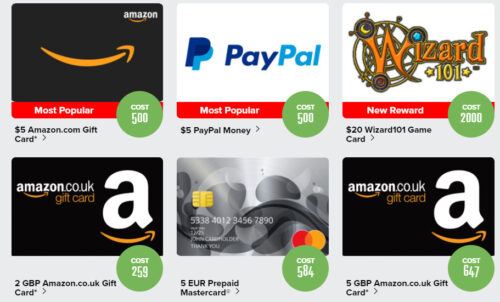 The money transfer usually takes up to a day or two. The first payment takes a bit longer, because of the verification and stuff like that.
In case you have trouble, you can always rely on their support.
They are always very helpful.
Is There Prizerebel Support?
As we have already touched on that, I want to point out what makes the PrizeRebel one of the best sites of its kind.
And that is the support.
If you have any issues as a member you can always rely on their support within the site or on their social media as well.
In case you have a problem, I recommend going their website in the section "Get Help", where you see the following options:
And if you can't find the issue you are dealing with in the FAQ, simply raise a ticket.
PrizeRebel Reviews
People seem to like this GPT site (also called Paid to Click).
You will always find a group that won't be satisfied, but that is in every walk of life.
Most people are complaining about being rejected from the surveys or that it took them a long time to earn some money/points.
And here is the Trustpilot screenshot (taken in May 2022) to see how the ratings have evolved: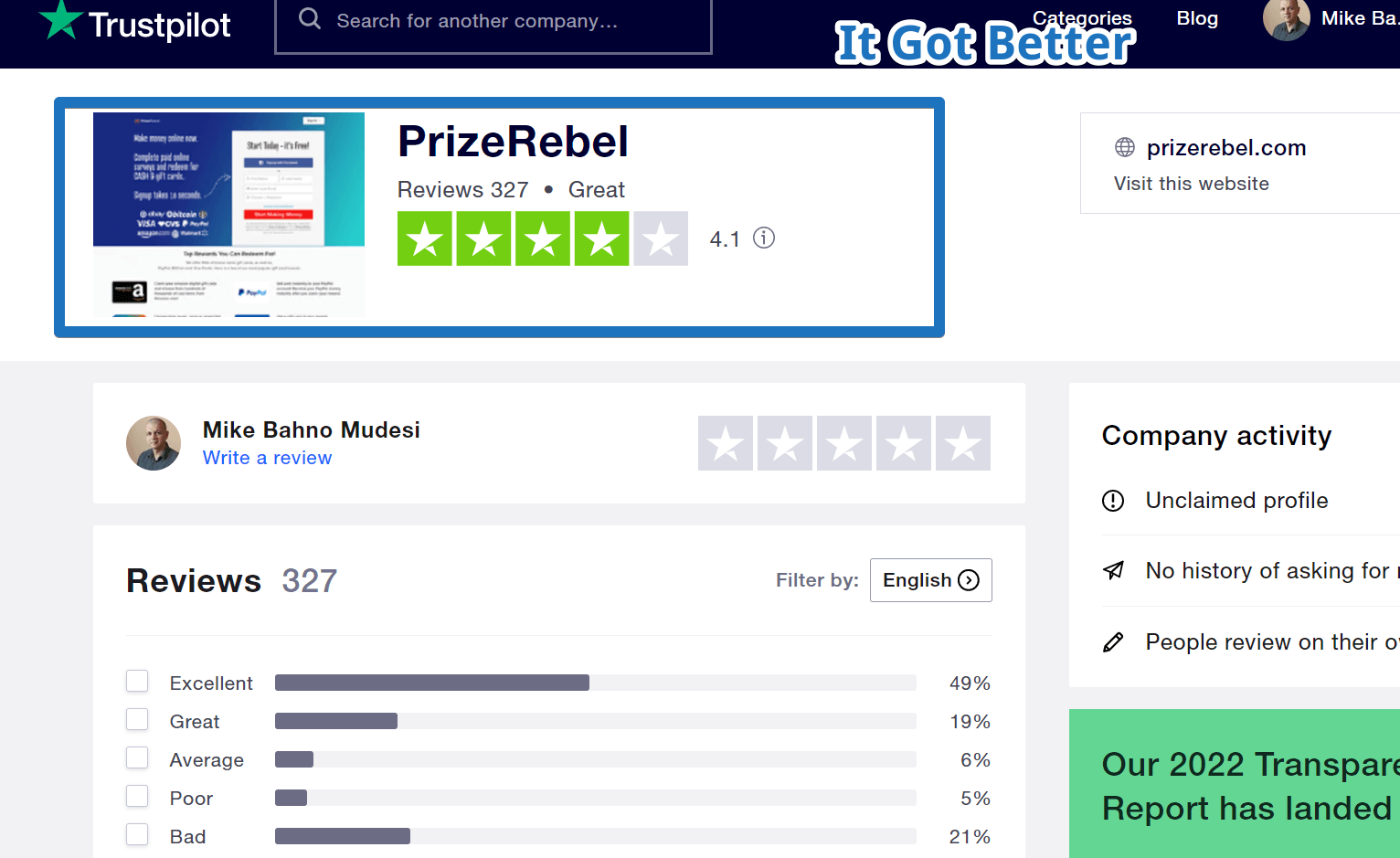 Well, this is exactly the deal of all survey sites.
That is why I show readers the alternatives (check the link at the bottom of this post).
What does it take to have a full-time income online?
I understand those who are not happy with the PrizeRebel.
But let's be realistic – what can one expect from a survey site?
I mean, these are just simple tasks, and the simpler tasks you have the less you can make.
If you are curious about other similar sites, you can check SquadHelp where you can earn up to $300 within a week.
How about 4, 5, or even 6 digits per month online?
Is it even possible? 
Sure it is, but there are certain factors you want to take into account: 
Effort
Patience
Consistency
The rest is technical and you can find out more in the following article, where I describe a particular platform teaching how to set up an online business.
PrizeRebel Pros

A lot of surveys and offers
Excellent support
Easy way to earn a pocket money
PrizeRebel Cons
It is said that the quality goes down recently (a lot of rejections, annoying surveys, etc.)
Not enough surveys in some countries
Is PrizeRebel Trustworthy?
We know that PrizeRebel is a legitimate GPT site that actually pays quite a lot, compared with other similar systems.
It is possible to make more than $100 per month, so if you were looking for ways how to make some pocket money, this is a great site.
I have shown you other ways how to earn even more, so if you are interested, you can join Squadhelp as well.
PrizeRebel is a trustworthy site.
At the end of this post, I leave a link to a special training where I learned how to generate consistent income online.
The 1st level of that training is absolutely free, so in case you won't like it, you don't pay a dime.
Do you have a question regarding the PrizeRebel?
Do you want to learn more about Internet marketing?
Please use the section below and I will be more than happy to provide you with feedback.
Thank you for reading,
Mike.