A new company is here to bring a new way of doing trade finance.
Oneview provides a simple digital solution that appears to guarantee significant profits for intelligent investors.
They claim that you can increase your money's value by relying on their skilled traders, and all it takes is a single click.
But here's the thing to remember: looks can be deceiving.
As you dive into the upcoming Onewiex Review, you'll uncover why it's so important to stay sharp, be cautious, and really think about their promises before fully buying into them.
Imagine this review as a friendly tool to help you understand websites that claim they'll help you earn money online.
If you're curious about a platform or site, you've got two choices:
Click the search button on my website to check if I've already looked into it, or
Leave a comment, and I'll try my hardest to give you answers within a day.
Disclaimer
Please note, that I am not a member or an affiliate of Onewiex
This review is based on research and information available online in the public domain.
Any recommendations and conclusions are only opinions and may not apply to all persons or situation.
Jump to:
Onewiex Quick Summary
Name: Onewiex
Website: onewiex.com
Price: $50 to invest (or equivalents in cryptocurrency)
Owners: Oliver Wilson (allegedly)
Onewiex looks pretty shady.
They don't give clear info about who's running the show, and they're trying hard to seem legit.
But here's the kicker: they don't have any real products to offer.
All they push is their memberships, and that's waving a big ol' red flag that they might be running a virtual currency Ponzi scheme.
Legally speaking, Onewiex's investment scheme falls into the securities category, but guess what? They didn't bother to get the right paperwork.
And you know what happens with schemes like theirs? They crash and burn when they can't get enough new folks on board.
That's when the losses start piling up for most people involved.
What is Onewiex?
Onewiex is an international financial company, all official and registered in Canada.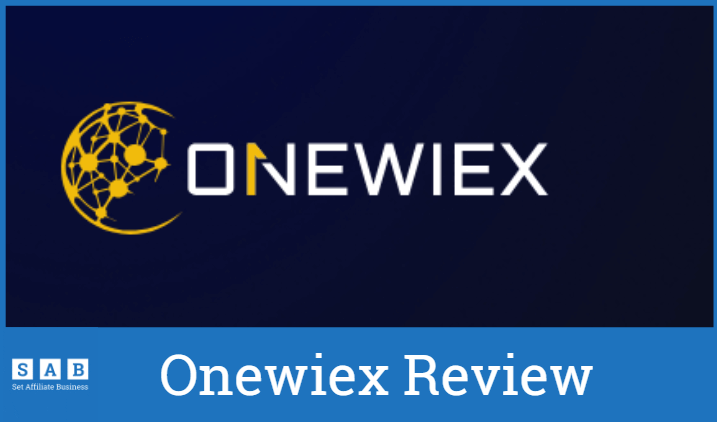 Onewiex presents itself as an esteemed international asset management firm.
It offers a wide range of financial services. This includes activities like:
trading on stock markets and
cryptocurrency exchanges.
Moreover, they participate in trading with elements of quantum trading, asset trust management, and capital management. These services serve both individuals and legal entities.
However, it's important to note that there are doubts about the true nature of Onewiex's operations and concerns about its resemblance to a pyramid scheme.
They're all about following the rules worldwide and making sure their investors and partners stay protected.
But hang tight, because we're going to dig deeper and get the full story in our upcoming review!
Onewiex Website Information
When conducting a review, it's a good practice to assess the website's traffic volume.
This can provide insights into the product's appeal.
As Onewiex is relatively new, according to Ahrefs, it currently doesn't generate substantial organic traffic.
This is further confirmed by another SEO tool, Semrush.
Considering the data on their website and the Onewiex YouTube channel, the number of members appears significantly larger than the website's visitor count.
This discrepancy could be attributed to various channels such as Facebook, Twitter, and other social media platforms.
For instance, their YouTube channel boasts over 8,000 subscribers and nearly 200,000 views, highlighting an alternative source of engagement.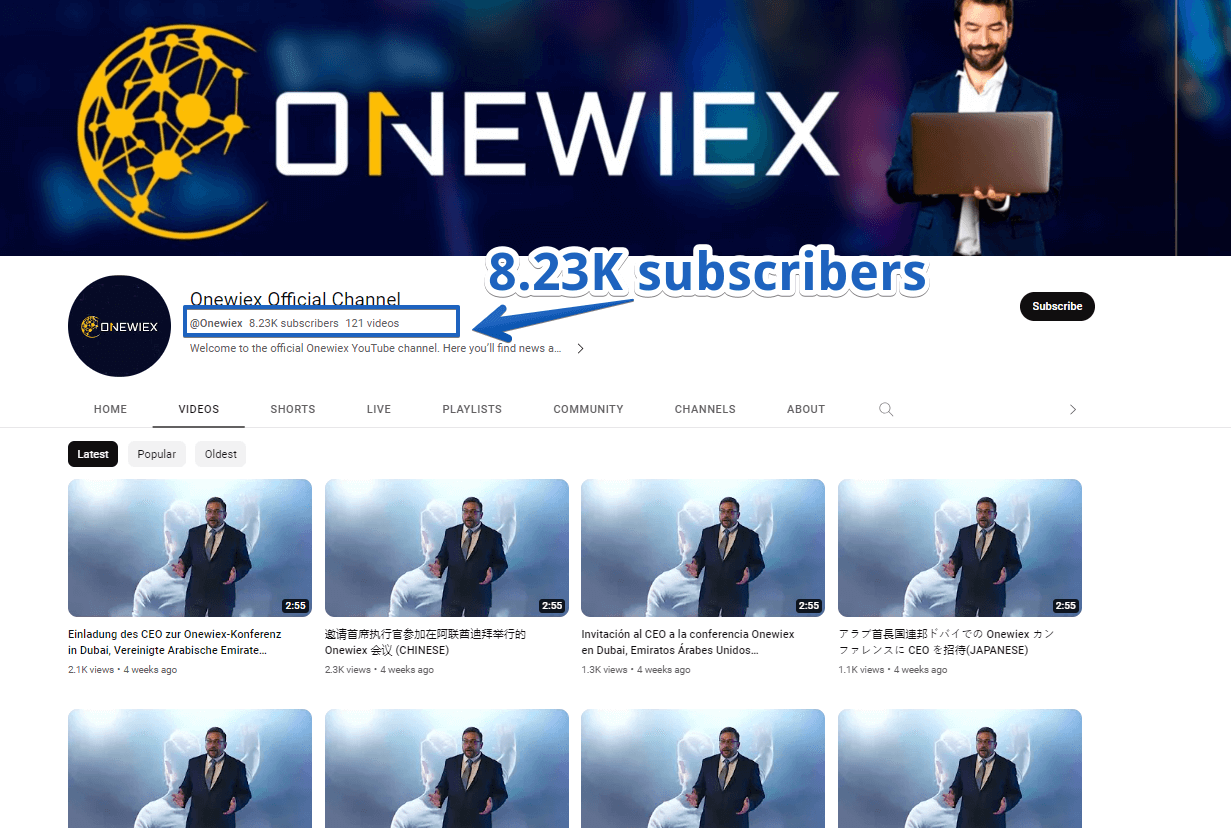 Onewiex Website Registraion Date
The Onewiex website was registered in July 2022, making it relatively new at the time of this publication.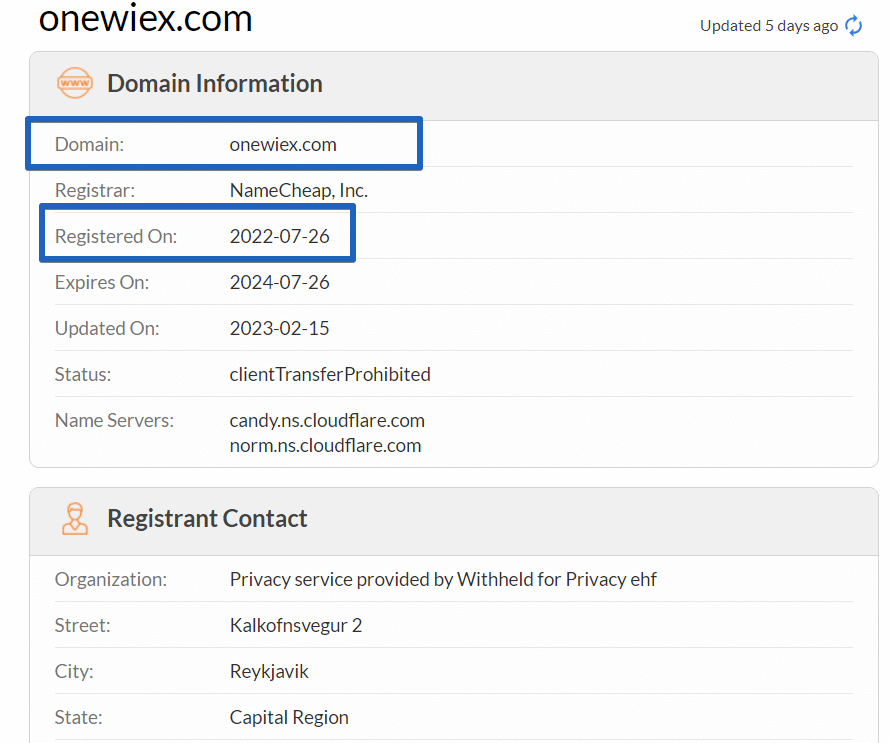 Now, let's delve into who's actually behind Onewiex. As I dig into this, it's becoming clear that the individuals running Onewiex are not newcomers to the business.
Who is Behind the Onewiex?
The people behind Onewiex are unclear, and their credibility is questionable. The CEO, "Oliver Wilson," is actually played by a Russian national named Mikhail Eidelson.
The company employs tactics like using company certificates from shell companies and hiding identities.
Its marketing, including targeting Asia with Korean-dubbed videos, raises suspicions. Onewiex's resemblance to the dubious Quwiex platform and its lack of clear ownership information are major concerns about its legitimacy.
Here is a video featuring the CEO inviting you to the Onewiex Conference held in May 2023.
While I'm no language expert, it's evident that the speaker has a Russian or Ukrainian accent.
What Products Does Onewiex Offer?
Onewiex doesn't provide any actual products or services for affiliates to sell;
instead, affiliates can only promote Onewiex memberships.
This setup, common in pyramid schemes, centers on recruitment for profits rather than legitimate product sales.
As recruitment slows down, the scheme's sustainability becomes uncertain, often leading to financial losses for participants.
How to Make Money with Onewiex?
To make money with Onewiex, they offer an affiliate program that they call "affiliate marketing."
Essentially, you're encouraged to bring in new partners and build your own team.
As you move up in the company's ranks, your potential earnings increase.
They claim you can earn bonuses of up to 100% from your team, even from partners deep down the line, starting from the 500th position.
The more your team grows, the more you can earn.
But, keep in mind that this setup is structured like a pyramid scheme, where you're building levels below you.
To get bonuses from all partners, you need to maintain the highest status in your team.
| Rank | Downline Investment Requirement | Earnings Percentage |
| --- | --- | --- |
| 1) Partner | Sign up and invest | 6% |
| 2) Chief Partner | $2000 | 8% |
| 3) Promoter | $15,000 | 10% |
| 4) Senior Promoter | $50,000 | 12% |
| 5) Executive Promoter | $300,000 | 14% |
| 6) Supervisor | $750,000 | 17% |
| 7) Senior Supervisor | $2,000,000 | 20% |
| 8) Executive Supervisor | $5,000,000 | 24% |
| 9) Chief Supervisor | $15,000,000 | 28% |
| 10) Ambassador | $30,000,000 | 32% |
| 11) Blue Diamond Ambassador | $100,000,000 | 36% |
| 12) Black Diamond Ambassador | $500,000,000 | 40% |
When Onewiex affiliates recruit new members, they receive commissions tied to their rank, even if lower-ranked members refer others.
Commissions can reach up to 40% of the new member's investment, with higher ranks earning larger commissions.
How to Join the Onewiex – Onewiex login
To get things rolling, you'll need to create an account with Onewiex.
This involves filling out a form that includes your full name, email address, and phone number.
Once your account is set up, you can explore what they have to offer.
(By the way, there's a little grammar goof on their sign-up page;
Instead of "We don't send spam messages" it is written "We are dont send spam messages")
Now, if you're aiming for a full-income opportunity, keep in mind that it requires an investment.
While joining Onewiex as an affiliate is free, active participation in their income-generating activities demands a minimum investment of $50.
It's important to assess the potential risks and rewards before diving in.
Onewiex Red Flags
Lack of Clear Ownership
Onewiex doesn't clearly say who owns it, and they use certificates from other companies to seem real. The CEO they mention, "Oliver Wilson," makes things more uncertain.
High Number of Complaints:
An abundance of complaints from clients, especially regarding withdrawal problems, customer service, or misleading practices, is a serious concern.
Promises of High Returns
If the company guarantees high and consistent returns with little to no risk, it's likely too good to be true. Legitimate investments come with risks and uncertainties.
Unrealistic Earnings Claim
Beware of claims that promise quick and substantial profits with minimal effort. Such claims often target individuals looking for easy money.
Lack of Tangible Products
Onewiex relies on affiliate recruitment without offering tangible products, resembling a pyramid scheme structure that can lead to financial losses when recruitment slows down.
Onewiex Reviews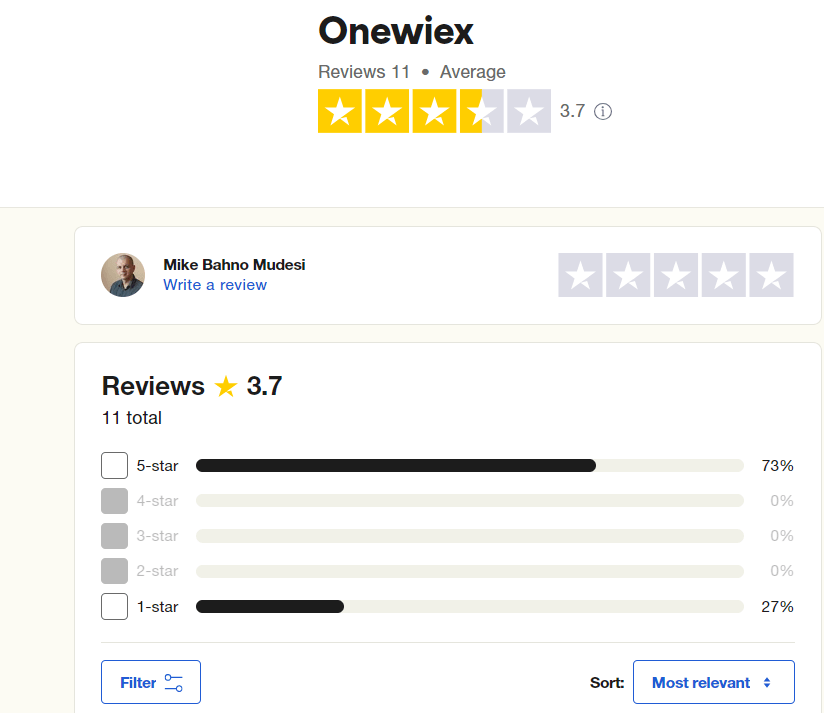 When verifying legitimacy, it's crucial to cross-reference information from multiple sources, such as Trustpilot, to assess the trust score.
Additionally, don't solely depend on numerical ratings as reviews might carry bias.
Consider this example: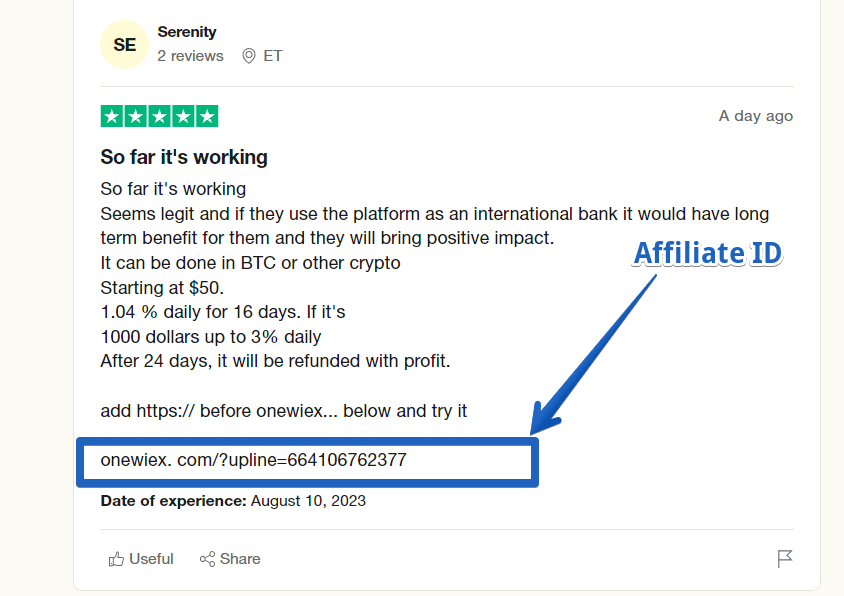 And another one: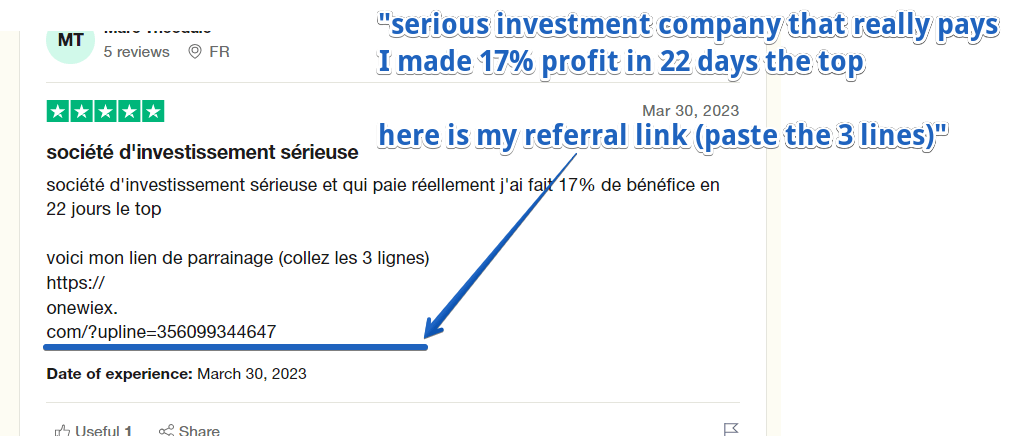 These individuals may award a perfect 5 out of 5 stars, but is their motive unbiased?
Undoubtedly, they are affiliates.
If someone, for example, joins Onewiex using Serenity's link (the one above), they become part of Serenity's team as his downline.
I have reviewed dozens of users who signed up for Onewiex, and here's a summary of their experiences:
Some users have questioned the platform's withdrawal process, facing difficulties and seeking assistance.
Personal experiences highlight concerns of initial positive interactions turning into an inability to withdraw funds, leading to accusations of scams.
Additionally, others express worry about potential pressure to invest and warn against falling for the platform's deceptive practices.
People have different thoughts, some being unsure and careful, while others talk about not getting their money back after investing.
Onewiex Pros

Initial Profit Potential
In the early stages, some users may experience earnings, which is typical of the initial phase of certain Ponzi schemes. However, this should be approached with caution and skepticism due to potential unsustainability.
Onewiex Cons
Negative Reviews and Scam Accusations
Numerous negative reviews alleging withdrawal difficulties and potential online scam activities contribute to suspicions.
Pyramid Scheme Traits
Onewiex's recruitment-based approach without clear products resembles pyramid scheme characteristics.
No Tangible Products
The absence of real products or services, coupled with a focus on membership promotion, suggests a recruitment-driven model.
Rebranding Similarity
Potential association with the rebranded Quwiex, known for fraud, casts uncertainty.
Conclusion
Onewiex presents itself as an international asset management company offering various financial services, but a closer examination reveals red flags and inconsistencies.
The lack of clear ownership, resemblance to pyramid schemes, and numerous negative reviews raise concerns about its credibility.
While some users claim to have made profits initially, the overall sentiment leans towards caution and skepticism.
The affiliation with Quwiex and the coded commission structure further underline the potential risks associated with Onewiex.
As a prudent measure, it's advisable to exercise extreme caution and conduct thorough research before considering any involvement with this platform.
If you have any questions about Onewiex, feel free to ask in the comment section below.
Additionally, if you have experience with a similar company, sharing it here can help others avoid such dubious enterprises and save their hard-earned money.