I do research on online products, specifically in the make-money-online niche.
There are many of them on the WarriorPlus site and as of this writing I have found one, called Read4Money.
Upon initial inspection, it seems like this product has the potential to generate easy income online.
Well. upon closer examination, it becomes evident that this is just another scammy WarriorPlus app.
I also double-checked the app some quiet time after the launch of Read4Money, but with the same results.
In the following Read4Money Review, you are going to find out for yourself, whether this has some earning potential for you or not.
Jump to:
Disclaimer
Please note, that I am not a member or an affiliate of the Read4Money. This review is based on research and information available online in the public domain.
Any recommendations and conclusions are only opinions and may not apply to all persons or situations.
Quick Overview
Name: Read4Money
Website: www.read4moneyapp.one/holiday-discount
Price to Join: $19.20 + Upsells
Recommended: Not really
Read4Money Summary
Read4Money is supposed to be an Amazon Loophole that pays $11 per minute for reading from the phone or computer.
Apparently, it is possible to make more than $500 for about 50 minutes of reading.
It is necessary to purchase this product for $19 and then, you start earning.
OK – Here is the truth:
There is no such thing as earning money for reading.
Inside the dashboard, you have access to some tool that generates text. It is poorly written text with lots of mistakes.
You can then use these articles and offer them on platforms for freelancers (like Fiverr, Upwork, and others).
You won't make any money using this Read4Money.
It is just another Branson Tay product that doesn't work as presented.
I don't recommend the Read4Money.
Do you want to know how to make a sustainable income online?
It takes a little bit more than that.
It has been proven over and over again that once a person knows how to create a website and how to drive free traffic to the website he or she can become financially independent in a reasonable period of time
This knowledge is priceless and it is available to everyone.
What Is Read4Money?
This is a WarriorPlus product that is supposed to be a breakthrough in digital marketing.
On the sales page, it says that you can get paid for reading from your phone or computer.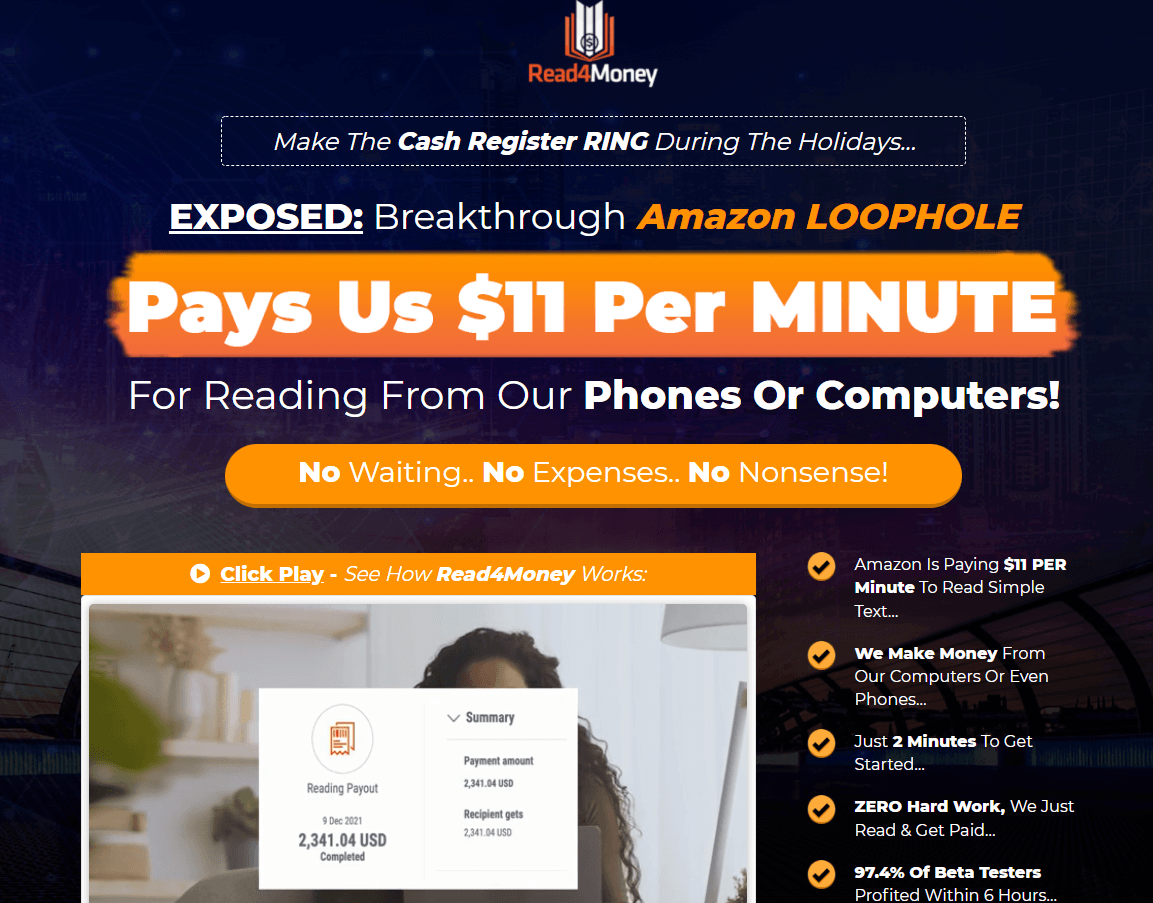 The product was launched on December 15th, 2021, and apparently, there are many people already making thousands of dollars, with Read4Money.
It all takes only 3 clicks:
Access the Read4Money
Activate (turn on the "paid2Read" technology inside the Read4Money dashboard)
Read and get paid for reading from their computers or phones
Does seem too good to be true?
You bet and right off the bat let me tell you that there is no such button as described in the 2nd step.
Founder of Read4Money
Branson Tay is the person who created Read4Money.
Does his name sound familiar?
Well, it does to me, and here is his WarriorPlus profile, with the list of products he created:
In fact, I have already reviewed some of his products…
Conclusion?
All have a pretty similar pattern:
A hyped-up sales video
A low-quality product that is impossible to make revenue with
Lots of upsells
Now, what are the odds that Read4Money will be different?
Let's check it deeper, but let me briefly mention who I think this is good for.
Who Is Read4Money For?
It's supposed to be for total newbies
In fact, if you are a bit suspicious (like I am) you wouldn't trust the sales video right at the beginning.
Well, if you think that this actually works, keep reading.
This review is for you to show how these people work and what to avoid.
In my opinion, Read4Money is good for Branson and his affiliates.
That means people who decide to promote this low-quality product might get a 50% commission!
How Does Read4Money Work?
As already mentioned, inside the member's area, there is no button that activates some "technology".
Instead, the members' area looks like a search engine tool.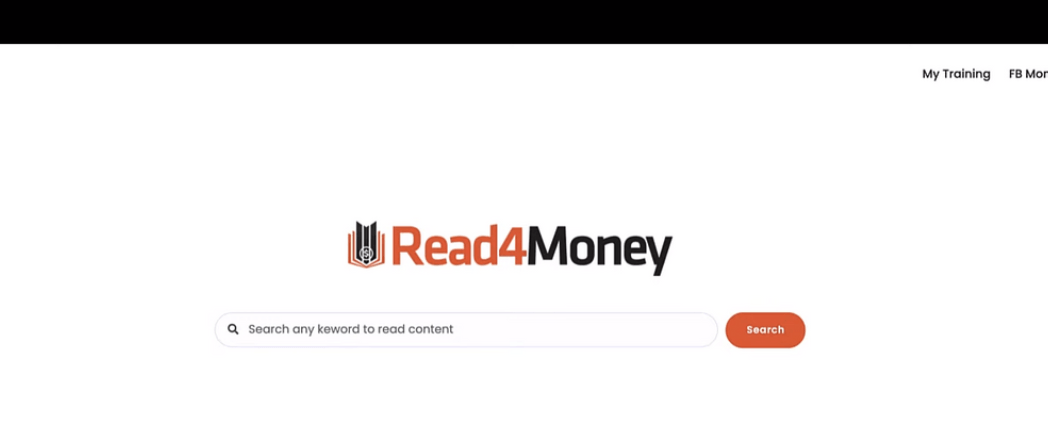 You can type any keyword in the search bar and you get some results.
Below each result, there is an "edit" button. This gives you an article.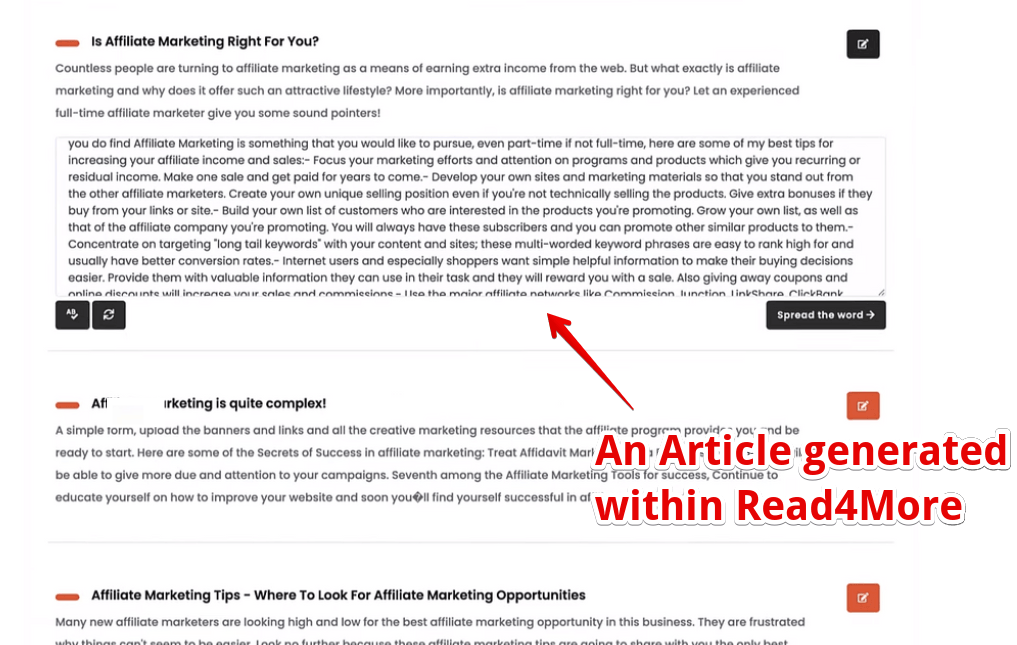 Here is another screenshot from the generated content:

As you see, you would need to put some effort to make the text nice and clear.
You can then copy the content and "spread the word".
Let me also mention that the content, the actual text, is badly formatted and there are many mistakes. So you can't really use it.
It then goes to certain websites like:
Upwork
Fiverr
Freelancer
and two others.
These platforms are for freelancers who sign up and offer some kind of job.
Or if you need a copywriter you can visit these platforms and hire a person based on his or her profile.
You might be interested in:
How to Find Legit Online Jobs from Home
Regarding the Read4Money dashboard, there are some other tools. Let's check them really briefly.
Training
You click on the training button, but nothing happens.
There is no training within the dashboard.
So a person using this tool doesn't really know how to use it and what is the point.
Facebook Money
You can share the text on Social Media…
But what's the point?
Again, there is no training so we really don't know what is the purpose of this button.
SMS Money
Apparently, you can send it to your friends.
How many people do you have on your phone that has an interest in a certain niche?
Email Money
Do you have an email list?
Email list with people who give you permission to contact them – send them emails.
Also, these people should be interested in the category that your content is about.
If you don't have such a list, again this tool is useless.
And in case you know how to get people's email addresses, you most likely not reading this.
How Much Does Read4Money Cost?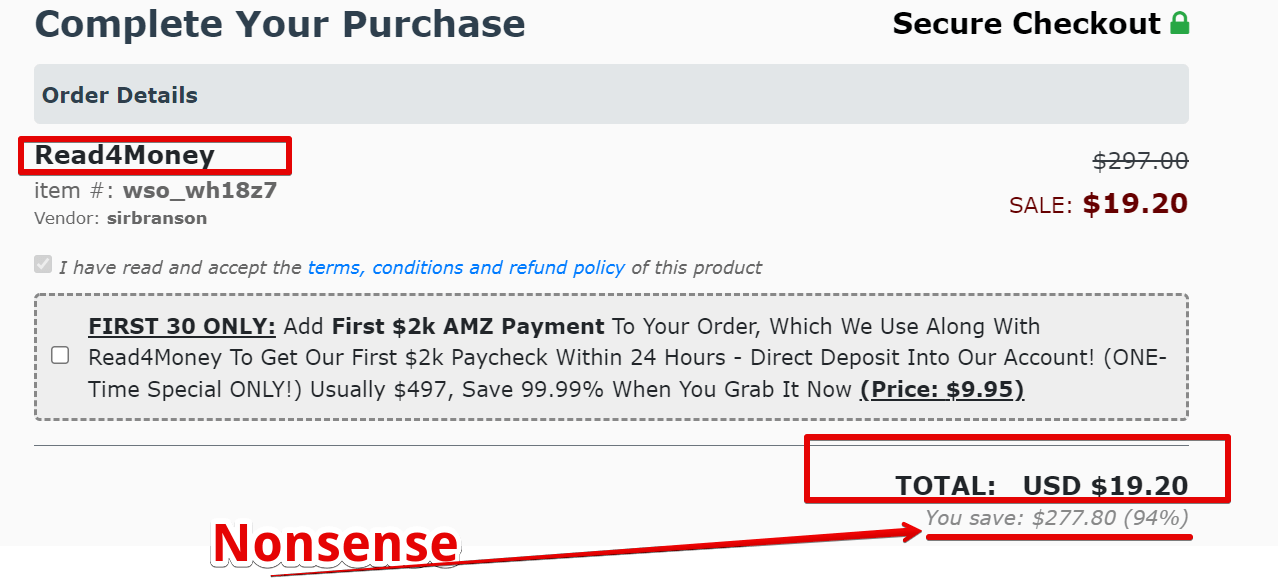 The front-end price is something over $19.
But is this the final price?
Of course not and I am going to explain in a second.
Regarding the basic price, you are told that you should hurry up because the price is going up.
Well, this is just a technique to make you buy it.
The fact is that the price goes up probably a few cents per month or so.
Another tactic they use is to claim that you save $277!
Again this is nonsense.
These are cheap marketing tricks.
How Much Does It Really Cost?
Right after checking out, you are asked to upgrade.
There are 7 upgrades you have to deal with (skip or purchase) before you get to the actual product.
The entire product cost more than $1,000, to be specific $1,038!
To be fair, each upsells has a downsell, but even with all the "discount" you still pay $556!
What I like about Read4Money

30-Day Money Back Guarantee (But be careful, since in many cases it has happened that the vendor did not respond to the request concerning the refund).
What I don't like
No Training whatsoever.
Extremely Misleading Sales Page
Almost impossible to make a few bucks
Conclusion – Is Read4Money a Scam?
Let's compare the sales videos where it says, to start earning within a few minutes and the actual members' area.
Do you see any connection between these two?
Because I don't.
With that being said, the sales page is extremely misleading. You are promised to start earning some crazy money, just by some push-button system.
The reality is that you get some useless software that you have no idea how to use it.
Read4Money might not be an outright scam but it is pretty close to it.
Again, this person, Branson Tay, proves that his products have extremely low quality but at the same time, he can charge more than thousand of dollars.
My conclusion is – Stay Away from this software.
Save you money and time.
If you want to find out how to really make money online check the video below: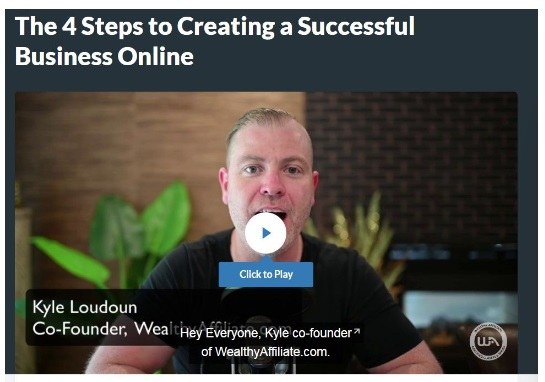 In case you have questions regarding the Read4Money or any other questions about creating a blog, let me know in the comment section below.
I will be glad to help you.
Thank you for reading,
Mike.
Learn How To Make Money Online
Do you really want to learn how to make money online?
First of all please realize that there is no such thing as a push-button system that generates money on autopilot, as claimed by Branson Tay.
Choose a specific business model and while you are here, let me share with you that the simplest business model is Affiliate Marketing
You don't have to create any products, you don't deal with suppliers or customers.
You simply create a website about a specific topic and inform your readers about the product or service.
So you want to have some skills, on how to get such free traffic to your website.
Once you master that, the sky is the limit when it comes to earning potential.
Check the link below to learn more about a specific platform teaching these skills (and beyond).