Hello and welcome to my website.
You are looking for ways how to make money online, and you have stumbled upon this product called The Opal System.
Is this going to help you generate consistent income, or does it sound too good to be true?
I believe you have seen the Opal System sales page, but you want to make sure whether or not this has some value.
In the following Opal System Review, you are going to learn:
What is It?
Who is behind the opal system?
What is the price (How much does it really cost)?
And how much can you make with this system?
In case you have already checked some opal system reviews, you might be surprised;
The thing is that in this article you are probably going to find totally different opinions about this product.
Let's get started.
Disclaimer
Please note, I am not a member or an affiliate of The Opal System. This review is based on research and information available online in the public domain.
Any recommendations and conclusions are only opinions and may not apply to all persons or situations.
Quick Overview
Name: Opal System
Website: www.theopalsystem.net/opal-exclusive
Price to Join: $16.97 + Upsells ($624.97)
Recommended: No
Opal System Summary
Opal System is an App that should generate hundreds of dollars per day on autopilot.
This system is created by Jono Armstrong.
The sales page is hyped up and the product itself doesn't work as presented.
Inside the system, there is no such thing as the "Activate" button.
Once you find out that this doesn't work, Jon is going to recommend you another program (training), that costs more than $1,000.
The creator of the Opal system is not trustworthy. Possibly he is a scammer.
Please save your money and stay away from the Opal System.
What Is Opal System?
According to the sales videos, the Opal System is the first app that fully automates 3+ figure commissions, 24/7.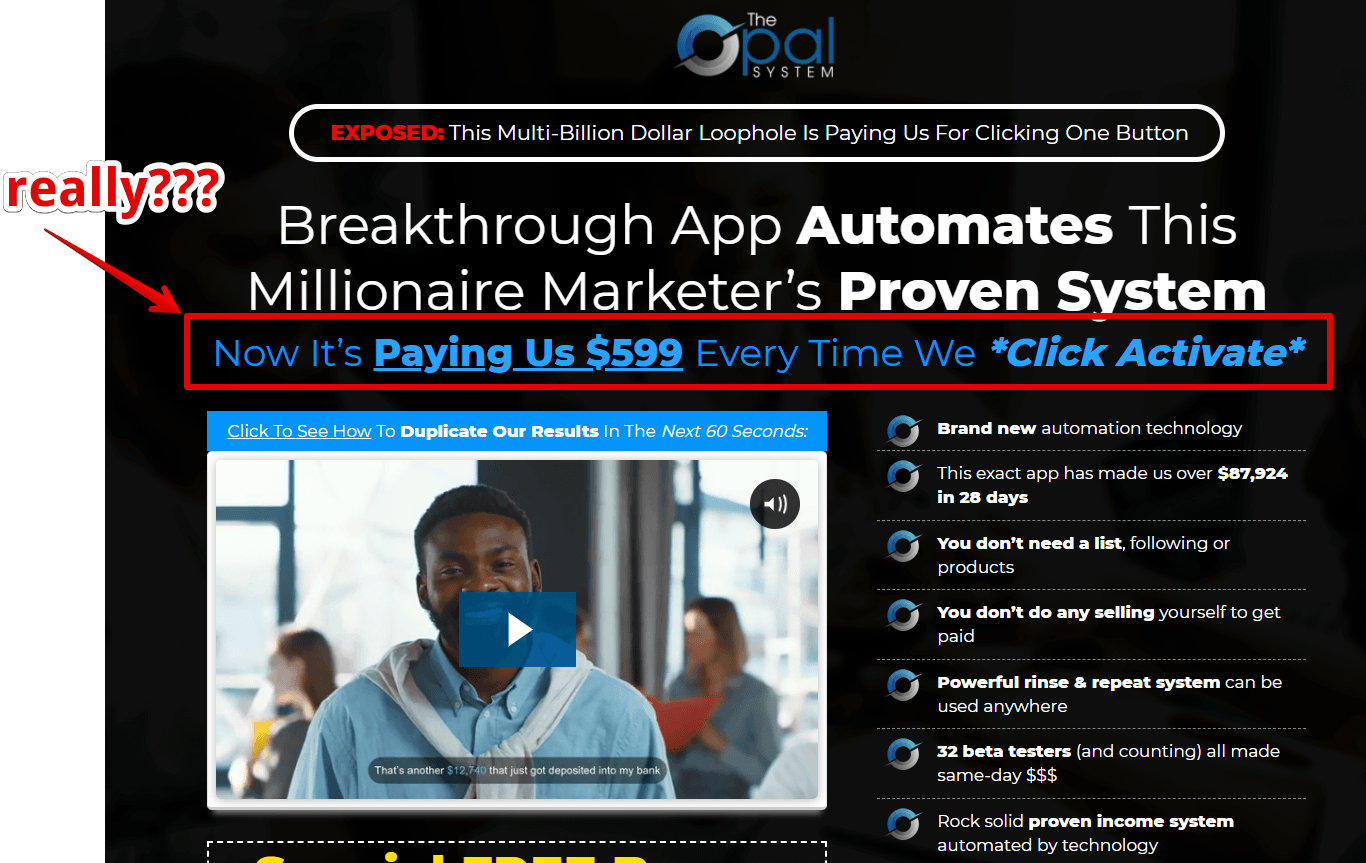 They claim that this is a "Done For You Money Page" without any effort.
In fact, it is necessary to follow the 3 following steps:
1 Grab the license – Purchase the product
2 Press the Activate button – This button initiates the automated Ppal process in less than a minute
3 Sit back and relax – I mean, WAW!
Basically, with the Opal System, you don't have to create any content, you don't have to sell anything, and still, you can make hundreds of dollars per day.
These are unrealistic claims.
Seriously – do you believe these claims?
"Just by pressing the activate button" you start to generate more than $1,000 per day!
Do you really believe that it is so easy to make a few hundred bucks per day, using this app?
Please scroll down to the comment section below and let me know, what you think at this point.
If you really believe you can make some money with this system then, read this review through.
Let's start with the owner of Opal System.
Founder of Opal System
His name is Jono Armstrong and he comes from the UK.
(Currently, he resides in Bali, Indonesia).
He used to be a teacher and when he finished college, he was thousands of dollars in debt.
Research shows that he wanted to become an actor and/or musician as well, but that didn't work out either.
After several affairs and issues (alcohol and cocaine), finally, in 2016 he decided to change the course of his life and become an affiliate marketer.
You have probably heard of this term already.
Affiliate marker sells other people's products by providing potential customers with valuable information.
An affiliate marketer basically connects customers and vendors.
Back to Jono;
First, he started as Amazon Associate, and he found out that the best way is to sell the courses.
He has several income sources now and he also has his own YouTube channel with lots of product reviews, including his own products.
As of this writing, this channel has almost 65K subscribers and about 1,300 videos.
The thing is that Jono promotes low-quality products and he also creates such products.
It really seems that he doesn't care about the quality of the products, as soon as he sells or makes a commission.
This is not an honest way how to make money with affiliate marketing.
To me, his approach is like, "I am gonna make money, no matter what".
In my opinion, it is shame, since this way he might start losing his audience.
Let's go on with the Opal System.
Who Is the Opal System For?
The Opal System is supposed to be for anyone looking for additional income online.
It says, that there is no experience needed, so it should be for newbies.
And it is.
Here is why.
There is no way that a person with a little bit of experience with internet marketing would buy this app.
Anyone who is interested in making money online niche is aware that it takes effort and some skills to start making a few bucks.
Also, the hyped-up sales videos are nonsense.
There is no such thing as a push-button system that starts to generate hundreds of dollars on autopilot.
So right off the bat, I don't recommend the opal system to anyone.
In a second we are going to find out why.
How Does Opal System Work?
You should be able to generate videos and revenue.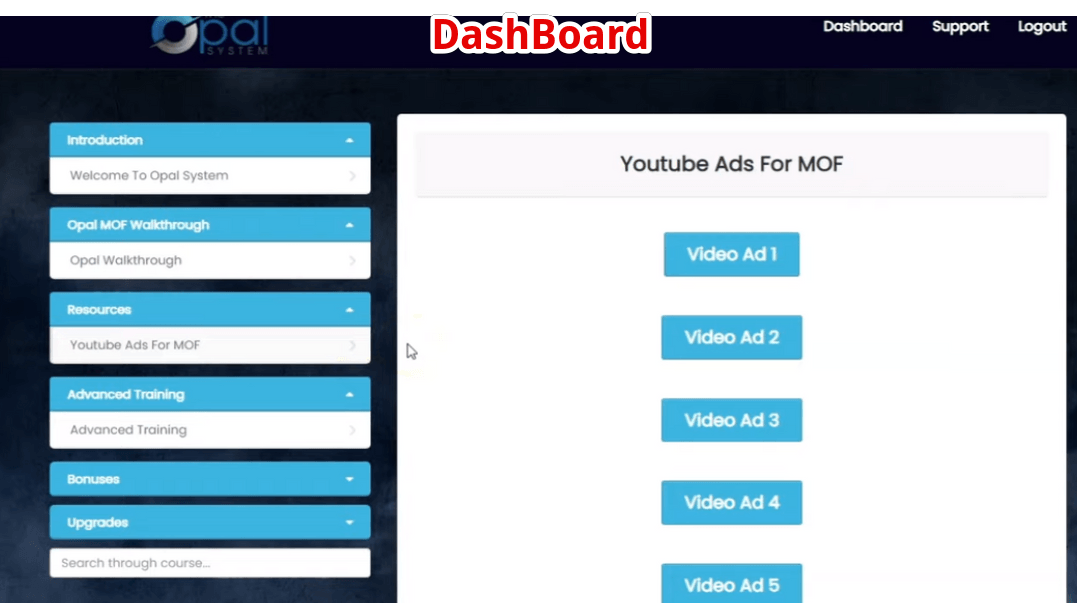 Inside the dashboard, you have very basic training and some basic tools to create a video.
Well, create.. it is not s about video creation, but more about video stealing.
You are basically told to get existing videos, make them your own, and add ads to them.
If someone clicks on the ad, you make revenue.
But how do you get people to view the video?
Youtube?
No, because Youtube can find out that this is reused content and you won't be able to, monetize such content.
Basically, this thing doesn't work.
It does nothing. It doesn't generate any revenue.
What Else?
If it doesn't work, you can reach Jon – for example on his Youtube channel and ask for help.
Here is his feedback: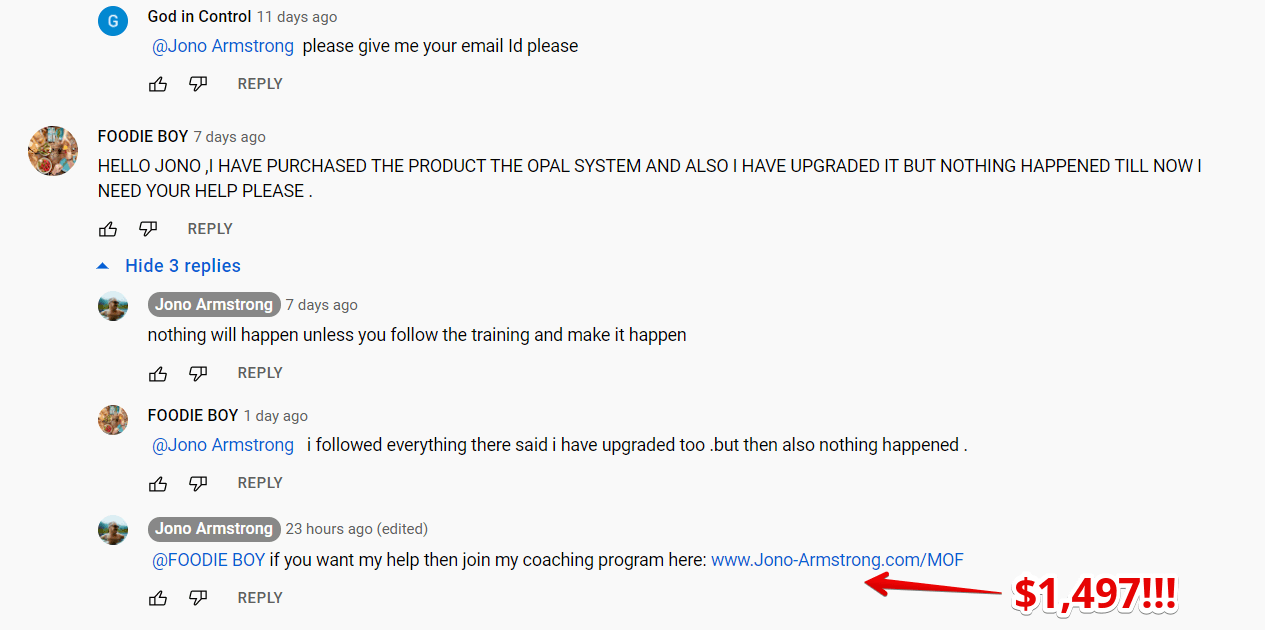 He asks you to join his high-ticket program for more than $1,400.
Now is the entire Opal System only part of the funnel, to charge you even more?
It really looks like so.
How Much Does Opal System Cost?
The front-end price is something below $17.
Even while checking out, you see that you apparently save some money
That is just a marketing trick.
After checking, something really annoying happens:
You start to see "offers" saying to get an upgrade and get more out of the Opal System.
The skip button is pretty small, compared to the "Upgrade" one so there are chances that many people just purchase the upgrade.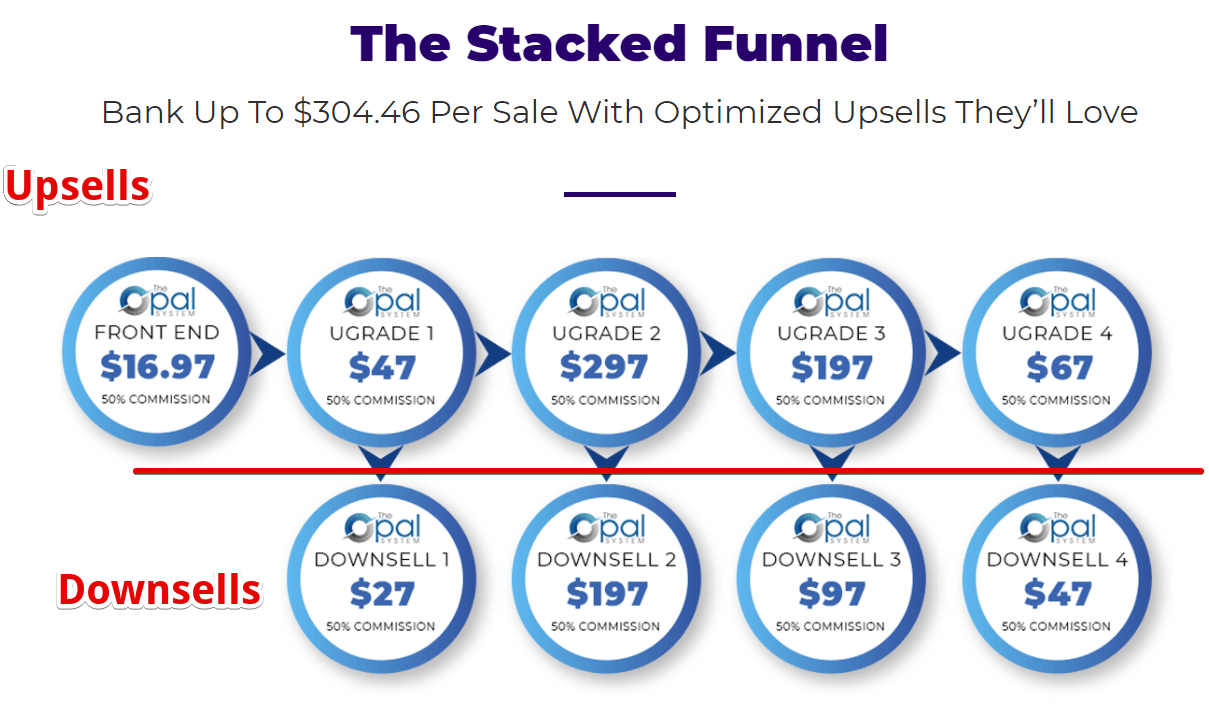 By now they have your credit card information so, with 4 additional clicks, you might be charged more than $600. (Instead of advertising $16.97).
According to some gurus (like the creator of the Opal system), this is the way how to make money online.
Well, I am not sure.
This is pretty dishonest, and some people might feel like they are ripped off.
One More Thing
In his sales pages, he uses fake testimonials.
This is always a red flag.
Let's only take a look at this guy: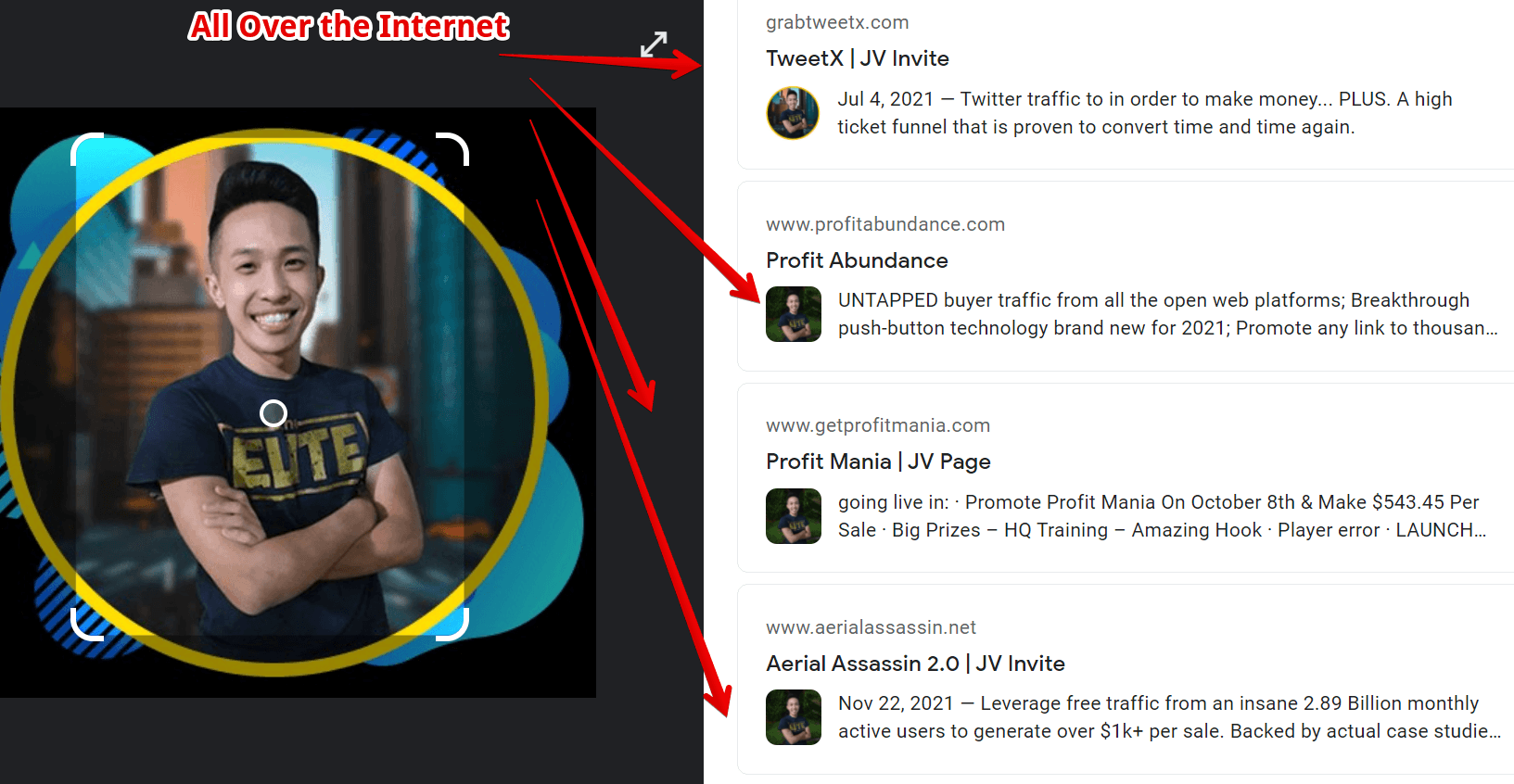 We see that this image is all over the internet.
This is a common practice when it comes to low-quality digital products.
Since they don't have genuine happy customers, they use stock photos or fake testimonials.
How About The Positive Opal System Reviews?
As mentioned at the very beginning, you might have seen other reviews that were very positive about Opal System.
In fact, you won't find any Cons and that is suspicious.:
And here is another one, that highly recommends the Opal system:
Even, the platform where I have learned how to make 4 digits per month has some drawbacks, so there is no way that Opal System is spotless.
The only reason why there are so many positive reviews is that these guys heavily promote the Opal System.
Based on the Upsells structure, we know that everyone who successfully promotes this system gets a 50% commission.
But this is not an honest way how to make money online.
What I Like About Opal System

30-Day Money Back Guarantee (Although be careful. WarriorPlus is not responsible for the refunds and you have to contact Jon directly. He most likely will try to sell you his high ticket program).
What I Don't Like
Hyped Up Sales Video
Unrealistic Earning Claims
Just a Funnel to get you to his more expensive "program"
Jon is considered a scammer
Fake Testimonials
Opal System – Conclusion
Please Stay Away from the Opal System!
You are not going to make a dime with this system.
It doesn't work, and there is a risk that you will be charged much more than just $17.
If you have questions or concerns please use the comment section below. I keep an eye on it and I do my best to provide you with the answer within 24 hours.
Thank you for reading
Mike