Have you noticed that many companies dealing with cryptocurrencies offer huge returns?
One of them is My Crypto Rev.
Is this legit or a scam?
In this My Crypto Rev review, I am going to walk you through the product, to check red flags (if there are some) and by the time you are done reading, you know what is this company all about.
Disclaimer
Please note, I am not a member or an affiliate for My Crypto Rev. This review is based on research and information available online in the public domain.
Any recommendations and conclusions are only opinions and may not apply to all persons or situations.
Overview
Name: My Crypto Rev
Website: www.mycryptorev.com – the website is not available anymore
New Website: www.mycryptorev.org
Price to Join: Free to join. A minimum to invest $100
Recommended: No! It is a Ponzi Scheme
My Crypto Rev Summary
My Crypto Rev is a new company (registered only in September 2020) offering huge returns.
Apparently, they have trading experts and sophisticated trading tools so you as a potential client may earn 4% daily over 6 months.
Please Note that such ROI is unrealistic and whenever you see such a claim, the chances are pretty high that you have stumbled upon a pyramid scheme (so kind of).
As you know, Pyramid schemes are illegal almost in every country, so I strongly recommend, not joining the My Crypto Rev.
The website of the Company MyCryptoRev.com does not work anymore.
They have created new website MyCryptoRev.org, with new desgin, but it is still the same thing.
Please stay away from MycCryptoRev.
There are many legal ways how to generate consistent income.
I personally prefer Affiliate Marketing, where I run one website that generates me 4 digits online.
Here is a link to the method I have been using since 2017.
Sign up for Free and I will guide you through the platform.
No Credit Card Needed – Just your email.
What Is My Crypto Rev?
My Crypto Rev is a kind of investment company that deals with cryptocurrency (Bitcoin and Ethereum).
They offer a huge return on investment, to be precise 4% daily for more than 6 months!
This company is founded on September 16th of 2020, and a few days later they have registered the website.
UPDATE.
This company has already been shut down.
In 2021 they have registered a new website to look like a new "opportunity". But it is still the same thing.
There are basically 2 ways how to make an income within this organization.
You invest and make a profit of 4% daily
You can become an affiliate and refer this company to others. It does not say how many levels it goes deep.
In theory, you can do both but let's take a better look at this company because it sounds too good to be true.
First of all, this is not exactly a new company; in other words, My Crypto Rev is just a rehash of the older company called My Gold Rev.
And it is not difficult to find this out.
While you are at their website (mycryptorev.com) just scroll down where you see the social media buttons.

Actually, only one works properly and that is the Youtube one. It directs you to the My Gold Rev Official Youtube channel.
The other buttons (Instagram and Facebook) do not work properly.
I find this as a red flag and I personally wouldn't invest in such a company that is not able to have a spotless website.
(Small mistakes are acceptable but these are major errors).
Who Runs the My Crypto Rev?
It is very important to know who runs the company.
There are many scammy sites/systems that do not even show, who is behind.
(For example Bitcno).
Some companies use a fake CEO – meaning there is an actor who creates some video, shoots some photos, but there is no information about such a person outside of the company's website.
(For example Beurax).
This is another warning sign.
Such a CEO should have a Facebook profile or LinkedIn, maybe Instagram.
And this is exactly the case with My Crypto Rev.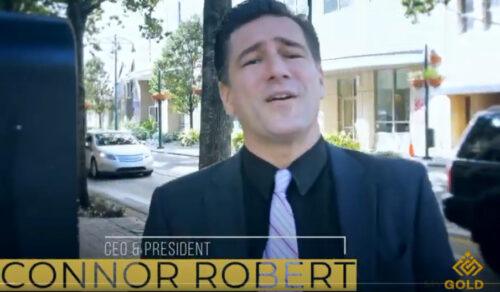 This person called is allegedly the president and CEO of the My Crypto Rev.
There is absolutely no information about a person called Conner Robert. Again he is most likely just an actor hired for one purpose only. To fool as many people as possible.
Is My Crypto Rev a Pyramid Scheme?
Most likely it is… I would even call it a Ponzi Scheme.
Just take a look at the typical sign of a Pyramid Scheme.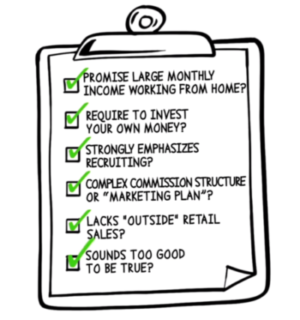 Well, the thing is they don't offer any compensation plan.
My Crypto Rev does not offer any products or courses so the only money that flows into the company is money the people invest. Once people stop paying, the entire structure collapses.
The reason being is that there is no proof that the company has an external source of income.
How Much to Join the My Crypto Rev
Everyone can join the My Crypto Rev for free.
But that is not the point.
The main point is to invest and make a profit. At least that is what they claim.
The minimum amount you can invest is $100, and the maximum $100,000 as one deposit as per the screenshot below: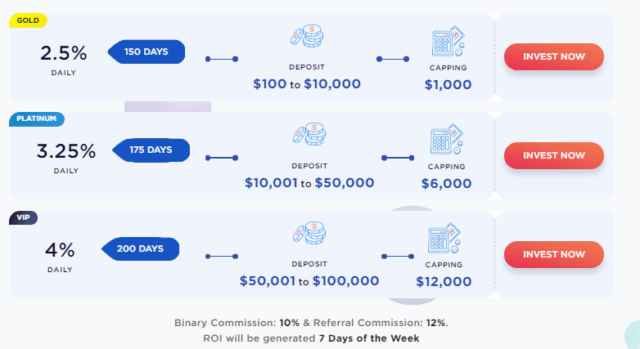 Of course, you are told that you can do more deposits in a day.
But let's assume that a person invests one time $10.001 for 175 days.
Based on the announced numbers (3.25% per day) this person should be able to withdraw almost $2.7M in less than 6 months (175 days.
This is ridiculous.
I have discussed it with my fiancee (who used to work in a bank) and she confirms that this is absolute nonsense.
If you take a look at the S&P500, the average is about 8 to 9% per year.
I believe it does not make sense to go deeper.
It is very clear that My Crypto Rev is just a fake company that takes your money and disappears.
In about a few months the creators open a new company with a slightly different name, so they can get new people.
My Crypto Rev Red Flags – How to Spot a Scam
Watch out for little things on a website.
For example, they claim that their project start date was January 2005.

How come the website was registered in 2021?
This is a typical sign of a scam.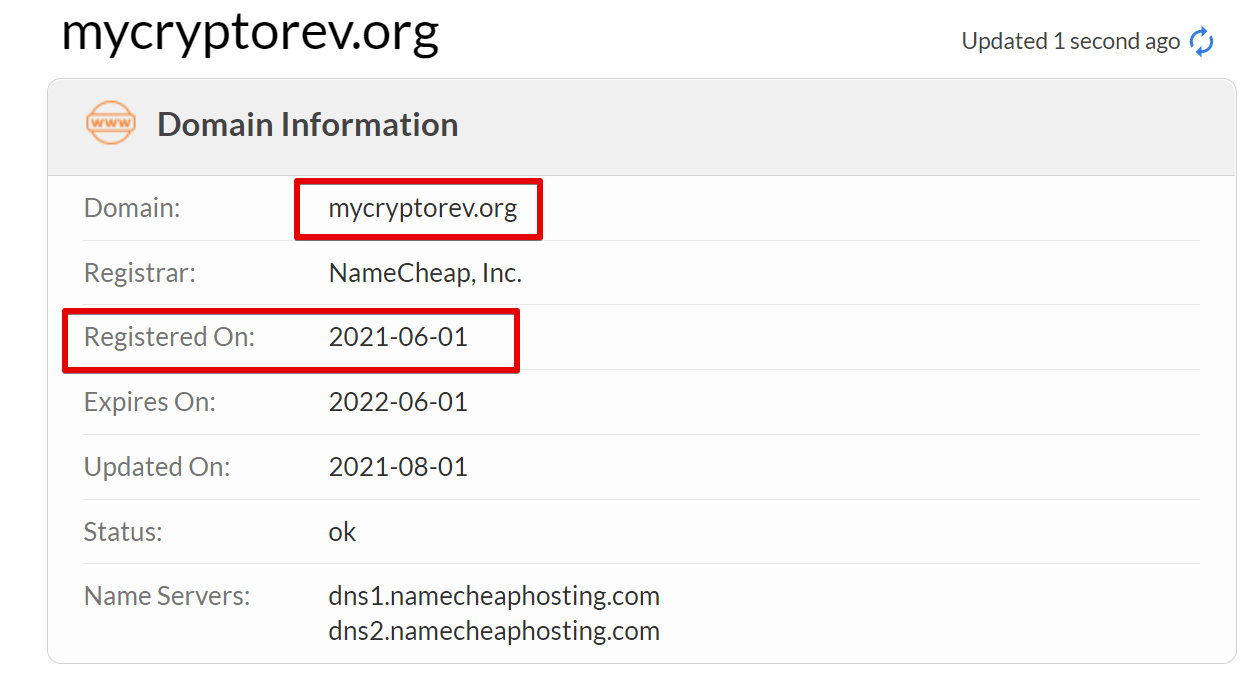 Also, they claim to have millions of members, that have withdrawn already $830 million?
For less than a year?
It is nonsense.
Contact?
Just check their contact information.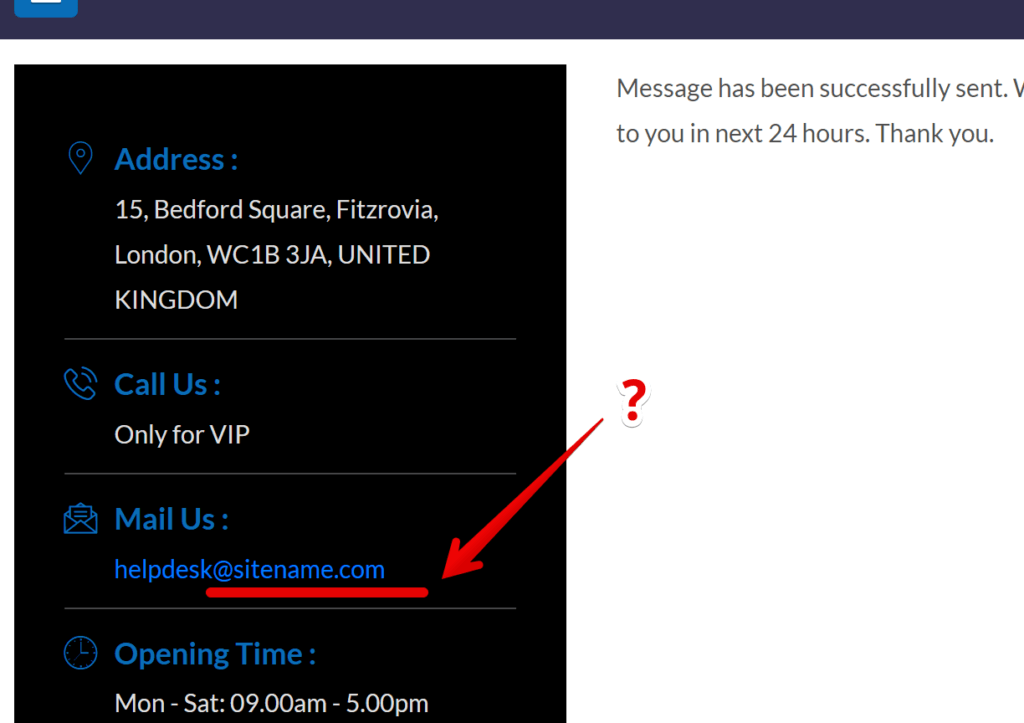 The domain sitename.com doesn't work and it redirects me to some Israeli website.
So there is no way how to contact them.
I also sent them messages via their contact form. It says they provide feedback within 24 hours…
Here is the answer: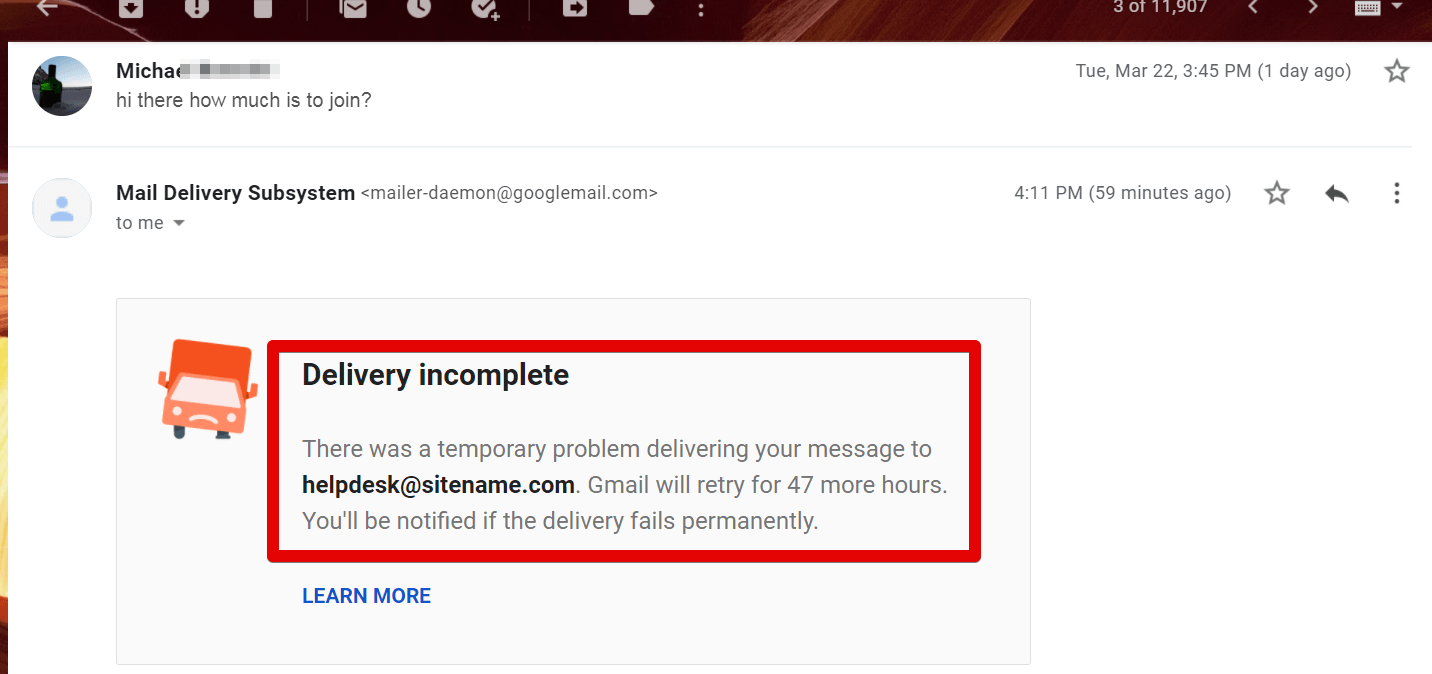 If you can't get in touch with their support or owner of the founder, stay away from it!
These are easy things to doublecheck, so please stay away from this company.
What I like about My Crypto Rev

There is nothing I like about the My Crypto Rev
What I don't like about My Crypto Rev
The founder is most likely just an actor (in any case, Conner Robert is not a real person behind this company)
Unrealistic income claims
Ponzi Scheme
Fake "Contact" & "About" Info
It has already crashed and new domain was created in 2021
Is My Crypto Rev a Scam?
Yes, it is a scam.
We have covered how this company supposedly works, but let me tell you that every investment company that is legit, claims that any investment is risky.
These guys within the My Crypto Rev offer you 2.5% to 4% daily. The more you invest, the more you can make.
It is not clear who is behind it and that is a huge red flag.
Remember that, when it comes to investment, keep in mind these following rules:
Make sure that you have a way out quickly
Don't invest more than you can afford to lose
Realize that you are on the outside, looking in. And people who are inside have a plan, you don't know about.
If you want to learn more about the My Crypto Rev, or you want to find out how to make money online, let me know in the comment section below.
I personally make money online using Affiliate Marketing.
If you want to learn more about a good platform that teaches how to create your own business, check this review.
Also, I will leave a link at the bottom of this article, so you can learn more.
One more thing – if you have experience with similar companies, please share the info with us if you can.
It will be beneficial for others.
Thank you for reading,
Mike
How to Get Started with Affiliate Marketing?
I have been a member of Wealthy Affiliate since late 2017 without prior marketing experience.
Beginning of 2018 I have learned how to build a website that drives traffic and makes sales.
Since the summer of 2019, I am a full-time internet marketer and I work from anywhere I want, whenever I want.
Training within Wealthy Affiliate teaches how to generate a consistent income in the long run.