Bitcno – it strongly resembles Bitcoin, doesn't it?
I believe you have not made a typo and you really search for more information about this company called Bitcno.
Great!
Now, that we are on the same page, you are about to learn more about this company.
Most likely you are aware that there are many scams and misleading companies that just want to take your money.
In this Bitcno Review, you will learn everything you need to know about this website/company.
Let's get started.
Disclaimer
Please note, I am not a member or an affiliate for Bitcno. This review is based on research and information available online in the public domain.
Any recommendation and conclusions are only opinions and may not apply to all persons or situations.
Bitcno Overview
Name: Bitcno
Website: www.bitcno.com
Price to Join: $25 to $25,000
Recommended: No. This is most likely a Pyramid Scheme.
I recommend Affiliate Marketing. Check the Pros and Cons of both business models (Affiliate Marketing vs. MLM).
Bicno Summary
Bitcno is an unregulated investment company where people invest from $25 to $25,000 in Bitcoin.
The company supposedly has an external source of income, where they generate revenue.
But there is no proof of it, whatsoever.
It operates as an MLM company and the only money that flows into the company are the fees from existing (and new) members.
Bitcno has no retail product and does not offer any service/course.
With that being said, it is a Pyramid Scheme.
I don't recommend joining this Pyramid Scheme.
There are many legal ways how to generate consistent income.
I personally prefer Affiliate Marketing, where I run one website that generates me 4 digits online.
Here is a link to the method I have been using since 2017.
Sign up for Free and I will guide you through the platform.
No Credit Card Needed – Just your email.
What is Bitcno?
Bitcno is supposed to be a platform where you can become successful.
These are at least the words they used on their website.
Funny, the video that is right next to the text is not related to the Bitcno, whatsoever.
Could it be, that this is still a new company (registered in June 2020) and they have not had time to fix all the bugs on their website?
Well, I doubt it.
There are more red flags.
We are going to get there in a bit.
So in theory, this platform is for investors that want to get genuine returns.
In reality, the company pretends to be an investment company dealing in the cryptocurrency market. It operates as an MLM (Multi-Level Marketing).
As already mentioned the website was registered in June 2020, in Panama.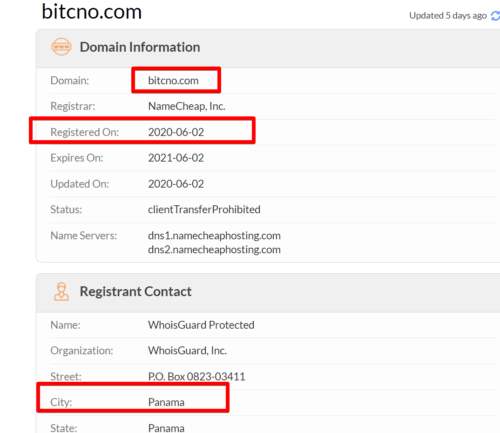 It does not need to mean anything, but I have done 100s of digital product reviews and I know that many scammy sites have registration addresses in Panama.
Again this does not prove anything (it can only support a theory that Bitcno is an illegal gifting scheme).
Who Runs the Bitcno?
We don't know…
And this is a huge red flag.
Whenever there is an MLM company that does not reveal who is behind it, you better do more research before joining or sending any money.
And make no mistake – if a company shows who the CEO is, it does not necessarily mean that it is legit.
A good example is a company called Beurax (the CEO is most likely just an actor).
But when it comes to Bitcno, I would not recommend joining it, simply because they are not transparent.
And here is a funny thing I have found.
In the FAQ section, there is a bunch of questions, and you can get the answers.
The last question, is "Is Bitcno Legal?"
And the answer does not pull down. (I have clicked on the arrow using both my desktop and laptop – it does not work)
Strange 🙂
I mean, of course, they are not going to reveal that this is not legal, but I find it funny that there is no answer to this specific question.
Is Bitcno a Pyramid Scheme?
We know that Bitcno operates like an MLM company.
Let me share with you a couple of facts about legitimate MLM companies like Amway or Mary Kay
These have a lot of retail products and their distributors can make a profit from selling these products (at least in theory, since the success rate is low).
But at least they have the products, otherwise, they would be just pyramid schemes.
In the following video, it is very well explained, how to spot a pyramid scheme.
You might want to pay attention so you know what to focus on:
Does Bitcno have any retail product (or service)?
Nothing of that sort.
And how can one make money with Bitcno?
Just by recruiting new members, so their commission is paid off these fees.
(we will see how their compensation plan works).
And you know that if an MLM company has no retail product it is a Pyramid Scheme.
Let's check what are the signs of an outright pyramid scheme.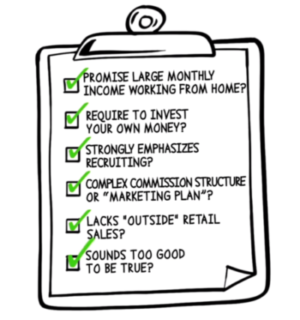 Especially the 1st point, 2nd point, and 5th point.
Promise Large Monthly Income
Require to invest your own money
…
…
Lacks "outside" Retail Sales
How to Sign up?
In order to join Bitcno, you have to choose the package first.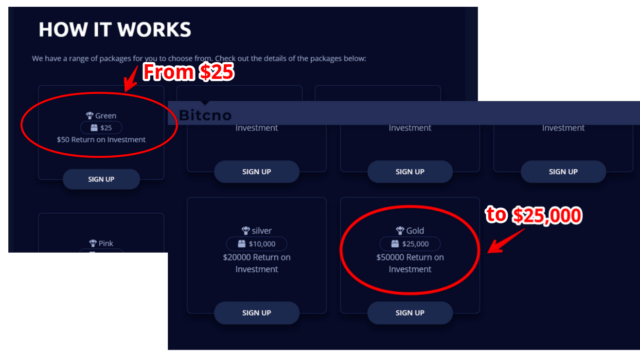 The price ranges from $25 to $25,000 and you are promised a 200% ROI!
(I know it is ridiculous).
Once you choose the package, you then go to fill up personal data, including your telephone number and address.
You are also required to fill out the Bitcoin Address (this address is a source or destination of a Bitcoin payment).
Bitcno Compensation Plan
Every MLM company has a compensation plan where a potential member sees how much he or she can earn.
Often these compensation plans are complicated to comprehend.
That is why I am going to show you what is important to notice, regarding Bitcno.
We have already seen how much is the minimum to invest. It is $25, and that equals to so-called "green" Package.
Besides that there are:
Orange – invest $50 and receive $100
Black – invest $100 and receive $200
Pink – invest $250 and receive $500
Purple – invest $500 and receive $1000
Red – invest $1000 and receive $2000
Grey – invest $1500 and receive $3000
Blue – invest $2000 and receive $4000
Brown – invest $5000 and receive $10,000
Silver – invest $10,000 and receive $20,000
Gold – invest $25,000 and receive $50,000
As already announced it is (allegedly) possible to make 200% ROI.
This is simply not possible in reality.
(Warren Buffet's highest profit was 20% per year).
This company seems to have a 2×1 matrix structure as per the sketch below:
You as a potential member are at the top and you have two downlines right below you.
That is either a new member of existing who pays the fee every month.
Final Thoughts?
It is easy.
Bitcno appears as a legit company but the truth is that this is an illegal gifting scheme.
This entire model depends on the constant recruitment of new investors.
It is just a matter of time that this collapses.
Bitcno is most likely is another Ponzi Scheme, similar to the Tronex World or Adasa Group.
What I like about Bitcno

There is nothing I like about the Bitcno
What I don't like about Bitcno
The company operates as an illegal gifting scheme.
No evidence of external income
We don't know who runs the company
Is Bitcno a Scam?
Yes, it is a Pyramid scheme (or gifting scheme if you will).
These are illegal "business models" almost in every country in the world. Therefore I don't recommend joining this company.
You may easily lose your money since this company can collapses from day 1 to day 2.
Generally, when it comes to investment, keep in mind these following rules:
Make sure that you have a way out really quickly
Don't invest more than you can afford to lose
Realize that you are on the outside, looking in. And people who are inside have a plan, you don't know about.
If you have questions regarding this Bitcno or any other questions let me know in the comment section below.
I personally prefer another way of how to make money.
It is not MLM, I don't have to recruit anyone and I don't sell any product.
This business model I am involved in is called affiliate marketing at the bottom of this post you find a link where you can take a look at it as well.
thank you for reading,
Mike
How to Get Started with Affiliate Marketing?
I have been a member of Wealthy Affiliate since late 2017 without prior marketing experience.
Beginning of 2018 I have learned how to build a website that drives traffic and makes sales.
Since the summer of 2019, I am a full-time internet marketer and I work from anywhere I want, whenever I want.
Training within Wealthy Affiliate teaches how to generate a consistent income in the long run.