Are you looking for ways how to make some money online and you are interested in the survey sites?
To be more specific, you want to learn more about the survey site called TheoremReach.
You want to make sure that you are not dealing with some scammy system. Since we both (you and me) know that there are a lot of them.
Well, this is going to be an unbiased TheoremReach Review so you will find out everything you need to know about this survey site.
Let's get right into that.
Disclaimer
Please note, that I am not a member or an affiliate of TheoremReach.
This review is based on research and information available online in the public domain.
Any recommendations and conclusions are only opinions and may not apply to all persons or situations.
Quick Overview
Name: TheoremReach
Website: www.theoremreach.com
Price to Join: $0
Recommended: Yes It is legit, but you can't make a consistent income with the TheoremReach.
TheoremReach Review – Summary
TheoremReach is a survey site where you can earn some money doing specific surveys.
The problem is that many people get rejected and after a while, they just lose patience.
For those who do qualify the earning potential is extremely low, so even though this is a legit site, I don't recommend joining the TheoremReach.
So if you are looking for a site or system where you actually earn cash, let me show you my preferred method.
It is called a Squadhelp and you can make a few hundred by typing names.
For more information read the following review.
This is not a scalable business opportunity though and there is only so much you can earn within a specific period of time.
There are other (more complex) methods that can generate 4 or 5 figures per month.
The more time and effort you invest in the system, the more you can make.
What is TheoremReach?
TheoremReach is a survey site where its members can earn a bit of income doing surveys.
These are 3rd party surveys, meaning that a person is always redirected to another site.

It is important to say that even if you join the TheoremReach you still might not qualify for a specific survey.
The thing is that you have to first fill out a questionnaire and based on the answers you will or will not qualify.
What is a good thing, that even if you do not qualify for a survey you get a small compensation for trying?
Later we are going to see that in many cases the compensation is not paid off.
Who is it for?
Anyone who wants to earn an extra income can join the TheoremReach.
The thing is that the surveys depend on your geographical location.
But good thing is that anyone can join regardless of their location.
The reason why I mention this, is there are many surveys that are available only in the US, for example.
But you have to realize that most likely you won't qualify for all the surveys, due to your location.
What can easily happen is that you go through all these questionnaires and at the end of a day you realize that you just wasted 6 hours online and made only a few cents.
If you are looking for ways how to make a couple of hundred bucks, there is a much better site called Squadhelp.
Every day there is at least one person that earns from $100 to $300. Find out more in this review.
But back to the TheoremReach.
How does it work?
It is easy to join TheoremReach.
As already mentioned you have to first qualify for the survey in order to finish the survey and thus make some money.
What I find pretty annoying though, is the fact that a lot of members just don't qualify for the surveys.
Unfortunately, the number of nonqualified is higher than those who do qualify. 
In other words, you may try to start 5 surveys, but you will be able to finish only 2. 
With that being said if you are not a patient person, you better don't even start with the TheoremReach.
As an alternative, I recommend the site I mention above (called Squadhelp).
Let's say you qualify for the surveys – How much can you earn?
TheoremReach is one of the survey sites that do not pay well.
I mean, generally one can't make more than $100 to $200 per month with a regular survey site, but in the TheoremReach the earning potential is even smaller.
Let's talk about some numbers.
A person who has gone through the qualification process and did the survey(s) can earn 10 to 15 cents in about 20 minutes (up to half an hour).
This is a real earning potential, even though the numbers displayed at the beginning of the surveys are a lot higher.
So let's say you see a survey where you potentially can earn $1 per 20 min survey, but once you finish it you get only a few cents.
Is this something you are interested in?
Let me know in the comment section below.
What Other People Think about the TheoremReach
I always look at the specific review sites, where the members leave their opinion about companies and websites.
I am sure you are aware of this site; it is called Trustpilot.
TheoremReach has a poor rating, but let's take a look a bit closer.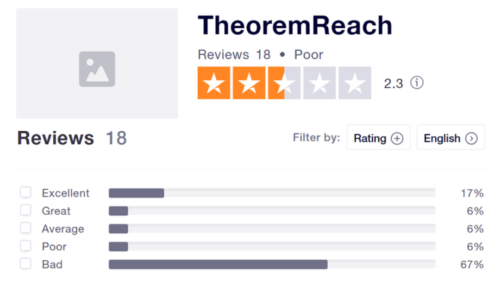 When it comes to these reviews, I recommend relying on those that are rated from great to poor. (You can actually select which you want to see). 
And I double-checked the Trustpilot in September 2022, to see what has changed:
Well, the review got even worse, so there is no point in wasting time with TheoremReach.
If you want objectivity, then pay attention only to those "middle" ones, since both extremes are most likely biased or based on current emotions the reviewer gives.
Is TheoremReach worth it?
No, I don't think so and I don't recommend it simply because it is waste of time.
Let's mention some disadvantages or complaints:
There are not enough surveys
Low-income potential
Customer support – not helpful
And let's not forget about the high rejection rate.
One of the main reasons, why people are rejected from the surveys is usually poor quality answers they give in the initial questionnaire.
There are other ways how to make real money, but it requires effort.
For example, imagine having a website where you write reviews about coffee machines.
There are a lot of these reviews on this website, in other words, a lot of coffee machines.
Please note that you are not selling these machines, you only give recommendations.
And for every machine that you recommend and the buys purchase, you get a commission.
(You redirect the reader to the merchant site, that you are partnered with).
Now, with proper education, you know how to drive free traffic to your website. And having thousands of visits per day can easily earn you 4 figures per month.
It is called affiliate marketing and depending on the niche you can get to the 4 figures per month in 12 months (in some cases it takes longer). 
Again it all depends on your niche. 
Is TheoremReach Legit?
TheoremReach is a legit site.
Some of the former reviewers call it a scam, and I can understand that. The thing is that these people did not get rewards for their time.
But they actually did not lose a dime from their pocket.
There are certainly worse scams out there you can have a look at some at the following link:
The link directs you to the reviews of these scams.
I have been reviewing hundreds of products, but let me tell you that if a person does not lose money, it can't be called an outright scam.
What I like about

It is Free to Join
A member is still rewarded even though he or she did not qualify for the survey
What I don't like about
Earning potential is low
High rejection rate (You won't qualify for a lot of surveys)
Poor customer support
Some Thoughts at the End
We have covered every important aspect of TheoremReach.
You can try it on your own, but please don't expect much from this site. You are probably going to be more annoyed than pleased.
There are certainly better ways how to generate a consistent income online. That also requires patience and most importantly effort, but down the road, the income potential is limitless.
A few years ago I have decided to try Affiliate Marketing and since September 2019 I am a full-time internet marketer.
I work from any place I want, anytime I want – basically, I am my own boss.
And let me assure you that in my case that thing about "being your own boss" wasn't easy for me, but that is for another article. 🙂
If you have questions about TheoremReach, or you want to find out about the ways how to earn online, please let me know in the comment section below.
Thank you for reading
Mike
Learn How To Make Money Online
Do you really want to learn how to make money online?
First of all please realize that there is no such thing as a push-button system that generates money on autopilot.
Surveys are not good for generating consistent income either.
It is essential to pick a proper business model.
The business model works so you don't have to invent the wheel.
Fortunately, you don't have to search for the right business model.
It is called affiliate marketing.
You don't have to create any products, you don't deal with suppliers or customers.
Just create a website, a simple blog, and learn how to monetize it.
Check the link below to learn more about a specific platform teaching these skills (and beyond).