Tradera is a quite new company that offers Forex Trading courses. It is also an MLM, so there are chances that you have been approached by someone asking you to join the Tradera. 
Your question of whether Tradera is a Scam or not is perfectly legit. 
I know that there are a lot of Forex Trading Scams out there, so one must be careful not to fall for such a scam. 
In the following review, you are about to find out more and by the end, you will know for sure what is the deal with Tradera. 
Disclaimer
Please note, I am not a member or an affiliate for Tradera. This review is based on research and information available online in the public domain.
Any recommendation and conclusions are only opinions and may not apply to all persons or situations.
Tradera Global Overview
Name: Tradera 
Website: www.Tradera.org
Price to Join: $15 every 28 days 
Recommended: Not as a business model generating you the full-time income (possibly pyramid scheme)
 I recommend Affiliate Marketing. Check the Pros and Cons of both business models (Affiliate Marketing vs. MLM).
Tradera Overview
Tradera is a digital platform that offers courses and services in Forex trading. It operates as an MLM and the question is, whether this is a new pyramid scheme or not. 
Tradera has been found only in 2019 so it is too early to say. 
So far this seems like a legit company, although I don't think this is a lucrative method of how to make consistent income. 
First of all, it has a Multi-Level Marketing structure and most people lose money in such structures.
I personally don't recommend Tradera as a business opportunity. 
There are other (and better) methods that if mastered, eventually lead to passive income in the long run.
I have learned how to create a website, how to get free traffic, and how to monetize the traffic using this method:


Sign up for Free and I will guide you through the platform.
No Credit Card Needed – Just your email.
What is Tradera 
Tradera is an online forex platform that offers trading educational materials, sells forex signals, but most importantly allow their members to recruit new members.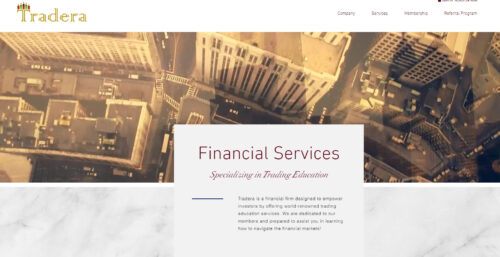 Signal service analyses the market and based on that provides information on what to buy when to buy, and when to sell.
Generally speaking, this service is usually not for free, but once you become a Tradera member, you should get this information automatically.
The company operates as an MLM. 
You as a client or member will have access to Tradera services, which we will mention later. 
Basically, the Tradera member can make money in 2 ways:
By applying their educational material and make money with Forex
To recruit people to join the Tradera, build up the team, and earn a commission. 
Founder of Tradera 
In the 2nd quarter of 2020, the company had no information about who is behind it or who the founder is. 
With their website update, they added information about the founders. 
According to the website tradera.org company has two founders: 
Eastan Harris (as a CFO)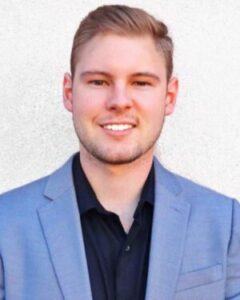 and Kody Sell (as a CEO)
There is no other information about these guys, and one would expect that they show their profile on LinkedIn. 
The company is based in Dallas Texas on 1700 Pacific Avenue. 
The address seems to be legit, although a few months ago they had only a P.O.Box address.
It seems that they have moved to the new office only recently. 
Legal Issues with the Tradera 
There are no legal issues with Tradera. The company is still new. 
However, there are some complaints at the BBB site (Better Business Bureau) from the former clients. 
But at the other hand, Tradera has responded to all of these complaints and it seems that they do everything they can to resolve the issues. 
Is the Tradera a Pyramid Scheme?
Usually, it takes a few years until a company can be accused of being a pyramid scheme. This has happened with other MLM company called Young Living. 
As we know, Tradera has been here for something over a year now, it is early to say. 
But let's be clear about one thing. 
A pyramid scheme is a model where people make money only by recruiting others and as you build your downline you earn more and more. 
There is no product to sell, so the revenue is generating from the recruiting only. 
Here are some signs of an outright pyramid scheme: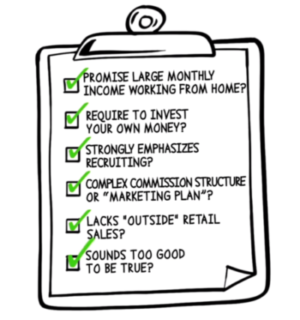 And how about FTC?
How does the FTC (Federal Trade Commission) distinguish between MLMs with legit and illegal compensation structures?
With that being said, if a member is somehow advised to recruit people (and these people should also recruit others) it is safe to say that the compensation structure is unlawful. 
In other sections, I share the Tradera compensation plan that was created by Tradera member. It is actually quite objective, but we will see that right at the beginning she emphasizes recruitment. 
Who is Tradera for?
More and more people (especially these days) try to figure out how to make a living on how to create a 2nd source of income. 
There are a lot of new companies (including Tradera) that promise you a high return on investment, but unfortunately, most of them are scammy and considered a pyramid scheme, as for example Freebay. 
Is Tradera different? 
Can you really learn new skills, go to invest, and make a profit? 
Well, there is one rule regarding investing – in fact it is the most important rule:
"Never invest money that you can't afford to lose"
And in case you have a budget for investing, you would better off to figure out how to invest in S&P 500 or search for a Certified Business Broker. 
Don't make a quick decision just because on their website they say how lucrative this is. 
In case you don't feel like investing maybe you ought to invest in yourself. Learn new skills, apply them, and monetize them. 
For example, in 2017 I started to study how to create websites and how to get free traffic. 
Long story short, I now make 4 figures online.
It took me a while but with proper education, it can be achieved within a year or so. 
What is the Price to Join?
There are 2 different memberships. 
One is called Client Membership. The price is $99. 
The other one is IBO (Independent Business Owner) or affiliate and the price is $15. 
Please note that this fee has to be paid every 28 days. 
If you want to become just an affiliate, you don't have to purchase the $99 membership. 
For affiliate, Tradera offers an incentive where you don't have to pay for the membership if you recruit 3 new members. We will talk about the compensation plan later. 
Products or Services, That Tradera Offers
Here is the list of Tradera's services: 
This is about how to analyze and trade the financial markets. It concerns trading basics and also advanced institutional trading. 
The majority of this academy is presented to you as video content. 
These are shared trade ideas from a variety of traders. 
Apparently, at this stage, Tradera clients can earn while they still learn. 
Clients can have direct access to experienced traders. 
These are live webinars about current market conditions, trading concepts, and opportunities. 
This includes a series of thorough strategies that are broken down into the following components:
– Strategy Conceptual Basis
– Strategy Entry Criteria
– Strategy Exit Criteria
– Strategy Trade management
– Strategy Overview
It is said that the client will learn how to apply the concept from Trade Academy into a systematic strategy applicable in financial markets.
And it seems that there will be more.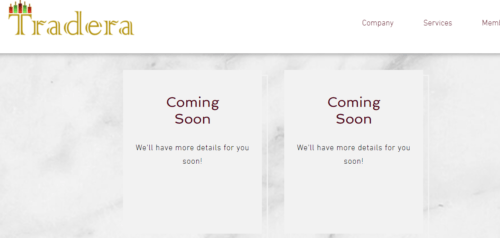 Hopefully, they will reveal the new services soon. (I will keep an eye on it). 
Compensation Plan or Financial Rewards Plan
Compensation plans are difficult to read and even more difficult to understand. 
All MLM have this in common.
However Tradera offers quite an OK compensation plan, it is only 10 pages. You can read the full document here. 
Here is a short version of the compensation plan that includes affiliate rankings. 
The earning potential depends on your ranking and here are the ranks and requirements to achieve each rank:
Founder  – needs to refer 3 clients 
Knight – has to maintain 3 clients and have 10 members in the downline. Potential earning $125 a week
Noble – has to maintain 3 clients and additionally 25 in the downline (10 + 10 +5). Potential earning $250 a week
Bishop – has to maintain 3 clients and have additionally 75 clients in his downline. Potential earning $500 a week
Duke/Duchess – has to maintain 3 clients and have added 200 clients in his or her downline. Potential earning $1,250 a week. 
Prince/Princess – has to maintain 3 clients and have additionally 500 members in the downline. Potential earning $2,500 a week.
King/Queen – has to maintain 3 clients and have additionally 1,000 members in the downline. Potential earning $5,000 a week
Emperor/Empress – has to maintain 3 clients and have additionally 2,000 clients in the downline. Potential earnings $12,500 a week
On top of that there are the following high ranks: 
Legend 
Legend 200 
Legend 500
The compensation plan is explained in the video below:
Have you noticed what she said at the beginning?
"When you come aboard in Tradera, the first thing you want to do is personally refer 3 customers to Tradera". 
So it is about recruitment and we know that where an emphasis is on recruitment it is considered a pyramid scheme. 
This to me is a red flag and therefore I don't recommend joining Tradera. 
How Much Can You Make with Tradera?
All MLM companies are required to reveal their Income disclosure. 
In the Tradera case, it is not available, simply because the company was created only last year. 
Generally speaking the earning potential within any MLM company is extremely low. Less than 1% of IBOs make more than the minimum wage and that is, unfortunately, the case for all MLM companies. 
This business model in its nature is made like this. Only people at the top make money, while the rest is not making at all, or they even lose money.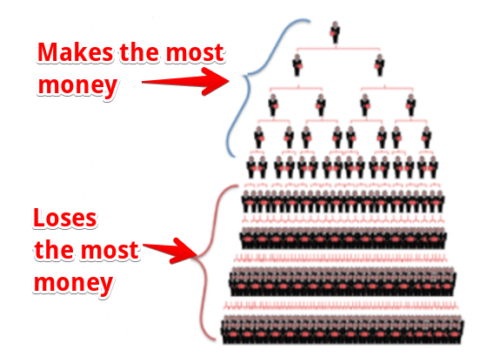 Even with Tradera, you are required to pay $15 every 28 days. It is not a lot, but imagine you can't recruit 3 persons within 4 months. You lose money every single month. 
In the paragraph above we see what is the earning potential as per specific rank. 
Let's take a look at Noble.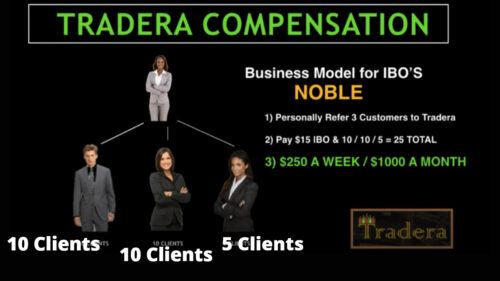 You can make $1,000 a month which is less than the minimum wage (assuming it is $7.25 per hour that equals to $1,152 per month).
The requirements for being at Noble? 
You have to maintain 3 clients
These 3 clients of yours, need to sell it to another 10 + 10 + 5 clients
Now, do you have an idea of how difficult is this and how many rejections you will encounter? 
In case you have not prior experience with MLM, I suggest this is not for you. 
A few people handle rejection well and for most of us, this business model can be very frustrating. 
Is Tradera a scam?
No, it is not a scam, at least it does not seem like a scam at this point. 
They do have education material and offer services. 
The company does not offer any "passive income" opportunity either. (If you want to know how to make passive income from home, read this article) 
So as of this writing, Tradera is not a scam.
Better Way to Generate the Revenue
We have covered what is the earning potential within the MLM business model. 
Success is rare and therefore, I feel like sharing a different opportunity here. 
It does not require any recruiting, nor selling. 
What one needs is a laptop (or desktop) internet connection and a bit of special knowledge. 
I personally recommend learning something about SEO: 
how to create a website
how to rank well in Google (so the site gets a lot of visits)
how to monetize the traffic
It may sound simple, but it requires time and effort.
I know people want to learn new skills, and these days there are a lot of courses on Udemy or on Youtube (also for free).
When I used to search for proper information about how to make money online, I was kind of lost, since a lot of information was only partial. 
It was difficult to find a course that teaches exactly what to do step-by-step from scratch. 
Here, let me share with you one particular platform that I have found and where I have learned how to make consistent income online. 

What I like about Tradera

The price for becoming an IBO is very reasonable
The company offers services and courses where you can learn how to trade
What I don't like about Tradera
No Support 
Only 3 Day money-back guarantee (three days)
This is still a pretty new company to determine whether it is a pyramid scheme or not. 
Some Thoughts at the End
We have covered what the Tradera is all about.
If you are in trading and want to learn – check their products. Test them and if you like, you can go ahead and promote it. 
The downside is that there are only 3 days of the money-back guarantee, so you need to make a quick decision. 
I personally don't like the MLM business models and here is why (Affiliate Marketing vs MLM). 
But I did my best to remain unbiased, however, let me put a shameless plug here. 
I personally prefer affiliate marketing simply because of:
I don't need to recruit anyone
I don't sell any product, but only recommending good ones (so if people buy I get commission)
It took me a bit till I learned how to drive free traffic to my site, but it wasn't so difficult. I will leave a link where it is possible to test out this platform, for free. 
If you have any questions regarding the Tradera, or you have personal experience, please share it, down below in the comment section. 
I am sure that will help others readers as well. 
Thank you for your support
Mike 
Please Take a Look at Platform Teaching How To Start Business Online
I have been a member of Wealthy Affiliate since late 2017 without a prior marketing experience.
Beginning of 2018 I have learned how to build a website that drives traffic and makes sales.
Since the summer of 2019, I am a full-time internet marketer and I work from anywhere I want, whenever I want.
Training within Wealthy Affiliate teaches how to generate a consistent income in the long run.