Hello and welcome to the ShareToEarn Review.
In this post, you are going to find out what the ShareToEarn is and whether this is a legit system or not.
I will walk you through this website and show you what to be careful about, how to check the red flags, and most importantly how much can you make with the ShareToEarn, if anything at all.
Does it mean that this site is not what it looks like?
Is ShareToEarn a Scam or Legit
You are about to find out, soon.
In this post, you will find also some alternative on how to make money and what it takes to start earning online. 
Without further ado, let's dive into it.
Disclaimer
Please note, that I am not a member or an affiliate for ShareToEarn.
This review is based on research and information available online in the public domain. Any recommendations and conclusions are only opinions and may not apply to all persons or situations.
Product Name: ShareToEarn
Price to Join: $0
Creator: N/A
Rating: 0/10
Do I recommend it? No! This is a Scam!
ShareToEarn is a website claiming that will pay you for taking surveys, performing some tasks, and downloading the apps.
The problem with ShareToEarn is that they don't pay their members.
It is just another clone of many scams out there.
They harvest your personal data like your email, telephone number, and other information (based on a survey you would take).
My recommendation is to stay away from the ShareToEarn!
There are many legitimate platforms where you can earn money. It is not a lot, but in this review, you will also find links to these platforms.
One particular I can recommend is called Squadhelp, where members can earn up to $300.
Making money online is not that easy – it requires effort and time.
With proper education, you can speed up the process but still, expect at least 8 to 12 months until you make the first sale.
If you want to know what does it take to make consistent revenue online check the link below.
ShareToEarn is a website that acts like a GPT site. That means Get-Paid-To. You basically should earn money by performing simple tasks, doing surveys, and downloading and testing apps.
According to ShareToEarn .co, this system was launched in 2015, so it supposed to be a well-established program that generates money for its members.
They even promise you $50 as a signup bonus.
I have experience with GPT sites and I know that a $50 bonus is a lot of money.
Usually, you get only 10 bucks so the ShareToEarn seems to be very suspicious right from the beginning.
If you go through the site you may spot some information that doesn't match.
For example, in the About Us section, it says that this company is " based out of Los Angeles, CA".
In the FAQ section, it says "Our address can be found on the contact us page. We're a company located out of the Netherlands."
When you see such a discrepancy it is advisable to dig a bit deeper, to find out if there are more red flags.
So let's start with the creators.
Who Is Behind?
In the About Us section, it says that ShareToEarn was founded in 2015. It does not say anything about who is the creator though.
Regarding the foundation – it is not true either.
If we check when the site was registered, we see that it was not so long ago: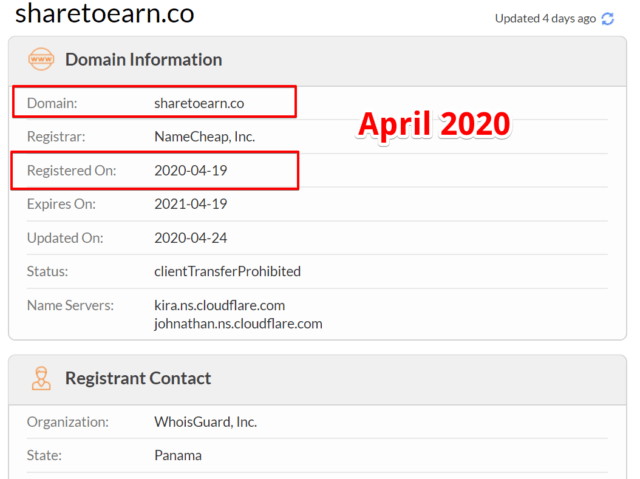 So obviously they lie about the age of the domain. The reason is that they want to look legit and well-established but the reality is that the entire ShareToEarn is full of mistakes and disinformation.
We are going to find out more about ShareToEarn but let me digress a bit;
I would like to show you, how easy it is to check the age of any domain.
In case you don't know how to do it just watch the video below:
Please note that this video shows how to check the registration date of another website inboxdollar.co. This website is not available anymore.
It redirects you to another clone of these scams, called RewardDollars.
Inboxdollar.co was a scammy site and it was created based on a legit GPT site called very similarly inboxdollars.com:
inboxdollar.co was a scam
inboxdollars.com is a legit GPT site that I have used as an example in the section above.
So Let's get back to the review of ShareToEarn.
At the website, there is no information about who is behind the website, not a name, not a company.
The address they use is most likely fake.
The Contact form does not work and the email address does not work either.
This is enough to say that ShareToEarn is a scam and it is advisable to stay away from it.
Who is it For?
A lot of people want to make money on the internet. It seems that it is much easier than in the online world and in some sense it is.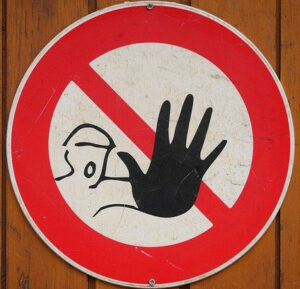 But it is essential to realize that it takes some effort to make consistent income online.
There is no way that you can make hundreds of dollars per day by taking some surveys as promised by ShareToEarn.
As I said, ShareToEarn is just one of many scams, that do not pay their members.
I mean read this statement carefully:
"Start earning from your Instagram account today! Enjoy a $50 bonus upon sign up.
Earn $10 for every friend you refer!"
Does it sound too good to be true?
It certainly does, doesn't it?
Well then obviously it is and if you check a legitimate website that offering you to make money by doing these surveys you will learn that the income potential is small.
It is possible to make maybe $100 or $150 per month.
Here are 3 GPT sites that are legit and you can sign up and start earning. But again it'll be only a few bucks.
www.swagbucks.com
www.inboxdollars.com
or www.surveyjunkie.com
You can check them, but people are not very happy with these platforms due to their low earning potential.
As I have already mentioned, one specific platform I do recommend.
It is called Squadhelp and you can literally make money by typing names. To be more specific, you are part of a contest where you come up with a name for a domain.
In this review it is shown how to come up with domain names – it is very easy.
How to make a consistent income?
The best way is to have your own website.
And don't worry – there is no coding no programming, these days you can have a website ready in a few seconds.
Then of course comes the interesting part and that means content creation.
Once you know how to create content that will rank well in Google, you get traffic to your site. More traffic means bigger monetization potential.
Everyone who runs a website that generates consistent income has developed the following:
Being consistent
Being patient
Make sure to invest your time and effort
When it comes to a proper education I can only recommend the following platform.
It has more than 300,000 active members and there are a lot of folks making thousands of dollars per month being into that business only for about 2 or 3 years.
Within that platform, here is how you can too create a website:
So this is basically the secret about making money online in nutshell.
See, no secret at all.
Just a combination of a proper attitude and proper tools.
But I digress and let's go back to the ShareToEarn review.
It is very easy to sign up, and it is for free.
Register for free using your name and email address
Right after that, you get a unique link that you can share. In other words, you should be able to earn $10 for each referral. But the truth is that you won't be able to cash you the money.
You are told that you can withdraw your earnings anytime you want and you get your money immediately.
Again these are just empty promises.
After sign up, you get to the Dashboard of the ShareToEarn that looks pretty much the same as the other scams.
Have you noticed that my current earnings say $25, but on the home page they promise a $50 upon sign up!
Where is the other $25?
The bottom line is that there is no money in that system. Just be aware of that!
Within the Dashboard, you have the Tasks section, where you supposed to make money by:
Refer friends – Earn $10
Get Clicks – Earn $0.5
Completer Surveys – Earn $30
Create YouTube videos – Earn $30
Download Apps – Earn $30
These are all fake information.
Here is how it really works:
The Earnings in the Dashboard really rise up. But this is just a fake number.
You can't withdraw it.
Here is what will happen:
Let's say your balance within the ShareToEarn shows $150.
You want to Cashout (enter the amount and payment method)
Your request is set on hold.
A few weeks later your request is denied and your account is closed. The reason is that you apparently have used fake clicks.
But the only one who operates with fake data is the ShareToEarn.
Help Center
The worst part is there is no one you can contact to make a complaint.
Chat Area – does not work:
Contact Form – does not work either.
This is the contact form before I hit the "Send Message" button:
And this is how it looks like, after hitting the "Send Message":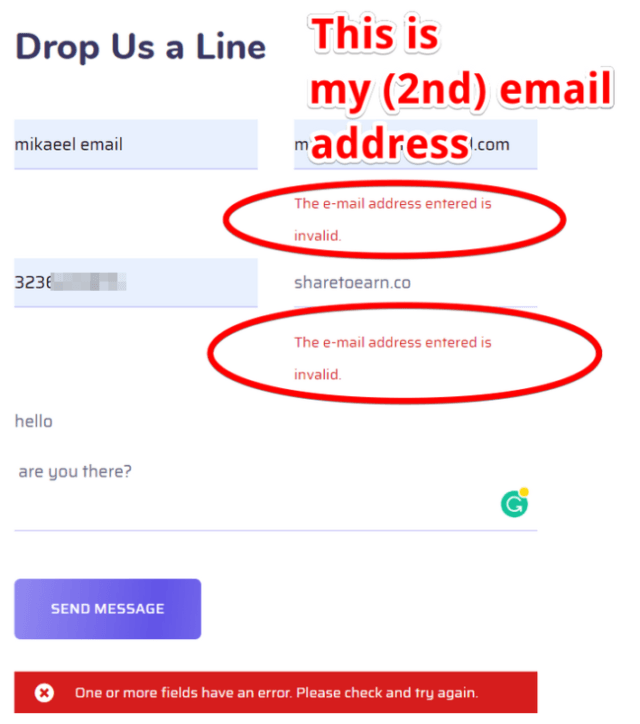 I did enter the valid email address, but the error message pops up all the time.
The email does not exist: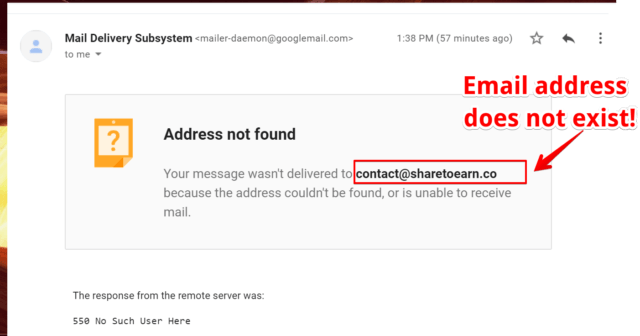 If you click on the Help Center you can say right away that ShareToEarn is just a clone of other systems called CashCrates.
It is connected to the YouTube channel that belongs to the CashCrates.
This entire system is really messy and in my opinion, the creators of these scams, are too busy to come up with new sites and they don't really care about the details.
List of the Red Flags
We have already found out that ShareToEarn is a scammy system with a lot of red flags.
We did mention some of them, but let's sum it up.
1) Age of the system
We have learned how to check the domain age.
The ShareToEarn was not founded in 2015 as they claim.
This is a huge red flag!
2) Fake Payment Proofs
With the information about the domain age, it is easy to find out that the ShareToEarn payment proofs are fake as well.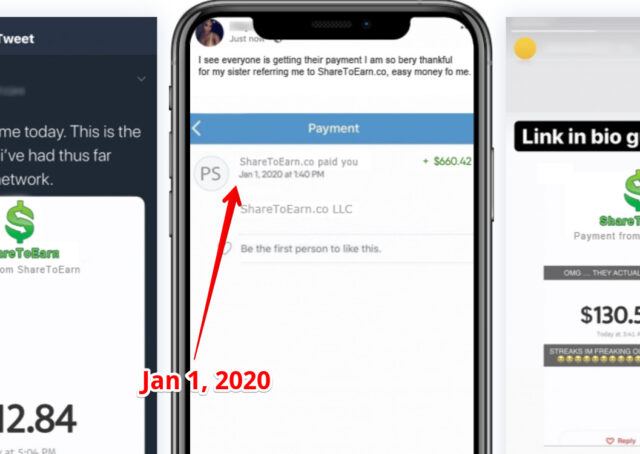 How could anyone get paid, before the domain was registered?
It does not make any sense.
It is just proof that this screenshot is fake.
3) No One Gets Paid
This is the biggest problem of ShareToEarn, right?
We know now how it works:
Every single request for a withdraw is rejected and all these accounts are eventually closed.
4) Fake Testimonials
Isn't it strange that people behind the ShareToEarn claim how great his system is and how many members are happy with their service?
With that being said, why on Earth they use paid actors as their testimonials?
For example, this guy here is a well-known actor from Fiverr (it is an online market for freelance services where you can also hire a spokesperson).
Another clone of this system called NotionCash uses the same actor.
And here is the screenshot from Fiverr: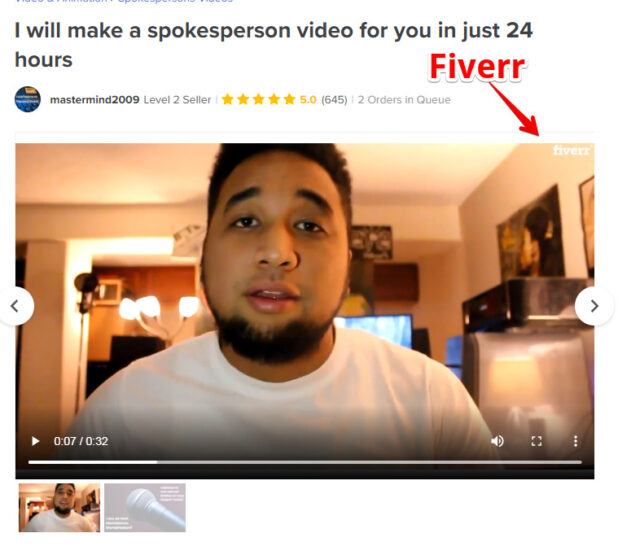 5) Terms and Conditions
I know that most of us don't read the Term and Conditions, but because I already know how these scams work, I went ahead to look for specific information.
And I was not "disappointed", just look at the ridiculous statement within the ShareToEarn Term and Conditions:
In case you can't read it, here is what it say:
"If you are under the age of one-hundred (100), you are not allowed to use the sharetoearn Sites and Features nor our Services"
According to Wikipedia, there are only several hundred thousand people who are above the age of 100.
It probably makes sense, right?
But wait – how do they know the age of each member?
6) Clone of other systems
Just go and check the following review and you find out that these two (CashForShare and ShareToEarn) are almost identical.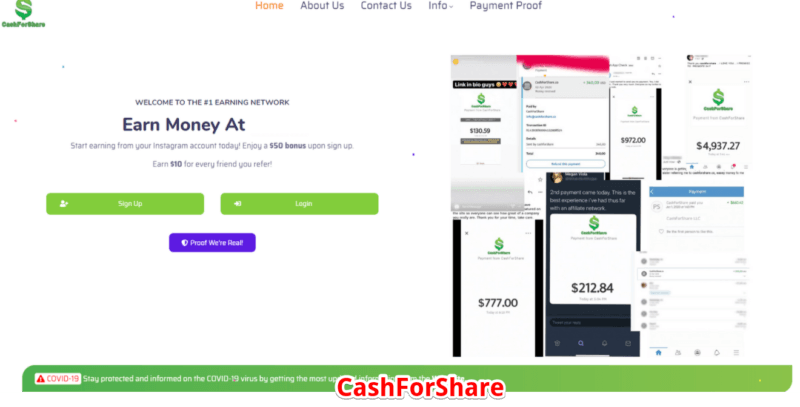 Same incentives, same patterns, same fake information…
7) Fake Contact Information
I showed you already that none of their contact information works.
If you can't contact the creators of a system that means that it is most likely a scam.
Even the address is fake – it shows some residential areas in Netherland.
There are more red flags, but I don't want to take any more of your time.
I am sure that we have seen enough to officially say that ShareToEarn is not a legit platform and it is highly recommended to stay away from it!
In case you think otherwise, let me please know in the comment section at the very bottom.
We need to talk,
🙂
What I like

There is absolutely nothing that can be liked about the ShareToEarn!
What I don't like

Fake Testimonials – paid actors
Contact information that does NOT work
Fake Payment proofs
Clone of another scam
Error in Term & Condition
Where to Go From Here?
If you are tired of all these scams, fake claims, and empty promises let me tell you that to make money online requires some "special skills".
I have used the quotation mark on purpose because the good news is that it is absolutely possible to learn.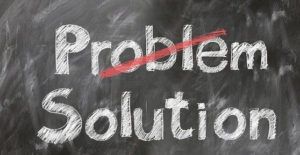 The bad news is that it requires also time until you start earning consistent money.
How long?
It depends on a niche, but be prepared to work "for free" for about 6 months.
Why it takes so long?
It does not matter whether you have a YouTube channel or a website – the bottom line is you have to have some content that people will start to read/watch. And there must be enough content so the search engines will find yours.
I don't mean to scare you but I want to be honest with you.
Maybe you find out that it requires a lot of effort and you don't want to build your business online. That is perfectly OK.
But I have learned that it is not that difficult to start making money online and here is a platform that has taught me how to create the content, how to rank well in google, and eventually how to monetize my website.
You bet.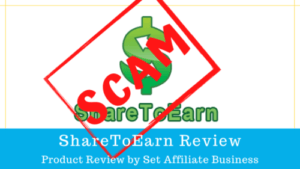 ShareToEarn is an outright scam and it has all the patterns of other fake scammy sites out there.
Here is the list where you can find at least 30 of them.
We have gone through ShareToEarn and learned that this site is full of fake information, errors, and misleading claims.
My advice: Stay away from the ShareToEarn.
If you have questions, or you want to share your experience with us, please use the comment section below.
I would love to hear from you – what do you think of the ShareToEarn.
Thank you for reading
Mike
How to Get Started with Affiliate Marketing Business?
I have been a member of Wealthy Affiliate since late 2017 without prior marketing experience.
Beginning of 2018 I have learned how to build a website that drives traffic and makes sales.
Since the summer of 2019, I am a full-time internet marketer and I work from anywhere I want, whenever I want.
Training within Wealthy Affiliate teaches how to generate a consistent income in the long run.