Welcome to my website. You are probably searching for some information regarding the company called My Lead System Pro, right?
Is My Lead System Pro a Scam?
MLSP is a company that offers lots of training, and tools software for internet marketers.
We are going to check out this system, what kind of training they have to offer, what exactly is the pricing and at the end, you will know whether it is something you are willing to invest in or not.
Disclaimer
Please note, that I am not a member or an affiliate of My Lead System Pro.
This review is based on research and information available online in the public domain.
Any recommendations and conclusions are only opinions and may not apply to all persons or situations.
Name: My Lead System Pro
Website: www.myleadsystempro.com
Price to Join: $42 to $300 per month + Upsells up to $2,500
Recommended: Yes (but the membership might be pricey)
What is My Lead System Pro?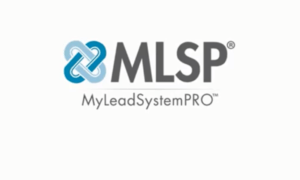 MLSP has been founded back in 2008. The founders are Brian Fanale, Todd Sclomer, and Norbert Orlewicz.
Brian is CEO and Co-founder and has more than 9-year experience with internet marketing. He also held 2nd position in MLM's top-tier direct sales company.
Todd started as a programmer in 1993. In 2001 he started to work at IBM where he was developing disaster recovery software, for banks and large corporations.
Norbert was involved in MLM marketing for 5 years, and then he has moved to online marketing.
MLSP (former name MLM Lead System Pro) is an education and training platform for a home business to help to get more leads and signups.
In other words, MLSP is an attraction marketing training and marketing system that teach you as a potential customer how to brand yourself, so you start to attract people to you.
Meaning people come to you for help or ask you questions about business opportunities.
It is basically something between affiliate marketing and MLM.
Some of the members call it a university since there is plenty of material to go through and also a very important aspect and that is a community.
Members do help each other and they all have similar goals, so it is like a mastermind.
Is My Lead System Pro an MLM or Pyramide Scheme?
I believe you have already learned that MLSP is not a Pyramid Scheme.
It is not typical MLM either since their main focus is attraction marketing.
In principle, the structure is like any other MLM, MLSP does not have this "old-fashioned" recruiting system for your family members and friends.
They don't even like to be compared with the common MLM system.
They even introduced a very funny video about MLM vs Attraction marketing which is their approach. I recommend you to watch it. It is less than 4 minutes 🙂
MLSP is definitely not a pyramid scheme. The closest product I reviewed was called Digital Income System.
(Pyramid schemes are in most countries illegal but many of them act as MLM, and the mentioned Digital Income System is one of them in my opinion).
What is the Price to Join?
We are roughly aware of the pricing. But let's have a look at the pricing plan MLSP has to offer:
You can either choose an annual plan or a monthly plan. Obviously, with the annual one it will come cheaper:
In all plans, you have included:
Marketing Training – There are 46trainig courses
Bonus Marketing Guides – material that helps you to be focused on your goals
MLSP Marketing Campaign – website funnels that you can use to give away lead generation training to your prospect
Orientation Webinars – This is for new members – they are guided through the platform
Autoresponder Integration – You get an autoresponder integrated with your websites
Global Support Desk – Here is the 24/7 support
Private Community Group Access – Instant access to MLSP Facebook Group with more than 10,000 active marketers supporting each other
The professional plan costs $150 per month. On top of the basic package, there is s bigger pro media storage (where one can host videos and audio files) which is 5GB (instead of 200MB with the basic plan).
With this package, the member can create up to 10 courses within the business center, 25 product offers, and create payment plans. It also includes a custom domain.
With a premium plan, there is a possibility to create up to 100 courses, and 250 product offers and it also has access to affiliate software where you can create your own affiliate program.
The premium plan costs $3,000 though, so you better have that budget.
Sure you get a lot of training and support but maybe just for the sake of trying you may wanna look at the cheaper alternative with a plethora of training as well.
In fact, you don't have to pay anything for the first week, so you have literally nothing to lose.
With MLSP membership you have also a kind of trial offer.
If anyone wants to join MLSP here are 3 steps to follow:
Take a 100% risk-free trial
Follow simple – step-by-step training videos
start getting a fresh lead to talk bout the business in the next 10 days
Regarding the 10-day trial offer here is what you will get:
Live weekly training to help you get sales and sign-ups
Instant access to 40+ training courses
Funnelizer – this is a custom web page and sales funnel builder
Done-for-you offers to help you get leads
Powerful customer relationship manager
Sites blog platform (you can launch your blog in 1 click)
Support 24/7
Complimentary 1 hours 1-on-1 strategy session
You also have a Money-Back Guarantee for these 2 days.
If you wish to cancel the membership you can do so apparently very easily. You can do it anytime with one click in your back office.
Products, That My Lead System Pro Offer
You probably have found out by now that MLSP has lots of material for free. It is available on YouTube so anyone can go and watch the channel.
For members, they offer webinars that are weekly.
The Industry-Wide webinar takes place on Wednesday at 9 pm EST.
Daily morning Wake-Up call – this webinar is scheduled every Monday to Friday at 9 PM est. These are supposed to reprogram the brain for success.
Besides these webinars, they have 9 products to sell.
All of them have been created by MLSP leaders and should provide the customer with tips and knowledge to build the business like a pro and grant access to some marketing online today.
1) Attraction Marketing Virtual Summit ($197)
Lifetime access to everything in the summit + 40 Top Earner summit interview online DVDs
40 MP3 and PDF versions of summit interviews
11 Bonuses of $3,447 to help you to create cashflow
The secrets to attracting more prospects, customers, and reps
There is a 30-day money-back guarantee.
2) Messenger Domination ($297)
Messenger domination course – 9 modules (apparently it is worth $2,000)
7 Messenger bonuses for massive results (again some value $3,569)
Private Facebook Group
How to get automated sales
How to create a "messenger bot" for profits
Learn how to pre-qualify prospects and never waste time again
3) Go Live Studio Pro ($297)
This is supposed to help you to grow your audience, close more sales, and build your business with Facebook Live.
You can either pay a 3x $117 or a one-time payment of $297.
4) 3 Minute Expert – Attraction Marketing Edition ($297)
You can get access to the revised 3-min expert blogging program – attraction marketing edition for a limited time.
Regarding marketing, blogging is very important since this is the place where people get to know you. You can start a relationship with your visitors.
In this particular course, you are guided by one of the most successful bloggers online – Ray Higdon.
There are 2 bonuses:
7 new attraction marketing bonuses
Get a professional self-hosted WordPress Blog in 1 Click – 30 days Free
5) Copywriting mastery ($497)
Briand Fanale (the CEO and co-founder of MLSP) is MLSP's chief copywriter. His experience is packed into this course.
The copywriting course teaches you how to "hack into the unconscious mind of your prospect where the buying decision takes place and begins to control  their thoughts"
You will learn 12 human needs and how to use assumptions, emotions, questions dialogue, and so on to make your copy hot.
Side Note:
If you are interested in copywriting and you want to save money, then I suggest the book "How to write copy that sells" by Ray Edwards:
You can check the current price on Amazon (it should be less than $20).
Disclaimer:
Please note, that this is an affiliate link.
That means if you click on them and purchase the product, I will receive an affiliate commission at no extra cost to you.
6) Total Recruiting Mastery ($297)
19 modules and a personal plan to recruit more reps into your MLM
The priceless Higdon map Ray used to earn his first 7-figures online
The process to confidently communicate, handle objections and close more sales
Scrips to become a top earner in your MLM
7) Social Retargeting Pro ($299)
This product has been created with the cooperation of a guy named Jesse Jameson who runs a Facebook Ads Agency in Austin TX.
You can learn how to set Facebook ads right including retargeting (that is a technique that the ad is shown again to people who have already visited your website)
8) Attraction Marketing Intensive ($297)
The secret is to increase your value and to add value to people's lives together with building relationships with prospects.
There are 8 modules of this training which I am going to mention just briefly:
What is attraction marketing
The magic of the funded proposal
Creating your story
Video attraction training
Crafting your first custom funnel
Writing hot copy for your attraction marketing campaigns
Social Media attraction formula
Advanced promotion techniques that yield a 10x return
This product contains also some bonuses:
Bonus 1) I depth 90-minute narrative workshop
Bonus 2) Workshop – The Full Dimensional Plan in 90 minutes
Bonus 3) Copywriting intensive in 90 minutes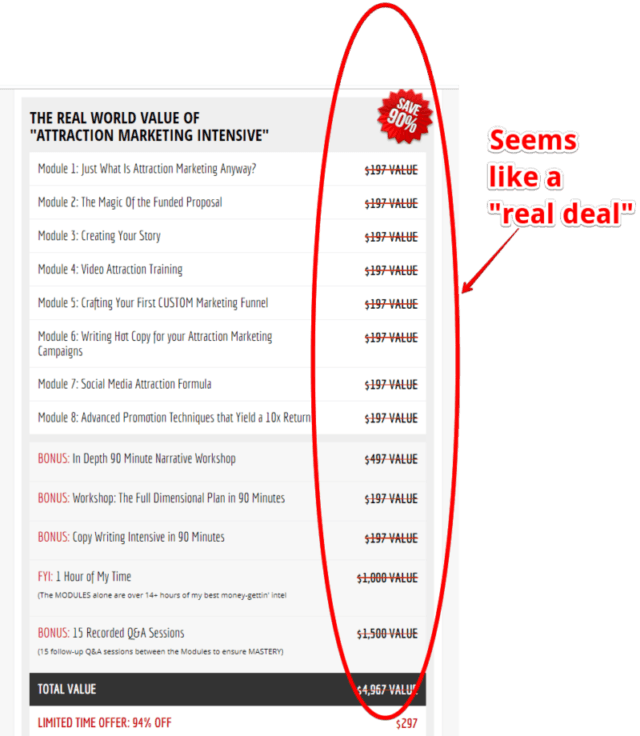 The big emphasis is on the value of each product.
This is a common marketing technique that should impress you and make you comfortable with how much you save.
9) Master sponsoring series ($97)
This is a 4 module training series that will alter the course of your business so you can start sponsoring people on demand.
You will learn how to:
eliminating rejection
building instant rapport
handling objections
attaining money acceptance
mirroring
etc
To sum all these products up we will get to the price: $2,575 + the monthly or yearly membership.
How Can You Make Money with My Lead System Pro?
MLSP has an affiliate program or to be more precise a program that seems like an affiliate but in the end, it is an MLM business model.
It consists of sponsors (as your upline) and your team you can build up (downline).
What is a little bit better about his MLSP mixture is that you don't force your potential customer to buy, you don't chase them and you don't make cold calls.
Instead (as we saw in the video above ) you simply share the MLSP with your audience; who wants to become a successful online marketer.
There are basically 3 ways how to make money
Monthly recurring membership commission – if your members stay active MLSP pays to sign up bonuses
Sell MLSP products – you can have up to 100% commissions (minus merchant fee)
MLSP sales team generated commissions – you have a sales team behind you to help you close sales. mentorship, coaching
My Lead System Pro Pros

A lot of Free stuff to be found on their website or on YouTube
Focus on providing the value first
Support is also great – that includes active community m personal coaching and chat support as well
My Lead System Pro Cons
To become a member costs a lot (in my opinion)
Training can be overwhelming
Extra training for additional costs (Upsells up to $2,600)
Some Thoughts at the End
The marketing of MLSP is great. They really know how to make money.
No wonder their business is attraction marketing.
What I personally find as a drawback are the additional costs. I mean once I pay $3,000 why do I have to pay for additional courses. They could easily make it as part of the deal.
The membership for $3,000 is a lot of money anyways.
Also, I don't think that a newbie finds this system "attractive".
Sure he is provided with support but there is a learning curve. It can easily happen that he won't make any money in the first 6 months. And he is already at a loss of $1,500.
That being said, we can assume that this platform is not for beginners. Also, their training is done in a way that you would need some previous experience.
This Might Be a Better Alternative
MLSP definitely offers value and many members are very happy being part of this community.
Although I think the cost is a deal-breaker for many people who are interested in learning online marketing.
Sure they offer a 10 days trial, but it is not free either. That means that right from the beginning they have your credit card.
I would like to show you a different platform where you can join without using your credit card. Just use your email and you can test out the educational platform which is for complete newbies as well as intermediate marketers.
But if you are a newbie I suggest you have a look at the platform and let me know how you like the training. Besides I can offer you my personal guidance through the platform.
If you have any questions let me know in the comment section below or inside the platform I just mentioned to you.
Thank You For Reading,
Mike