I have stumbled upon a product called Prosperity Income Network.
This is supposed to be a "completely passive hands-free wealthy on-demand system". They promise a huge commission (several thousand dollars) which can be earned per day.
That raised my suspicion immediately, so I decided to find out more about this system.
I tend to be very skeptical when it comes to getting-rich-quick schemes and PIN is presented that way.
Let's check out what the Prosperity Income Network really is, who is the owner, how the system works, and most importantly what is the cost to join.
This system's website has been created in September 2019, so it is a pretty new product.
Let's dive into the review, so in a few minutes, you will be able to answer the question: Is Prosperity Income Network a Scam?
Disclaimer:
Please note, that I am not a member or an affiliate of Prosperity Income Network.
This review is based on research and information available online in the public domain. Any recommendations and conclusions are only opinions and may not apply to all persons or situations.
Prosperity Income Network Overview
Name: Prosperity Income Network
Website: www.prosperityincomenetwork.com – The domain is for SALE
Price: Advertised Price $500 – $25,000
Owners: N/A (This is a red flag already)
Recommended: NO!
Prosperity Income Network does not exist anymore.
Their website is for sale, so it is safe to assume that this Pyramid Scheme has already collapsed.
You are welcome to skim through the article to learn how such Schemes operate.
What is Prosperity Income Network?
The PIN (Prosperity Income Network) introducing video says, that with this system you will discover "a real and honest way to generate an extra $350 all the way up to $20,000 per sale".
Apparently, they have proven strategies on how to achieve that, without you talking to anyone at all.
Their "powerful" system has nothing to do with MLM, although we will find out later that it is very close to the pyramid scheme.
You are promised that you will be able to make thousands of dollars every week on a passive income that is automated.
The PIN has trained coaches that work for you and will also close deals for you.
These are called success coaches and they are handling everything – walking clients through the sign-up instruction, answering their questions, and closing the deals. And you will get paid "via overnight carrier" – at your door.
So far this seems like the best opportunity you can have in your entire life. In fact, as I am writing these lines, I am about to wrap it up, leaving it unfinished, and jump right into the PIN…
…. Of course not.
This entire PIN thing is just one of these too-good-to-be-true systems.
"Always be suspicious of the so-called get-rich-quick scheme or sudden success"
– Earl Nightingale
Let's continue how the PIN works.
It is said that when you become a member you will get real visitors to your business.
Your business is supposed to be a "built-in website".
How do you get your visitors to your business?
PIN has some kind of automated advertising mechanism.
This is sent out from the company center and then targeted prospects begin clicking on your website. Then these prospects start calling the sales line.
From this point onwards, is the call center that handles everything for you.
You will get notified once a sale is made.
It really seems that you don't have to do anything. It is a Done-For-You system where all the hard work is done for you by the people in the back office of the PIN.
All members earn 70%-80% of their sales and that is according to the PIN spokesperson n even 7 figures income.
I kind of miss the nuts and bolts of the system, so I remain suspicious (that is probably just me).
In my opinion, a legit platform reveals everything in advance – the point is to have more and more satisfied customers and transparency is the key.
This is not the case with the PIN.
Another red flag – I just could not find out who the owner of the PIN is.
As a rule of thumb, if you happen to come across a digital product, platform, or training make sure they have stated the owner or who is behind the product.
Otherwise, watch out and be careful when they ask you for your credit card details.
(Owner not known -> Stay away from it)
PIN resembles the already reviewed product called the Digital Income System.
That is also based on recruiting and the price to join is from $1,000 – $25,000.
Digital Income System has no product to sell so it is even closer to the definition of a pyramid scheme.
The Pros

The potential to make a lot of money – theoretically fast
Closing sales is done for you
N/A
The Cons
The price to join is too high
Similar products have been already shut down by FTC, so the PIN is just a matter of time
Since it works like an MLM or pyramid, about 80% of people do not make any money
Who is it For?
Are you tired of the daily grind?
If you have seen a sales video of any other product, you must have heard this question already.
Well, nothing wrong with that. But one must be careful what kind of product he or she is about to join.
That being said it is easy to be lured into something just because of huge income promises.
The PIN is for newbies since only a person who has never tried to build an online business can believe such nonsense.
Don't get me wrong – I was a newbie as well and I also thought that people on a yacht just sit on the sofa the whole day sipping champagne and watching how their business grows automatically.
This is a false perception.
People can watch how their business grows for maybe 5 minutes a day. The rest of the time they have to work – whether it is in meetings, assigning tasks, delegating the work, or creating content.
A person who made at least a dime online knows exactly what it takes to make that happen. It obviously cannot be done through some kind of "plug into our system and watch your business grow".
Prosperity Income Network – How Does It Work
If someone wants to join the PIN, there is a link on their website where he finds the telephone number.
First of all, you are asked to go through their website
Then you must have a sponsor ID code handy before calling the sales line
This sponsor ID is available for anyone who clicks on the "Get Started" button.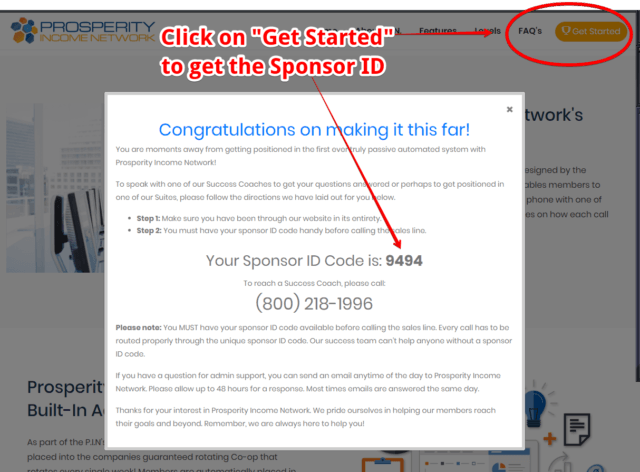 PIN has 6 levels (suites ) and you can join any level you want, only the price is different from $500 to $25,000. Based on the level you are in, you also get different commissions.
We are going to break it down:
1) Suite – Starter (Cost $500)
You also would have to pay an additional $97 as an admin fee.
At this level, you can earn a 70% commission if you recruit a person. That is $350 on every sale.
You also will get development library access, 1 position in the advertising rotator and a success coach closing all sales for you.
2) Suite – Deluxe (Cost $2,000)
At this level, the prospector has to pay an additional $197 admin fee.
With a 70% commission, you can make $1,400 per sale. Other than that it contains all of the Level1, but instead of 1 position in the advertising rotator, there are 2 of them.
3) Suite – Premium ($3,500)
Admin fee $297 and the 70% commission. You get 3 positions in the advertising rotator.
4) Suite – Master ($6,000)
The admin fee is $497
Again 70% commission on every sale + 4 positions in the PIN advertising rotator
5) Suite – Diamond Elite ($12,000)
The admin fee is $697. The member can earn a 70% commission on every direct sale, which is up to $8,400.
5 positions in advertising rotator
Level 5 Development Library access and success coach is there for you to close all sales.
6) Suite – Executive Elite ($25,000)
$25K plus admin fee $997.
Executive Elite member earns 80% commission on every sale. He gets 6 positions in the advertising rotator.
There is one catch that is exactly the same as it is structured with Digital Income System.
If you are let's say at the Deluxe level and you find a person who will join the Master level, your commission is still only $1,400 since you are Deluxe.
The rest of the commission goes to the upper-level members.
This way you are kind of pushed to join the upper levels.
Besides what we just have seen, here is what the PIN has to offer:
Custom-built capture pages
Autoresponders
Access to highly successful coaches – In other words, these are trained salespeople who know how to be persistent when it comes to phone calls.
"State of the Art" back office with a real-time tracking system
Lead tracker plus software – this ensures you are notified when the coach is speaking with the leads (real-time)
Let me digress a bit:
I have seen a review of a person who was on the PIN call list.
This person called 4 times to "unsubscribe" from their call list. He once left a message not to call.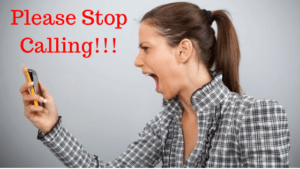 He has spoken 3 times with someone to have him removed and he was promised that it was being done as they spoke.
Long story short – These calls kept coming several times a week.
Then they stopped for a few months. In the last 6-8 weeks, the phone calls resumed again, this time from a private number so it can't be blocked.
This is how these "salespeople" are trained.
It is inevitable that from time to time they close the deal, so the creators of the PIN earn a lot.
Support
I could not find any page for support or telephone number or email.
Nevertheless, a person who becomes a member has access to the back office where he or she can find a link to support.
I have not tried the support myself, but one should get support from a person who recruited him.
Prosperity Income Network Price Structure
As we have seen the price is different and it depends on the level the prospect wants to join.
If someone wants to join the PIN, the best way (and as far as I was able to find out the only way) is to contact one of their success coaches. They will guide a prospect through the very easy sign-up process.
As a bonus, there is a free upgrade within 48 hours after the 1st phone call.
My Final Opinion of Prosperity Income Network
This is again one of these products, offering no real products, it is just kind of a vicious circle.
But what if this system works? It all makes sense.
Well, if it is so easy, how come not everyone who joins the PIN has the same results?
We were told that all the work is done by "success coaches" so that means we don't have to worry about anything?
How about the income disclaimer?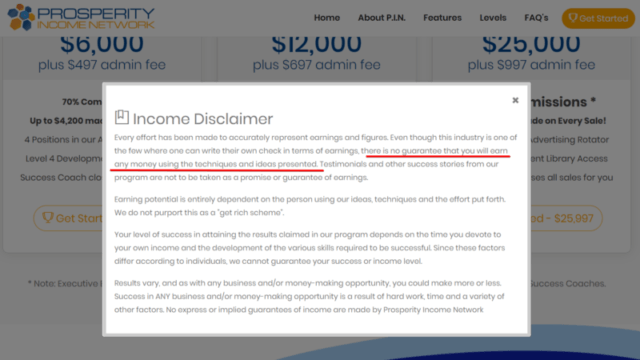 Why they have stated that the results are different?
Is it because these successful coaches made a mistake?
This is very close to the pyramid scheme and the only thing that can't be called that way is the fact that PIN has some products to sell.
It does not matter that nobody is interested in those products.
Remove the products and you have a pure pyramid scheme. The PIN is only several months on the market and it can remain even a couple of years until FTC will find out about this scheme.
People will lose money with this system as it happened with MOBE. This MOBE scheme was shut down since they charged thousands upon thousands of dollars for worthless marketing products.
Also, MOBE used to have coaches to motivate prospects to sign up using boiler-room tactics.
They even ask their clients to go into debt and that is truly unethical!
Prosperity Income Network at a Glance…
Name: Prosperity Income Network
Website: www.prosperityincomenetwork.com – "This domain is for sale: $2,995"
Price: Advertised Price $500 – $25,000
Owners: N/A (That is a red flag already)
Recommended: NO!
Overall Rank:

VERDICT:
I don't recommend the Prosperity Income Network at all.
The PIN can only work as long as new people sign-up for it and pay for the membership. Not mentioning the unethical business model which BTW is nothing new.
Let's say a person will join this system and let's say he will earn some commissions. Not bad right?
But did he learn something that is applicable in another form of business online? Like website creation, how to NOT be affected by Google algorithm change, and how to promote your business on social media.
This kind of knowledge is evergreen. Once you learn this, you will not depend on any "plug-in hands-free" automated BS system.
Besides there is absolutely no value in the product or curse PIN has to offer.
But I am really curious about your opinion about the Prosperity Income Network? Why do you think, the owner hides his identity?
Would you join such a system because of fast money?
You may say – what's wrong with that?
Well, you may be right. But how about you will have a tough time finding somebody? You may even upgrade to the 6 suite and lose $25K.
In my opinion, PIN sells only dreams in an unethical way.
And as for 2022, their website (domain) is for sale. That just proves that this was not sustainable and most likely it was a pyramid scheme.
If you have questions or experience with a similar company, please let me know in the comment section below.
Thank You For Reading
Mike