Welcome to The Commission League review. I am going to reveal all the necessary information about this product so at the end you will know whether you want to invest in it or not.
You may have seen the price tag of this ClickBank product already and you are wondering if it is worth that money.
Well, first of all, it depends on your budget.
If your question is whether the Commission League (TCL) is a scam or not – I can assure you, no it is not.
So what is the Commission League then?
It is a high-ticket ClickBank product (cost is almost $1,000) that has been launched in the summer of 2019.
In fact, their website has been created in mid of June 2019.
Let's check it in more detail. We will be looking at who is behind it (TCL), who is it for, and what solution it offers for you as a potential buyer and we double-check the price in case they are some hidden or additional fees.
Disclaimer
Please note, I am not a member or an affiliate of the Commission League. This review is based on research and information available online in the public domain. Any recommendations and conclusions are only opinions and may not apply to all persons or situations.
The Commission League Overview
Name: The Commission League
Website: www.specialwebclass.com/ew-training-st432119219
Price: Advertised Price $997
Owners: Mike Balmaceda
Recommended: No
What is The Commission League
The Commission League is a ClickBank product that should teach you how to make money selling relevant ClickBank products to people who most likely would buy them, using the influencers' email lists.
It is basically affiliate marketing, but you don't need to drive traffic to your website since according to Mike (as the product owner), you send the affiliate link directly to people who are on the Influencer's list (that could be anyone).
Here is the entire 3-Steps process:
Find a problem that people need help with
Find an expert's solution to their problem – this would be some popular ClickBank product
Tell them about the solution to their problem – sell this popular product to those people
Now for non-experienced guys, this might seem like a goldmine and an awesome idea. It is the exact way how Mike Balmaceda presents his product to the potential customer – meaning you.
There are some aspects of this system that are not revealed to you in his sales pitch and I am going to offer you a view from a different perspective.
You can join his free webinar where he explains how you can make money and how you can change your life with the TLC.
I watched the webinar and it is about 2 hours long.
We are going to check what it is in the webinar, so you can save some time. Right off the bat, I can tell that this webinar is just a presentation or a sales pitch.
I'd say 75% of the webinar is an emphasis on how you can change your life and how TLC is an entirely new system.
The rest of the webinar is about the system; how it works what it looks like, and so on.
The webinar could have been only 40 minutes long, but he keeps repeating how this is a life changer even for beginners… The more he talks like that, the less I believe it – but it could be only me.
To me, a legit platform does not have to be that hype.
It is more important to show what it is you are getting into instead of empty promises.
It is said with TCL one needs to work only 20 minutes a day and can make $200 or even $1,000 per day!
Mike shows some income reports from alleged students showing $100 or $200 earnings per day.
Honestly, I am not convinced.
Why these reports are from March?
Mike's website has been created in June 2019. (Or maybe these numbers are not even from 2019).
Such details undermine the credibility of this system in my opinion.
Let's break down what the TLC is about.
The Commission League Webinar
You can watch his webinar and please note that it is almost 2 hours long. As I said before there is not much stuff you can learn, mostly it is just about setting your mindset in a way that TCL is the best, completely new, and completely different product.
You are walked through the webinar by Mike himself.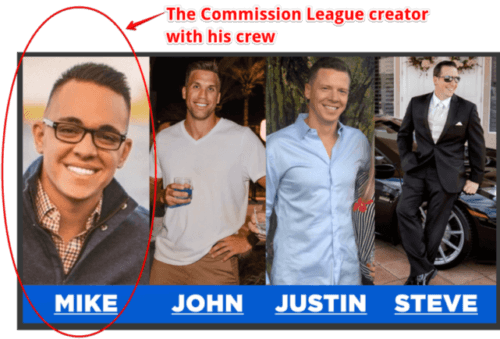 This webinar is not live but recorded. It is then played whenever someone signs up for it. It basically starts each half an hour.
I have seen that many product owners do that including Vick Strizheus (4 Percent Challenge) or Robby Blanchard (Commission Hero).
The first 30 minutes is about what this system will bring you, Mike's story about how he got into this business, a little bit about his associates, and stuff like that.
He mentions some good points though:
Apparently, there are more than 75% of people live from paycheck to paycheck and that is in the USA alone. Now I don't a similar data about the EU, but with the exception of Switzerland, Lichtenstein, and Bavaria I would guess that more than 50% of people in the EU are in a similar situation (in most of the EU could be more than 70%).
Mike goes on to say that almost 50% of people don't have $400 for an emergency and about the same amount of people have nothing for retirement.
Then he offers a solution and that is the TLC.
His system is apparently made in a way that even a complete beginner can start with it and earn money within a few days. No previous experience is required.
Mike says that when it comes to affiliate marketing, most people do mistakes in blogging or they don't know how to set correctly the Facebook Ad, Google Ad eventually their accounts shut down.
Well, I would not be that overdramatic.
First of all, before any account is shut down the user receives a message or a warning about why the ad is not running. After fixing the ad is up and running.
The bigger risk in creating ads I see is the way how the ads are set up – meaning they do not make any money.
(But with proper education, this can be easily overcome.)
What TLC offers is a simple solution – they call it "Secret Weapon", or also a B.U.R.N protocol.
B – stands for Best-selling
U – stands for Updated frequently
R – for recurring
N – New/Hot
Now let me share with you this "secret weapon":
You go to ClickBank and search for the most popular products. Most of these popular products already have the recurring attribute so no need to emphasize that.
You get an affiliate link for this popular product, you go to the influencer and ask him to send them your email with a link to the product.
Theoretically, it might work, but here is a catch:
– Do you think that a real influencer would bother with someone new for 50bucks? I mean would he sell his email list to a newbie?
Please understand that any influencer will not sell his hard work for $50. It took him time and effort to build up his list. He maintains a relationship with his prospectors. Why he would want to sell it for $50?
So my, guess is that there is no influencer. The email list Mike is talking about is just that you would buy the solo ads.
Solo Ads are a form of paid advertising and you can really buy an email list – but the big question is what kind of people are these?
Are they interested in the offer? Is that email list even real with real people?
I know that the idea probably sounds great, but it is important to see the full picture of this system.
The Pros

Money-back guarantee (ClickBank Product)
Support
The platform is professionally done
The Cons
Too expensive
The idea of getting in touch with influencers hardly works (especially for $50) – Or it may easily mean just Solo Ads
Most ClickBank products are low quality (not easy to sell)
Who is it For?
According to the creators of TLC, it is perfect for people who want to start earning money online but they don't have any experience nor technical skills.
It doesn't matter that you are completely new to internet marketing.
TLC will show you how you can start earning with just 20 minutes per day from anywhere in the world. This is supposed to be a fully automated system and anyone can start using it today.
Well, I have my doubts about such statements.
Let me highlight what I mean.
When you see a digital product, promises you that
You can start earning money today,
with only 20 minutes per day
with a fully automated system
I tend to keep away since none of these 3 things work.
You can start earning money today if you have been working on your website and promotions for the last – let's say 6 months.
Sometimes it takes me 20 minutes to write one email.
There is no such thing as a fully automated system. The only automated software could be the autoresponder email, but you have to create the actual emails by yourself and insert them into this autoresponder.
So I believe this Mike, is right – this system is for complete newbies since a person who is already interested in marketing knows that it is just too good to be the truth. (Even a newbie with common sense realizes that)
The Commission League Tools & Training
This is a dashboard of the Commission League. Here you have access to training, bonuses, community, support, and so on.
If you click on "The Blueprint" you get into the training section.
There are 5 pillars we are going to mention briefly as also access to the Bonuses.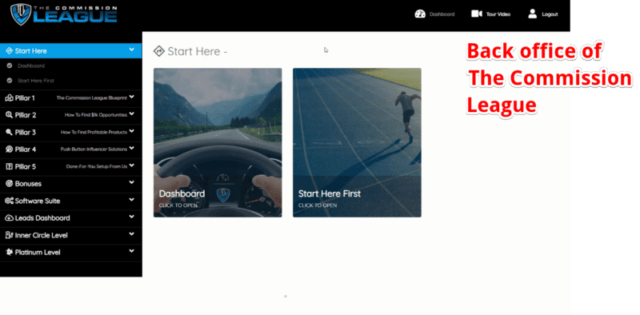 Pillar 1) Commission league blueprint
– the first pillar is called the commission league blueprint.
It contains the following points as per the screenshot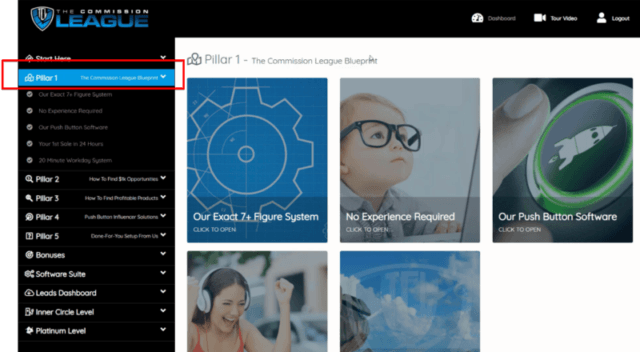 Exact 7-figure+ System
How to start without experience
Push-button software
Make your first sale in 24 hours
20-minute workday system
How to get to $10K per month quickly
Pillar 2) – How to find $1K opportunities
How to identify $1K per day problems
The most 5 profitable topics that have made 6 figures
How to virtually guarantee sales every time
Pillar 3) – How to find profitable products
The exact website the TLC uses find profitable products
Advanced B.U.R.N protocol to profit the right way
The 11 products they (TLS) have made over $10k in 1 week with
Ready to generate income in 3 clicks (within 8 minutes)
Pillar 4) – Push-Button Influencer Solution
Free traffic solution
Never write one email or create an ad account, ads, images
Done-For-You 1st influencer
You make money
Pillar 5) – Done-For-You setup from TLC
24 hours of VIP support and community access
A done-for-you product setup
A done-for-you technical support setup
You're not thrown into the deep end. You put in the work and you will be guided through it
Lifetime access to the TLC trained coaches
Mike assigns a figure to teach one of these pillars. This should leave an impression about how valuable this information is. This is nothing than just a trick to surprise you at the end with this "great offer of $997".
Oh and on top of it here are bonuses you will get. But these bonuses are available only for the first 15 persons who buy this product.
Again – this is a trick – fake scarcity.
Here is the list of Bonuses:
Bonuses
The 11 Products where TLC made $10,000 in 1-week with (the value of this bonus is supposed to be $1,997)
You will be shown how much TLC made with them, how to find them and how to start promoting them within minutes
Graduation Bonus – TLC will be your 1st influencer
TLS supposedly has tens of thousands of people that are looking for solutions. So they can send them a product with your affiliate link (TLC calls it "special link")
Get started for $0: Free Trafic Solution
They will show you how to get started without spending any money (how to drive people that are looking for solutions, to products that you have found for free)
The Commission League Partnership
You can become a TLC business partner and start making $600 commissions of TLC.
Fast Action Bonus – a Software suite
Inside the software suite, there is access to the done-for-you opt-in page builder and free autoresponder. Including traffic multiplier system, 50 pre-built follow-up emails, and the ability to inject leads right into the autoresponder
Become your own influencer
This is about how you can become your own influencer and profit daily. You can have people come to you to pay $300 daily.
He doesn't forget to mention at each bonus, that it is available only for the first 15 people.
During the webinar, there are "gongs" and notifications that are supposed to make believe that people actually purchasing the product.
Well, again this very same webinar you can watch each and every 30 minutes.
Support
The support is supposed to be great. There is a dedicated section for 24/7 support, so I don't see any issues here.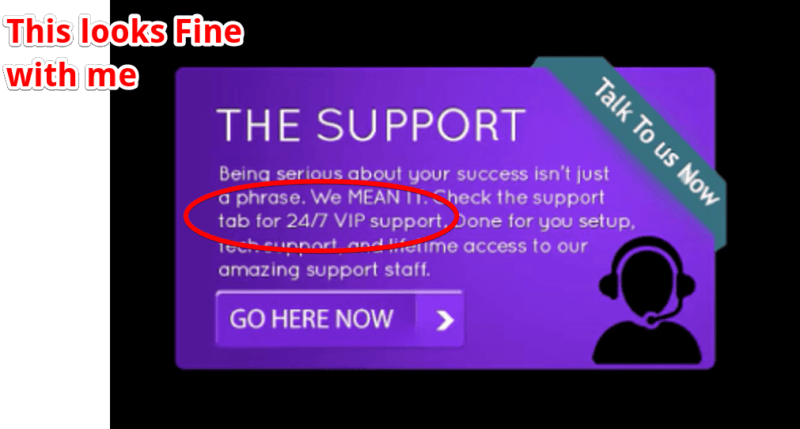 The Commission League Price Structure
There is good news and there is bad news.
The good news is that there are no upsells.
The bad news is the price – almost $1,000 for this course.
(if you are in the EU or another country, the Total price may vary due to the different VAT). So the total is $997.
Also in the webinar, it is said that this is a special deal.
That total value is $20,282.00. If you act now you get a discount price – $1,997.00 and on top of it a scholarship $1,000.
So the "today only" price is $997.
I mean, who does he want to fool?
The price will always be $997 – all that fluff about is useless. – But it sure increases the scarcity, right?
My Final Opinion of The Commission League
I think the biggest challenge with this product is the price.
$1,000 is a lot of money and let alone the additional investment for the traffic, meaning the solo ads.
The entire system looks good at first sight. Also, the idea is not bad, but somebody who already has done some research about digital products knows that it does not work that easily.
The only thing I can see as earning potential is to offer the Commission League to other people and to make a commission from it.
But still, you need to have traffic so you have somebody to who you can sell it.
But again, this product is too expensive.
And I am curious – would you spend 1,000 bucks on such an online product?
Well, I would like you to see some alternatives to it. Then please share your opinion in the comment section below.
The alternative (or a better opportunity called Wealthy Affiliate, in my opinion) offers you a starter membership for free. For a week you can learn how to create a website and learn about keywords, how to get the site ready for search engines, and so on.
The Commission League at a Glance…
Name: The Commission League
Website: www.specialwebclass.com/ew-training-st432119219
Price: Advertised Price $997
Owners: Mike Balmaceda
Overall Rank:

Conclusion
Originally I thought that this was a good product.
My verdict is – I do not recommend The Commission League.
It has a professionally done platform, that is for sure, but the real "know-how" they want you to sell is overpriced.
It is just not that easy and everyone who says that 20 minutes a day is enough to earn a full-time income is lying.
It takes effort and hard work to get to that level. Obviously, it is easier than building an offline business.
You just need to have proper guidelines and be persistent.
With the TLS I honestly don't think it will help with your financial situation.
There are too many "buts" in his "system" which we have covered above.
The only way you can make several hundred bucks is if you promote the national league to others. The commission they pay is as much as $307.
Would you invest in that? Or do you prefer the alternative I mentioned above?
Let me know in the comment section below, I will do my best to answer you within 24 hours.