Hey there, welcome to my post.
Have you seen someone posted on Facebook the site called MoneyGuru.co saying that you can too earn quick money?
You are wondering whether it is a scam or a legit website…
Let me assure you that this is going to be a thorough MoneyGuru.co review and you will find out exactly what you are looking for.
We are going to go through the entire site to show you how it works, who is behind it and how much can you make with this system.
Also as a bonus, I will offer you better alternatives, and eventually, I will mention what is the best way to start your business online.
With that being said, I won't show you just a few GPT sites where one can earn $100 a month. But a legitimate system that will help you to generate 4 or even 5 digits per month.
Let's start with the Moneyguru.co review right away.
Disclaimer
Please note, I am not a member or an affiliate for Moneyguru. This review is based on research and information available online in the public domain. Any recommendations and conclusions are only opinions and may not apply to all persons or situations.
MoneyGuru Overview
Product Name: MoneyGuru
Price to Join: $0
Creator: N/A
Rating: 0/10
Do I recommend it? No! This is a Scam!
MoneyGuru Review
MoneyGuru.co is a website where you supposedly can make some money by referring others to join this system and also by performing some tasks or downloading apps.
It pretends to a GPT site or Get-Paid-To site but soon we are going to discover a lot of red flags with this system.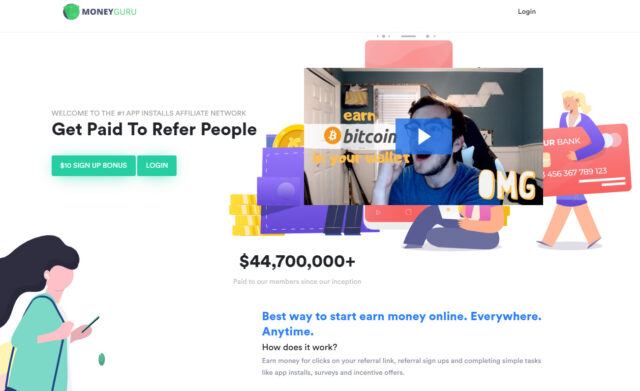 Let me reveal for you that MoneyGuru is a clone of other scams that have been around since 2019 (or maybe even earlier).
The biggest problem with these scams is that they don't pay.
One of the earliest versions was the RainMoney.co. When you check this RainMoney review you will see many similarities with MoneyGuru. The thing is is that the original website does not exist anymore, so you can't compare them directly.
Who Is Behind?
Always when you are about to sign up for a system that is new to you, make sure to check some details about the website. Especially when they promise that you can make money.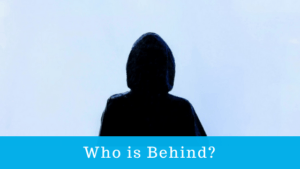 Unfortunately, MoneyGuru.co does not have any "About Us" section so that is a little bit strange. However, in the FAQ section, they state that with their parent company they have been around since 2010.
The thing is that they do not mention the name of the company and to me, this information has no value.
Besides, the domain moneyguru.co was registered only in June 2020.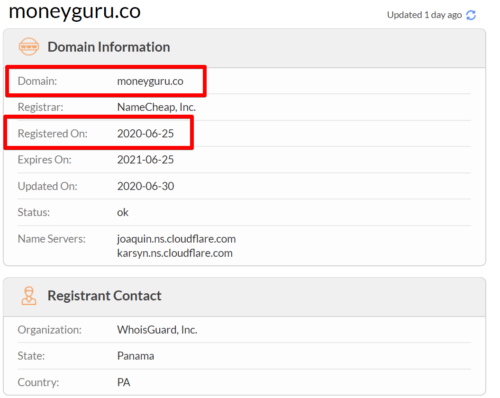 As of this writing (August 3rd), it is a pretty new website and they dare to claim that they already paid to their members more than $44 million!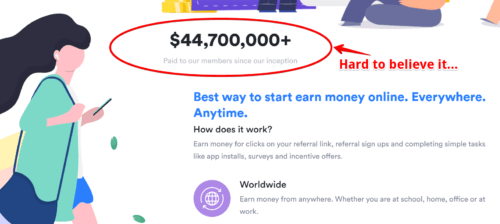 According to the website whois.com, the moneyguru has been online for less than 40 days.
That would mean that they paid more than $1M a day!
This statement is either a typo or a bad joke, in other words, false information.
Let me digress a bit:
If you want to know how to check the age of any website, watch the short video below.
(This specific video shows how to check the date, of another scam called inboxdollar.co. The website is not available)
The Inboxdollar.co is redirected to another scam, called RewardDollars.
As I already mentioned there are many scams just like the Moneyguru. Check this link to see the other reviews of very other clones of the same scam.
Who is it For?
Do you want to make a few bucks using this moneyguru system?
Well, it is certain that you won't. And I am not being sarcastic. It is a shame that a website like this can fool so many people.
Let me share with you how this site is doing on Alexa ranking:
(The lower number, the better ranking)
Get back to me in 2 months, and we will see a huge drop in the ranking.
People will realize that this is just one big Fake system and it is not worth it.
With that being said, don't be the one who "hopes" that maybe he could earn some money.
In other words, I don't recommend MoneyGuru to anyone.
Are you interested in a legit GPT site where you can make a few bucks?
Then check the following:
or even www.surveyjunkie.com
Here is a review of InboxDollars.com, in case you want to know what is all about.
But when it comes to such systems, I personally would recommend the SquadHelp, where you can earn $300 by typing letters.
I know that this also sounds too good to be true, but check the review of this system to learn more and by the end of a week you can make an extra $100 or $200.
A Note:
Don't mistake it for the inboxdollar.co (without "s" and "m" in the domain extensions), which is the fake site.
How Does the Moneyguru Work?
According to the official statement on the MoneyGuru, it is very easy.
First of all, you should sign up and you immediately get a $10 bonus.
Start referring your friends to this site and earn $5 for every friend you invite.
Use different ways to withdraw your earnings, from PayPal, CashApp to Bitcoin.
Here is how it really works:
After signing up you really see that the earning shows $10 in the dashboard. That is a fake number though.
For every friend you refer, this number goes up, but it is just an "illusion"
And lastly here is what really happens:

You want to withdraw your money
Your request is set on hold, due to some verification
After a while, you get a message that you have used a fake referral and that is against the rules – therefore your balance becomes $0, and eventually, your account is closed.
You see that there is no point in joining the MoneyGuru and all the clones I have already mentioned operate this exact way.
Let's briefly check how the dashboard looks like.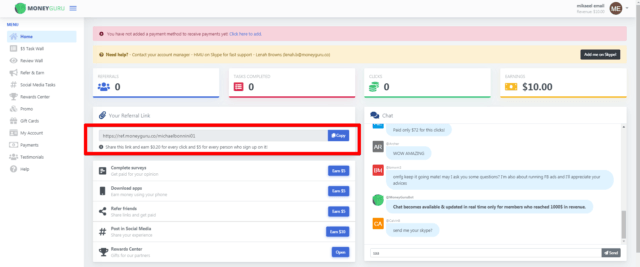 Right after getting into the Dashboard, you see some notifications and one of them is a statement saying:
"Share this link and earn $0.20 for every click and $5 for every person who sign up on it"
(it is written with that grammatic mistake).
But the statement is false.
Noone pays just for the clicks on some link.
In case you want to elaborate on this specific issue, please contact me using the comment section below.
Support – What Support?
Here is another proof that this entire website is just a sham.
Apparently, you can contact Lenah Browns for fast support.
The only fast feedback I got is the following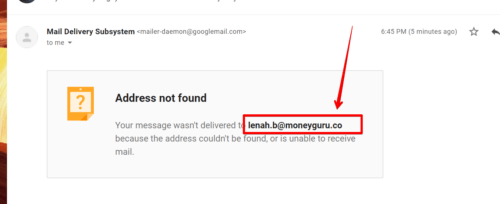 In the next section, we go over the red flags and that part alone is convincing enough that MoneyGuru is a scam.
List of the Red Flags
Here is a list of the MoneyGuru red flags.
You can refer to them whenever you see similar websites like MoneyGuru.
1) Age of the system
MoneyGuru has been around for only 40 days (as of this writing).
They want to make the impression that this is a successful and well-established program.
This can't further from the truth.
Another lie is that they did pay more than $44,000,000 to their users.
2) Fake Payment Proofs
We know that the moneyguru.co was registered only in June 2020.
Now how about the "payment proofs" that are posted on their website?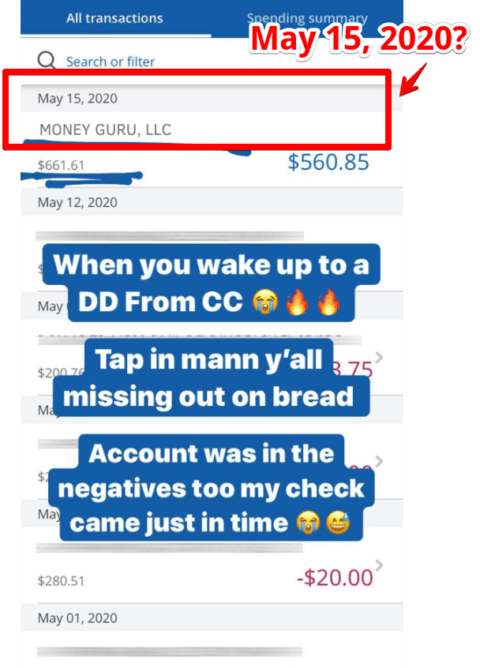 And one from January: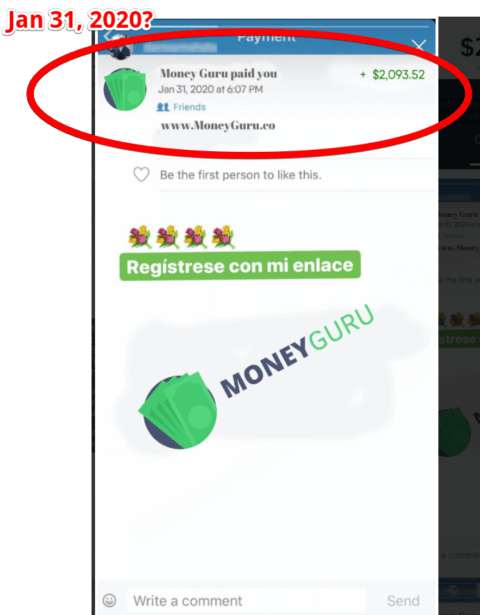 This information alone shows that this system is not to be trusted and everyone should stay away from it.
3) No One Gets Paid
This is a comment amongst these scams and even the MoneyGuru claims to be the #1 Influencer network, the truth is that no one gets paid.
One of the first scams of this kind was Kids Earn Money. As I have checked, this domain has been purchased by another company and it is not pretending to be "#1 Influencer Network".
How to track it back?
Just go to BBB.org and there you find a lot of reviews that people have posted.
Unfortunately, since then, there are at least 30 clones of this scam system.
4) Fake Testimonials
On the MoneyGuru site, they claim to have more than 730,000 members.
Here are some testimonials – apparently these people are all members and pretty happy with the Moneyguru.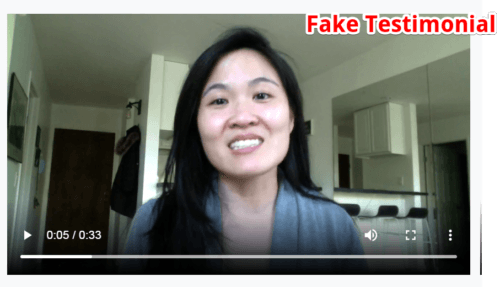 What I don't understand, why they use Fiverr actors?
I believe that among more than 700,000 members should be at least 10 people who can create a genuine short video.
So why would they use the actors?
Because there is not a single person who made money with the Moneyguru.
Simple as that.
5) Social Media links – Fake
If you scroll down, you see there are 3 icons that should direct you to the Moneyguru LinkedIn profile, Twitter, and Instagram.
But all of them are linked to a different company!
6) Support
Support simply does not work.
This is another big red flag as you need support whenever you join a new system. People always have questions that need to be answered.
What I like

Absolutely nothing
My Advice: Stay Away from MoneyGuru
What I don't like

Fake Testimonials
Fake Contact information
Payment proofs – fake screenshots
Support does not work/exist
Where to Go From Here?
I have already shown you some legitimate GPT sites and I believe you can make some money with those survey sites.
The drawback is that you won't make much.
We are talking about $50 maybe $150 a month and you have to dedicate some time to it (at least a couple of hours a day).
The other disadvantage of these survey sites is that in many cases the companies, ask for a lot of personal data and I understand that this might be too personal for many people.
One of the easiest and fastest ways how to make money online is Affiliate Marketing.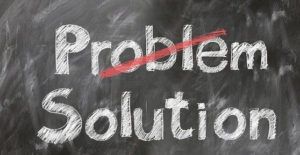 Actualy let me be clear about one thing.
When I say, "easiest and fastest" it does not mean that you will make hundreds of dollars within 3 weeks.
First of all, you need to think in the long run. Then, you should create a website and learn how to drive free traffic to it.
You can learn how to do that and while you learning you can actually make some money as well. It all depends on the niche you choose and your performance.
It is always easier to be part of a helpful community and have access to the right training tools.
If you are interested in how to start a business online, let me know in the comment section.
You can actually check the link at the very bottom of this post.
Is Moneyguru Legit?
MoneyGuru is not a legit website.
I have walked you through the website and showed you that this entire system is one big Sham.
And it is part of the other scams, so hopefully, you won't fall for one anymore.
Should you have more questions about the Moneyguru, or other scams, let me know in the comment section below.
I will do my best to provide you with feedback within 24 hours.
Stay away from the Moneyguru!
Thanks a lot for reading
Mike