Are you looking for ways how to earn some money online?
You have heard that by taking surveys on specific sites you can make a few hundred a month or so, right?
Well, it may be true but how do you know which system is legit and which one is a scam?
How about Surveys2Cash;
Is Surveys2Cash a Scam?
Let's go over this site and we are going to find out whether this system is worth trying. In the following Surveys2Cash Review, you are going to find out how it works, what are the pros and cons of this site, and as a bonus, you'll find out some alternatives to the Surveys2Cash.
Disclaimer
Please note, I am not a member or an affiliate of Surveys2Cash. This review is based on research and information available online in the public domain.
Any recommendations and conclusions are only opinions and may not apply to all persons or situations.
Surveys2Cash Quick Overview
Name: Surveys2Cash
Website: www.surveys2cash.com
Price to Join: $0
Recommended: Not really
Surveys2Cash Quick Overview
Surveys2Cash may give the impression of being a platform where users can participate in surveys and earn money. However, it is important to note that this site does not actually offer any surveys; instead, it operates as an advertising platform.
Users are required to answer numerous questions and provide personal information, only to be redirected to an actual survey site.
While Surveys2Cash is not a scam, engaging with their questionnaires would only result in wasting your time. It is advisable to directly access specific survey systems to save yourself time and energy.
What is Surveys2Cash?
Surveys2Cash is supposed to be a site that provides you with different surveys. By taking these surveys you should make some bucks. And I say "should" because soon we are about to find out that Surveys2Cash is not exactly what it seems to be.
The good thing is that you can sign up for free and then complete registration. Then you will be provided with links to different systems that may pay you for the surveys.
The not-so-good thing is that you will have to go through an endless number of questions and some of them might be annoying.
But we will get there.
Please note that this site is available for US residents only.
It is obvious from the traffic that the site gets:
In case you are outside of the US, no worries at the end I have a link where you can click and join one particular educational platform for free. You can learn how to set up a website and how to start making money online in the long run.
Founder of Surveys2Cash
There is no info about who created this website. Nor there is a contact address, but based on the research there is actually no need since you end up dealing with totally different sites/surverys.
We can check only when the site was registered.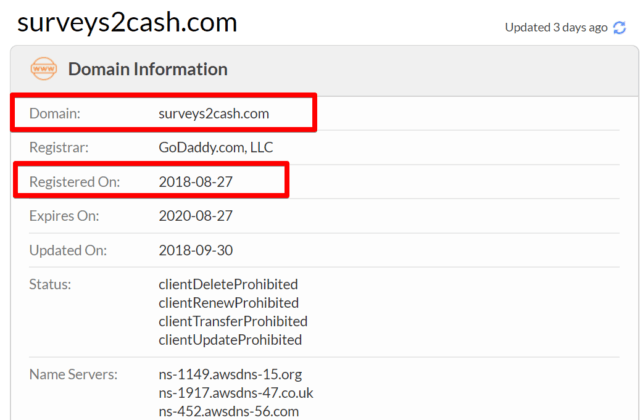 It is still quite a new site, but we have seen that they already get a good amount of traffic – about 400,000 visits for July 2020.
Who is Surveys2Cash for?
A simple answer would be that this is for everyone.
Every person who searches for an easy way how to make some money online can join a survey site, perform some tasks, and make a few bucks.
But can you really make some money by joining the Surveys2Cash?
Unfortunately no.
But to be perfectly clear, in theory, there is a chance that you eventually end up on a system that will pay you a few bucks.
Keep in mind though that in order to get there, one must undergo the painful questionnaire and get through a bunch of ads.
So basically that would be just a waste of time.
Why go through all that nonsense, when you can go directly to the survey site or sites?
Here are a few examples of legitimate sites:
inboxdollars.com
Survey Junkie
Swagbucks
One Note:
Let me digress a bit and at this point, I would like to warn you before the alleged legit GPT sites.
Sites like MoneyGuru or Social Bounty are data harvesting scams and you better stay away from them – do not sign up using your regular email.
Here is the list of these scams I was able to collect and you can check them as well, so you know what to avoid.
How to Join Surveys2Cash?
It is completely free as already mentioned.
What is a little bit annoying, you have to reveal your phone number. Without your phone number, you can't complete the Sign-Up process.
And if you read carefully you see that there is this text saying:
"By checking the box I consent to receive phone sales calls or SMS text messages…"
The phone calls and/or SMS you may receive from their marketing partners. I have counted them and there are (as of today's writing) 165 companies.
The good news is that for this time, you don't have to check this box and you may continue with the signing process.
But again, they already have your number.
So how is the signing-up process continue?
Surveys2Cash Sign up process
This is another annoying part and I believe many users would rather just bounce off the page than going through the questions and queries.
For example, you get to ask, whether you are a homeowner or not
Then it comes to questions about your income and you have to choose one of the options:
over 120K
80K-120K
40K-80K
20K-40K
less than 20K
To save you time here are other questions that you should answer. So if you find any of these disturbing you know that you don't want to join the Surveys2Cash.
Do you have more than $10,000 in credit card debt?
Are you interested in earning a degree online or switching careers?
Do you shop for apparel online?
Are you interested in getting paid for taking surveys and fun quizzes?
Rate from 1 to 5 how much do you love gift cards?
Do you want to see President Trump re-elected in 2020?
What is your credit score?
It is possible that these queries are different for you. I believe they keep changing them from time to time, or maybe even according to your location.
How does Surveys2Cash work?
This is not an ordinary survey site. It is rather a system that connects you to real survey sites.
We have seen the initial sign-up window where you have to reveal your personal data.
Here are the key points:
you provide your telephone number (except SMS and phone calls)  – not related to the surveys at all.
for US residents only
you don't have to tick all the offers
with that being said, it will take a lot of effort and time until you get to the specific survey site that pays
Once you are through the entire (and painfully) signing process you may be offered a gift card.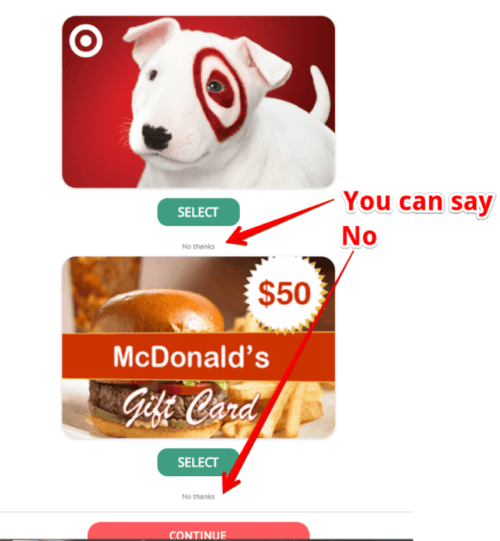 Be aware that this is not just a gift card you get after clicking on that offer.
You will have to again go through a survey and agree to be contacted by different marketing companies and eventually, you might get the gift card as well.
Let's say that the chances of getting such a gift card are higher, the more surveys, or contests you take.
Well at the end you will get to the final screen with a bunch of survey sites such as iSay, Inboxdollars, and so on.
What is the point of joining the Surveys2Cash?
Good question and from the user's point of view, it does not make any sense.
Surveys2Cash gets your data and based on the answers you reveal to them, you receive offers from 3rd part companies. These companies see you as a potential buyer so be ready for a lot of promotional emails, SMS, and even phone calls.
And these companies pay for such data to the Surveys2Cash.
The bottom line is that Surveys2Cash operates as a kind of ad site or a middleman between customers and companies.
There is no need to go through the Surveys2Cash.
Go to Google and search for "best survey sites".
That way you will have a list of many sites that are legit and you can join them directly.
Are you tired of worthless survey sites?
Do you feel like just wasting your time and energy?
How about a similar site where it is possible to make a few hundred bucks?
Would you be interested to find out more about such an option?
Please go and check the Squadhelp review. This platform allows you to make money by typing. 
I also show some tricks in this review on how to come up with tons of ideas.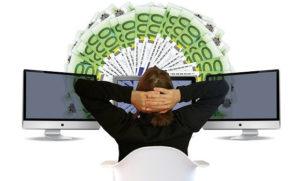 Regarding my personal recommendation…
…Let me get straight to the point:
How about a sustainable business online?
Is this something that interests you?
Do you want to know what it takes to create a website that generates consistent revenue for you?
First thing first.
It won't happen overnight. We are talking about a business here and every business needs customers.
Your customers are visitors to your website.
How do they find you?
They simply google a keyword and land on your website.
Sounds simple, right?
Actually in essence it is simple, but the real work is behind the curtain. If you want to know what it takes, check the review of this platform that teaches you step-by-step how to start and how to monetize such a website.
It is perfect for beginners and that platform has more than a million members (and still growing). It has taught me how to make a first $1 online and also how to scale it up to 4 digits.
What I like about Surveys2Cash

You have a chance to stumble upon a survey site that will pay you a few bucks
What I don't like Surveys2Cash
A lot of promotional offers until you get to the specific survey site (not worth the time and money)
Owner not known
The majority of the sites that are promoted via Surveys2Cash have little to no value (you probably can make a few cents)
Some Thoughts at the End
Surveys2Cash is not actually a survey site.
This is just an "application" site, with a bunch of questions, queries, and ads. At the end, they redirect you to the survey sites that might suit your answers.
Is Surveys2Cash a scam?
No, it is not a scam.
But better questions would be:
Is it worth spending time with Surveys2Cash?
Absolutely not.
It does not make sense to join the Surveys2Cash, at all.
You have two options:
Go to the survey site directly and try to make some bucks
In case you want to find out how to generate consistent revenue online, check the link at the end of this post. You will learn what it takes to run an online business and you can take the first 10 lessons for free.
If you have any questions, please ask them in the comment section below.
I will be more than happy to help you or provide you with my opinion.
Thank you for reading,
Mike.