Welcome to my website.
Are you interested in investing in cryptocurrency, but you are afraid that you are too late for bitcoin?
Are there any better opportunities?
It seems that DagCoin might be a good alternative.
But is it?
You are doing your due diligence before jumping to a conclusion – this is awesome. You have no idea how many people sign up for systems without doing proper research first.
So let's clarify it – is DagCoin a scam?
Would it be a good investment, or are we facing another cryptocurrency bubble?
In this DagCoin review, I will walk you through this system, how it began, who is behind it, how it works, and whether it makes sense to invest in Dagcoin.
Disclaimer
Please note, that I am not a member or an affiliate of DagCoin.
This review is based on research and information available online in the public domain.
Any recommendations and conclusions are only opinions and may not apply to all persons or situations.
DagCoin Global Overview
Name: DagCoin
Website: www.dagcoin.org
Price to Join: $7.20 to $17,975.00
Recommended: No! Do not join this Ponzi Scheme!
DagCoin Review – Summary
DagCoin operates as an MLM (or a pyramid scheme if you will) and it was founded by former OneCoin scammer Nills Grossberg. DagCoin is just a clone of OneCoin.
Their website and YouTube videos look professional but don't be fooled. It is a matter of time until this scheme will be shut down. If you want to find out how to make money do your research about investing and trading.
Or check the alternative I offer.
It is called affiliate marketing and you can learn how to build a website that will earn you 4 digits per month in about a year.
I have learned how to create a website, how to get free traffic, and how to monetize the traffic using this method:
Sign up for Free and I will guide you through the platform.
No Credit Card Needed – Just your email.
What The Heck Is DagCoin?
DagCoin is a cryptocurrency that is meant for using and not trading. That is what the official website Dagcoin.org says.
You are told that you can invest your money and buy this currency – DagCoin or DAG.
The Dagcoin can be acquired via SwipeX exchange or you can purchase the Gift Card directly at their website.
SwipeX is just a DagCoin internal exchange.
They used to have a different exchange called "Paygety" but it was working only for a few weeks. It has been shut down due to the "maintenance".
The website currently does not work.
When you browse the DagCoin site it seems that they only offer the new cryptocurrency.
What it does not say right away is that DagCoin works ass a Multi-level marketing company where you as a purchaser will be asked to share this "service" and ask others to purchase this cryptocurrency.
At first sight, it seems that this is a new and legitimate way how to get rid of the cash and invest it in something sustainable in the long run.
But once you start digging deeper, you find out that the creators or founders of DagCoin are related to the OneCoin.
Founder of DagCoin
A person behind the DagCoin is Nills Grossberg. He is an Estonian entrepreneur.
DagCoin, as a cryptocurrency has been developed by a company named DagCoin OU ("osaühing" which means private limited company) which was registered in 2017, by Nills Grossberg.
The company's headquarters is in Tartu, a city in Estonia.
Nills is also a founder of DAG Corporation Limited, registered in Hong Kong.
He graduated from the University of Tartu with a bachelor's degree in History.
However, this is not the first cryptocurrency company Nills is involved in.
A few years ago he was associated with OneCoin, to be more specific he was an investor in this Ponzi Scheme.
Legal Issues with the Dagcoin
So far there are no legal issues with the DagCoin.
It was registered only 3 years ago as of this writing (July 2020) but it is important to mention that people behind the DagCoin have been associated with the OneCoin, not many years ago.
OneCoin was a cryptocurrency company, based in Bulgaria (EU) that has been charged with being a pyramid scheme (or Ponzi Scheme) in numerous countries.
Here is a short video explaining what the OnceCoin is:
Long story short;
It is estimated that OnceCoin scammed $4 billion from people!
We already see the name Dr. Ruja Ignatova for a second time.
Who is she?
She was the founder of the OneCoin scheme and currently, Ruja Ignatova is a convicted Bulgarian fraudster.
It takes only a bit of research to find out that Dagcoin is just a new version of Onecoin, in other words, a clone of this Ponzi scheme.
On May 11, 2022, Europol added Ruja Ignatova to the list of the most wanted fugitives.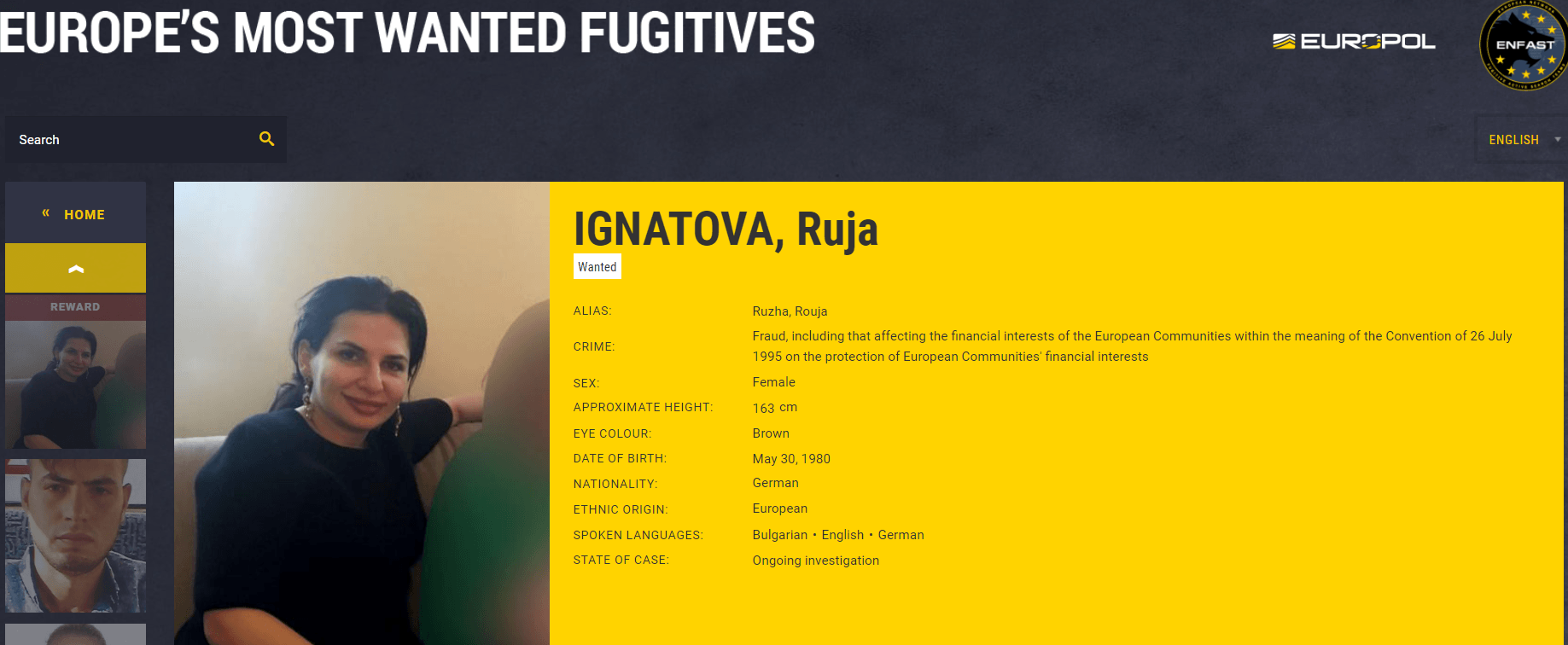 According to Europol, she committed a fraud;
"including that affecting the financial interests of the European Communities within the meaning of the contention of 26 July 1995 on the protection of European Communuties' financial interest. "
Source: Europol.
What is the Value of Dagcoin?
According to the official DagCoin website, it is supposed to be 0.63€ for 1 DAG (that is about $0.75).
But in real life – it is just a bubble and has no value.
Once you purchase the DAGs (using one of their platforms, assuming that works) you can't exchange them in any other currency.
In other words, you are screwed.
How do we call such a procedure when we use real money for purchasing something that has no value?
A Fraud?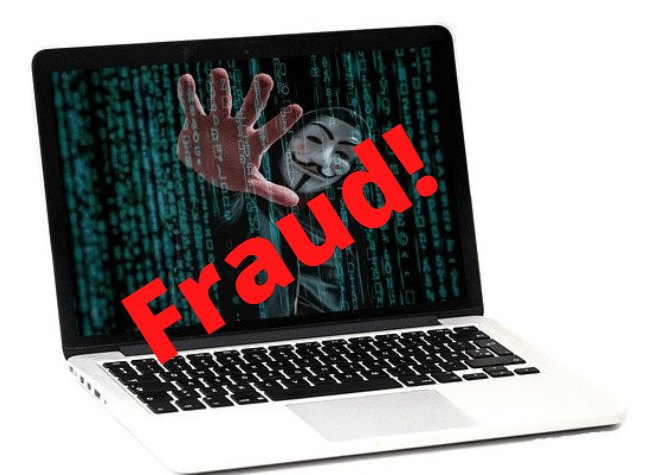 Yeah, I think that is just about right…
Is the DagCoin a Pyramid Scheme (Ponzi Scheme)?
Even though it does not look at first sight, DagCoin is definitely a fraudulent system.
Here is the thing;
Are we to believe that people formerly associated with OneCoin "suddenly" moved on, and decided to create a new great product that will help people to increase their financial situation?
But how?
"Investing" in something that does not even exist? What do I do with the DagCoin?
One can't exchange it for another currency, and it is not possible to pay with these DAGs.
So what is the point?
What you can do though, is to ask others to join this scheme as well. And from what they invest in it, you make a commission.
But again, why would someone do that?
DagCoin is a loophole where people "invest" real money.
This money is distributed among a few people at the very top of the pyramid – those people who founded the DagCoin.
Who is DagCoin for?
It depends on who gives the answer.
The scammers who started with the DagCoin want as many people to join as possible, promising high returns.
Unfortunately, there are still many people who would fall for this scheme.
Generally speaking, no MLM company that deals with cryptocurrency is worth trying.
It is probably tempting since it is online but, make no mistake.
There are more scammers online than in real life and they would do anything to convince you to "invest" in their fraudulent systems.
(Recently I have finished a review of the Forsage – that is in principle an illegal gifting scheme)
What is the Price to Join?
So how much can someone lose when decides to join the DagCoin?
From the official website, it is not completely obvious.
You can get a gift card with different values.
The cheapest one is 10D (approximately 6.10€), the most expensive one costs 250D (152.50€)
As you can see, you can order up to 100 gifting cards and the "investment" ranges from 6.10€ to 15,250.00€. That is approximately $7.20 to $17,975.00.
So is that it?
The Holy purpose of this site is to buy gift cards?
Not exactly and that is why I say, it is not quite obvious.
Stay with me.
There is also something called DagUniversity – or currently called Success Factory.
Apparently, there used to be systems where you as an "investor" could have asked others to join the DagCoin.
Let me explain it in the Compensation Plan Section.
Products, That DagCoin Offer
There are no products whatsoever within the DagCoin.
Now, what does it mean?
How do we call a system asking you to pay for something but in reality there is nothing tangible in return?
You are right – a Ponzi scheme.
Compensation Plan
The compensation plan is a document explaining how one can earn within the MLM company.
Usually, it is available on the website, but no such document can be found on the DagCoin site.
Nevertheless. they used to have a video, but it does not belong to the current DagCoin website or YouTube Channel anymore.
How come?
I don't want to go too deeply into it, but since the introduction of DagCoin, this company in the last 3 years has undergone a number of changes.
Here is the thing:
1) Originally DagCoin used to be associated with the DagUniversity where one could have purchased educational courses.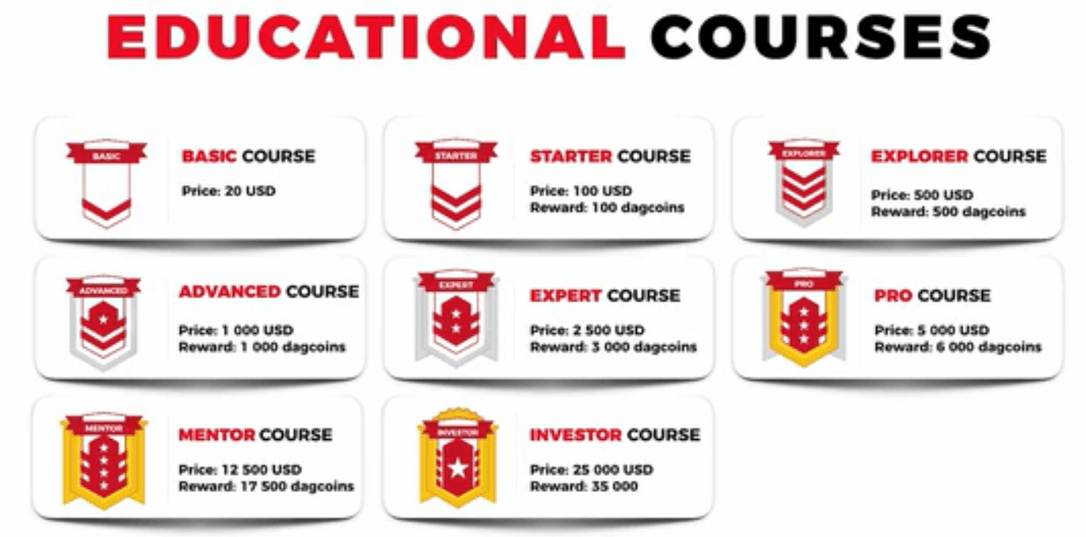 And the DagUniversity Compensation plan is still available on YouTube:
2) Then DagCoin somehow switched to the Success Factory.
This is an MLM company but it also acts as an educational company where one can purchase different courses. People were able to invest in DagCoin through this Success Factory.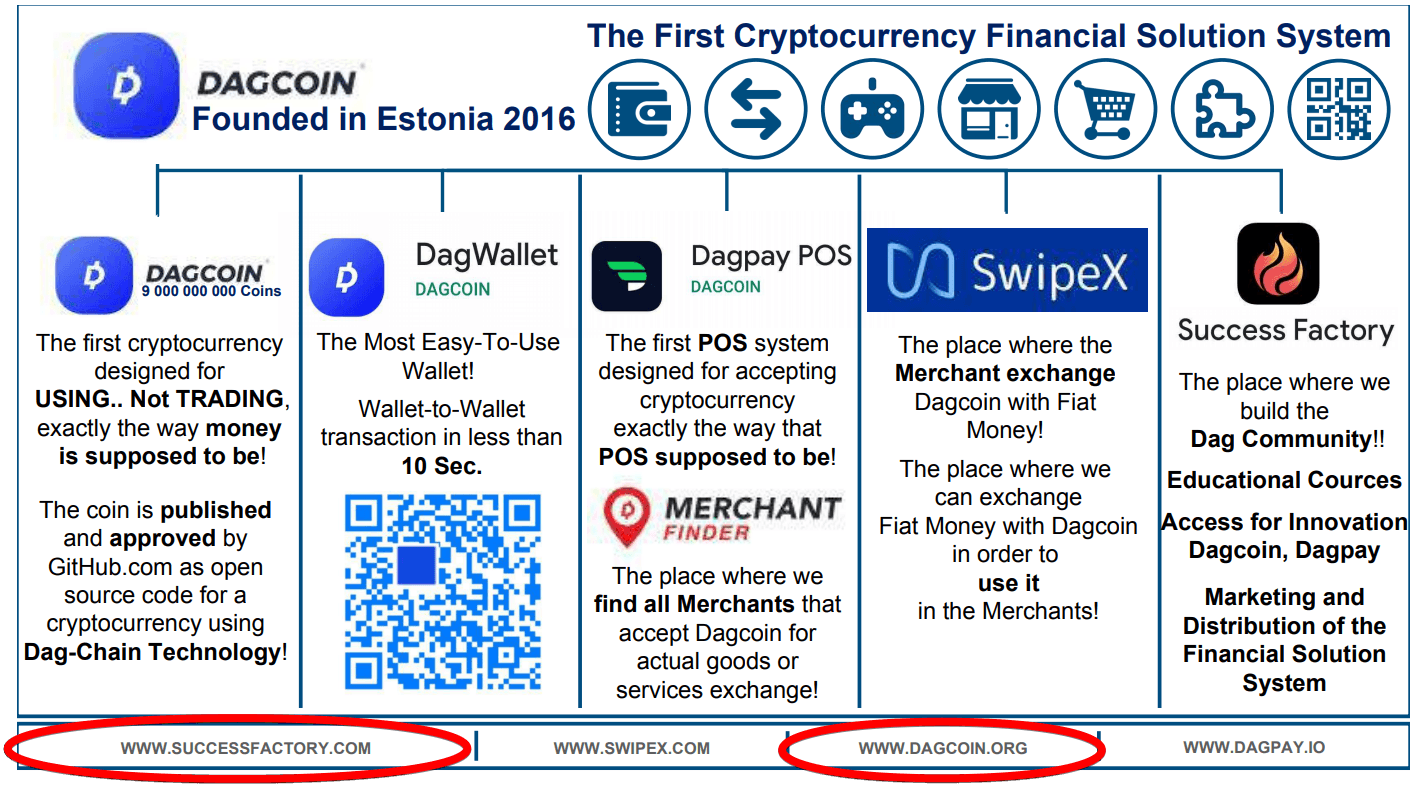 Hope you are still with me 🙂
3) But it is not the case anymore and as the official statement claims:

in case you can't read it:
"Please note that DagCoin Gift Card is not connected with the Success Factory compensation plan and bonuses"
Does it mean that DagCoin is now only a company where one can purchase Gift Cards?
It is not the Ponzi scheme anymore?
Apparently, they have abandoned this business model and moved on. Most likely based on experience with the OnceCoin.
In other words, DagCoin is only a scam where you can "purchase" something that has no value, whatsoever.
Anyways, it is not easy to keep up with all the changes the DagCoin undergoes.
The bottom line is, that something is very dodgy about this entire system.
To sum it up here is a conclusion that takes into consideration the fact that DagCoin still operates as MLM.
DagCoin is a bubble and it is a fake currency
MLM as a business model is no longer sustainable
A combination of these two above equals an illegal Poni Scheme, where only the founder generates income (until he or she is busted).
How Much Can You Make with DagCoin?
Based on the last information above, nothing. Zero, nada.
One can only lose money with DagCoin …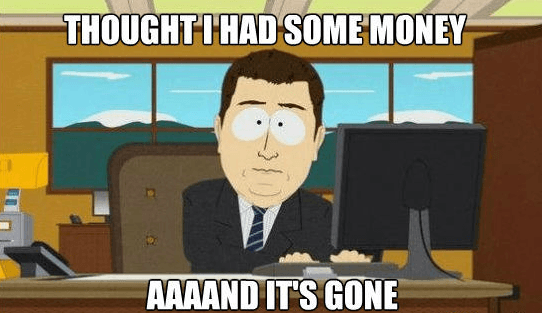 Where to Go from Here?
You have learned something about the DagCoin, right?
But what about now?
Are you interested in how is money being made online?
I am not talking about cryptocurrency or MLM. In fact, I am not a fan of MLM at all. (I was involved with one as a student, many years ago. This is not for me.)
There must be a way how to make money online.
And sure there is.
In fact, there are many ways how to start earning online. One of the easiest is affiliate marketing.
It has nothing to do with investing or recruiting.
Let me explain:
Imagine a website that offers an objective review of a specific product(s).
For example outdoor stuff.
Let's say you like hiking and you are looking for specific information about outdoor backpacks.
So google the keyword, and you decide to land on one of the pages that google offers.
As you read about the specs and other content, one specific backpack catches your attention.
You like it, you click on it – you are redirected to the merchant site and you make a purchase.
Now, what happened?
The owner of the first site (that you landed on) just made a commission. The merchant sold the item and you have paid the regular price.
Everybody is happy.
What is my point?
You can become an owner of such an affiliate website. It is not difficult to create a website these days and with proper education, you can make your online business up and running within 10 to 14 months.
It depends on the niche you choose, but generally speaking, it takes a new website about a year until it gets a lot of traffic (assuming that you create content).
There is a platform that teaches how to have thousands of visitors on your website and in particular, this is the one where I have learned how to drive the organic (free) traffic.
Why does it take so "long"?
It simply takes time to learn new stuff and apply it.
You have basically two options:
chase other shining objects that promises you high returns with no investments
get your act together and start being productive
I am not sure whether you want to learn new stuff, but faculties like
Learn how to create your own website
SEO – organic traffic
Learn how to get other traffic to your website (also free)
And a lot of other internet marketing tricks and tips
are very priceless.
Once you master these, you don't need to go to any 9-5 anymore. You will become the master of your faith, so to speak.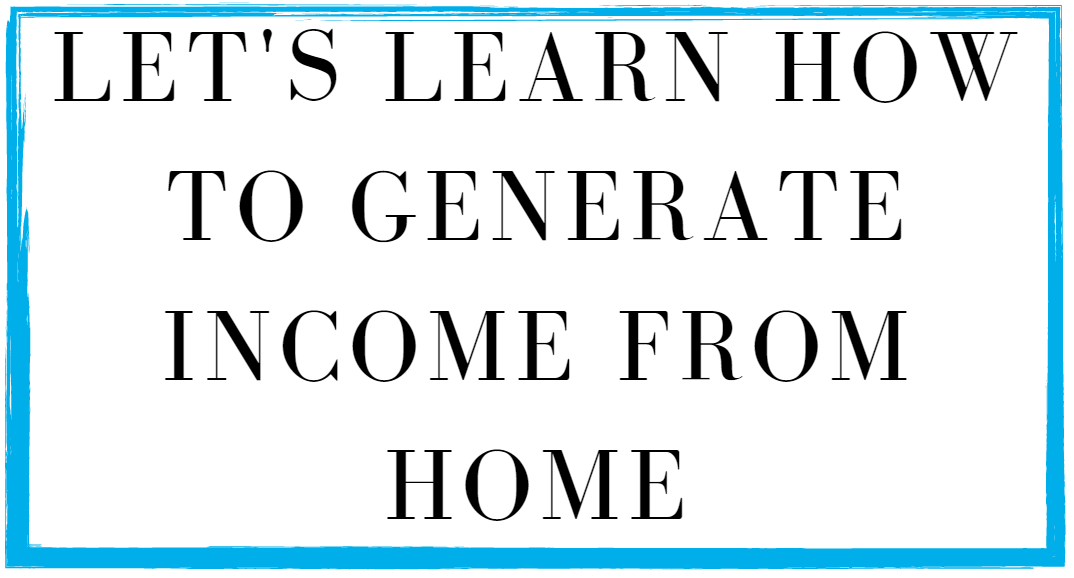 What I like about DagCoin

I don't like anything about this Ponzi Scheme (or Cryptocurrency Pyramid Scheme if you will)
What I don't like about DagCoin
Clone of  infamous Ponzi scheme (the evidence that these two are connected is overwhelming) :
A pyramid scheme – DagCoin, particularly can collapse at any moment
One can't exchange DAGs into any currency
After my attempt to sign up for DagCoin, no confirmation email has been sent to me, even though I did ask for a resend (a typical sign of a scam).
Is DagCoin a Scam?
Their website looks really nice and the temptation of "investing" your money into something new, with (allegedly) a good return on investment is strong.
I get it.
But we have found out that this is nothing other than a new Ponzi scheme, a clone of a different system called OneCoin.
Is DagCoin a scam?
Yes, it is.
At one time it was also called "the latest fake cryptocurrency".
I am sure by now you understand that it is not worth trying.
You would just waste your time and money.
My guess is that DagCoin soon will be shut down and many people will lose their savings.
Final Conclusion
Somebody came up with the idea of a new cryptocurrency with one goal only.
To make as much money as possible, using deceptive marketing that promises a high return on investment.
But what returns?
Based on what?
DagCoin is just a fake system.
Creators of the DagCoin made a fancy – simple site; they did invest in marketing and shot some cool videos to attract lots of people.
These people -misled by deceptive marketing- invest in something that doesn't exist.
Their money is being used to support these scammers for their flashy lifestyle and whatnot.
DagCoin has exactly the same patterns as Onecoin.
My advice?
Stay away from the DagCoin!
I understand that we have covered a lot, so should you have any questions, or you want to clarify something, let me know in the comment section below.
I will do my best to provide you with feedback within 24 hours.
Thank you for reading
Cheer, Mike
Do You Want To Learn How To Make Money Online?
First of all please realize that there is no such thing as a push-button system that generates money on autopilot.
Choose a specific business model.
The simplest one is Affiliate Marketing where you sell other's people products. You connect potential buyers and vendors.
Just choose a specific topic and learn how to create a simple website where you inform your readers about the product or service.
Learn the basic SEO and how to drive free traffic to your website. These skills are priceless.
Once you master that, the sky is the limit, when it comes to earning potential
Check the link below to learn more about a specific platform teaching these skills (and beyond).  
For a Free Trial, No Credit Card Needed