Hi and Welcome to my Monat Global Review.
You are doing some research about the Monat and you are wondering whether this would be a good business opportunity for you or is just another scam.
I am glad that you do your diligence because this is the only way how to stay away from scams and other misleading products.
You are going to learn more about the Monat, how much it costs to join, what is the compensation plan, and most importantly how much an average distributor or partner earns.
By the time you are finished reading, you will know whether the Monat is a pyramid scheme or not.
What is Monat?
Is Monat a Pyramid Scheme?
Who is Monat For?
What is the Price to Join?
Products, That Monat Offer
What do People say About the Products?
Compensation Plan
How Much Can You Make with Monat?
Where to go from here?
Monat Global MLM Conclusion
Disclaimer
Please note, that I am not a member or an affiliate of Monat Global. This review is based on research and information available online in the public domain.
Any recommendations and conclusions are only opinions and may not apply to all persons or situations.
Monat Global Review – Quick Summary
Name: Monat Global
Website: www.monatglobal.com
Price to Join: $19+$99
Recommended: No. I recommend Affiliate Marketing. Check the Pros and Cons of both business models (Affiliate Marketing vs. MLM).
Monat Global is a multi-level marketing company that sells hair care and anti-aging products. The potential for earning money as a MONAT Global representative is very low. It depends on one's ability to sell the products and more importantly to recruit others into the business.
I am not here to judge the questionable quality of their products, but I can assure you that this kind of business has a high rate of failure.
According to their income disclosure, more than 90% of representatives make less than $100 per year.
What is Monat?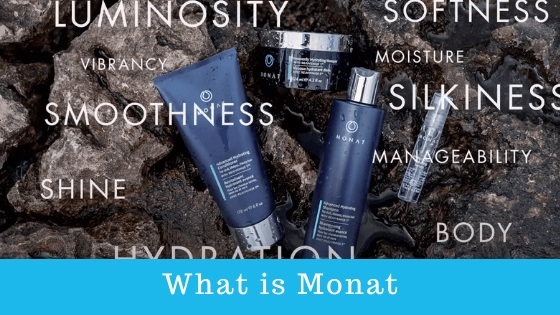 Monat is an MLM hair care company. It was founded in 2016 and the company headquarters is in Miami Florida.
Monat Global does offer other cosmetics and personal care products but hair care is Monat's core business. Apparently, these products are supposed to be the solution for hair loss and they are all organic and safe.
Well, these are pretty audacious statements and we are about to find out that there are many controversies.
We must point out though that despite the questionable quality of the Monat Shampoos and conditions, the company does pretty well in terms of sales.
Back in 2017, Monat has more than $300 million in revenue and since then it expanded to other countries, like Canada, the UK, Ireland, and Poland.
Founder of Monat
The co-founder and chairman, of Monat, is Luis Urdaneta. He has experience with direct selling companies in Latin America and together with his son they co-founded the Alcora Group that eventually led to Monat.
Luis's son, Ray is currently the CEO. He holds a degree in international business.
Legal Issues with the Monat
There are plenty of lawsuits where Monat was involved, mostly due to the products.
People were unhappy with the results and a lot of them were complaining about the "itchy and irritating feeling emanating from hair and scalp".
Only at the beginning of 2018, there were at least 6 lawsuits from January 2018 to April 2018.
This is an extract from the case Dana Sohovich vs. Monat Global Corp.
The lawsuit amount ranges from $250,000 to $5,000,000.
You can read other documents here, (Trisha Whitmire and Emily Yanes vs. Monat Global Corp. as a defendant).
Another disturbing fact is that some of the Monat distributors were claiming that their products are FDA approved.
This is a simple lie.
FDA does not validate any cosmetic products.
Monat Awards
Monat is proud to win many awards over the last 4 years or so.
When we look closer at the companies that awarded Monat we find out that Monat did pay for them, so these awards are not genuine.
Monat shows them to make other people think about how good this company is and how great the Monat products are.
To me, it is just hypocrisy.
Is Monat a Pyramid Scheme?
There are a lot of different opinions about what the pyramid scheme is, what the MLM is, and how to distinguish between these two.
Well, the truth is that all MLM companies have routes in the Pyramid Scheme.
To make the Pyramid scheme legit, a company has to add the product to the portfolio and people distributing this product must earn a profit, just from selling the product.
Recruiting must be a secondary source of income.
However, this is just an official statement and everybody who has been successful within any MLM will tell you that the money is in recruiting.
The question is which one prevails, or in other words, where is the emphasis – recruiting or selling the product?
So we have to check each company individually to make a final statement.
First, of all Monatl Global can't be called an outright pyramid scheme since they have products to sell.
But all of the distributors or Monat Partners are "advised" to go out and find friends and relatives to join because these people will make money for you.
So in the end, it looks like the image below.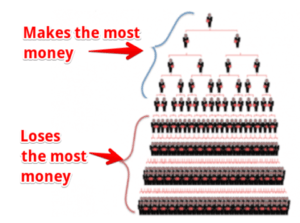 People at the top of the structure are those who make money and the rest (the majority) struggles to make a few bucks or even lose money.
Who is Monat For?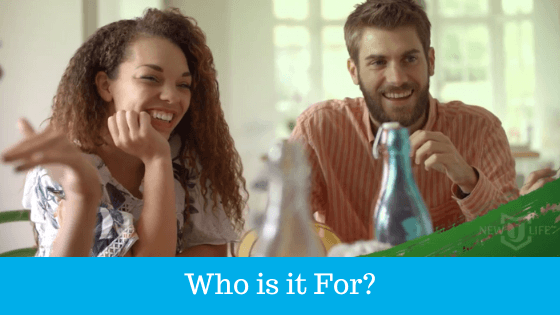 The purpose of any MLM company is to recruit as many people as possible. Unfortunately, the sad thing is that they target the most vulnerable people who are tired of their living style paycheck to paycheck.
People who work as MLM distributors for some time have developed sales skills – they know how to persuade people and how to sell dreams.
Monat Global is not an exception.
In my opinion, if you want to try the Monat MLM you can do so, but please do research first.
Check the compensation plan… and I mean read also between the lines.
We are going to go over the compensation plans and I will do my best to explain how it really works.
Also, check what is the success rate.
Each MLM company and which includes Monat Global should have available Income Disclosure on their website for the previous year.
Only and only after you do your homework make a decision.
If you think it is a still good idea to join the MLM try to find an answer to the following questions:
Are you OK to bother my relatives and friends?
Some of them might say yes – but then are you prepared to talk to strangers?
How well do you handle the rejection?
Not many people are OK with the rejection. Most of them have a tendency to give up after a few attempts.
Are these products freely available online? (let's say, eBay or Amazon)
We are about to find out that Monat products are even cheaper on Amazon (have not checked eBay, but I am sure you will find it there as well).
These are crucial issues you have to consider before applying for Monat Global (or any other MLM).
What is the Price to Join?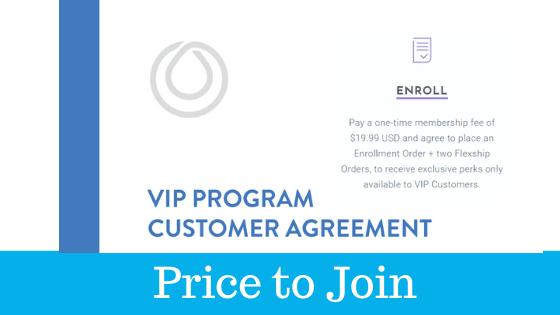 It is understandable that people want to have a second stream of income.
Starting with business online is often complicated and also too expensive. Imagine opening a restaurant. That requires investment, effort a lot of paperwork, and skills.
Not to mention that lot of these business goes down within a few years.
So becoming an independent distributor (or a small businessman) within Monat Global is a peanut compared with the example above.
Monat Global offers different packs starting from $99 for Starter Pack up to $799 for the Optimum Pack.
Besides you need to pay the $19.99 enrollment fee.
The Starter Kit contains Brochure, a magazine with a price list, a workbook, a Skin tester, Jelly Bag, skincare product cards ad other samples.
Here is the list of the other packs:
Essential volume or hydration – $199.00
Success Pack – $349.00
Overachiever Pack – $599.00
Optimum Pack $799.00
The starter pack is not bad for beginners who don't have a budget.
But please note that once you sign up for a pack, it will be automatically shipped to you every month.
According to Monat, you can cancel the contract but based on the former Monat partners' experience, it usually takes 3 months until the membership is canceled.
Products, That Monat Offer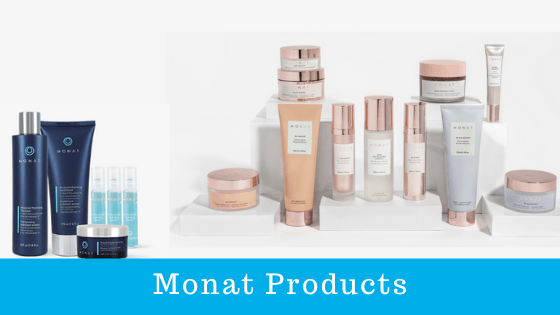 Monat offers quite a wide range of products.
From Hair products, through skincare, to sprays and cleansings for your pet, especially dogs.
According to the Monat website, all air products are natural, safe, and pure.
I am not an expert in this field, but my guess is that there must be something wrong with the quality.
Remember the lawsuits mentioned at the beginning of this review?
The price ranges from $20 to about $100. In case you decide to buy a whole pack, you get a discount.
You can have a look at the all products here, including the price.
Now, let's check for example Amazon, and see whether we can get some of these products here.
A simple search tells us that the same product can be purchased for a lot less than offered on the Monat website.
Why would anyone want to buy Monat products from the distributor when she/he can purchase them online for a lower price?
What do People say About the Products?

I have not tried the products by myself and it would not be fair to share with you just my experience with the products.
Therefore I have checked other people's opinions and this is what I am going to share with you.
It does not seem that people are happy with Monat Global Products.
You find some excellent reviews and some bad reviews. A very few in the middle, so I would suggest checking the middle ones as they are the most accurate ones.
Here is the link to the Review page, with more than 4,000 reviews.
Also take into consideration a number of lawsuits that Monat is involved in, mostly due to the bad experience with the shampoos and so.
Compensation Plan (or Financial Rewards Plan)
I don't know whether you have tried to join a different MLM company before. If you did, I am sure you were studying the compensation plan and it was not so clear.
Let me tell you that you are not alone.
I mean these companies, including Monat Global, have compensation plans so complicated that even the distributors don't understand them entirely.
It is made so on purpose.
Here is a simplified Monat Compensation plan for 2020:
1) Start as a Marke Partner (MP)
– this is Level 1 and you can earn 7%.
Theoretical income is about $150 per month
2) Managing Market Partner (MMP)
– This is Level 2 and you need to have at least 2 people as your downline.
Requirements:
You alone must have at least 300 PV (Personal Volume – products worth approximately $300).
And the GV (Group Volume) must be 1,200 within this team.
The theoretical income is $500.
3) Associate Market Builder (AMB)
– This is still Level 2, but you have 3 active members underneath you.
Requirements:
You have 400 PV
And the GV must be at least 2,400
The theoretical income is said to be $850 per month.
4) Market Builder (MB)
– You are getting in Level 3, meaning that one of your downlines found another 2 active members.
Requirements:
You alone must have at least 500 OV
And the GV must be 4,000
The income potential is supposed to be something over $1,000.
5) Managing Market Builder (MMB)
– You are still at Level3, but you have at least 2 persons who found a new couple as their downline:
Requirements:
In this scenario, you have to have 500PV
And GV must be 5,000
The potential income is estimated to be $1,600
6) Associate Market Mentor (AMM)
– Now you are getting in Level 4, where at least 2 guys from Level 3 find another 2 fellas.
Requirements:
You have to have 500PV + 4 Active Lines.
That means 1 MMP Line and 1 MMB Line. Altogether 5,000 GV.
The earning potential is something over $2,500.
There are at least another 6 levels above the AMM, but I am not going to bother you with all the numbers.
How difficult do you think it is to find a couple that will generate for you the required GV?
Not to mention that one of them will have to find another active member.
Sure it depends on your skills, but if you are a newbie in this field, I am sure it will take a long time and a lot of rejections until you will be able to make 4 digits per month.
If you want to learn about the entire Monat Compensation plan, feel free to watch this 35 min video:
If you prefer it in PDF form, here is the link you can check/download.
(It is freely available on the Monat website as well).
The bottom line is, that the money is in recruiting.
How Much Can You Make with Monat? – Income Disclosure
Income disclosure is not available on their website.
All MLM companies are required to share their income disclosure, but in my experience, only 30% do so.
After more digging, I have found out that the Income Disclosure does exist, but it is in their back office, meaning it is not available to the public.
I was able to get a copy of the income disclosure for 2018 where it says that 94% of Monat Partners made $183!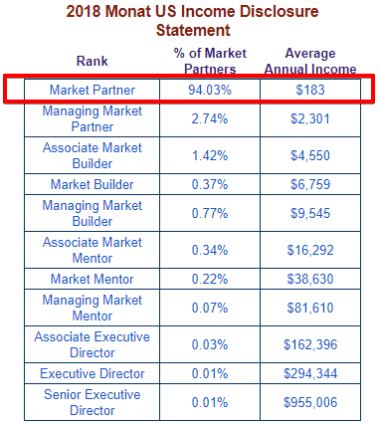 Currently, I am awaiting an email with the image of the income disclosure for 2019.
Once I get I will be happy to post it here for you.
From a different source, I was able to find some statements regarding the earnings, although it applies to the Canadian branch only.

We can assume that participants in other countries may earn approximately the same amount as the Canadian example above.
Why Do People Lose Money?
The compensation plan is not so clear, but the basic thing is that you have to keep purchasing new stuff each and every single month. Now if you are not able to sell it, you will have to put it somewhere in your apartment or a house.
What does it mean?
That stuff that you can't sell, is your money.
Not to mention that your sponsor keeps asking you questions, like how much did you sell last month, why you did not sell, and how many items you plan to sell next month.
In order to maintain the active status, you gotta keep buying regardless of whether you sell it or not.
This is how most of the Monat Partners lose money.
99% of People Involved in MLM Lose Money
This is a common trend throughout any MLM kind of "business".
As per the FTC, 99% of people do not make any money or they lose money.
In many cases, these companies do not reveal their income disclosure which is a red flag.
If they do, it is easy to check their earning potential. However, it is also important to mention that those numbers do not include the expenses people have.
If expenses were taken into account, many of that "figures" would be negative (meaning people lose money)
Where to go from here?
I know that you want to find a second income stream.
But does it have to be MLM? Is that what you want?
There are plenty of opportunities online as well.
You can work from your home, you don't have to bother anyone. The way I earn money online is through affiliate marketing.
Now let me tell you right away that it is not a push-button system and it is not as easy as other gurus tell you.
To succeed online one must gather new information, learn how to build a website, what is the SEO, how to rank well on Google, and other stuff.
But with proper training, it does not have to be that steep a learning curve.
Some of the platforms that teach affiliate marketing offer a free trial, so you have basically nothing to lose. Find out more about the platform and let me know in the comment section what are your thoughts.
You can test it out for free and after the trial-up period (which lasts 7 days), you will decide whether to invest in education or not.
It is up to you which business model you choose.
Here is a little overview of both Affiliate Marketing and MLM, including the Pros and Cons of both.

What I like about Monat

A Growing company expanding to other countries
Every new member is provided with support and training materials
Compared with other MLMs, Monat offers a compensation plan that is complete with commission systems and bonuses
What I don't like about Monat
A lot of lawsuits, mainly due to the poor quality of Monat products
Pretty difficult to climb the company hierarchy and thus make a living
The claims about the pure products are most likely not true (deceptive marketing)
It takes too long to get refunds from Monat (after the cancelation request)
Monat Global MLM Conclusion
It is Pyramid Scheme?
Technically it is not.
But the fact is that it is almost impossible to make living solely from selling products, which have questionable quality in the first place.
Are you OK with recruiting?
Is this something you would enjoy doing?
Then you should give it a try. But based on the income disclosure it'll be a pretty tough ride.
In my opinion, a person would be better off with internet marketing. The chances to succeed in the online world are much higher.
I have a link for you at the very bottom of this post where you can test the platform absolutely for free.
There is a 7-day free trial and if you decide to continue you can become a premium member.
If you hesitate about starting something completely new (like I used to be) I recommend you to read the review of the platform that teaches Affiliate Marketing.
Take your time and if you have questions, get in touch with me.
Let me know if you have questions regarding Monat Global, or any other thoughts, maybe concerning the alternative I have offered for you.
Thank you for the reading
Mike