Do you like to play online games?
I am sure you know by now that there are platforms where you can play games and earn some money at the same time.
You are probably already aware of this site called Gamehag, aren't you?
But how does it work? Or a better question is, how much can one make playing games with the Gamehag?
The thing is that apparently, the members do not earn cash though.
Is this platform even legit?
Let's find out more about this site and within a few minutes, you will know everything you need to know about the Gamehag.
Especially what is the earning potential I will include some alternatives for you in case you want to earn more.
Only recently I have stumbled upon a different PTC site called Paidverts, where you can also play online games and earn. But Paidverts, in my opinion, is not the best site of this kind.
So let's see what is the Gamehag all about.
Disclaimer
Please note, that I am not a member or an affiliate of Gamehag.
This review is based on research and information available online in the public domain.
Any recommendations and conclusions are only opinions and may not apply to all persons or situations.
Quick Overview
Name: Gamehag
Website: www.Gamehag.com
Price to Join: $0
Recommended: Not Really, Good platform for gamers, but this site pays in a different way (if anything).
Gamehag Review – Quick Summary
Gamehag is a legitimate Get-Paid-To platform where members can earn rewards by completing tasks, playing games, or creating short content.
Founded in 2016 in Poland, it has millions of users worldwide.
However, one drawback is that members cannot cash out their earnings; the earnings can only be used within the platform, such as for purchasing CS: Global Offensive skins.
If you're looking for a site where you can earn cash, consider exploring a different method like Squadhelp, where you can make a few hundred dollars by typing names.
(A link to the Squadhelp review is included below in the article.)
While Gamehag can provide some earnings, it is not a scalable business opportunity, and there are other more complex methods that have the potential to generate four or five figures per month.
The more time and effort you invest, the more you can make.
If you're serious about generating a sustainable income online from home, check the link below.
What is Gamehag?
Gamehag is a GPT site where one can earn money by playing games and doing different tasks as well.
GPT stands for Get-Paid-To and there are many systems that operate this way. Some of them are scammy, other sites are legit.
Let me tell you right off the bat that Gamhag is a legit site – that means that its members actually get paid.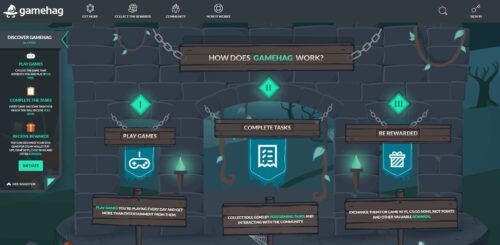 But how and How much?
We will get to that shortly.
Gamehag is a platform that works worldwide and it has connected already more than 7 million gamers.
Founders of Gamehag
When it comes to sites promising you to make money, it is always good to check who is the founder, and whether the information on their page matches the reality. There are so many scams that literally lie about their past.
It is not the case with Gamehag.
This site was founded in 2016 in Poznan, which is a city in Poland.
It can be double-checked on a site called Whois.com.
(Just type any domain and right away you see the foundation date and other information about that domain).
Gamehag has 3 Co-founders, Michal Juszczak, Patryk Hoffmann, and Pawel Wegierski.

Good to know that these guys are real and it is possible to get in touch with them via LinkedIn. (Unlike the scammy sites where one does not know who is behind them).
What else do we know about the Gamehag?
It is said that they get thousands of new members every day.
Based on the amount of traffic the Gamehag site gets, it is most likely the truth.
In the last 2 months, the traffic has decreased a bit but still, it is almost 2 million visits per month.
Most of the traffic is from Poland, Russia, Brazil, Turkey, and India.

Who is it for?
As already mentioned Gamehag operates worldwide so anyone can join.
And in case you are a gamer, this system is very good for you, meaning that you don't have to feel bad about yourself while playing the games since you are also earning.
It is not a lot, but it is at least something.
How to Join Gamehag?
It is very easy to join.
You only need an email address. No telephone number no other personal details. At least at the beginning of the signing process.
So after you confirm your email address you get inside the Gamehag platform.
You can go through the guide that is automatically offered to you.

There are more tutorials you can go through – in fact you want to because for each finished tutorial you get 5 points.
What are the points?
Let's take a look at how the Gamehag work.
How does Gamehag work?
First of all, you are not paid in cash. This is the first thing every gamer should be aware of.
Every active member is paid by the currency that is used within the Gamehag. This currency is called Soul Gems or SGs.
Soul Gems can be used to redeem different rewards.
So in case you are looking for a platform that pays with cash, I think you should look somewhere else.
One tip I can offer is SquadHelp.
Here you can earn by typing the domain names. In the review, I also show some tricks on how to come up with as many names as possible.
But back to the Gamehag.
Now that you know what kind of currency the gamers earn, let's briefly take a look at how to earn these SGs.
Tasks
This is the first option you see within the Gamehag dashboard.
If you go for this option you will be asked to do various activities, but nothing difficult. It could be downloading apps, answering surveys, or also you can play online games.
Some tasks take several seconds, on the other hand, some surveys can take up to 30 minutes.
Here are some other ways how to collect the SGs:
Take Offers
In my case, I had only one offer and that was Geekbuying.
Geekbuying is an e-shop, so whenever you make a purchase you are rewarded with the SGs.
Play Mini Games
This is probably more interesting than purchasing some stuff.
You play simple games and collect the scores.
These games are really easy to play. In other words, it is not a lot of fun and also the rewards are very low.
Talk on the Forum
You can discuss the games on different forums. There are some restrictions though.
In order to create your own group, you have to become a VIP member and that is actually another way how to earn the points
Become a VIP
You can either try this for free. The trial version lasts 7 days.
After the trial period is over, you can choose to leave or buy the VIP membership which costs 3€.
Create Content
Content is king – you have probably heard that, right 🙂
And it seems that even within this GPT site content you create is rewarded.
So you can make a review about a video game or if you prefer video, you can also shoot a YouTube video that promotes the site.
Members writing articles usually get fixed rewards of 250 SGs.
Obviously, the article must be unique (meaning in your own words) and that same applies to video as well.
Is Gamehag Legitimate Site?
Gamehag is a legit platform with millions of users worldwide.
The drawback of this site is that they don't pay in cash.
If you are a gamer and you are OK to get the rewards in the Soul Gems, then my advice would be – to go play games, but not the mini-games.
What I also want to mention is the support.
Gamehag offers good support for the members.
Their FAQ section is quite complex, but in case you don't see the answer to your questions there, just contact them directly n they will provide you with the answer.
What I like about Gamehag 

Available worldwide
A funny way how to be rewarded (in theory)
What I don't like about Gamehag
They do not pay in cash
The earning potential is low
After the task, they find a lot of excuses not to pay you
Gamehag – Conclusion
Gamehag is a site that rewards its members in its own way…2016.
Unfortunately, only with kind of points called Soul Gems or SGs.
This is their own currency but for gamers who like to be rewarded this way, this is a good site. The thing is that they can use the earnings and buy games they want to play.
In case you have been looking for a site that offers cash, the Gamehag is not for you. 
There are numerous online games that claim to offer monetary rewards (for example Atlas Earth), but in reality, they are primarily intended for entertainment purposes.
But in this article, I did mention a great site where it is possible to earn money by writing, so just check a few lines above and you can make a few hundred bucks within a few days.
Let me know if you have any questions regarding the Gamehag.
Do you know any similar sites that pay for playing games?
Thank you for reading
Mike
Do You Want To Learn How To Make Money Online?
First of all please realize that there is no such thing as a push-button system that generates money on autopilot.
It is necessary to choose a specific business model.
To save you some time:
The simplest one is Affiliate Marketing.
You sell other's people products, you don't deal with customers, with suppliers, with products. nothing of the sort.
– Your task is to "connect" potential buyers and vendors.
When they buy a product through the link on your website, you get a commission.
The tricky part is to learn how to get free traffic to your website.
Check the link below to find out more.