It's understandable that many people seek additional sources of income. The online world offers numerous opportunities, but it can also be risky due to the prevalence of scams.
One avenue people explore is making money through playing online games, and Atlas Earth happens to be one of them. However, there's a lot of debate surrounding this particular system.
Is Atlas Earth legitimate, or is it misleading?
To provide clarity, I conducted extensive research and compiled the following review, which delves into the pros and cons of Atlas Earth and explores potential ways to make money online.
The verdict is that Atlas Earth won't bring in substantial earnings.
While it can be enjoyable to play and earn a few extra cents as a bonus, if you're seeking a reliable method for generating consistent income online, this app falls short.
Keep reading to discover the details and alternatives that might better suit your needs.
Jump to:
Atlas Earth – Quick Summary
Atlas Earth is a legitimate and engaging gaming app that allows players to buy, sell, and trade virtual land in an immersive online world.
While offering a fun and interactive experience, the app has low-income potential, making it more suitable for entertainment rather than a reliable source of income.
What is Atlas Earth?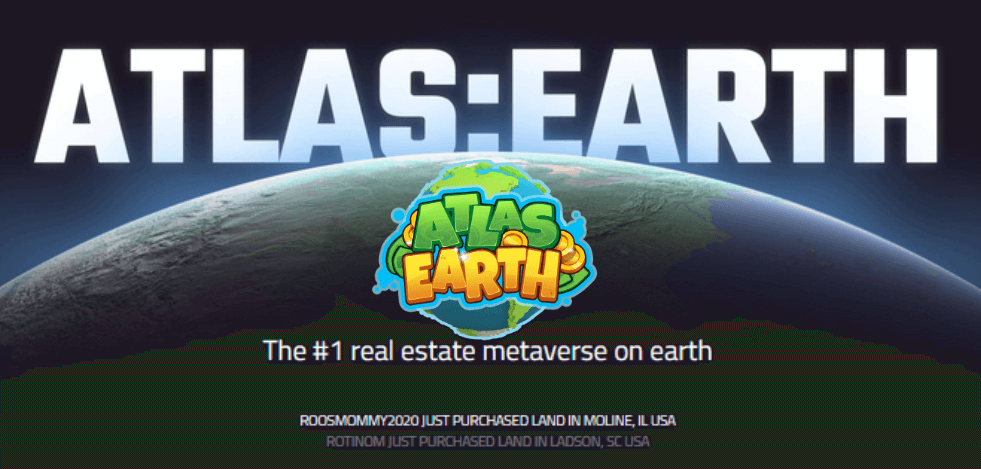 Atlas Earth is an online platform (or a gaming app) where you can buy, sell, and trade plots of virtual land while enjoying a fun gaming experience.
It's like stepping into a virtual world where you can explore, compete, and connect with other players from around the globe.
On Atlas Earth, you have the opportunity to dive into a variety of engaging games and activities.
As you progress, you can acquire plots of land within the virtual world. These plots can be bought, sold, or traded with other players, allowing you to unlock new possibilities and expand your virtual empire.
As you navigate through the games, you can accumulate:
in-game currency (Atlas Bucks)
items,
and bonuses.
Although there is a possibility of making some profit through buying and selling virtual properties, the earning potential is generally low.
If you're primarily seeking a reliable source of income, it may be advisable to explore other opportunities.
Atlas Earth Website Information
I have conducted reviews of numerous digital programs, and it has become a habit for me to scrutinize the information on their websites.
This practice can provide valuable insights regarding website traffic, its sources, and even the domain registration details. By comparing this information with what is presented on the website, you can assess whether you are dealing with a trustworthy site or a potentially scammy one.
This research helps to ensure that you make informed decisions when engaging with online platforms.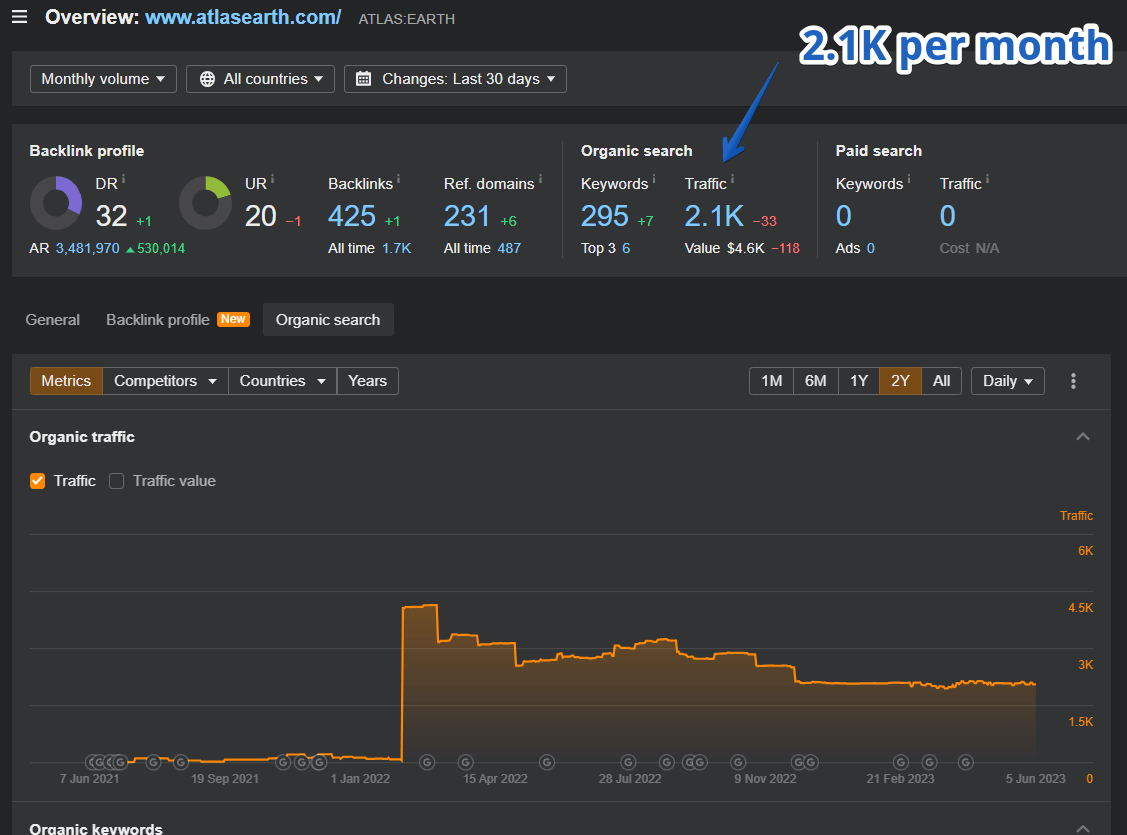 In the case of Atlas Earth, the website receives consistent traffic, which is a positive sign. While 2,000 visitors per month may not seem like a large number, it can still be considered a reliable indicator.
It's important to note that this number represents organic traffic only, and does not include other sources such as:
Social media
Referral Traffic (This refers to visitors who reach the website through links on other websites. It could be from partnerships, guest blogging, or mentions on other platforms.)
Direct Traffic
Email Marketing, and so on.
Atlas Earth Website Issues
I find it a bit peculiar that accessing the website is not as straightforward as expected;
Here is the message I get: "Your connection is not private".

That means, that my browser is unsure if the website I am trying to access is secure and can protect my device and information.
This can happen on any device connected to the internet, like your computer, phone, or tablet.
I used VPN (Virtual private network) as a workaround to get to the website and proceeded with the research.
Who is Behind the Atlas Earth?
When considering whether to join Atlas Earth, it's crucial to look into the people behind the company.
Atlas Reality, the company behind the app AtlasEarth, is an innovative mobile games technology company.
With its headquarters in Cedar Park, Texas, the company was founded in 2017 and currently employs up to 50 talented individuals.
Atlas Reality is on a mission to redefine the location-based game industry by merging the physical and digital worlds like never before.
They believe that location-based games have immense untapped potential and envision a future where the real world becomes the foundation for a revolutionary Metaverse experience.
Sami Khan
Based on LinkedIn, Sami Khan, the CEO and Co-Founder of Atlas Reality, Inc., has been leading the company since June 2016.
Sami is an experienced growth marketer who specializes in launching and scaling early-stage consumer products to millions of customers.
He has played key roles in companies like Acorns, Honey, Dave.com, Root, and more, which are now valued at over $15 billion collectively.
Sami's expertise lies in implementing effective strategies for rapid growth, making him a respected figure in the industry.
Beau Button
Beau Button is a highly accomplished individual in the tech and real estate industries. He holds the prestigious positions of CTO, President, and Co-Founder at Atlas Reality, a cutting-edge company that is revolutionizing the way we experience virtual worlds and online real estate.
Before his role at Atlas Reality, Beau served as the COO and Co-Founder of CivicSource, where he showcased his exceptional leadership skills and expertise in the field.
Beau is widely regarded as a visionary, constantly pushing the boundaries of technology and finding innovative ways to merge it with the real estate sector.
His impressive track record and knack for transforming ideas into reality make him an influential figure in the industry.
The rest of the team
Researching them helps us avoid potential scams and make informed decisions.
The good news is that the team at Atlas Earth is impressive! They're constantly working on adding new features to enhance our gaming experience.
Additionally, their website receives a significant amount of traffic, indicating their credibility.
Remember, it's always wise to investigate a company before getting involved. If it's challenging to find information about them, it's a red flag.
Take your time, gather the facts, and make a thoughtful choice about joining Atlas Earth for an enjoyable gaming journey.
How Does Atlas Earth Work?
Let me share with you an outline of the step-by-step process for you as a potential new player joining Atlas Earth.
Download and install
First, the player needs to download and install the Atlas Earth app from their respective app store (Google Play Store or Apple App Store).
Create an account
After installation, the player will need to create an account by providing a username, email address, and password. They may also have the option to sign up using their social media accounts.
Complete the tutorial
Upon successful registration, the player will be guided through a tutorial that explains the game's mechanics, interface, and basic gameplay.
This will help the player understand how to navigate the platform and perform essential actions like buying, selling, and trading virtual land.
Explore the virtual world
After completing the tutorial, the player can start exploring the virtual world of Atlas Earth. They can view different plots of land, check their attributes, and learn about the various in-game features.
Acquire virtual currency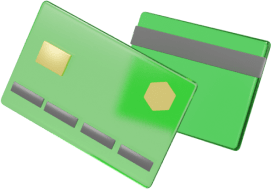 To buy, sell, or trade virtual land, the player will need to acquire the in-game currency. This can be done through in-app purchases, completing in-game tasks, or participating in promotional events.
Buy, sell, and trade virtual land
With sufficient virtual currency, the player can start buying, selling, and trading plots of land. They can search for available plots, analyze their potential value, and negotiate with other players to make transactions.
Develop and customize land
Once a player owns a parcel of land, they can develop and customize it by constructing buildings, adding decorations, and implementing various upgrades. This can increase the land's value and generate additional in-game revenue.
Participate in events and challenges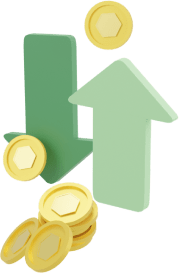 Atlas Earth may host special events and challenges that players can participate in to earn rewards, compete with others, and enhance their gaming experience.
Socialize with other players
The platform may offer social features like chat rooms, forums, or in-game messaging, allowing players to connect with others, share tips, and form alliances.
Monitor progress and achievements
Players can track their progress, view their achievements, and compare their performance with others on leaderboards. This can help them set goals, identify areas for improvement, and stay motivated to continue playing.
Can You Make Money With Atlas Earth?
You can earn a few cents per day if you are consistent.
So, personally, I wouldn't consider it as even pocket money.
However, if you enjoy playing games and see earning 20 cents a day as a bonus on top of that, then it might be suitable for you.
Keep in mind that the earnings potential of Atlas Earth can vary.
Some users have been playing the game for several months and have earned around $32 in total.
The highest reported earnings by a user amounted to approximately $620 per year.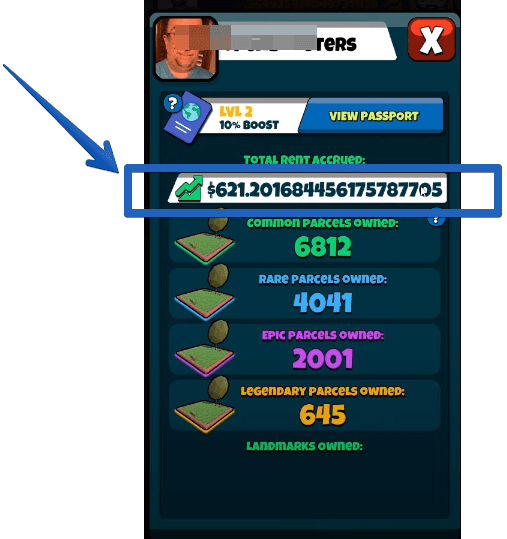 How to Make Money with Atlas Earth
To acquire the parcel of land for free, users can watch videos, with a maximum practical limit of around 35 videos per day.
Each parcel can earn around 0.4 cents per day if additional boost videos are watched, while without the boost videos, the earnings would be approximately 0.013 cents per parcel per day.
It is worth noting that earning money without spending real money on parcels is possible, but it requires watching ads every 20 minutes and utilizing the ad booster.
Some users have reported earning $10 in a couple of months.
The potential earning range for Atlas Earth can be estimated from approximately $4 to $50 per month
Who Is Atlas Earth For?
Atlas Earth is marketed as an opportunity for anyone seeking to make extra money online.
However, based on my research and findings, I have come to the conclusion that it may not be the ideal solution for those looking for a reliable source of additional income.
Instead, Atlas Earth is better suited for individuals who are primarily interested in gaming and see it as a form of entertainment, rather than a serious income-generating platform.
Atlas Earth Users Reviews and Opinions
I have checked several user-generated content websites, like Reddit Trustpilot and even Play Google Store, to learn about real users' experiences, so my review doesn't sound biased.
Here is the summarization of what other people think of Atlas Earth:
Some users have experienced issues with ads not rewarding them after watching, leading to frustration and increased ad consumption.
The game has loading problems, often displaying "no internet" messages or getting stuck at 95% during loading.
App updates are frequent but do not address the core issues of the game.
There have been reports of accounts being deleted without notice, raising concerns about potential scam practices.
On the positive side, some users have had a good experience overall, earning money by watching ads, using boosters, and spinning the bonus wheel.
Earnings can vary based on the amount of land owned, with some users making around $10 and others aiming for $1 per day.
Patience and consistency are emphasized as keys to success, along with watching ads and keeping boosters activated.
Some users have amassed a significant number of parcels and maintain a relaxed approach without stressing over the game.
What I find "interesting" is one review on Trustpilot: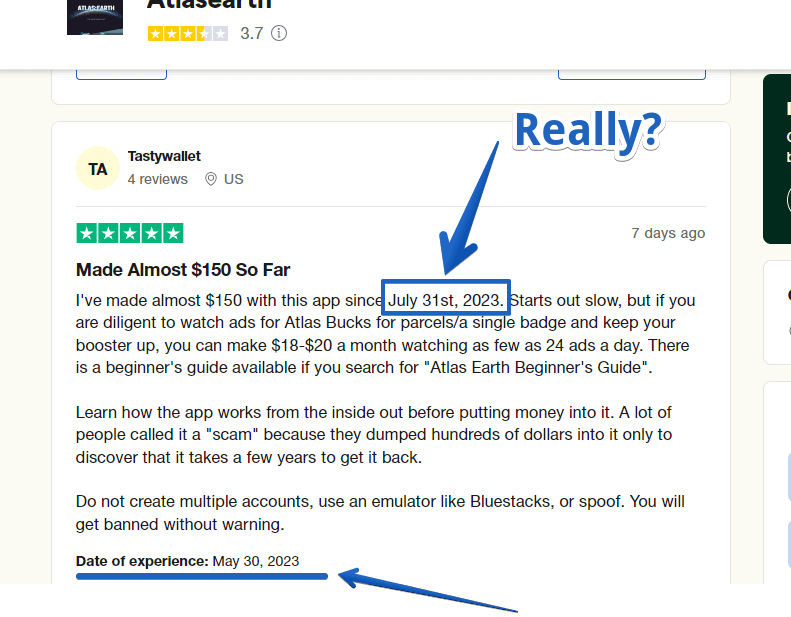 This article was published on June 6th, 2023. So the screenshot from Trustpilot, taken on the same day, raises a question.
I wonder if someone made a typo and accidentally put the year 2023 instead of 2022, or if it's a fake rating.
Regardless, the majority of users agree with my conclusion.
Atlas Earth may be good for entertainment purposes, but it's not a viable option for making money, not even as pocket money.
Conclusion – Is Atlas Earth Legitimate?
Yes, Atlas Earth is a legitimate, fun, and engaging gaming app that revolves around virtual land trading and development.
It's a great choice if you're looking for entertainment, but keep in mind that making real-world income from it is quite limited.
So, enjoy the game for what it is—a delightful pastime—and don't rely on it as your main source of income.
FAQs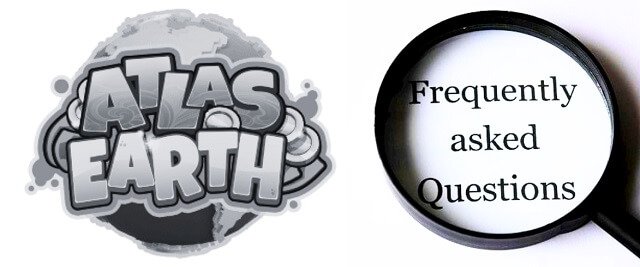 Does Atlas Earth pay real money?
Yes, Atlas Earth pays real money, but the earning potential is very low.
On a typical plot, you can expect to make under 10 cents per year. Additionally, you need a minimum threshold of five dollars to initiate a withdrawal, which means you would need to hold onto your land for a longer time or purchase more before you can cash out.
How do I cash out Atlas Earth?
Cashing out on Atlas Earth involves redeeming your earnings for real money.
Users have reported mixed experiences, with some successfully cashing out and receiving their funds quickly.
Others faced delays or encountered issues with the cash-out process.
It's important to reach the minimum threshold required for cashing out, and if you encounter any problems, contacting support for assistance is recommended.
What company makes Atlas Earth?
Atlas Earth is developed by Atlas Reality, an innovative mobile games technology company based in Cedar Park, Texas.
Founded in 2017, the company employs up to 50 talented individuals and is the driving force behind the creation of the AtlasEarth app.
How many users does Atlas Earth have?
According to their website, the ATLAS metaverse has over 100,000 active users every month, and they're from all 50 states in the US.
Personally, I am skeptical about the number, and I estimate that there are fewer users. This is mainly due to the website's traffic (as discussed in the section above).