Have you stumbled upon the platform called Paidverts and you would like to know if you can make some money? 
In this review we are going to go through this system, we will explain how it works, and what are the options here and by the time you are done reading you will know the exact answer to the following questions:
Is Paidverts a Scam?
How much can I earn with Paidverts?
Let's jump right into that right away.
Disclaimer
Please note, that I am not a member or an affiliate for Paidverts.
This review is based on research and information available online in the public domain.
Any recommendations and conclusions are only opinions and may not apply to all persons or situations.
Quick Overview
Name: Paidverts
Website: www.Paidverts.com
Price to Join: $0
Recommended: Not really (Depends on what you really looking for)
Paidverts Review – Summary
Paidverts is a paid-to-click platform that has been founded in 2013. 
This is a legit platform meaning, that it is possible to make money, and most importantly it is possible to cash your earnings out.
That was good news.
The not-so-good news is that one can't make a lot.
In fact, most people do make very little and it is not worth their time.
If you want to earn only a few bucks per day, then this is a good platform for you.
Otherwise, if you want to know what is the real potential of Internet marketing, here below is a link to one specific method that I use. 
It is called Affiliate Marketing. This business model has been proven over and over that work.
You just need to learn some new skills and be consistent. It is a great source of passive income, in the long run.
What Is Paidverts?
Paidverts is a PTC (Paid-To-Click) website where you can make money doing a number of different tasks from watching ads to playing games.
It is free to join, so there is no risk involved.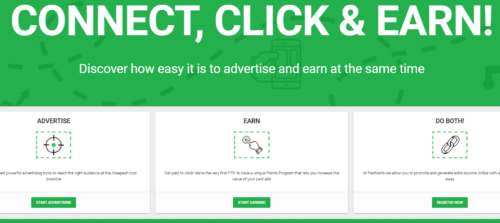 You are not earning the cash directly, but it is based on a point system.
That means that while doing these tasks you accumulate points. The number of points depends on a specific task and we will break it down in a minute.
The bottom line is that you can withdraw your earnings using several payment processors, including Solid Trust Pay, Bitcoin, OKPay, and others. What is a bit of shame, they don't use Paypal.
Founder of Paidverts
This system was founded back in 2013, so it is a well-established system of its kind.
The founder is Joe Cook.
He used to own another system, called MyTrafficValue.
It is always good to know who is behind the system.
You wouldn't believe how many scams are out there promising you to make hundreds of dollars daily and yet they fail to show who is the creator.
It wouldn't be so bad, but these scams claim that have been around for 5 years, but the reality is that the sites are only a few months old.
With that being said, so far it seems that Paidverts is a legit system that actually pays its members.
Who Is Paidverts For?
Paidverts is a perfect platform for anyone who wants to make some money from the comfort of his or her home.
Actually, hold on a minute.
By Perfect I don't mean that everyone will earn a decent income.
I meant that it is possible to make a few bucks, but this is definitely not a good option if you looking for ways how to make money online full-time.
That actually requires more work and special knowledge (which is not that difficult to acquire).
How to Join the Paidverts?
It is very easy to join Paidverts. You only need to fill out your name, email, and your date of birth.
You will soon receive an email where you have to complete the registration.
Please note that this email comes from the address no_reply@mytrafficvalue.com so don't be confused by that.
By now we know that both systems MyTrafficValue and Paidverts are owned by the same guy.
Once you complete the registration you will see a message saying,
"You've just received 321 BAPs as Welcome Bonus".
Now, what is that?
BAP stands for Bonus Ad Ponts and this number determines your rank among other members. Your daily earnings will also depend on your BAP.
Paidverts also offers you a quick guideline, so you can follow about 8 steps where you can learn how to properly navigate throughout the platform.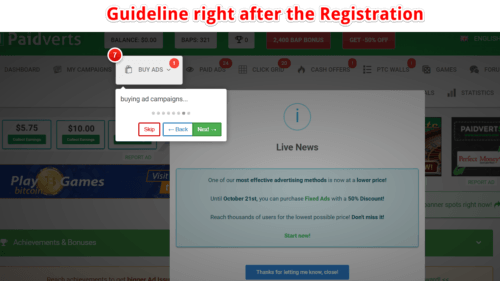 After the tour, you can now take full advantage of this platform.
How Does the Paidverts Work?
There are at least 5 ways how you can make money with Paidverts. It means that if you get bored with watching ads, you simply go play games, and in theory, you can still earn money.
Let's go over them one by one.
1) Watch the Ads
This is the primary way how can you make money. There is only a certain number of ads you can watch in a day. As you go up in ranking you are getting more ads.
You can earn very little for watching the ads and it ranges from $0.0005 to $0.001 per ad.
So once you choose to view the ad, you solve the captcha, and then you wait for 5 seconds.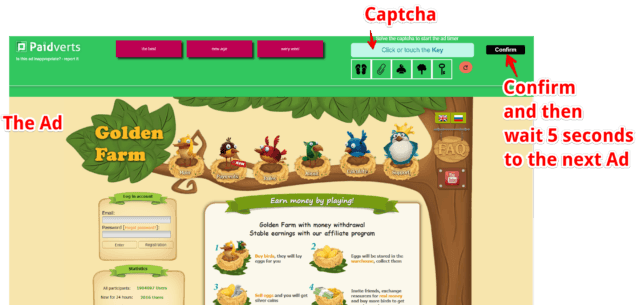 Some ads just won't show up.
It will say that the specific website refuses to connect. That could be due to the IP address you are currently at.
2) Click Grid
This is actually quite a common game within the PTC sites like for example IndexClix.
You see an image with the grid and if you hit the correct square you can win up to $100.
You can try to hit the grid 20 times per day. Each hit costs you 1 BAP.
I did try 20 of them, but no luck for me.
What I find annoying is that after each click you have to wait for 5 seconds while being transferred to another page showing ads.
In case you are interested in how much I have earned so far;
…by playing the Gird and watching the ads, I did earn $0.02377 (a little bit over 2 cents).
3) Cash Offers
When you first go to the Cash offers you must select your country, so the system will be able to show you the right offers.
There is one more requirement though, and that is you have to go through at least 50 ads in the last week.
If not, you won't be allowed to continue and this is the message you will see.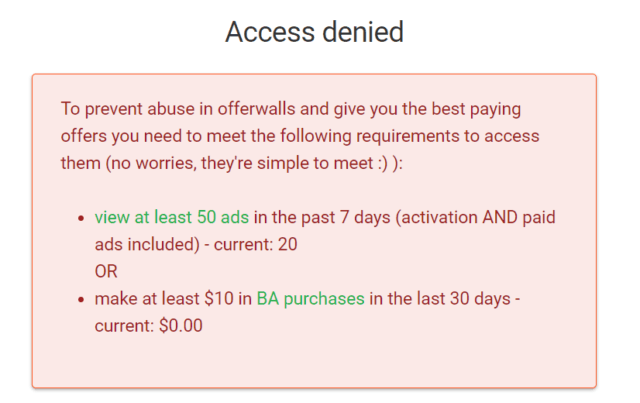 So I went through the paid ads and I played the Click Grid (twice, meaning 2 days in a row) and on the 2nd day, I was able to access these Cash Offers.
I did choose one particular where I can earn 43 cents and I was curious how long it was gonna take me.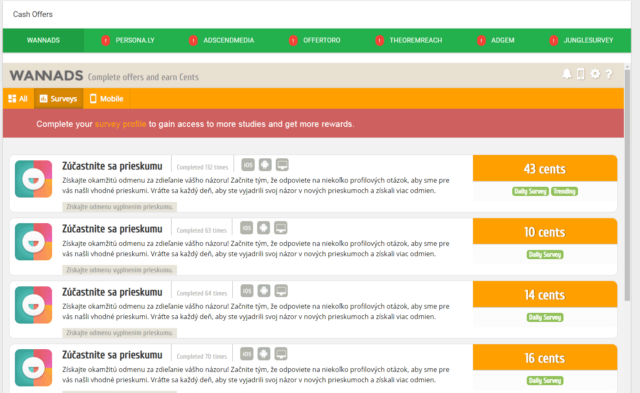 First of all, you are asked to fill in a few profile questions. It takes approximately 2 minutes.
(You also agree that some of the surveys are being done on 3rd part sites.)
It took me almost 30 minutes to complete one survey and my earnings got to $0.45277,

So I have earned $0.43,
Imagine doing this for 10 hours – besides it is annoying, the earning potential is about $8 for the 10 hours of doing these cash offers.
Now, is this the way you want to earn money?
4) PTC Walls
You have 3 options here. 
Ads
The earning potential within the Ads section is $0.00016 and it is supposed to take 7 seconds.
Let's say it will take only 6 seconds. That means that the earnings equal $0.576 per hour. 
Offers
When I go to the Offers, there are no offers for today.
It says to come back tomorrow.
Well, I did and the same message again. 
Task
You can register and make from $0.2 to $0.4 – again the earning potential is very low.
5) Games
This part is probably the best option since you actually play games and can earn some money.
Please note that in order to start with the game you have to pay your "access fee".
Different games cost different prices.
For example, if you wanna buy a lot of tickets it costs you 5 BAPs.
Baccarat or Black Jack can be played for at least 25 BAPs:
Do you like Black Jack?
I did play it for a while betting only 25 BAPs but you can bet even more. That all depends on your balance. I did play only a few games and almost exhausted my BAPs.
But it is still fun and if you don't have any funds you can go to watch some ads to earn it back.
At the same time, I would like to inform you that this can become addictive.
6) Referral Program
It is quite common that such sites to offer a referral program. that means you can refer your friends to join the Paidverts and actually make money off of them.
The way you do it, is you grab your link within the platform and you share it on social media or wherever you can reach your friends. 
It is sort of an affiliate link and it reminds me of how affiliate marketing really works.
The commission is 10% for you, so if your referral is active and makes $10 in 10 days, your commission is $1.
Is there more?
By now, you understand that there is not a lot that one can make.
But Paidverts offers a paid membership where it is possible to earn more or to be precise – to get extra bonuses.
They have more packages for the upgrades memberships and here is the price structure:
For 1 monthly upgrade – the cost is $5
3 months upgrade costs $14
6 months are for $26.5
12 months costs $50
The payment method I would choose is by the PV Earning Balance you have reached within the Paidverts platform. In other words, I would not use my own funds to upgrade.
The $5 you need for 1 month of upgraded membership, you can earn within a few days so this is what I would do if I want to be a long-time Paidverts member.
Is Paidverts a Scam?
No, it is not a scam.
Actually I kind of like this platform. It is possible to spend an entire day here and even though you won't earn much (sometimes anything at all) you still can have fun.
But I would like to take a look at this platform from a different point of view;
… and here it goes:
In my opinion, a lot of people go to earn points by let's say watching the Ads, and then they go to play the games where they lose almost everything. 
The good news is that it does not go from their pocket.
The bad news is that at the end of the day, they only waste their time.
It is important to realize that the original intention was to make some money, remember?
That is why I don't recommend joining the Paidverts, for the following major reasons:
Earning potential really low
The earnings can be easily gambled away.
What Do Others Think About Paidverts?
I always recommend doing proper research when it comes to digital products (especially those promising to make money).
A good source of the information is a website called Trustpilot.
You are probably familiar with this site where people leave their opinions about certain products/services.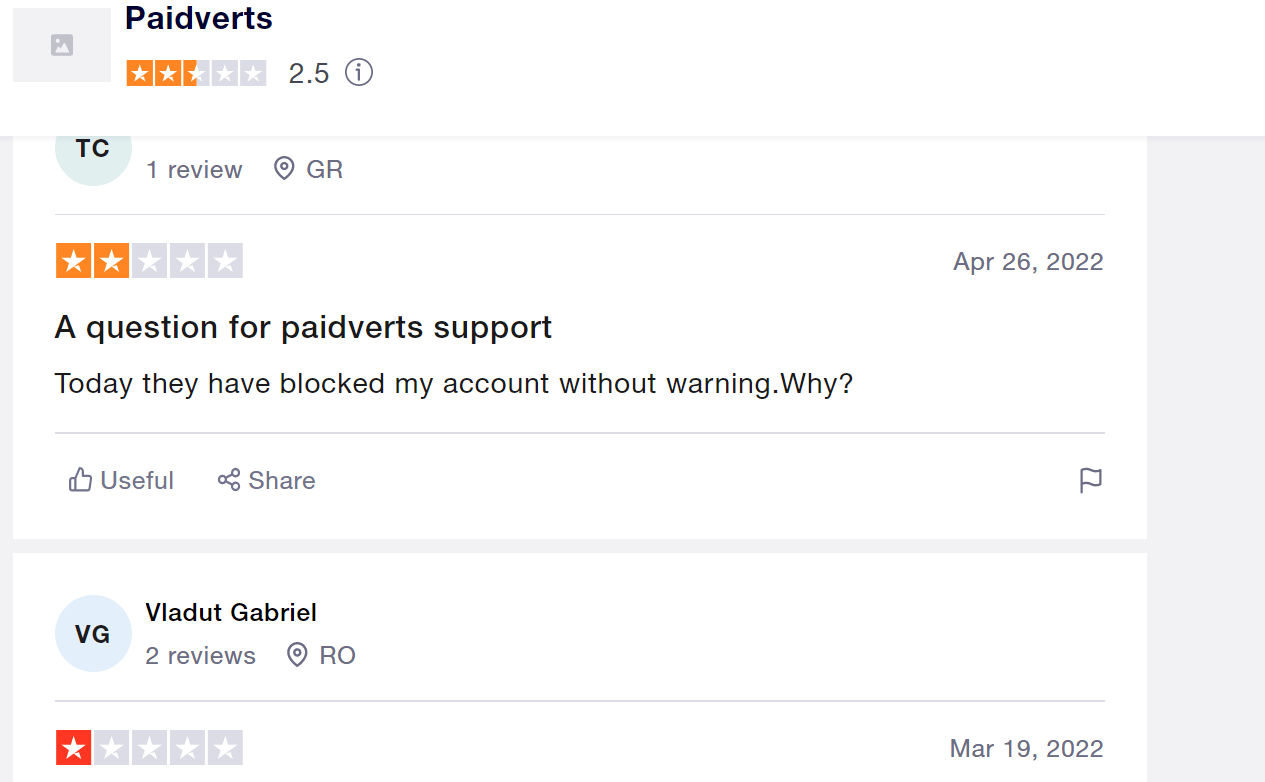 As we see, they are not happy with the Paidverts.
I don't blame them.
It really seems that it is not worth the effort and therefore, if you want to make money online I suggest looking elsewhere.
Here is a better solution
Do you want to know what I personally recommend – I think with Squadhelp you have a much higher chance to actually make some decent money and we are talking here about 200 or 300 bucks.
Check the review first and then decide whether this looks like a better opportunity for you.
There are other survey sites where it is possible to earn a few bucks, but when it comes to a consistent income, it is important to realize that one can't rely on some sites where he or she only exchanging their time for a few bucks.
Yes, running an online business requires effort and time. 
But I am sure that with proper education and discipline it is possible to become a full-time internet marketer within 14 or 16 months.
Why does it take so long? 
Well, there are several reasons, but this is a topic for another article.
What I like about Paidverts 

A cool platform where one can spend hours and potentially earn a few bucks
A legit platform that pays its members
It is completely free to try
What I don't like Paidverts
Earning potential is really low (probably 40 to 80 cents per hour)
It can become addictive and there is a high chance to lose all the earnings
Some surveys are annoying with similar questions – it may be really boring
Conclusion
I don't know if it is just me but somehow I like this platform, even though I realize that the earning potential is pretty low.
Nevertheless, it is good that this is a legit platform and people can have fun with it, but I don't recommend it as a platform where one goes with an intention to make decent money.
Not even pocket money.
Also one must be very careful because of the gambling aspect. This can be tempting so if you are not careful you can lose all the money.
If you would like to leave a comment regarding the Paidverts or you have a specific question make sure to use the comment section below.
Also, feel free to ask any questions regarding other ways how to make money online.
Thank you for reading,
Mike.