MarketPeak is just another company dealing with cryptocurrency where you can earn by recruiting others to join this company. Is that so? 
If you would like to find out more about the MarketPeak, then welcome on my website. 
There are many scammy systems out there, these days promising you high returns on your investment. 
Is this the case with the MarketPeak as well?
Is MarketPeak a Scam?
Let's find out what is this company all about, who is behind, what is the earning potential and actually how much it is possible to make with the MarketPeak. 
Disclaimer
Please note, I am not a member or an affiliate for MarketPeak. This review is based on research and information available online in the public domain.
Any recommendation and conclusions are only opinions and may not apply to all persons or situations.
Quick Overview
Name: MarketPeak 
Website: www.marketpeak.com
Price to Join: $125 to $15,000
Recommended: No
Overview
MarketPeak is a company that supposed to provide you with an education that will empower your financial wealth. 
The truth is that MarketPeak deals with its own digital currency and operates as a pyramid scheme. 
The company's CEO and founder has a shady past and was involved in several Ponzi Schemes/pyramid schemes that already collapsed. 
That is why I don't recommend joining the MarketPeak and my suggestion is to look elsewhere. 
There are many methods on how to make a decent income online and the one I have chosen is called affiliate marketing. 
I don't recruit anyone, I don't deal with products, I simply suggest to people what is good and I make a commission. 
This brings me 4 digits and this business method is scalable. 
Here is the link for more information: 

Sign up for Free and I will guide you through the platform.
No Credit Card Needed – Just your email.
What is MarketPeak 
Did you know that MarketPeak is a Multi-Level Marketing company dealing with cryptocurrency?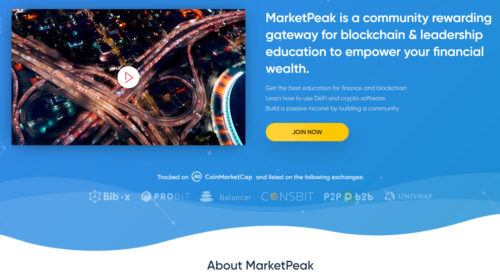 MarketPeak deals with a currency called PEAK. The only people who deal with this digital currency are people within the MarketPeak community. 
That's it. 
So what is the real value of this PEAK tokens? 
Nothin, Zero.
First, new members are told to invest their money into this scheme. Allegedly they invest in education and they are told how MarketPeak is great for their close future. 
The truth is there is no education, nor product that these members can sell. 
And how it is called when a multi-level marketing company has no product to sell? 
Where the only money that is made is from recruiting new members? 
It is safe to already assume that MarketPeak is a pyramid scheme. 
Founder of the MarketPeak 
The founder of this company is a guy named Sergej Heck.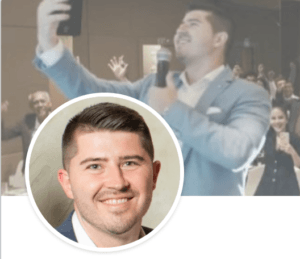 He is quite famous for being involved in a number of Ponzi schemes. From about 2015 till 2019 he joined and left more than 4 such companies. 
To mention a few:
Questra Global
Cryp Trade Capital
BeOnPush
Here is the screenshot from a Facebook BeOnPush group – a message directly from Sergej Heck:

BeOnPush does not even exist, and even the website is not available. 
Back in 2016, this company was heavily promoted on Facebook promising to offer investors a way into a potentially huge market for online advertising and also an income for referring new members. 
Eventually, BeOnPush has collapsed. 
It is just a matter of time until the same is going to happen to MarketPeak as well. 
Who is for?
By now I am sure you understand that this is for nobody.
I mean, the best is to avoid such a company and if you do have money that you can afford to lose, I believe there are better opportunities for investment. 
Try to find a way how to invest in for example the S&P500. 
In case you want to invest in education and want to learn something about internet marketing there are many courses on Udemy.
But please stay away from the MarketPeak that most likely will become a Ponzi scheme. 
There are more companies like MarketPeak, and to mention a few, for example, a Mining City, or a Freebay.
How to Join?
Just out of curiosity let's check how it works, how to join the MarketPeak. 
First of all, you need to have a sponsor in order to sign up. 
They show you an option in case you don't have a sponsor, but that link does not work.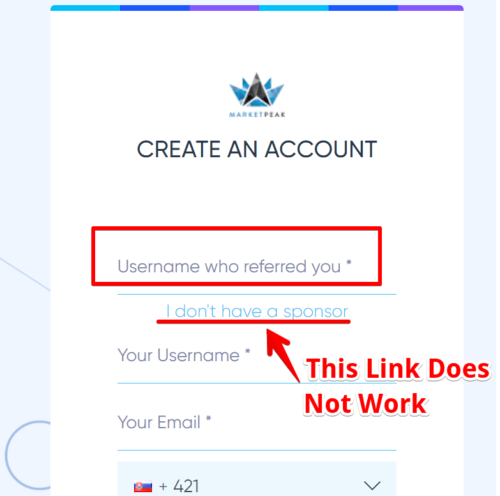 And you have to fill out your telephone number – that is a requirement. 
How much does it cost?
You can access the dashboard for free if you know your sponsor's name (or his ID). 
But in order to become a member who actually has the potential to earn something you have to pay for the membership. 
The price depends on the package you choose and as of this writing, it ranges from $125 to $15,000. 
It is also essential to mention that once you buy the Tokens, you can't use them outside of this MarketPeak platform. 
And as we know, the only people using this Token are the same within the platform. That makes it absolutely useless.
Products that MarketPeak Offer
Didn't we already mention that that are no products within the MarketPeak? 
Yes, but after logging into their Dashboard I was surprised that they have an Education section within the products. 
Unfortunately (for them) there are no courses whatsoever. 
And the Toolbox?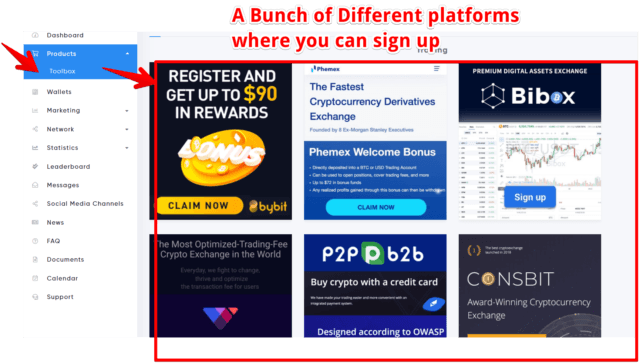 There are just different platforms that one can join. Of course, all are affiliated with the MarketPeak. Nothing wrong with that but it would be nice if they offer their own courses as well. 
The only "educational" material I found is available on their YouTube channel.
How to Make Money with MarketPeak?
When there are no products to sell, what is the only option on how to make money? 
You are right – to recruit new members, otherwise, there is no other way how you can make money. 
We have seen that there are a lot of different packages one can buy in order to become a member. 
The price ranges from $125 to $15,000. 
The higher investment you make, the bigger commission you make. 
But this commission you can potentially make is in their digital currency – the PEAK token. You can't exchange it for other currencies. 
All these MLMs have a compensation plan where it is explained how it works, what happens after you expand your team, and so on. 
I don't want to bore you with their compensation plan. 
In fact, it is also part of their MarketPeak Presentation, which you can go through if you want (it is more than 40 pages). 
But here are just briefly some information regarding their structure: 
There are 10 different levels or ranks: 
Newbie
Rookie
Intermediate
Advanced
Professional
Leader
Top Leaders
Mentor
Star
Super Star
You can climb the structure (from 1st level to the one above) based on how much money your team makes, meaning those people you have recruited. 
The commission from your downline is called a recruitment commission.
It is possible to earn down 8 levels: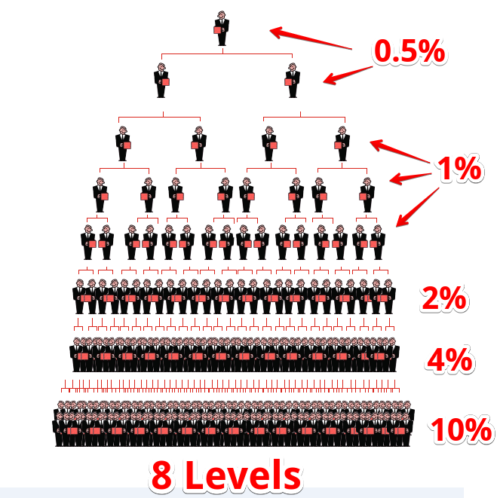 As you see the percentage of invested funds varies according to the level. 
In their MarketPeak Presentation, it is mentioned also other "ways" how to make money. But it is useless since we know it does not make sense to sign up for a MarketPeak membership. 
If you think otherwise, please leave a comment or a query in the  comment section below 
Is MarketPeak a Scam?
MarketPeak is definitely a scam and a pyramid scheme. 
The only advice I can give is to stay away from it. 
Here are 2 major red flags.
Founders with a sketchy past. 
Sergej Heck has been involved in at least 3 Ponzi schemes before and his current project called MarketPeak has the same outline. 
MarketPeak has no products to offer
This is a big one and it is a comment knowledge that any MLM organization without a product to sell is considered a pyramid scheme. 
Period. 
The only way how to make a profit is by recruiting other people. But then again, you are paid only with their digital cryptocurrency called PEAK Token which has absolutely no value outside of this platform. 
Where Do We Go From Here?
As I already mentioned there are plenty of other ways how one can make money online. 
For example, doing surveys is probably the easiest way, but at the same time, the earning potential is low. 
If we take a look at surveys like Paidverts, or iSurveyWorld we see that there is not much one can make. 
Let's say $80 to $150 per month. 
There are also better ways – and the one I like (does not requires almost any experience) is Squadhelp. 
You can earn money by coming up with a domain name.

How to choose a domain name without any prior experience? 
In this review, I reveal tips and tricks on how to come up with the domain names. 
Another method that I prefer is called affiliate marketing. 
It requires a kind of special knowledge, patience, and effort. 
I understand that for some people this method might be time-consuming. But when it comes to making money online, it is important to take into consideration a few facts. 
Here it is explained why it may take so long and what is required. 
Regarding the special knowledge, this is a platform where I have learned how to create a website, how to rank well on google. 
It is not that difficult and with proper support from fellow members, it goes much easier. 
What I like about

There is nothing I like about the MarketPeak 
What I don't like
A Potential Ponzi Scheme (not yet confirmed) 
They use their own cryptocurrency which is impossible to exchange for a real currency. At the end of the day, these PEAK tokens are worthless. 
MarketPeak operates as a Pyramid Scheme.
Some Thoughts at the End
I believe we have covered enough about the MarketPeak. It is clear that it is a scam and the only advice I have, is to stay away from it. 
Investing in the MarketPeak would be like throwing money into a black hole. You will never get a dime from it. 
The founder, Sergej Heck is already known as a person involved in Ponzi Schemes, so there is no reason to believe that this time he creates a legitimate business. 
I am sure you'll find wiser ways how to invest or how to make money. 
As I mentioned one of the ways is internet marketing. It does not matter whether you create a YouTube channel or a website  – or both, right? 
These days it is pretty easy and at the end of this article, you will find a link where it is shown how I was able to start earning online, without prior experience. 
In case you have questions let me know in the comment section below. 
Also if you have had already some experience with similar companies, like MarketPeak, share your thoughts as well. I am sure it will be beneficial to others as well. 
Thank you for reading
Mike
How To Start Business Online
I have been a member of Wealthy Affiliate since late 2017 without a prior marketing experience.
Beginning of 2018 I have learned how to build a website that drives traffic and makes sales.
Since the summer of 2019, I am a full-time internet marketer and I work from anywhere I want, whenever I want.
Training within Wealthy Affiliate teaches how to generate a consistent income in the long run.